Hunting in Zimbabwe - October 1999
This is our 8th hunt with our very good friends the Vincents, Roy, Rene and Alan. And usual, we all had a wonderful time. Every year we wait impatiently in anticipation of our hunt with them, and our high expectations are always fulfilled.
I hunted the first time with Roy when he was working for Peter Johnston, of Rosslyn Safaris. That was in 1982. It was my first African hunt. I found out that the old saying: "once you been to Africa, you'll always go back again!" to be very true.
I am afraid I had to take an 11 year break before going to Africa again. By then Roy had another operation, Westwood Safaris, which was operating in Matetsi, but at a different concession than the one Peter Johnston had. We hunted there during 1993 and 1994. From 1995 to 1999 Roy had the concession at Chete, where we hunted with him every year. His lease in Chete expired at the end of 1999.
By this time, he had another concession, this time back in Matetsi. And as luck would have it, his concession is just across a dirt track from the very first one I hunted with in, while he was at Rosslyn Safaris.
This year we hunted 9 days in Chete, and 13 more in the new concession in Matetsi.
There is a lot of differences between those two areas. basically, Chete, which borders Lake Kariba, is rather hilly, and more difficult to hunt in if you are not physically fit. I quite enjoyed hunting in Chete for the past 5 years, but I think I still prefer the new concession. There seems to be more animals around, especially elephants and buffalo. And because of the more open spaces, it is easier to see and hunt those animals too.
I cannot ever remember us seeing any animals from our camp in Chete, except hippos and elephants, and few resident kudu and baboons, across on the islands. In Matetsi, it does not really matter what time of day it is, you can always look out from the camp and see a number of different animals. These include elephants, buffalo, waterbuck, kudu, impala, warthogs and baboons.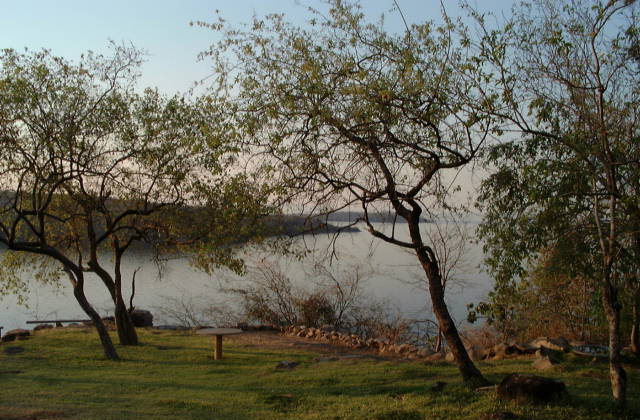 This is a view from our camp at Chete. You can see the largest island in Lake Kariba to the left. It is about 600 yards away. This is actually the path of the Zambezi River before they flooded the lake. We saw kudu and baboons on the islands, as well as elephants. The elephants are accomplished swimmers. We even heard of a lion swimming across. Sometimes we could see a very large croc swimming in the middle of this channel.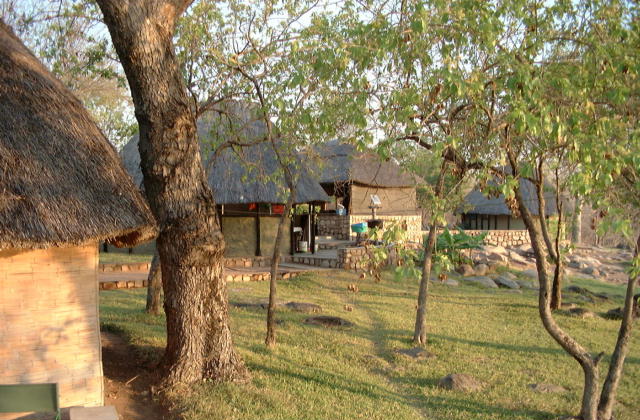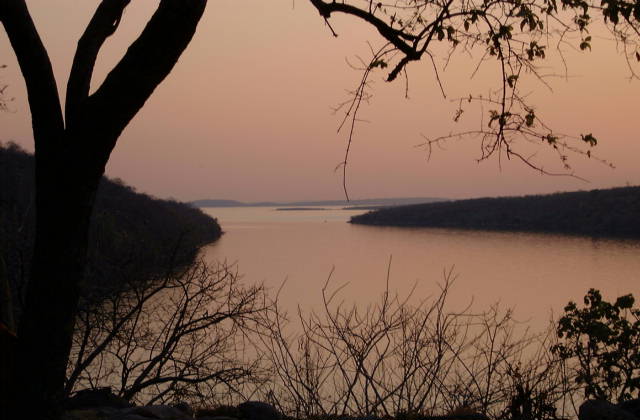 Two more views from our camp at Chete
You can see two large crocodiles sunbathing on that small sand island. This is in the Senkwe River. We would have loved to have been able to shoot one, but I am afraid there was no more left on quota.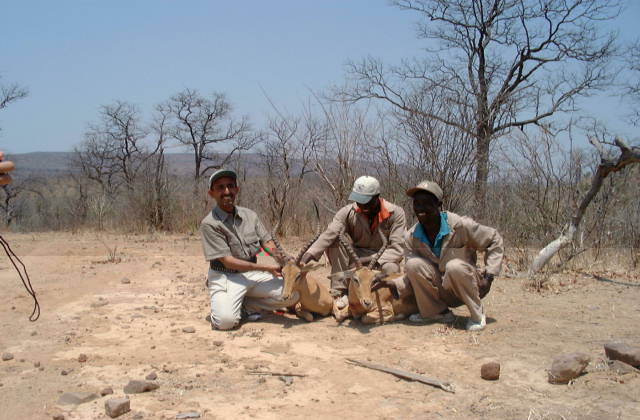 I shot these two impalas for leopard bait. We spent quite a bet of time putting them up, but we did not have any leopard come to feed. That is Philip, in the middle, and Pheneas or the right. They were our trackers, and extremely good at their job too. 375/404, 300 grain Barnes X, about 150 yards.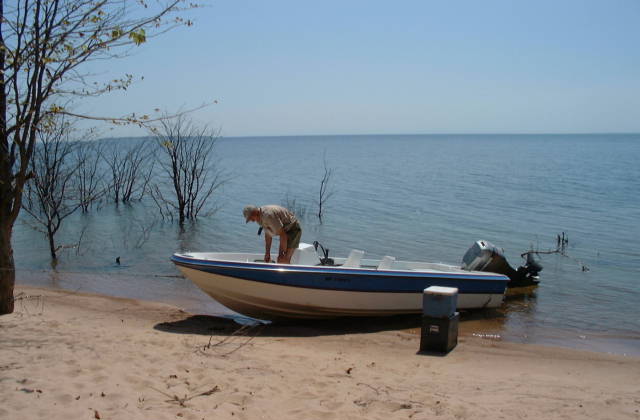 That is our hardworking PH, Roy Vincent. This is at the fly camp, which is quite far from our base camp, and much easier to reach by boat than by car. We took the boat here, and managed to shoot 3 impalas and 2 kudu bulls.
On the left are rock hyrax, they live at the camp, and very friendly. They eat from our hands. Rene provides them with food and drink whenever they are at the camp. They are very amusing to watch. They climb the trees, and as soon as they see a large bird like an eagle, they scramble down, some of them just take a jump from the trees, and fall down. This does not seem to have any ill effect on them at all. On the right is a large spotted genet. It was a regular visitor to our camp in the evenings, and seem to know when dinner is being served. Everyone seems to find some scraps to give to it.
We were following some buffalo which were heading to a waterhole. We got to the waterhole and there was no buffalo, but we found this duiker. Walter wanted to have a BBQ, and this duiker fit the bill very well. We were all very surprised at how delicious it turned out. It was finger-licking-good. Walter would not tell us his secret recipe that he used to paste it while on the spit. The spit, by the way, was made by Walter. He used an old metal broom handle, and made an attachment made of two pieces of wood made into an L shape. 375/404 about 40 yards.
Hippos in the Senkwe River. The crocodiles that you saw in a previous photo were not very far from these hippos
A klipspringer, 375/404 about 100 yards.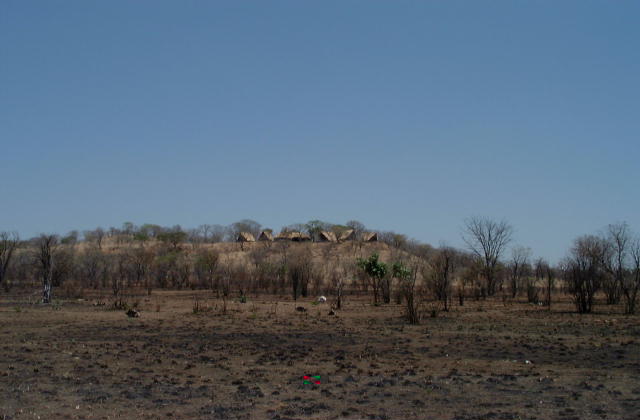 This is our camp in Matetsi. The camp over looks the air strip, and it has a commanding view over the surrounding countryside.
This is the dining and sitting room at Matetsi. This is the third hut you see from the left in the photo above.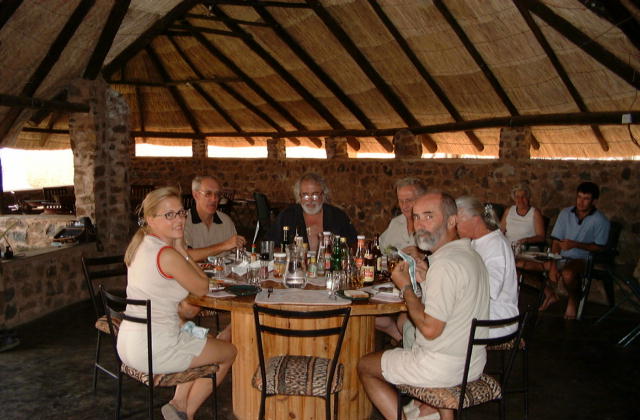 The boys and girls are getting ready to do some serious damage to all the food Rene provides for them. Hanna, Roy, Walter, Gerhard, Anna Marie and Horst on the big table. In the back all on their lonesome are Rene and Alan, they must have done some thing very serious to be made to sit all on their own on the reject table.
Philip is up in the tree putting a leopard bait. You can see the old bait to the left of him on the tree branch. It has already been eaten, so we replenished it. I am afraid the leopard did not oblige us, he never came.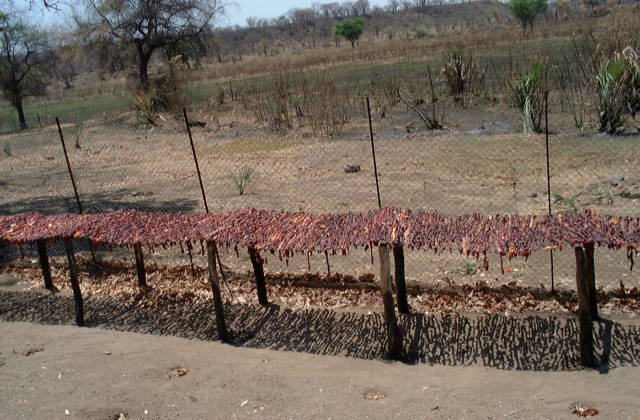 This is a section of the meat racks, where biltong is made.
A herd of buffaloes, which we thought number over 700. At Matetsi, we saw buffalo almost every day, including many bulls.
We surprised this young elephant bull in the morning while he was feeding, apparently he did not feel very happy about being disturbed, so we put as much distance between us and him.
Notice the funny horns on this kudu. We had just finished a shooting contest between our trackers and the game scout. It all started by me asking our game scout, Dominic, if he hunted. His answer was direct and to the point, as he said; "Yes, I will teach you how to shoot!"
We then asked our trackers if they hunted, Philip said he had shot an impala once before, and he considers himself an accomplished shooter. Pheneas said he had never shot anything before, but could not see any problems at all. It looked easy enough.
Gerhard had a Ruger #1 in 460 Weatherby, so we decided to let those boys try it. We asked them about the size of target they think they could hit at 100 yards. The Dominic and Philip said they could hit a target that is 5 inches across, Pheneas, who never shot a rifle before, said he could hit a 2 inch target! That is confidence for you.
We knew that none of them could shoot very well, so we decided to make life easier for everyone, and makes them all winners. We had some knives to give to them, so we used those as prizes. And Walter, in his own generous way, decided to add a torch for the worst shooter. I think he had a soft spot for Pheneas, and thought he might be at the bottom of the winners list.
We decided to make life easier for those boys, and put balloons which we have blown to about 4-5 inches in diameter, and hung them from a tree branch at about 30 yards. As you might have guessed, no one hit any of them, despite the fact each had 3 shots. They finished shaking their heads, realizing that shooting is not as easy at seems to be.
Back to our kudu. We were driving along when we saw this one on a side of a facing hill. He was about 150 yards away, obligingly standing almost broadside. You can see the bullet hole in his shoulder. 375/404.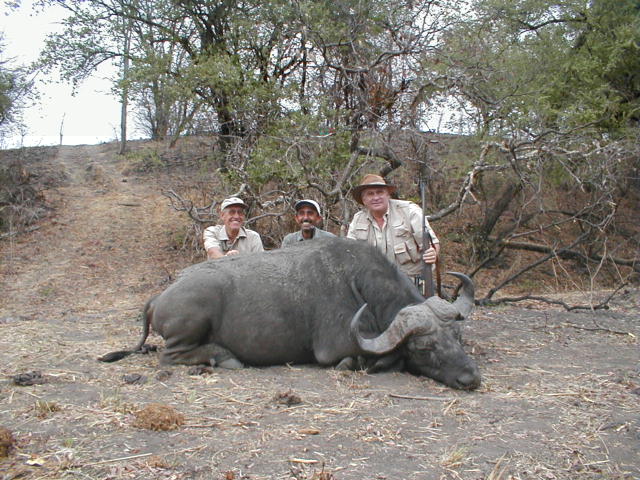 The gent on the right is Gerhard - we affectionately call him Granddad. He shot this buffalo at about 50 yards with his Dakota 76 rifle, chambered for the 416 Rigby. He used the Barnes X 400 grain bullet. Roy on the left and me in the middle.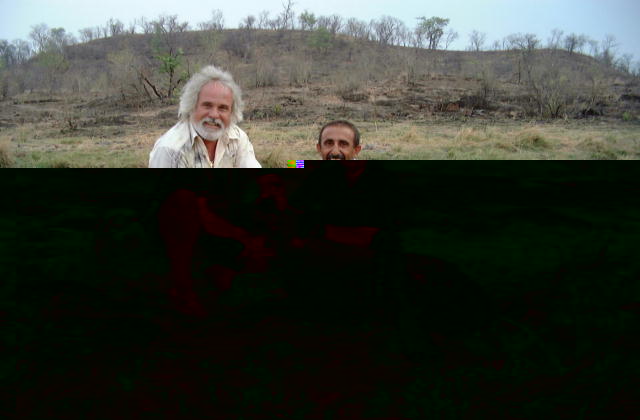 Walter and myself with a hyena I shot at over 300 yards. We were driving along on the way back to camp. We knew of this water hole, so we stopped away from it to see if there was anything there. I was very surprised to see the head of this hyena, which was lying down in the mud. It got up and looked at us. I fired a shot at it and missed, going cleanly over its back. It just jumped a couple of yards and stopped again. The second shot broke its back, and it was stone dead by the time we got to it. I used my Lazzeroni rifle, chambered for the 9.53 Saturn, which is a 375/416 Rigby improved, for those who are not familiar with it. 300 grain Barnes X again, going at 3140 fps.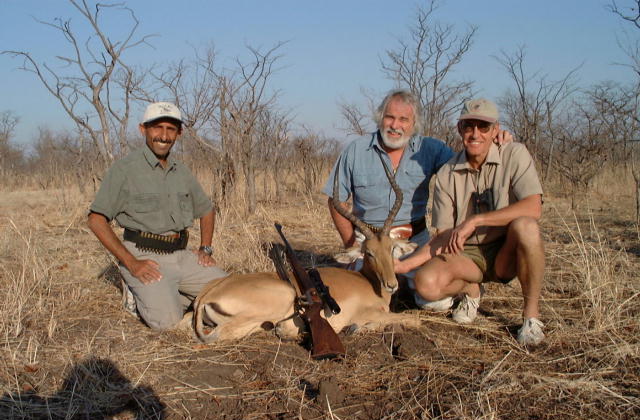 Walter shot this impala with one shot! It even surprised himself, as he thought he had missed it. Roy and myself were very happy to congratulate him for this feat - although between us, we knew that the impala just managed to get in the way of the bullet, and died because of that, and not because of Walter's prowess in shooting. He used his deadly Blaser R-93 rifle, loaded with Nosler's Partition 140 grain bullets. The rifle was chambered for the 7x64 Brenneke. Ever since he managed to shoot that zebra blanket - and drew blood from it too - we have not heard the end of how good this rifle is.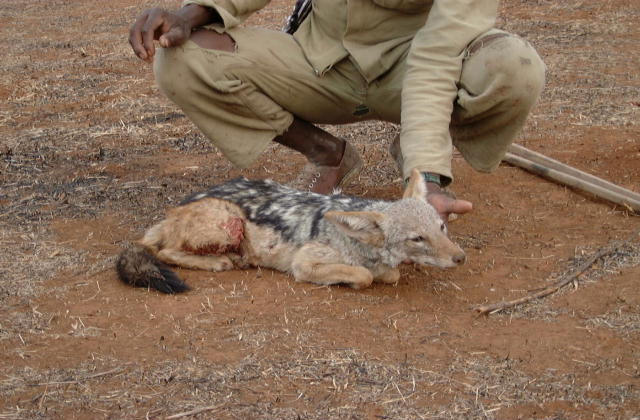 I shot this black backed jackal at about 40 yards distance. A slight over kill, as I used the 9.53 Saturn with the 300 grain Barnes X bullet.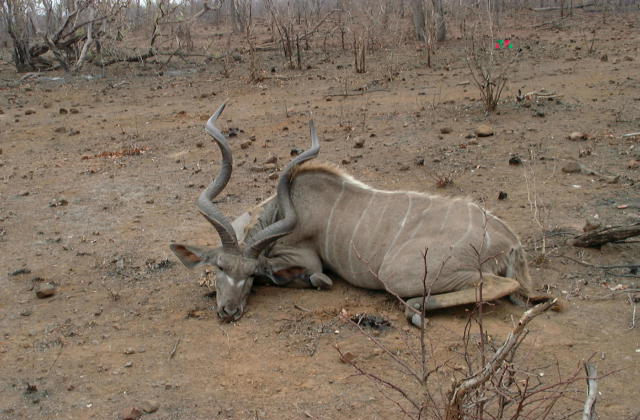 It is interesting to compare the kudu in this photo with the one below. Notice how narrow the curls are on this one, and how wide the other's are. 9.53 Saturn, about 150 yards.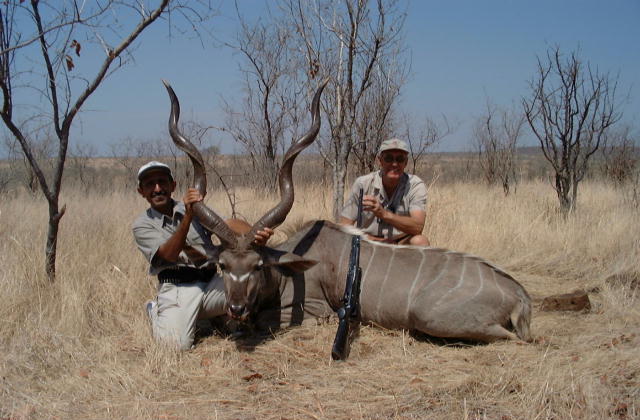 Personally, I prefer the wider horns of this one to the one in the photo above it. 375/404 about 200 yards.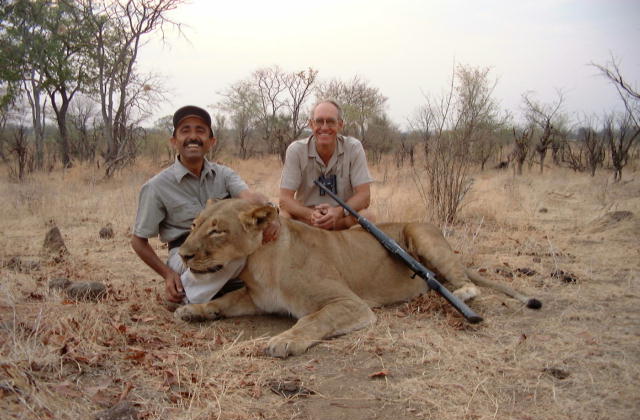 Two very happy hunters. We put some lion bait in a tree to the left of this photo, and we had a number of lions feed on it. Every time we arrived early in the morning, we could hear them at the bait, but we never managed to even see any of them. This time we came in from a different direction, and we could hear the same noises coming from the direction of the bait tree. All we could see was this lioness which was lying no more than about 60 yards from us. She was growling, and all we could see was the top of her head in the grass. We had a tag for a lioness, so we decided to shoot her if we could. Apparently she had other plans, she got up, and came closer to where we were hiding, but there was no way I could have taken a shot, as all we could see was glimpses of here through the brush. She then decided to depart, and took of trotting to our right. Luckily, she had to pass through a good clearing, and at about 100 yards I fired a shot at her. She started jumping up and down, and another shot put her down. We found that my first bullet hit her just behind one shoulder, penetrating through to be lodged in the opposite elbow. The second shot went clean through both shoulders. 375/404.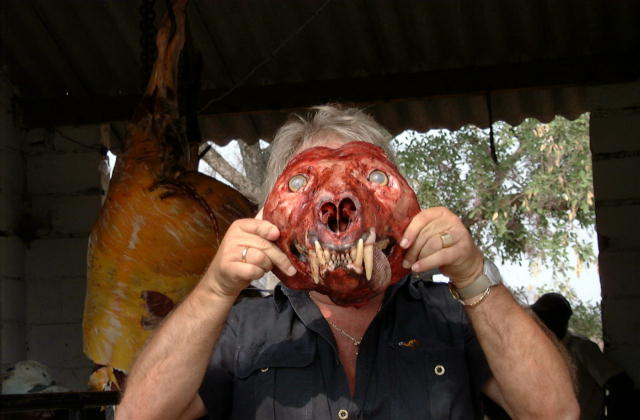 Imagine having to look at the face of this monster! The real face behind is not much better either, I can assure.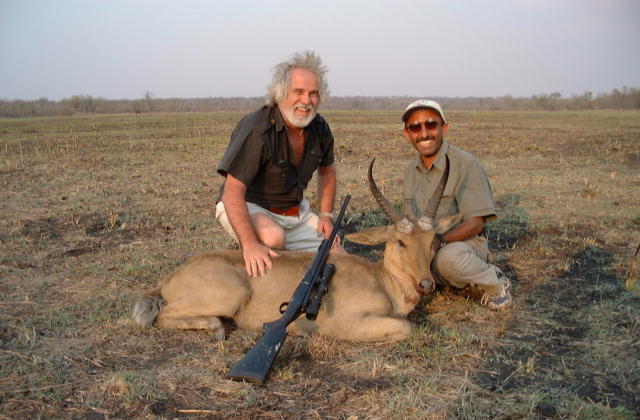 I shot this reedbuck on our firs day of hunting in Matetsi. Everyone took a flight to the new concession from Chete, except Roy, Alan and myself. Alan drove one of the trucks, and I accompanied Roy in the other. We left early in the morning, and made it to Matetsi just after lunch. We drove out in the new concession to have a look around. We saw some zebra about a mile away, and we started stalking them. On the way we saw this reedbuck standing about 100 yards away. We decided to shoot him instead of the zebra. 375/404.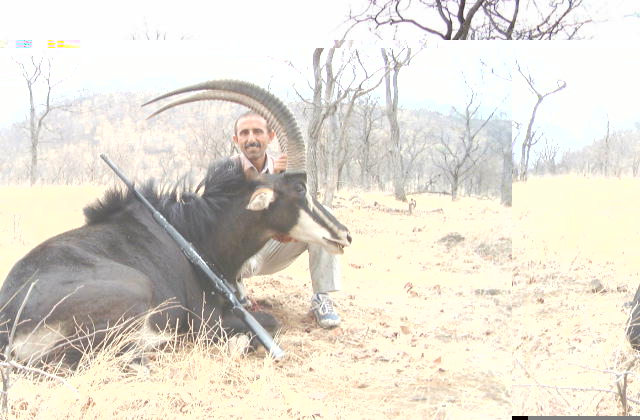 We were checking our lion bait, when we saw this sable bull in the bush. Roy thought it was a good idea to bag him. 375/404 about 250 yards.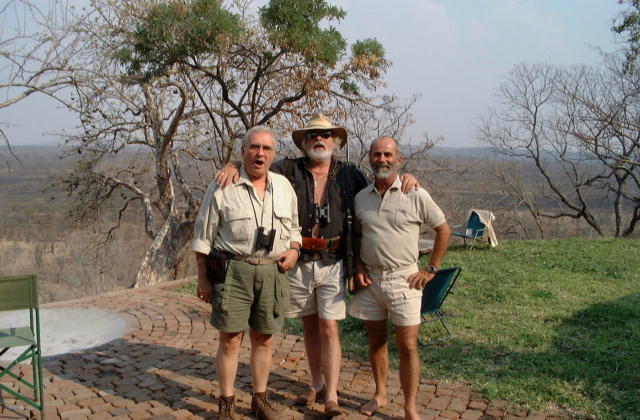 Here are the Sunshine Boys, Gerhard and Walter, with Horst keeping their company on the right. This is the front garden of our camp at Matetsi. Those with sharp eye sight might notice the similarity between Gerhard and Walter. Walter had an ammo belt, binoculars, GPS, both still and video cameras, a book and some magazines and a radio cassette player. He generally does not like to venture too far from the grub box in the truck either. We have learnt to eat something before leaving Walter in the truck and go chase some animals. As on a number of occasions when we have been away for a few hours, we come back to an empty grub box.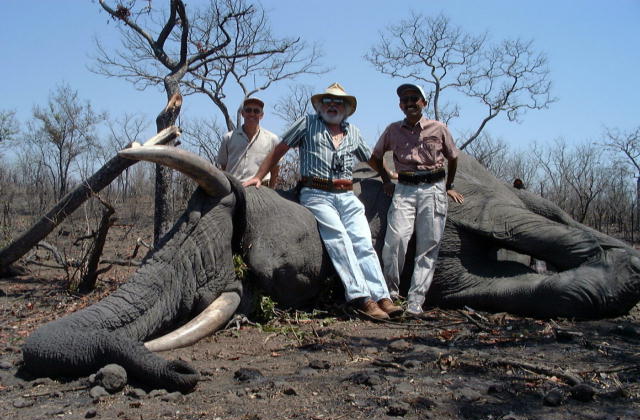 We saw a number of bulls together early in the morning, and after a few heated discussions, we decided to shoot this one. We followed them for over two hours. They were always in sight, but we could not get close enough to this one. Eventually, he dropped behind them feeding, and we managed to bag him. He had 55+52 pounds. 374/404, Barnes monolithic solid 300 grain, at about 30 yards. Roy, Walter and myself.
These vultures were waiting near our elephant carcass.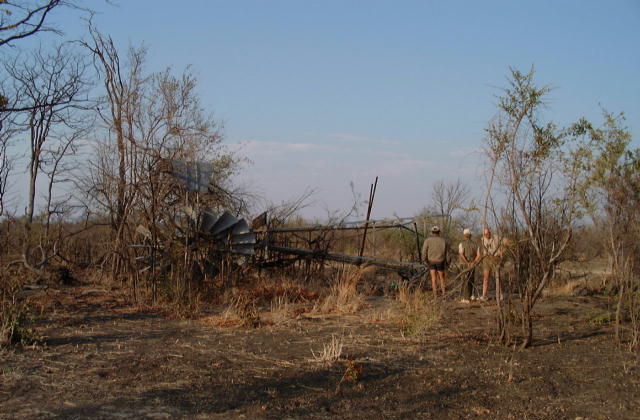 This is a windmill that has been pushed over by elephants.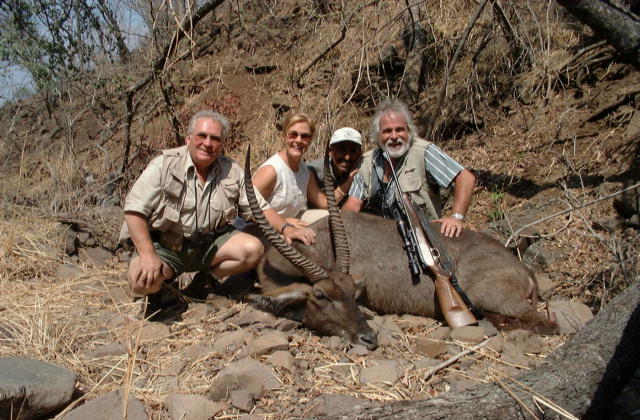 Walter shot this waterbuck with his deadly Blaser R93. Gerhard, Hanna, myself and our intrepid hunter, Walter.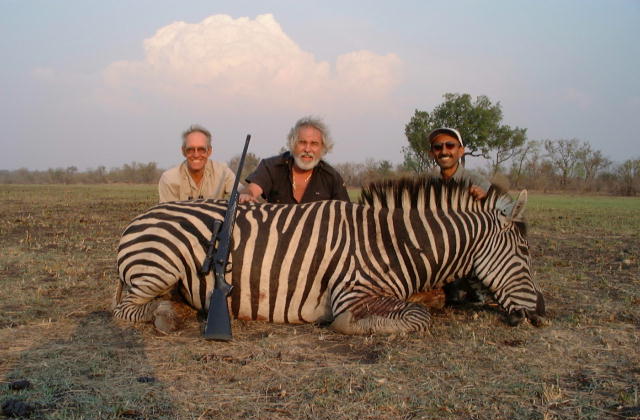 I shot this zebra on our first day in Matetsi, the same day I shot the reedbuck pictured at the beginning. Roy, Walter and me. 375/404, about 300 yards.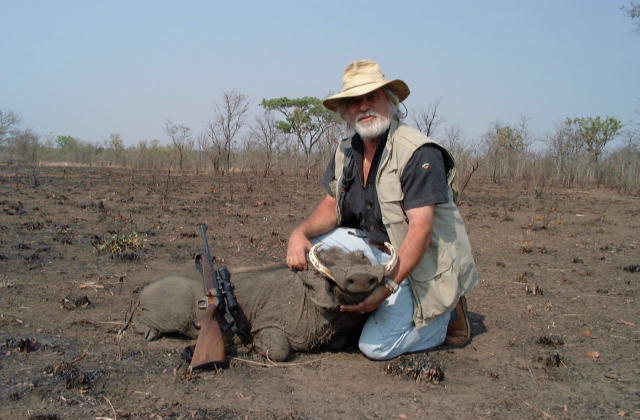 This is Walter with his namesake, Walterhog, you might notice the uncanny resemblance between the two creatures pictured above.