Rust Prevention Test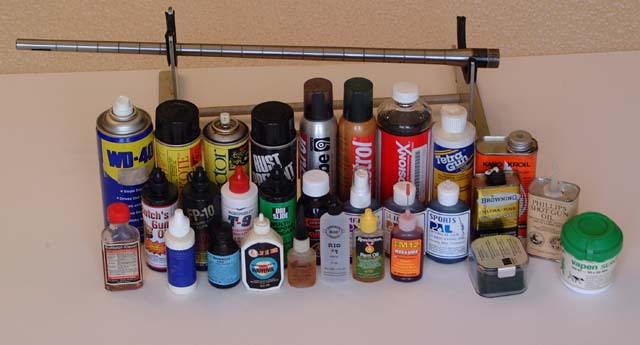 We live about 300 yards from the sea. The humidity is always high, and has a high salt content. Also, whenever we go shoot something, we are usually close to salt water, and invariably, some of it comes into contact with our rifles and shotguns.
I thought of trying a totally nonscientific test to see which of the oils we have in our lab will will offer us the best protection against salt water. Generally, we do clean our guns and oil them after we come back, but sometimes, this does not happen until the next day. Hence the running of this test and checking the effects after 24 and 48 hours, as well as one week.
I took an old barrel we have taken off a Remington rifle, removed all the bluing from it, using sand paper while running it in a lathe. I then cut circular grooves about 1-inch apart. Each section was thoroughly cleaned, and oiled with a different oil. It was left in this condition for 24 hours.
After 24 hours, I have cut small pieces of tissue paper - just big enough to wrap around the barrel. I then soaked these tissue paper with sea water. I checked the percentage of rust on each section after 24 hours. More sea water was added to soak the tissue paper, and then the spread of rust was checked again 48 hours from the start of the test. This was left standing, and one more check was done one week later.
The results are as follow. More oils are being tested now.
| | | | |
| --- | --- | --- | --- |
| OIL | AFTER 24 HOURS | AFTER 48 HOURS | AFTER 7 DAYS |
| WD-40 | 5% | 15% | 25% |
| SHOOTER'S CHOICE RUST PREVENT | 0 | 0 | 5 |
| GUN SAV'R FIREARM PROTECTOR | 5 | 15 | 25 |
| GUN SAV'R ARMOR COTE | 0 | 10 | 30 |
| HOPPE/CASTROL SYNTHETIC GUN LUBE | 10 | 20 | 50 |
| NYHET VAPEN SERVETTEN | 0 | 20 | 80 |
| JIB WAFFENOL | 5 | 15 | 20 |
| BALLISTOL KLEVER | 5 | 15 | 20 |
| BOESHIELD T-9 | 0 | 5 | 5 |
| DILLON SNAKE OIL | 60 | 100 | 100 |
| REMOIL W. TEFLON | 5 | 60 | 80 |
| PHILIPS SHOTGUN OIL | 80 | 100 | 100 |
| SHOOTER'S CHOICE FP-10 | 60 | 100 | 100 |
| VFG OIL FELTS | 10 | 60 | 70 |
| RIG # 7 | 70 | 100 | 100 |
| BROWNING ULTRA GUN OIL | 20 | 60 | 60 |
| SPORTS PAL | 40 | 80 | 90 |
| SLICK PAL | 50 | 60 | 90 |
| MARINE PAL | 20 | 50 | 70 |
| ACCUPRO ACCUPROOF | 5 | 10 | 20 |
| BROWNELL PENETRATING OIL | 20 | 20 | 20 |
| | | | |
| | | | |
| | | | |
| | | | |
| | | | |
| | | | |
| | | | |
| | | | |
| | | | |
| | | | |
| | | | |
| | | | |
| | | | |
| | | | |
| | | | |
| | | | |
| | | | |
| | | | |
Last updated May 25th, 2001