Roger Heintzman's Hunt In August 2002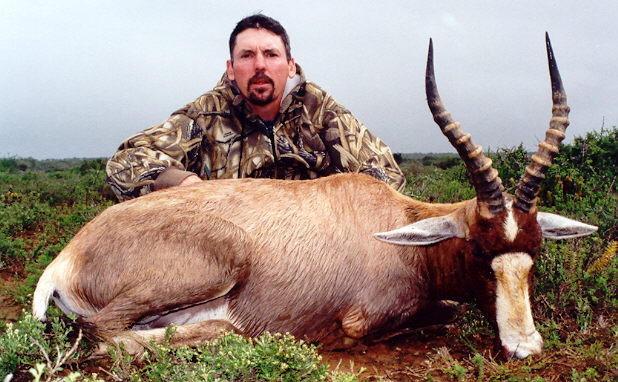 The Brown or Common Blesbok was shot at 60 yards as the herd walked by in single file. I used a Winchester Model 70, 300 Win. mag. with 180 gr. Nosler Partition handloads. Same gun and bullet for all 9 animals. SCI Silver and Rowland Ward. 16 inch horn. Overall 44 3/8.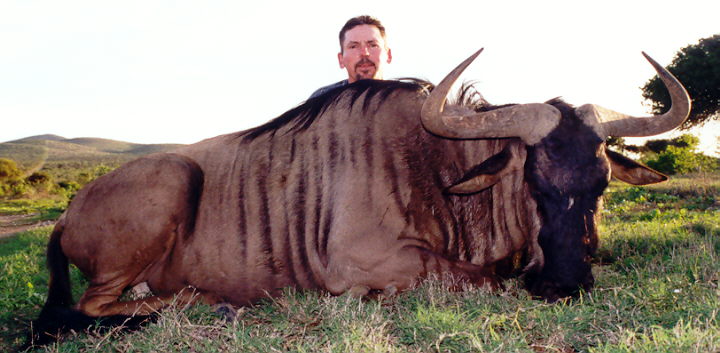 Blue Wildebeests first shot was 75 yards after stalking and crawling within distance. Shot was to far back and Wildebeest took off with herd. Found herd in open area and took a 300 yard shot and hit high. Animal ran toward me and at 50 yards I finished him. SCI Gold and Rowland Ward. Tip-to-tip, 57 5/8. Spread 28 3/8. Overall 86 7/8.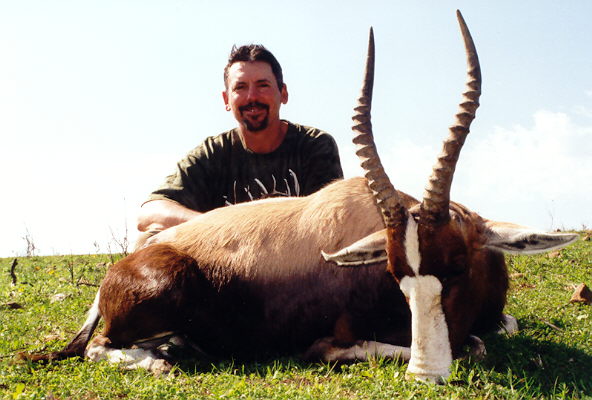 Bontebok was the easiest shot of the whole Safari. After a unsuccessful stalk and sitting in an open field, the Bontebok along with another herd bull came walking out of a draw right towards me. At 40 yards they stopped and I harvested the largest of the two. SCI Gold and Rowland Ward by 1 1/2 inches. Overall 43 0/8.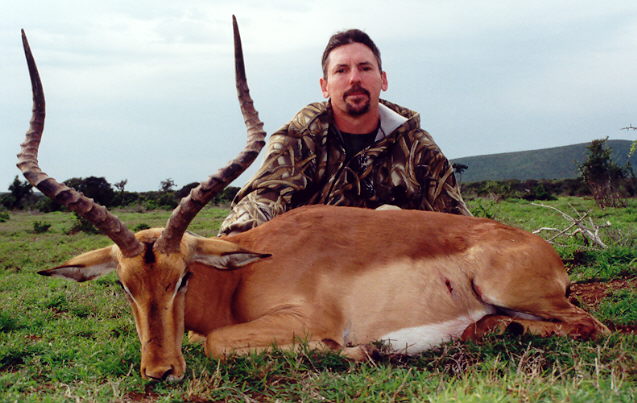 Impala is one of the most impressive I've seen. Shot at 60 yards. Best table fare I ever eaten. SCI Gold and Rowland Ward by 1 inch. 24 4/8 horns. Overall 60 3/8.
Kudu was almost lost. Took out front should and lost blood trail. Just happened to jump again out of now where. Trackers trailed Kudu and finishing shot was at 300 yards. SCI Silver and Rowland Ward. 46 4/8 horns 10 inch bases. Overall 112 7/8.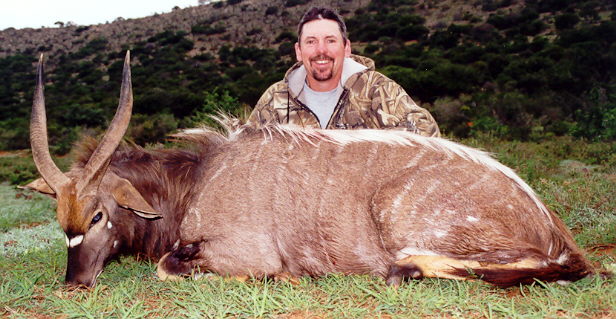 Nyala is one of the most beautiful African animals. Hunted two days to find a nice one. Nice ivory tips, will make a nice full mount.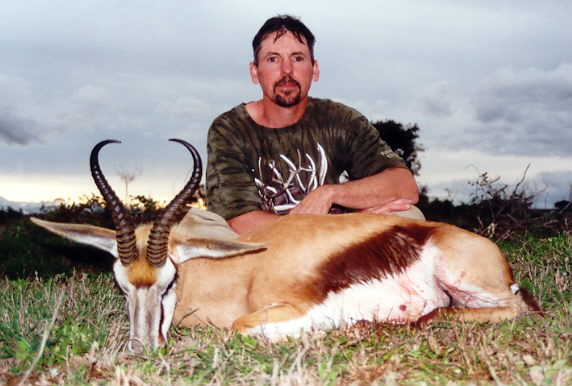 Springbuck, what a tough animal to hunt. Finally got one within 100 yards, towards evening. SCI Silver, 12 4/8 horns and overall 34 5/8.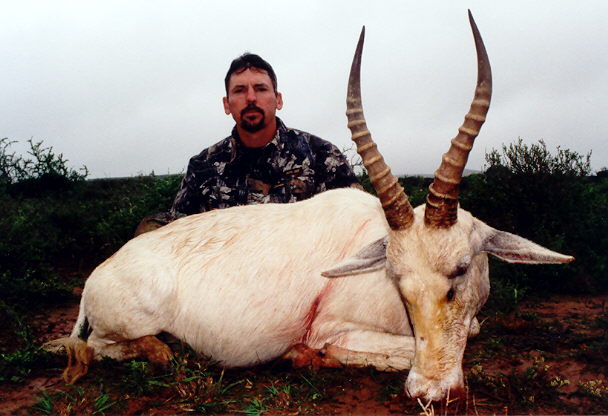 White Blesbok, was shot at the same distance and location as the Brown or Common Blesbok. I was sitting behind the same bush at different times of the day. SCI Bronze. 15 2/8 horns, Overall 43 2/8.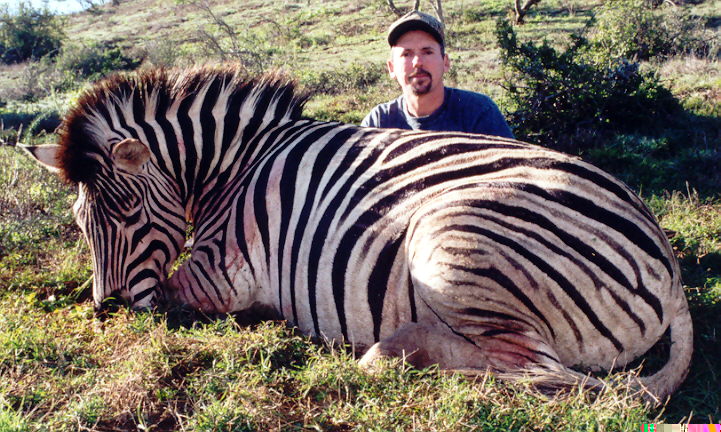 My Zebra was my first African animal harvested on the first morning. 200 yard shot across a valley, these animals sure can blend in to the surroundings. Very nice Stallion.
My Outfitter is Valley Bushveld Safari, Kerneels Scholtz, Eastern Cape of South Africa. This hunt was a dream come true, as Kerneels prices where very reasonable for my customized package. I wounded a Black Springbuck and could not find. The Waterbucks were not big enough so I did not harvest one. The White Blesbok was a fill in, because we could not get to the area for a Bushbuck I wanted also. The Eastern Cape received 10 inches of rain the week prior to my Safari, the most rain in 36 years. We had to cross a creek that had been dry for 10 years to get to the Brown and White Blesbok's.
The above hunt cost $5,000. It includes 11 days of hunting, and a total of 10 animals.