Air Pellets Test

We used this Anschutz Super Air 2001 for the following pellet test. We installed a B&L 4-12 scope on it, using EAW scope mounts.
All tests were shot at 15 meters. Some of you might notice that some groups with some pellets are better with 10 shots than 5 shots, I have no explanation for this, except that some of the pellets fired in the 5 shot groups were slightly damaged.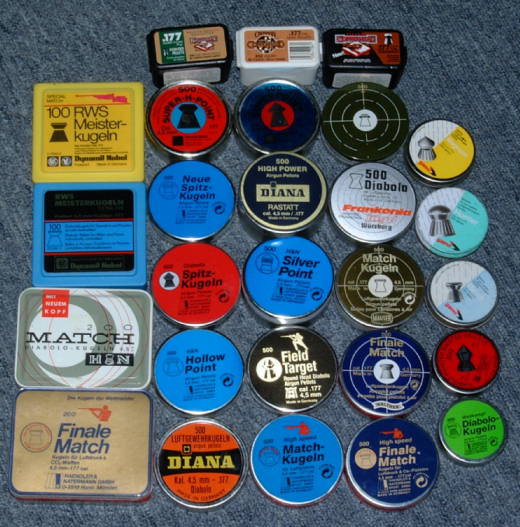 This is the collection of pellets used.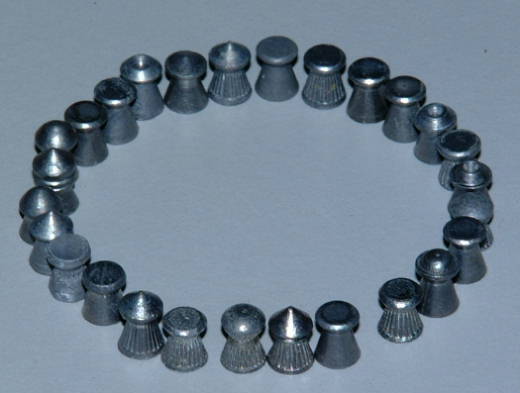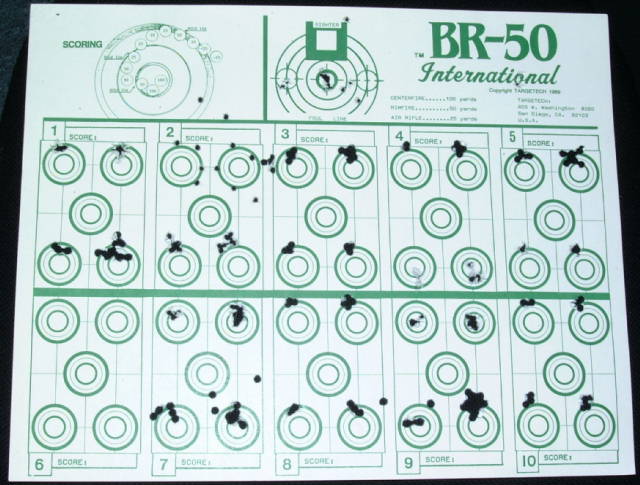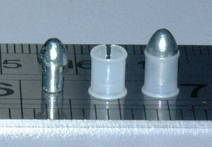 For those who have never seen these. They are the Prometheus hunting pellets. They are made of steel, and have a plastic jacket. The pellets weigh 5.1 grains and the jacket weighed 0.7 of a grain.
| | | | | |
| --- | --- | --- | --- | --- |
| MAKE | WEIGHT | VELOCITY | 5 SHOT GROUP | 10 SHOT GROUP |
| | | | | |
| H&N Match | 7.75 | 557 E9 S2 | 0.295 | 0.307 |
| H&N Final Match | 8.18 | 565 E5 S1 | 0.199 | 0.184 |
| RWS Extra 500 | 7.69 | 562 E7 S2 | 0.130 | 0.206 |
| RWS Special Match | 8.37 | 550 E8 S2 | 0.140 | 0.297 |
| H&N Final Match High Speed | 7.41 | 577 E4 S1 | 0.089 | 0.264 |
| H&N Silver Point | 11.38 | 488 E17 S4 | 0.288 | 0.448 |
| Diana High Power | 10.42 | 508 E10 S2 | 0.236 | 0.319 |
| Crosman Copperhead | 8.22 | 533 E19 S5 | 0.360 | 0.569 |
| Crosman Copperhead SuperMatch | 8.48 | 550 E10 S2 | 0.293 | 0.544 |
| Crosman Copperhead Pointed | 7.92 | 572 E13 S3 | 0.107 | 0.161 |
| Mauser Match | 8.07 | 568 E6 S1 | 0.188 | 0.208 |
| Walther Match | 7.62 | 577 E10 S2 | 0.238 | 0.249 |
| Frankonia Jagd | 7.57 | 568 E20 S5 | 2.026 | 2.115 |
| Mauser HP | 7.2 | 576 E12 S4 | 0.404 | 0.444 |
| H&N Field Target | 8.94 | 526 E8 S2 | 0.201 | 0.412 |
| Diana Standard | 7.80 | 553 E38 S10 | 0.469 | 1.089 |
| Diabolo Spitzer | 8.30 | 547 E14 S4 | 0.183 | 0.335 |
| H&N New Spitzer | 8.48 | 529 E6 S1 | 0.323 | 0.688 |
| Diabolo Pointed Waisted | 7.52 | 572 E24 S5 | 0.218 | 0.277 |
| H&N HP | 7.08 | 570 E9 S2 | 0.287 | 0.378 |
| RWS HP | 7.89 | 552 E22 S5 | 0.200 | 0.169 |
| RWS Superpoint | 7.98 | 544 E22 S6 | 0.199 | 0.717 |
| H&N High Speed MATCH | 7.14 | 584 E10 S2 | 0.164 | 0.212 |
| H&N Wettkampf | 8.68 | 534 E18 S5 | 0.264 | 0.324 |
| Gamo Magnum | 8.30 | 554 E14 S4 | 0.257 | 0.154 |
| Gamo Hunter | 8.36 | 557 E33 S7 | 0.252 | 0.188 |
| Gamo Match | 7.52 | 570 E17 S4 | 0.309 | 0.338 |
| Prometheus Hunting | 5.8 | 635 E19 S5 | 1.353 | 2.415 |
| | | | | |

Back to Main Page | Reloading Pages | FAQS | Hunting

Last Updated December 14th, 2000