Our Friend's Chris & Don's Safari In The Republic Of South Africa in 2002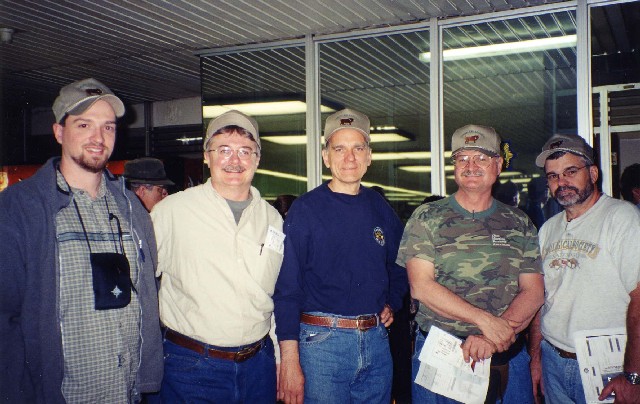 Before the excitement, at Johannesburg airport. From left: Chris, Puddle, Labman95, Don G and Mr. Mike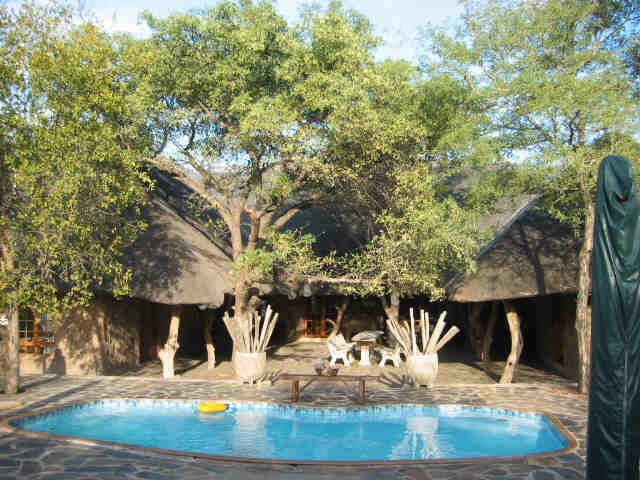 Landelani Game Lodge, hosted by MW DeJager, who kindly hosted our hunting party in 2000. A great place to hunt, great food, and great hospitality.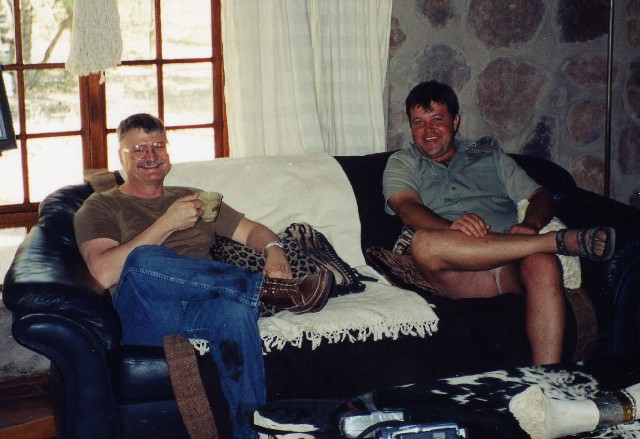 Don G and MW DeJager enjoying a drink in the hunting lodge.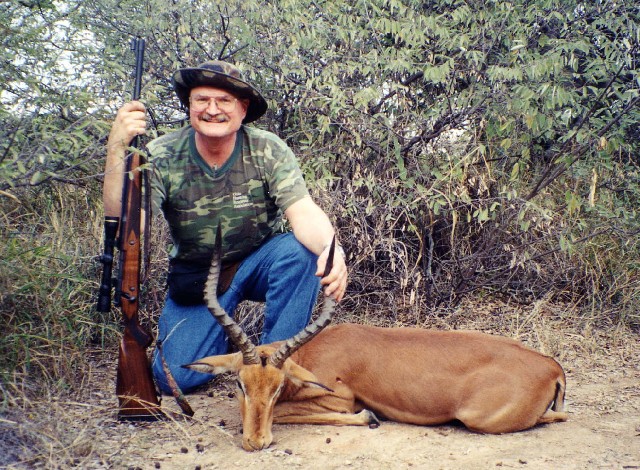 Don G and his impala, shot with his 416 Remington magnum, loaded with 330 grain GS Custom HV bullets.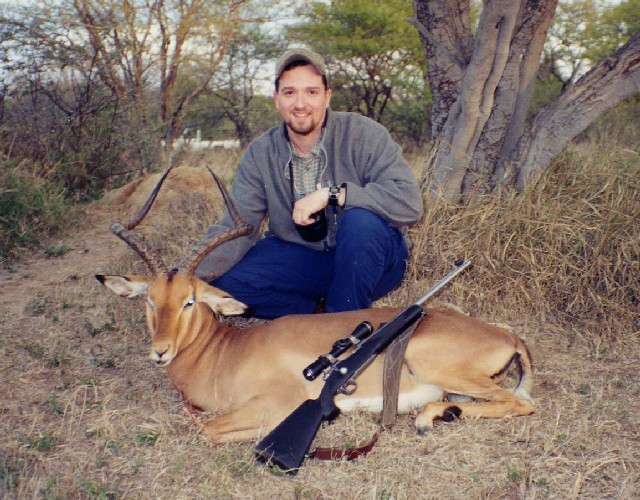 Chris's first African game animal. Chris had to borrow our mutual friend JJHack's 375 H&H to shoot his animals. He use 270 grain Swift A-Frame bullets.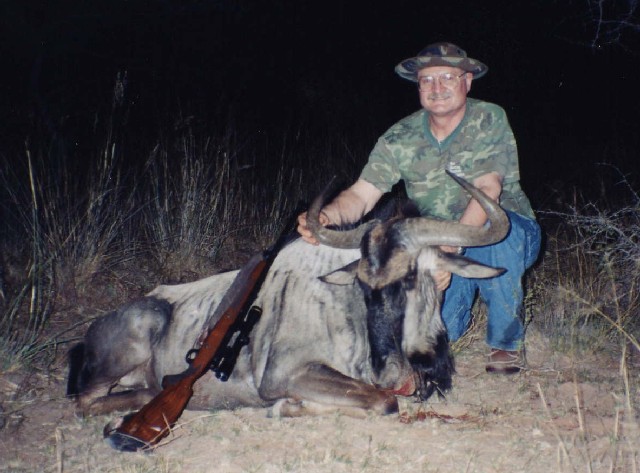 Don and his blue wildebeest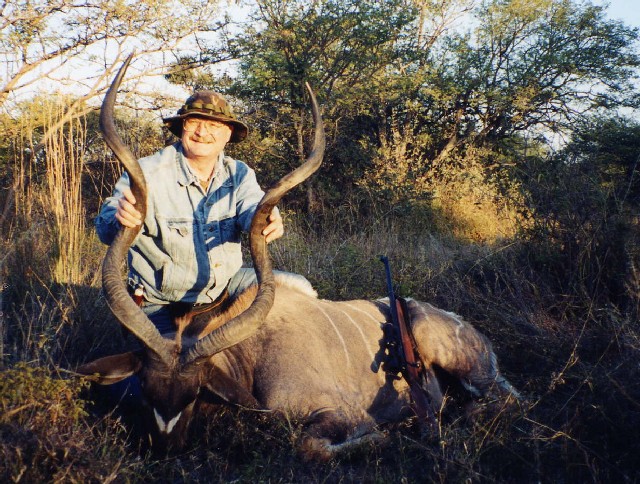 Don and his great looking 57" kudu bull, shot on the first day of their hunt.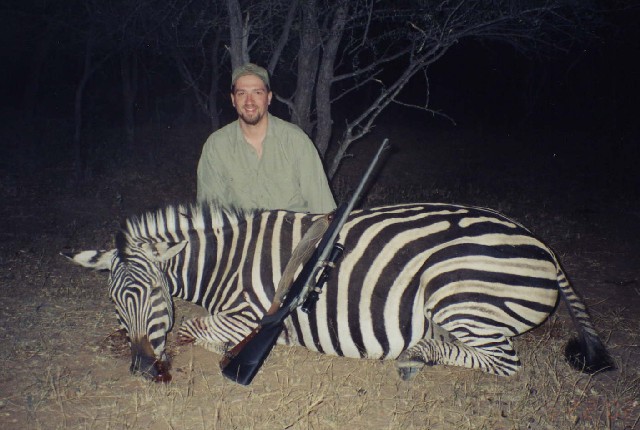 Chris and his zebra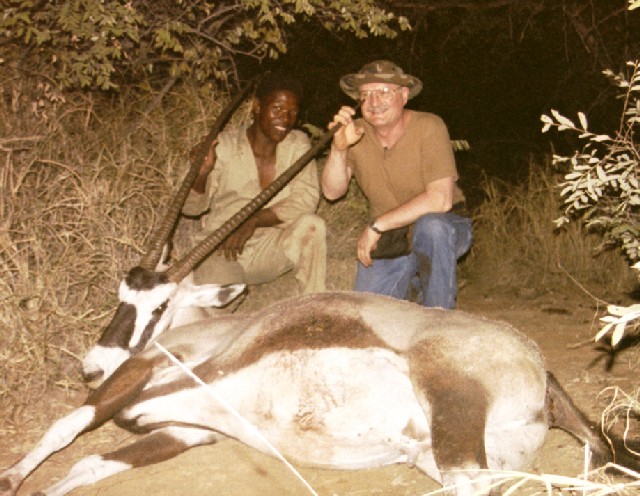 Don and Samuel, the tracker with Don's gemsbok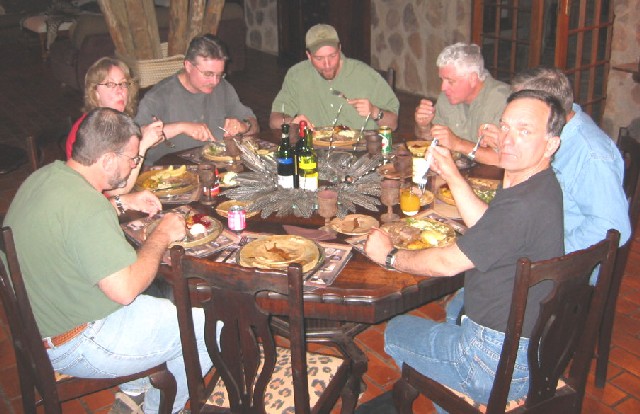 The hungry hunters tucking into a great meal. Mr. Mike, Stacy, Puddle, Chris, Randy H., Don G., and Labman95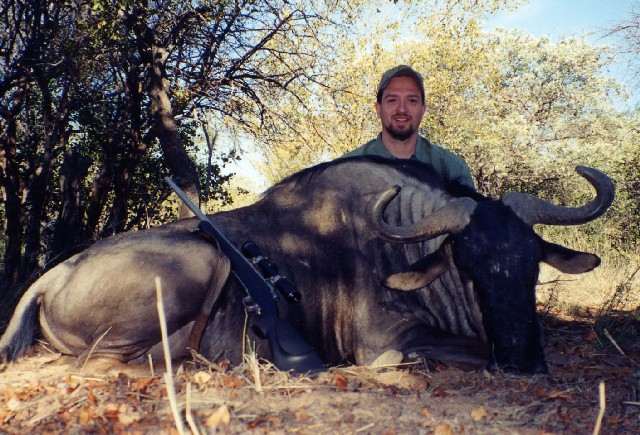 Chris and his old "dagga-gnu" which was taken with PH Jim Hackiewicz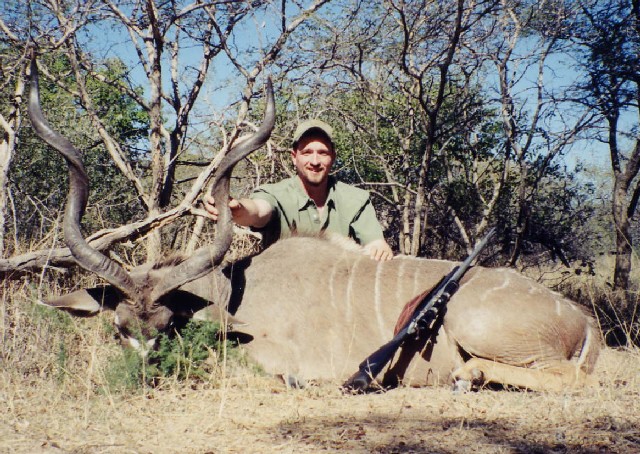 Chris and his kudu bull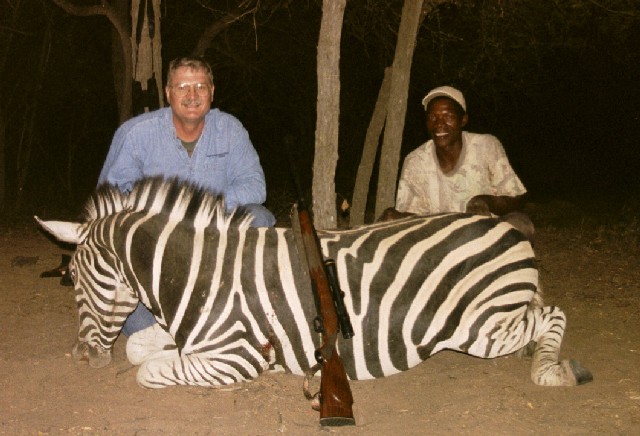 Don and his zebra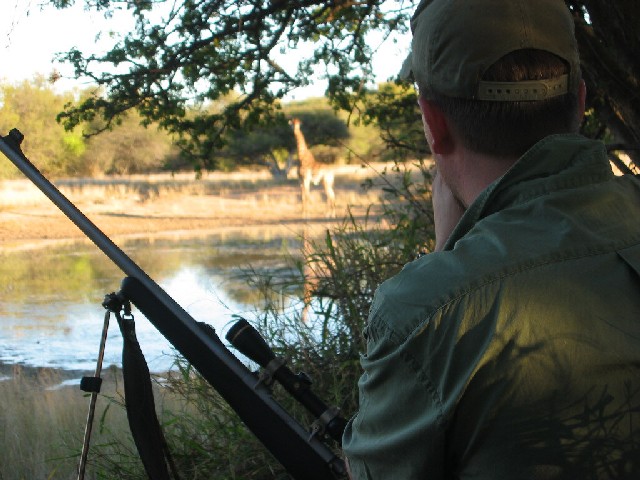 Chris video taping a giraffe at the waterhole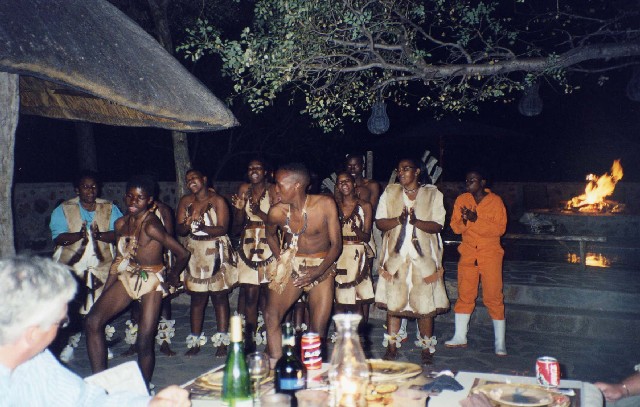 An evening of entertainment at the camp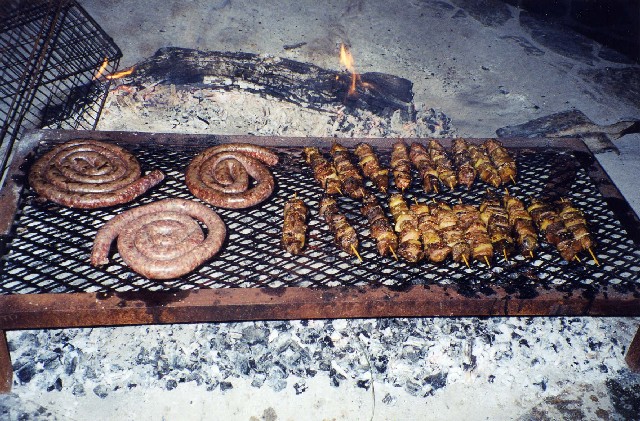 A braai of bors wors and susates (farmers's sausages and kudu kabobs, for those who have not been to Africa!)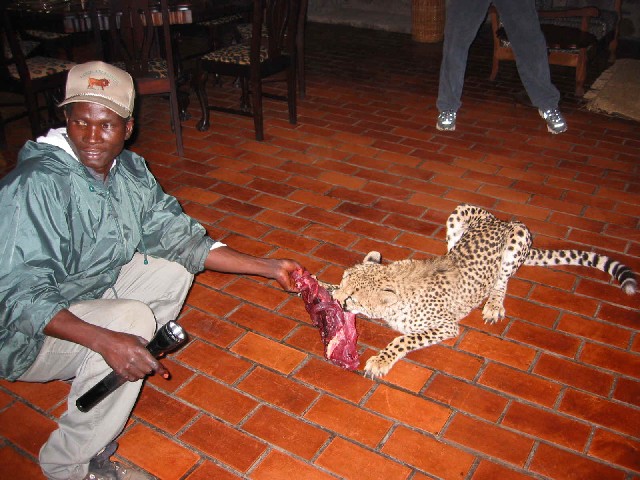 The camp cheetah feeding on a leg of lamb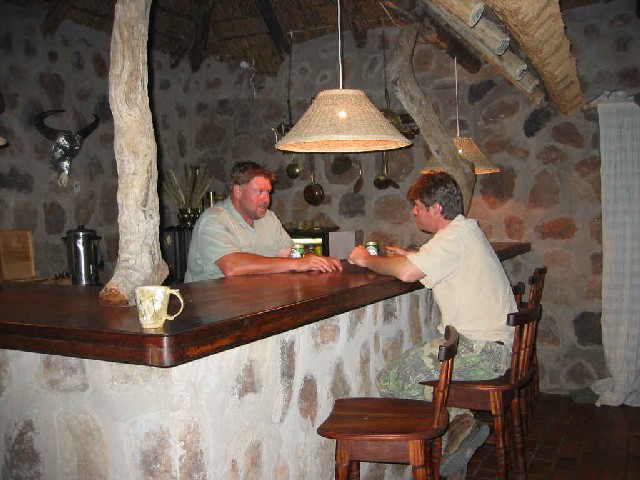 PH Gerard Harding and Pieter Peacock planning strategy for the next hunt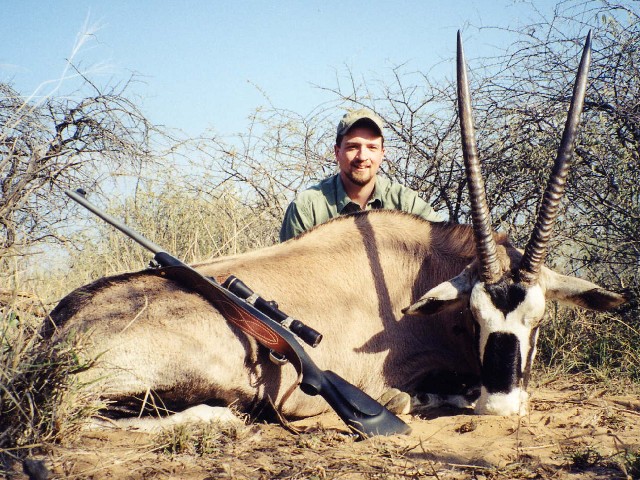 Chris and his gemsbok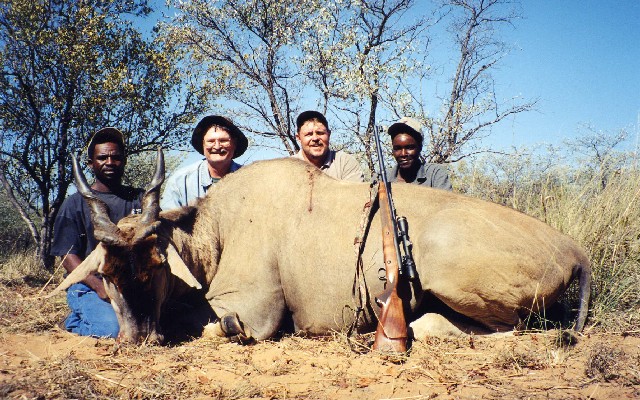 You can see how big this old eland bull is. From left Jakob, Don, Gerard and Rueben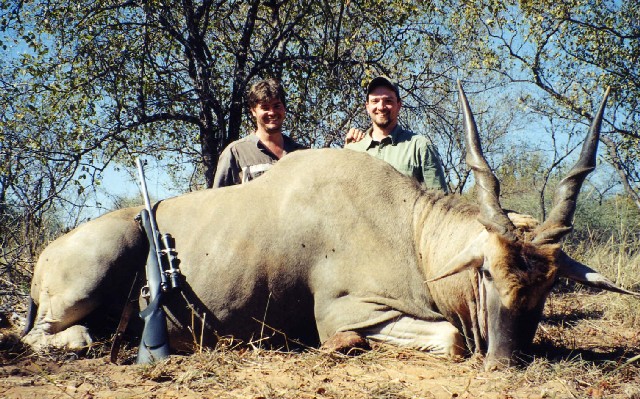 Another old bull eland. Pieter and Chris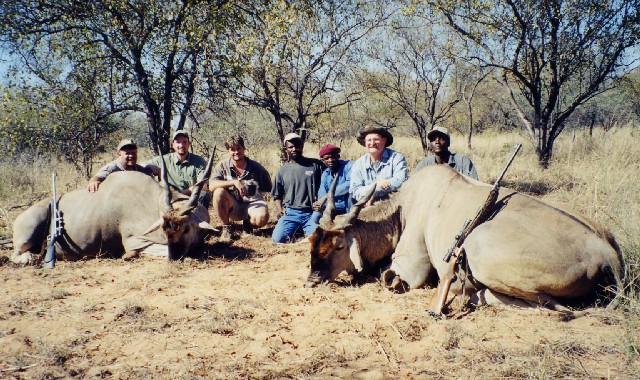 The two elands above. Gerard, Chris, Pieter, Jakob, Don and Rueben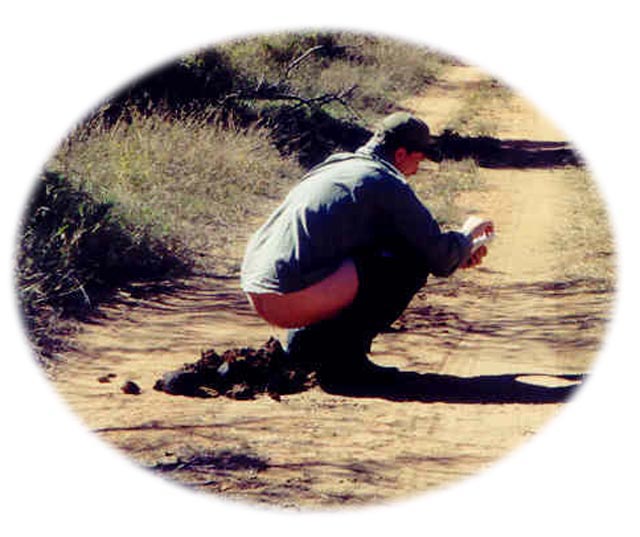 Chris had a slight problem with a stomach bug, as this was his first African safari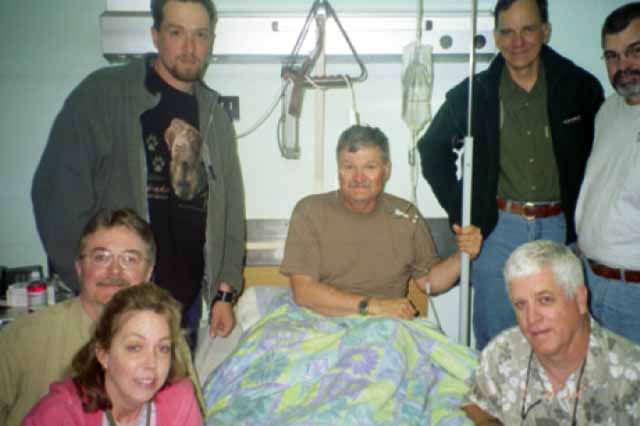 Our friend Don G, recovering in hospital after it dawned on him that he had to share a room with Chris. He said he did not wish to share a room with someone who can compete with a rhino!

Back to Main Page | Reloading Pages | FAQS | Hunting

Updated October 9th, 2002