Hunting In The Republic Of South Africa - June 2002
These are a few photos of our hunt at Bokpoort. A beautiful area in the mountains.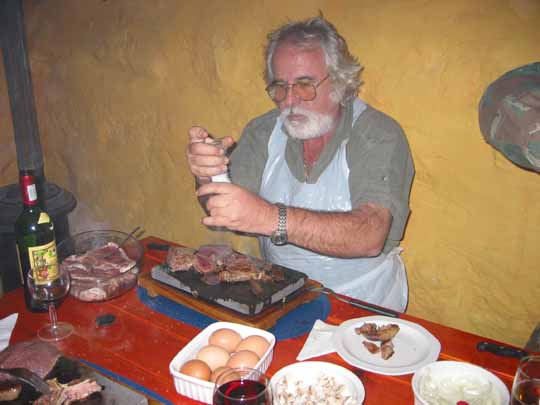 The day we arrived, Christo, our host, and his lovely daughter, Sune, prepared this feast for us. You get a large plate made of lava rock, which has been heated in an oven for several hours, on which you cook your own meal. There was a choice of blesbok, beef, chicken and eggs. Walter was not too sure about what he should have, so he just had to have everything. His description of this meal was "oral orgasm"! It would have to be Walter to come with something so descriptive. He did ask if we could have this sort of meal for breakfast, lunch and dinner, but I had to veto his request. After all, we have some hunting to do beside just eating.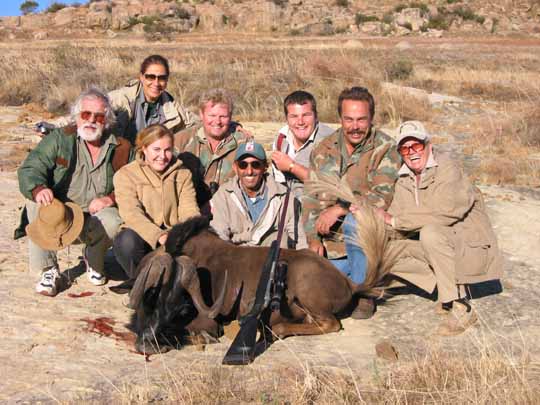 This was the first game animal we shot at Bokpoort, a black wildebeest which I had to shoot across a canyon after Walter refused to shoot it - admitting his Blaser was not good capable of reaching that far. Walter, Mona, Sune, Louis, me, Drum, Peter and Anna-Marie holding the tail!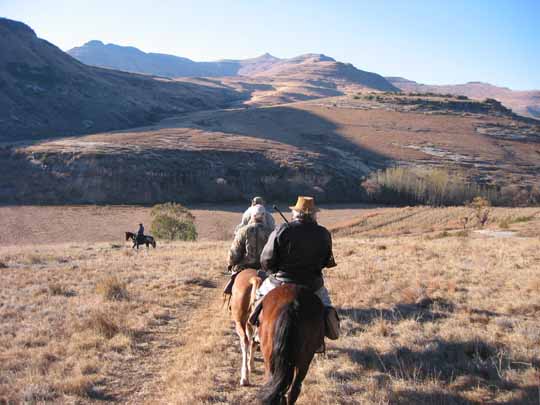 Heading into the mountains on horseback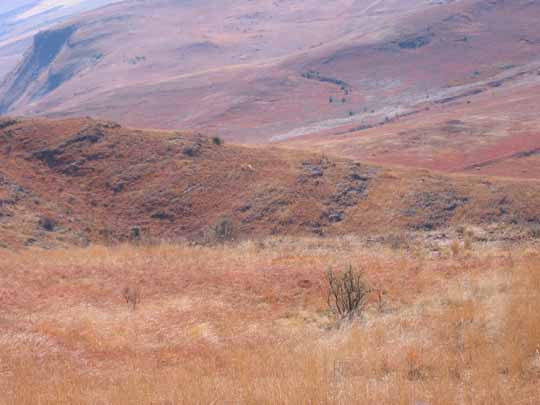 If you look at the red grass that you can see on the right hand side of the picture, just over the ridge of the second mountain. As that red grass meets the ridge, you will see a small black dot. That is Drum, collecting a mountain reedbuck I just shot. Both Drum and Louis had to work very hard carrying the two reedbucks Alan and I shot.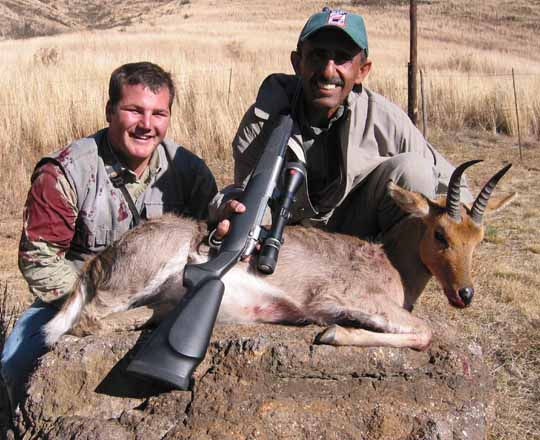 Drum is smiling after carrying the reedbuck down the mountain side. You can see how he is covered in blood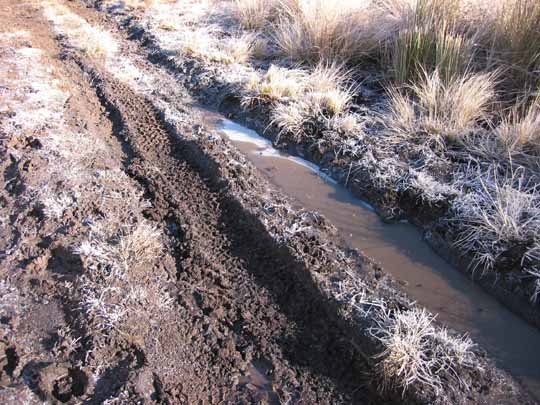 Frost and ice forming in the morning. Walter and me were sitting in the truck trying our best to keep warm, while David was outside in his shorts! Walter named him "rhino skin"!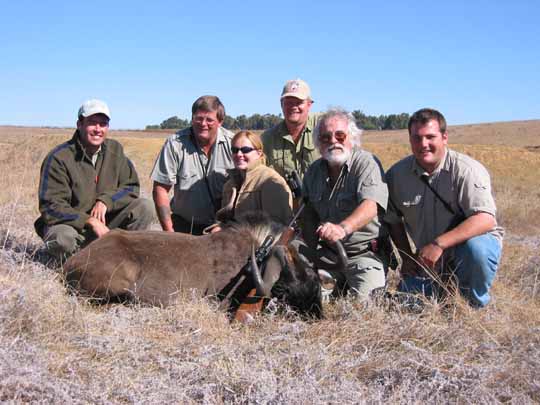 Walter and a black wildebeest that somehow managed in the way of his bullet!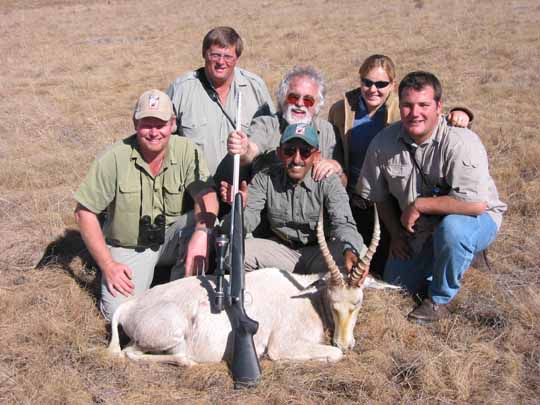 A white blesbok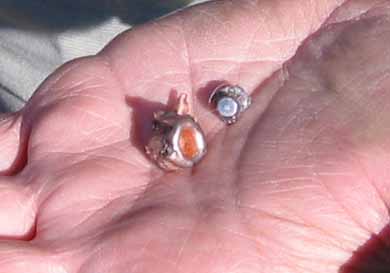 We recovered this bullet from a blesbok Walter shot with his 7x64 at around 280 yards. The bullet was a Nosler Ballistic Tip 150 grain. As you can see, the jacket and core have seperated.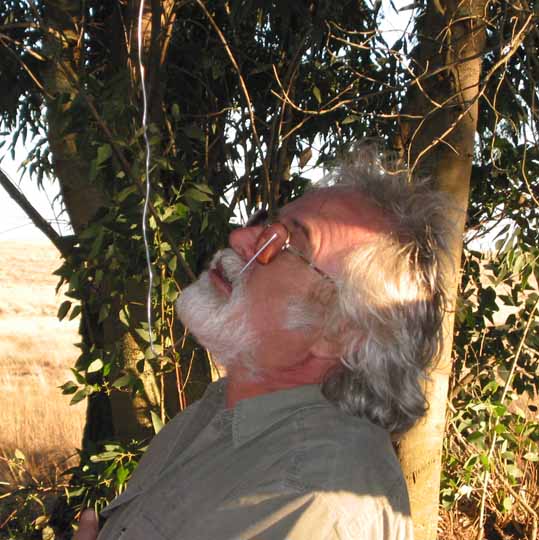 Walter hanging off a meet hook! He said it was not too painful! I suppose where there is no sense, there is no feelings!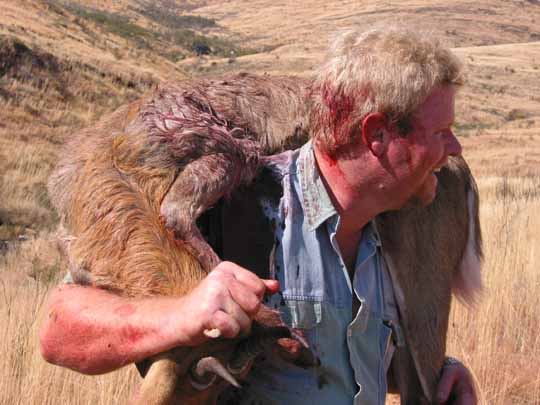 Louis carrying a mountain reedbuck Alan shot. They had to climb one mountain side chasing some reedbuck, which went over to the top to the other side, then they had to come down into the valley, and up the opposite mountain to shoot this one.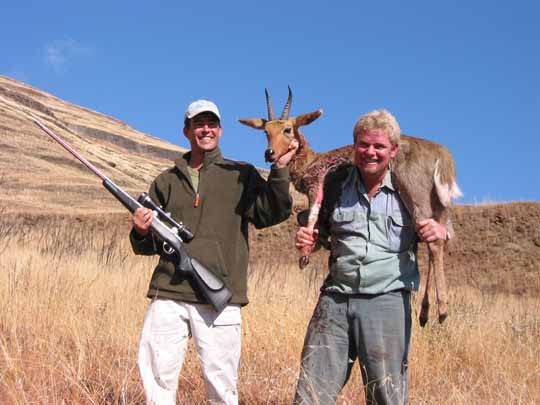 Alan, his mountain reedbuck and his blood covered PH. Smiles all around. Only Walter was not too happy, as Alan declined his offer of using the Blaser - saying " I would rather use a REAL rifle than that funny piece of machinery!"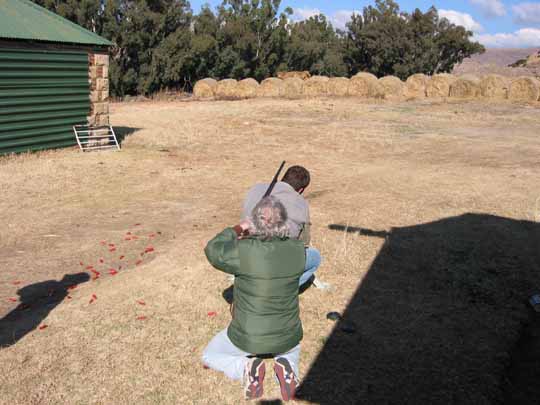 We tried our hands at some clay shooting. Walter could not stand the competition, so he had to use Drum as a rest for his shotgun!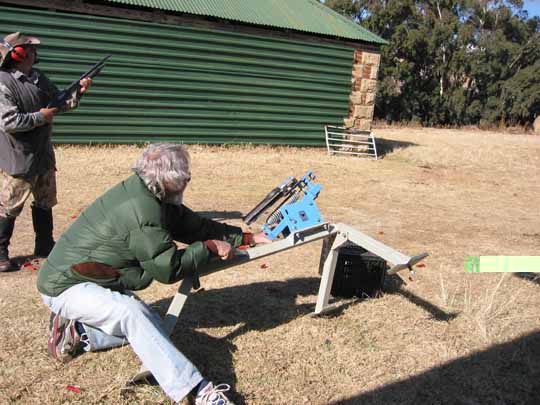 Walter adding a new angle to launching a target. Christo is ready for the challenge.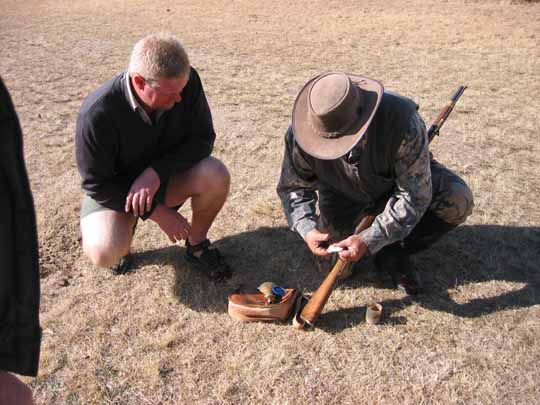 Our host, Christo, preparing his black powder rifle, which belonged to his grandfather, to shoot a blesbok with. He used a lead sinker of approximately the right size and 90 grains of black powder to shoot his blesbok. The ball went straight through the animal, which was shot behind the shoulders.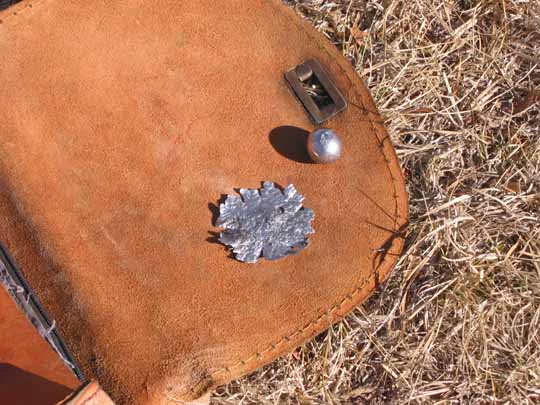 A new sinker next to one I fired at a steel plate. Perfect expansion!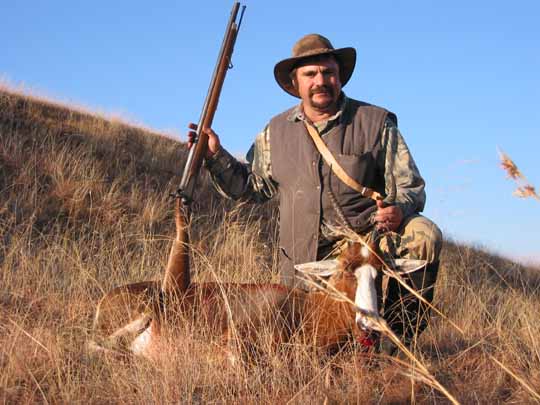 Christo with his blesbok. He shot from about 60 yards away.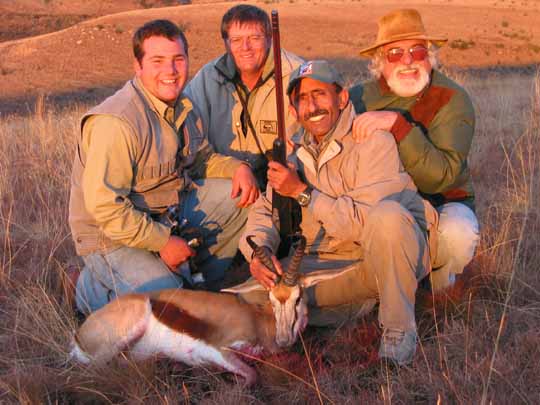 A springbok I shot just before sun down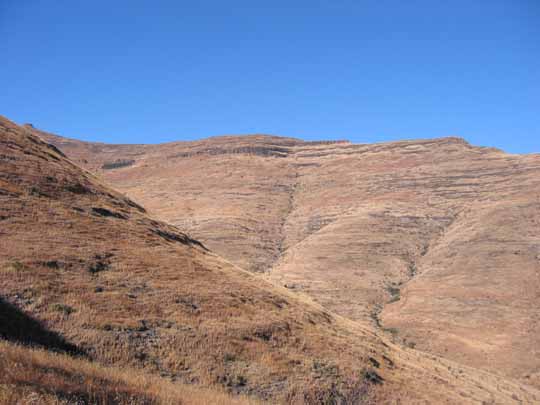 A view of the mountains we hunted