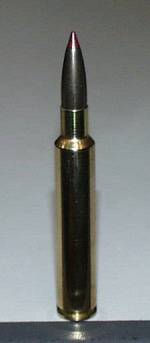 280 Ackley
The following data was developed in a Hall action rifle, with a Hart varmint weight barrel of 26 inches. We originally meant to have this barrel installed on another action that we had used for the 7 x 57 Ackley, We had to change our minds and use another action, as that one is being used for another project we are working on. Both actions are identical, though.
We ran into a slight problem when we came to resize the brass after it was fire formed. We discovered that someone had borrowed our 280 Ackley die set, and he was out of the country. We had to use the 7x57 Ackley die to partially size the cases, and as the 7x57 die is not long enough to deprime the cases, we had to add another operation to our usual schedule, and that is by decapping the cases by using a Wilson decapping set.
We used Remington brass and the Federal 210M throughout all our tests. All bullets were molly coated, and all groups are 5 shots at 100 yards. Velocity is choronographed at 10 feet ahead of the barrel, as per our usual practice.
| | | | |
| --- | --- | --- | --- |
| POWDER | VELOCITY | GROUP | BULLET |
| 19.0 GREEN DOT | 1650 | FIRE FORM | SIERRA 168 MK |
| | | | |
| 60.0 VVN 160 | 3217 | 0.308 | SIERRA 100 HP |
| 61.0 | 3300 | 0.369 | |
| 62.0 | 3373 | 0.364 | |
| 63.0 | 3424 | 0.204 | |
| 64.0 | 3469 | 1.390 | |
| 65.0 | 3510 | 0.441 | |
| 66.0 | 3548 | 0.385 | |
| 58.0 W 760 | 3224 | 0.366 | |
| 59.0 | 3334 | 0.343 | |
| 60.0 | 3405 | 0.276 | |
| 61.0 | 3450 | 0.306 | |
| 62.0 | 3494 | 0.261 | |
| 63.0 | 3558 | 0.558 | |
| 64.0 | 3626 | 0.182 | |
| 65.0 | 3656 | 0.190 | |
| 66.0 | 3692 | 0.244 | |
| 67.0 | 3728 | 0.534 | |
| 68.0 | 3794 | 0.580 | |
| 55.0 REL 15 | 3445 | 0.239 | |
| 56.0 | 3531 | 0.535 | |
| 60.0 REL 19 | 3119 | 0.281 | NOSLER 120 BALLISTIC TIP |
| 61.0 | 3210 | 0.677 | |
| 62.0 | 3266 | 0.567 | |
| 63.0 | 3296 | 0.400 | |
| 64.0 | 3340 | 0.246 | |
| 65.0 | 3420 | 0.386 | |
| 58.0 H 414 | 3277 | 0.550 | |
| 59.0 | 3329 | 0.456 | |
| 60.0 | 3263 | 0.622 | |
| 61.0 | 3401 | 0.375 | |
| 62.0 | 3456 | 0.159 | |
| 63.0 | 3541 | 0.633 | |
| 64.0 | 3572 | 0.363 | |
| 57.0 H 4831 | 2911 | 0.171 | SIERRA 130 MATCH KING |
| 58.0 | 2981 | 0.222 | |
| 59.0 | 2995 | 0.311 | |
| 60.0 | 3102 | 0.639 | |
| 61.0 | 3137 | 0.270 | |
| 62.0 | 3169 | 0.185 | |
| 63.0 | 3212 | 0.737 | |
| 64.0 | 3258 | 0.432 | |
| 65.0 | 3309 | 0.449 | |
| 56.0 VVN 550 | 3257 | 0.528 | |
| 57.0 | 3309 | 0.289 | |
| 58.0 | 3386 | 0.665 | |
| 59.0 | 3435 | 628 | |
| 58.0 WMR | 2823 | 0.260 | NOSLER 140 BALLISTIC TP |
| 59.0 | 2874 | 0.236 | |
| 60.0 | 2950 | 0.443 | |
| 61.0 | 3034 | 0.421 | |
| 62.0 | 3052 | 0.287 | |
| 63.0 | 3081 | 0.500 | |
| 64.0 | 3116 | 0.347 | |
| 65.0 | 3153 | 0.799 | |
| 60.0 VVN 165 | 3001 | 0.531 | |
| 61.0 | 3062 | 0.488 | |
| 62.0 | 3083 | 0.146 | |
| 63.0 | 3128 | 0.148 | |
| 64.0 | 3165 | 0.287 | |
| 65.0 | 3203 | 0.588 | SD 4 |
| 58.0 | 2911 | 0.170 | SIERRA 150 MATCH KING |
| 59.0 | 2937 | 0.522 | |
| | | | |
| | | | |
| | | | |
| | | | |