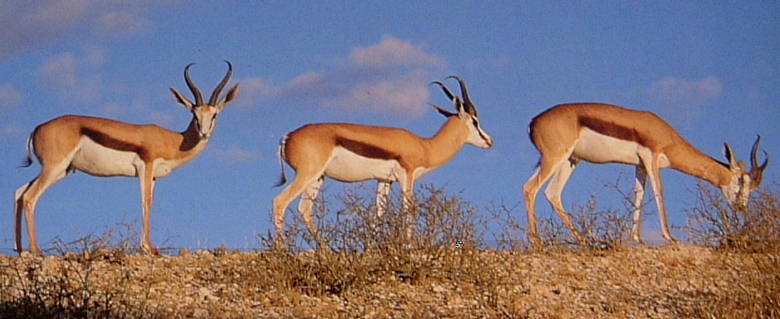 260 REMINGTON
The following data was developed in a Ruger M77 rifle. We got the rifle second hand, it was in 243 Winchester caliber. It had quite a few dents and scratches in the stock. Part of the stock was actually rotted away from a liberal application of some sort of penetrating oil. The bolt release lever was missing, so we had to replace it with a home made part. The barrel was in pretty bad shape too, with quite a few pitted areas. I did not bother examining it on the inside, as it seemed to be a good candidate for the spare parts heap!
I have a Hart 31 inch barrel blank in 0.264 caliber, # 4 contour, with a 9 inch twist. I chambered it for the new 260 Remington cartridge, and finished it at 28 inches. I installed the barrel on the action after I made sure that the locking lugs were making good contact in the receiver. The rifle was then installed in a McMillan synthetic stock, using the Brownell's Steel Bed bedding compound. A Leupold 6.5 x 20 X scope was installed in Ruger mounts.
We did not have any 260 Remington brass, so we had to form our cases from RWS 308 brass. It would have been much easier to form them from 7mm-08 Remington, but as we did not have so many of those on hand, we had to settle for the 308. We ran into a slight problem, as the necks were a bit too thick to chamber in the rifle. I think this came about because our reamer was cut to the minimum SAAMI specs. We used the K&M neck turning tool with the power adapter. We turned the necks of our cases down to just under 0.002" less than the neck diameter of the chamber.
We used the Federal 210M primers in all the following loads. All groups are 3 shots at 100 yards.
| | | | |
| --- | --- | --- | --- |
| POWDER | VELOCITY | GROUP | BULLET |
| | | | |
| 40.0 VVN 165 | 2338 | 0.170 | SIERRA 140 MATCH KING |
| 41.0 | 2395 | 0.607 | |
| 42.0 | 2451 | 0.420 | |
| 43.0 | 2512 | 0.649 | |
| 44.0 | 2576 | 0.674 | |
| 45.0 | 2631 | 0.519 | |
| 46.0 | 2667 | 0.936 | |
| 47.0 | 2730 | 0.691 | |
| 48.0 | 2803 | 0.542 | |
| 49.0 | 2869 | 0.514 | |
| 50.0 | 2899 | 0.979 | |
| 44.0 VVN 560 | 2635 | 0.768 | |
| 45.0 | 2702 | 1.270 | |
| 46.0 | 2762 | 0.764 | |
| 47.0 | 2829 | 0.836 | |
| 48.0 | 2910 | 0.480 | |
| 49.0 | 3028 | 0.573 | SIERRA 120 MATCH KING |
| 50.0 | 3104 | 0.547 | |
| 51.0 | 3175 | 0.335 | |
| 52.0 | 3226 | 0.618 | |
| 44.0 H 4831 | 2626 | 0.936 | |
| 45.0 | 2663 | 0.655 | |
| 46.0 | 2741 | 1.081 | |
| 47.0 | 2835 | 0.471 | |
| 48.0 | 2906 | 1.070 | |
| 49.0 | 2984 | 0.911 | |
| 47.0 WMR | 2748 | 0.800 | |
| 48.0 | 2826 | 1.325 | |
| 49.0 | 2893 | 0.898 | |
| 50.0 | 2969 | 0.630 | |
| 51.0 | 2975 | 0.688 | |
| 52.0 | 3041 | 0.440 | |
| 42.0 RELOADER 15 | 3010 | 0.413 | |
| 43.0 | 3091 | 0.543 | |
| 45.0 H 414 | 2976 | 1.094 | |
| 46.0 | 3040 | 0.839 | |
| 44.0 H 4350 | 2824 | 0.601 | |
| 45.0 | 2900 | 0.358 | |
| 46.0 | 2980 | 0.548 | |
| 47.0 | 3042 | 0.138 | |
| 48.0 | 3097 | 1.226 | |
| 49.0 | 3181 | 0.378 | |
| 45.0 | 2999 | 0.829 | SIERRA 107 MATCH KING |
| 46.0 | 3058 | 0.535 | |
| 47.0 | 3146 | 0.660 | |
| 48.0 | 3203 | 0.323 | |
| 49.0 | 3261 | 1.522 | |
| 46.0 W 760 | 3135 | 0.221 | |
| 47.0 | 3213 | 1.019 | |
| 49.0 | 3304 | 1.061 | |
| 48.0 RELOADER 19 | 3084 | 1.101 | |
| 49.0 | 3127 | 0.798 | |
| 50.0 | 3213 | 0.751 | |
| 40.0 H 4895 | 3112 | 0.671 | NOSLER 100 BALLISTIC TIP |
| 41.0 | 3177 | 0.382 | |
| 42.0 | 3276 | 0.570 | |
| 42.0 VVN 150 | 3141 | 0.581 | |
| 43.0 | 3202 | 0.997 | |
| 44.0 | 3280 | 0.704 | |
| 45.0 | 3339 | 0.687 | |
| | | | |
| | | | |
Last updated November 18th, 2000