25-284 Winchester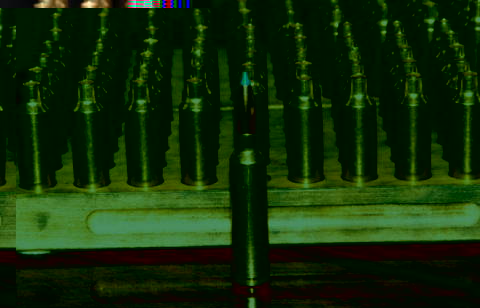 A loaded round with additional cases already necked down to 25 caliber.
We developed this data in the same rifle that we used to develop our data for the 250 Ackley. All we did was re-cut the chamber to this wildcat.
The rifle was a Remington 40X, with a 26" Lilja stainless, fluted barrel. The stock was the original Remington synthetic. A Leupold 6.5-20 scope was installed in Jewel rings and Kelbly bases. Winchester 284 brass, and the Federal 210M primers were used throughout the tests. All groups were 3 shots at 100 yards, and all bullets were molly coated.
| | | | |
| --- | --- | --- | --- |
| POWDER | VELOCITY | GROUP | BULLET |
| | | | |
| 50.0 VVN 150 | 3588 | 0.913 | 75 HORNADY V-MAX |
| 51.0 | 3676 | 0.591 | |
| 52.0 | 3741 | 0.849 | |
| 53.0 | 3798 | 1.102 | |
| 54.0 | 3859 | 0.639 | |
| 53.0 H 4831 | 3087 | 0.642 | |
| 55.0 | 3207 | 0.692 | |
| 56.0 | 3295 | 0.167 | |
| 57.0 | 3364 | 0.403 | |
| 58.0 | 3449 | 0.672 | |
| 59.0 | 3579 | 0.654 | |
| 60.0 | 3628 | 0.407 | |
| 61.0 | 3698 | 0.958 | |
| 62.0 | 3709 | 0.126 | |
| 63.0 | 3788 | 0.470 | |
| 54.0 REL 19 | 3283 | 0.491 | 85 NOSLER BALLISTIC TIP |
| 55.0 | 3397 | 0.466 | |
| 56.0 | 3504 | 0.488 | |
| 57.0 | 3570 | 0.668 | |
| 58.0 | 3635 | 0.552 | |
| 59.0 | 3718 | 1.016 | |
| 58.0 VVN 165 | 3491 | 0.861 | |
| 59.0 | 3542 | 0.585 | |
| 60.0 | 3634 | 0.666 | |
| 61.0 | 3669 | 0.806 | |
| 62.0 | 3759 | 1.015 | |
| 57.0 H 1000 | 3205 | 0.480 | 100 NOSLER BALLITIC TIP |
| 58.0 | 3256 | 0.444 | |
| 59.0 | 3301 | 0.653 | |
| 60.0 | 3340 | 0.658 | |
| 61.0 | 3416 | 0.440 | |
| 62.0 | 3503 | 0.541 | |
| 63.0 | 3538 | 1.421 | |
| 57.0 VVN 165 | 3325 | 1.071 | |
| 58.0 | 3389 | 0.757 | |
| 59.0 | 3452 | 0.990 | |
| 60.0 | 3496 | 0.487 | |
| 61.0 | 3547 | 0.521 | |
| | | | |
{ Back to Main Page | Hunting | Humor | FAQS | Reloading Files }
Last updated January 12th, 2001