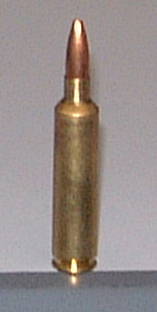 243 ACKLEY
The following data was developed in a rifle built on a Hall BR action. It has a Hart medium weight barrel, 25 inches long and fluted. Jewel trigger and Leupold 6.5 – 20X scope was installed in Jewel rings and Kelbly bases.
We used Winchester brass and the Federal 210M primer. All bullets were loaded to just touch the rifling.
All groups are 5 shots at 100 yards.
| | | | |
| --- | --- | --- | --- |
| POWDER | VELOCITY | GROUP | BULLET |
| | | | |
| 46.1 H 414 | 3566 | 0.426 | BRAWAND 68 HP |
| 47.0 | 3607 | 0.683 | |
| 44.9 H 4350 | 3300 | 0.641 | |
| 46.7 | 3450 | 0.667 | |
| 47.5 | 3582 | 0.688 | ESTES 66 HP |
| 48.0 | 3602 | 0.416 | |
| 49.0 | 3573 | 0.447 | RUBRIGHT 63 HP |
| 43.2 RELOADER 15 | 3661 | 0.472 | BERGER 62 HP |
| 43.7 | 3720 | 0.482 | |
| 44.2 | 3750 | 0.380 | |
| 44.1 | 3682 | 0.222 | RUNRIGHT 63 HPBT |
| 44.7 | 3781 | 0.323 | |
| 45.4 | 3821 | 0.412 | |
| 46.2 | 3905 | 0.402 | |
| 46.5 | 3992 | 0.270 | SIERRA 60 HP |
| 46.5 | 4025 | 0.628 | BERGER 60 HP |
| 42.4 VVN 140 | 3756 | 0.391 | DIERRA 60 HP |
| 42.1 | 3634 | 0.600 | NOSLER 70 BALLISTIC TIP |
| 44.0 VVN 150 | 3789 | 0.518 | |
| 45.0 | 3869 | 0.547 | |
| 45.5 | 3876 | 0.258 | |
| 46.5 RELOADER 15 | 3966 | 0.400, 0.370, 0.356 | 3 GROUPS CONTROL |
| | | | |
| | | | |
Last updated 31 December 1998