Hunting The Moyowosi 2008
Part I
This year's hunt was a little different, as we usually hunt in one area, and this time we planned to hunt from 3 separate camps in 4 concessions. These concessions belong to either Wingert Windrose safaris or Tanzania game Trackers safaris. Both of these are owned by the same people, and run extremely well. It seems no expense is spared to make sure that the clients have a wonderful time.
We started our hunt from the Murungu camp - and in case you are wondering, Murungo is derived from the name of the Murungo rungo tree. The roots of which are used as medicine for anything that might ails you. It is a which doctors dream medicine.
We flew Emirates to Dar Essalam, and then took our charter plane to camp, barely making it before dark.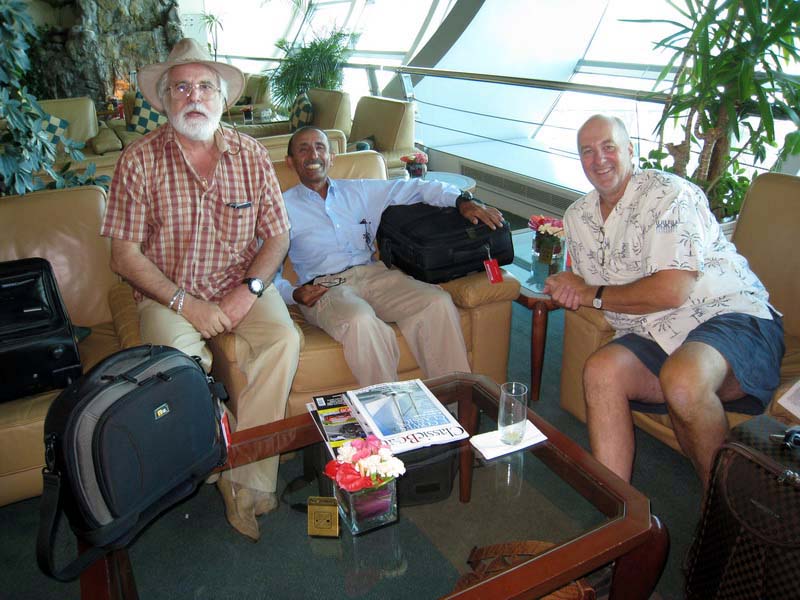 Walter, myself and Dwight in the First Class lounge at Dubai International Airport.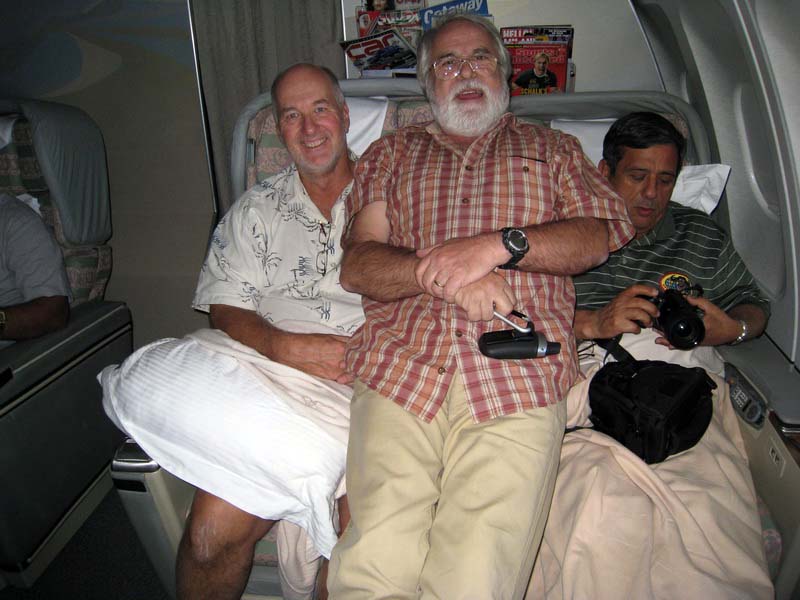 Walter playing his usual antics in the plane. He was trying to demonstrate that the two seats are really big enough for three passengers.
Approaching the coast at Dar Essalam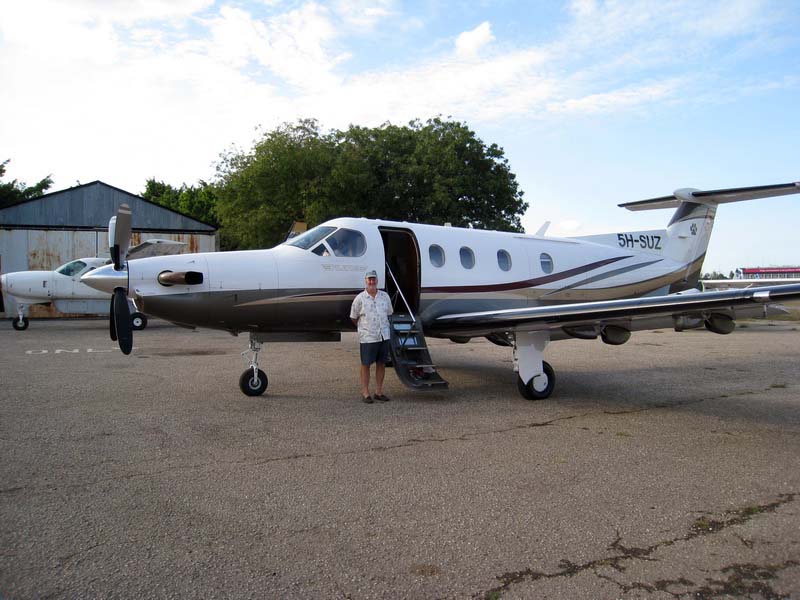 Dwight anxious to get on his way to the hunting camp. It was quite funny, as the plane taxied forward - behind me are another line of parked planes - we realized that we could not make it. As the canopy of the departure lounge extends out, and would have clipped the right wing of our plane. The problem was finally solved by moving one of the other planes, and we managed to get on our way. For a while we were worried we might not be able to make it to camp before night time. This would, of course, entail us spending the night in Dar. Something we wanted to avoid.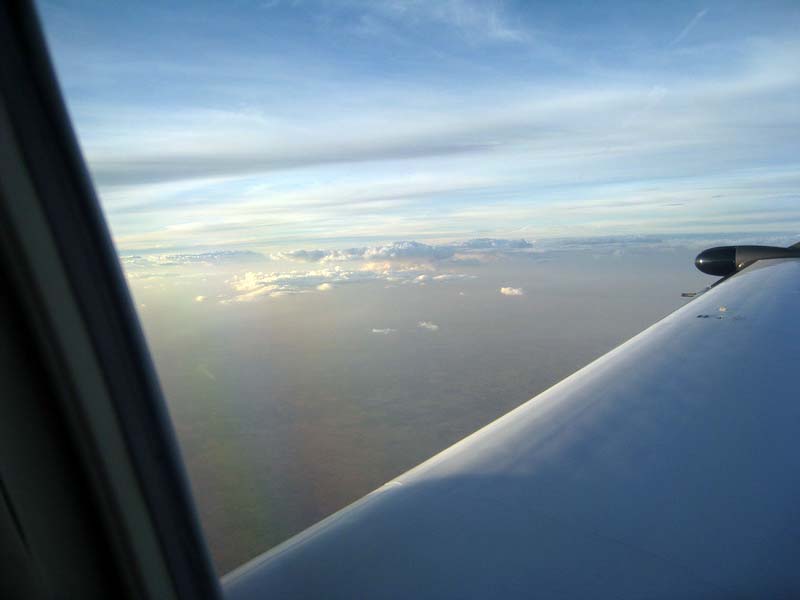 Flying into the sunset in our charter plane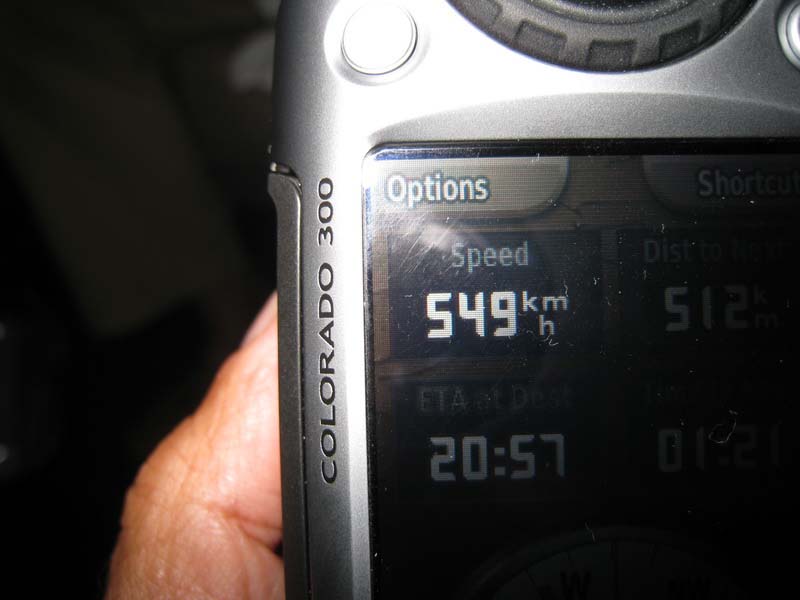 Walter checking the speed of the plane on his GPS. He had his Swiss Army knife ready to hi-jack the plane if they tried to reduce the speed!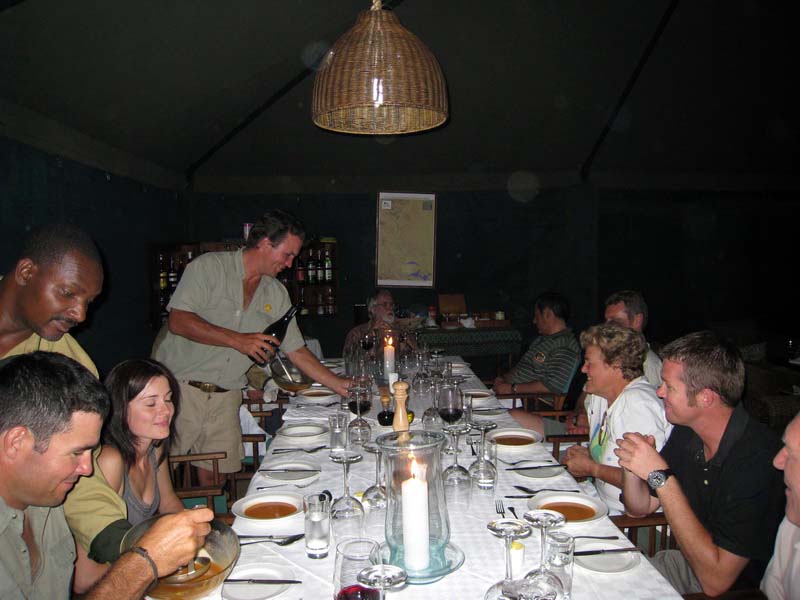 Our first dinner at camp. We always had a soup, main meal and desert.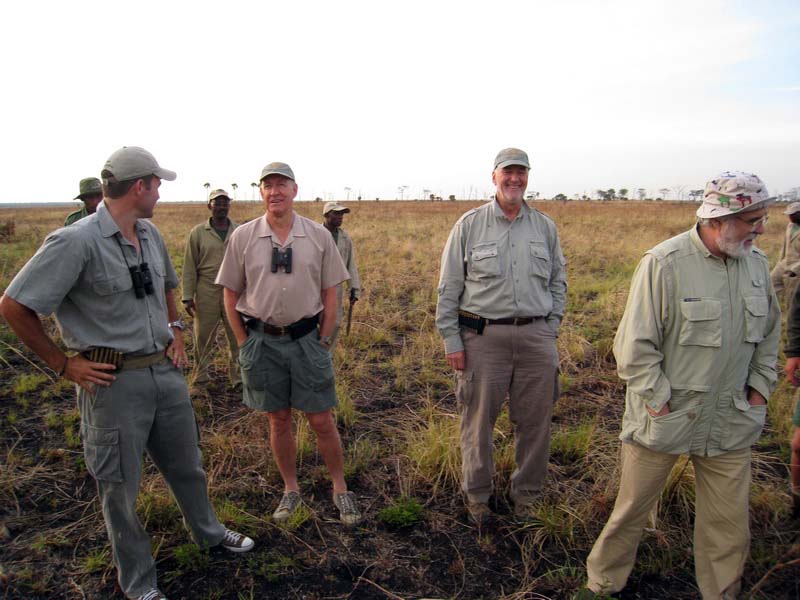 At the shooting range sighting in our rifles. Notice Walter's hat. It is one of several he normally carries - and loses during the hunt.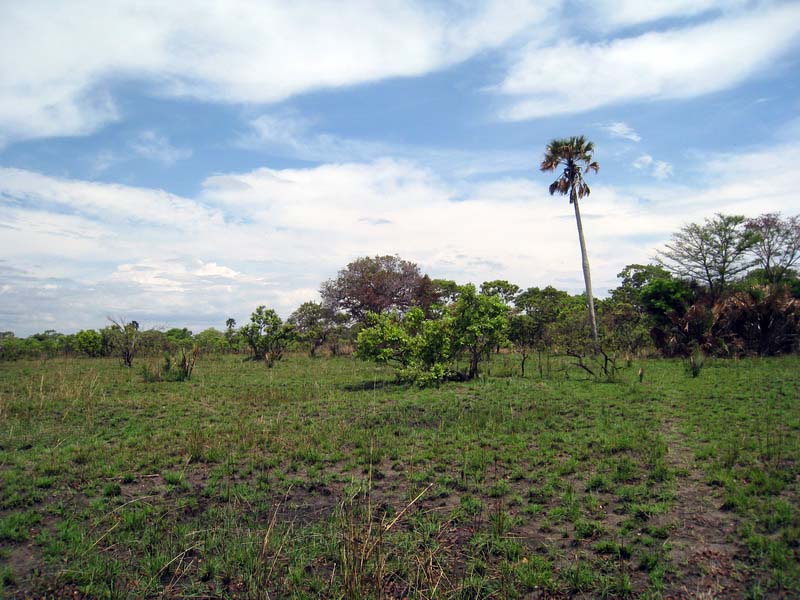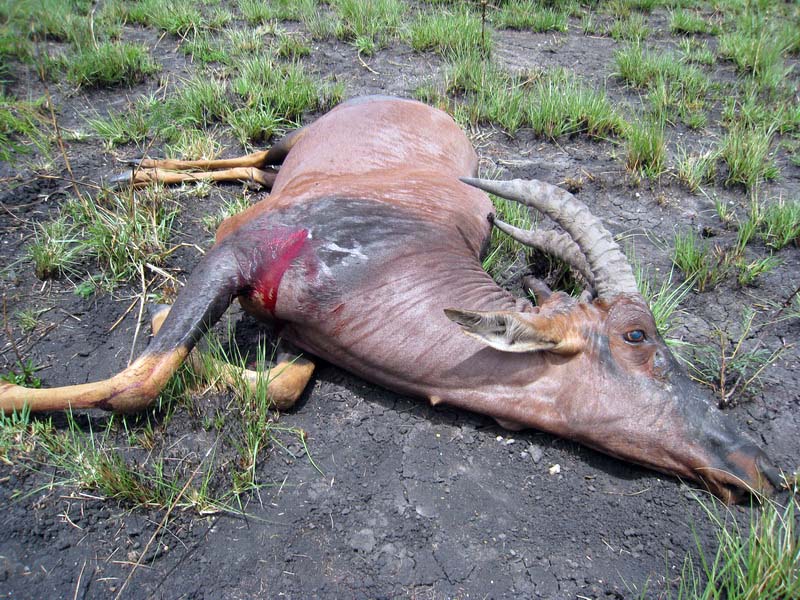 We saw this topi and decided to shoot him for Walter to BBQ. He was standing on an hill, looking at us at an angle. I fired a shot at him, hitting him in the right shoulder as you can see in the photo above. The bullet angling into his body, towards the left rear leg.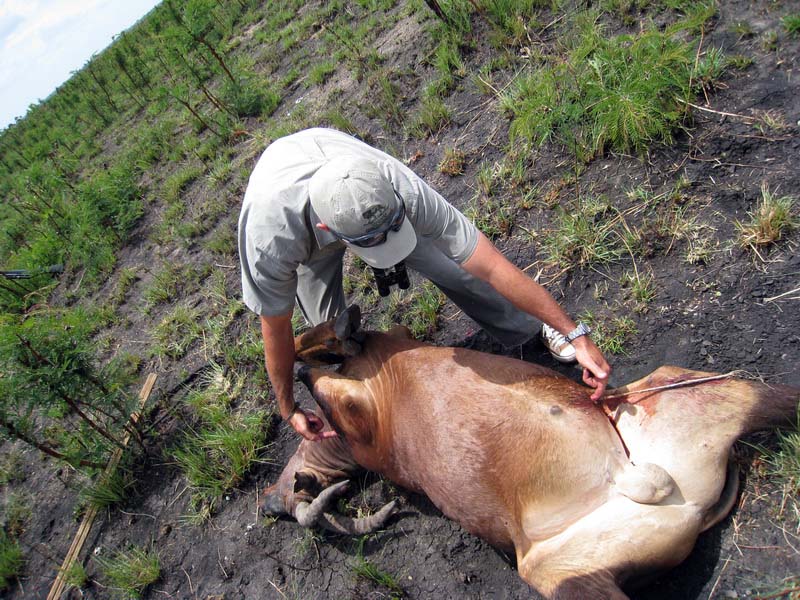 Alan has his fingers on the entry and exit holes. The bullet cut the skin on the inside of the left leg, and dropped down.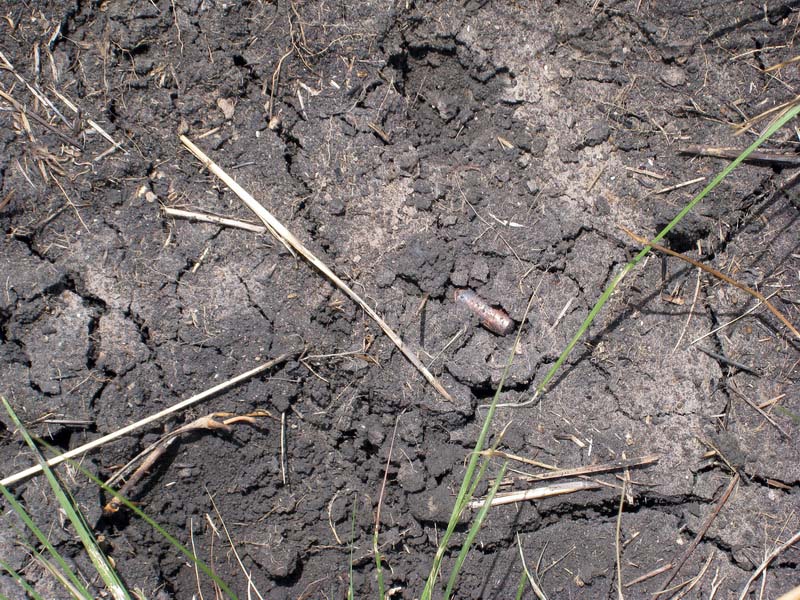 We found it buried just as you can see above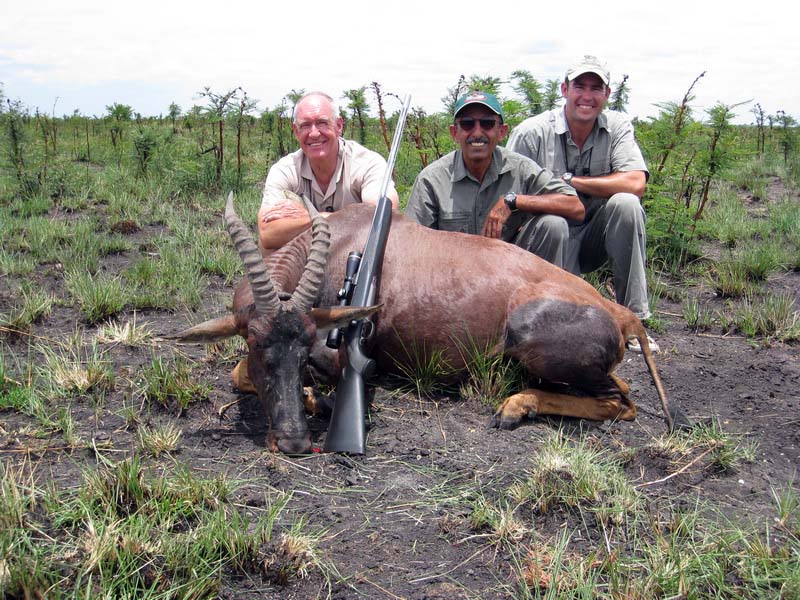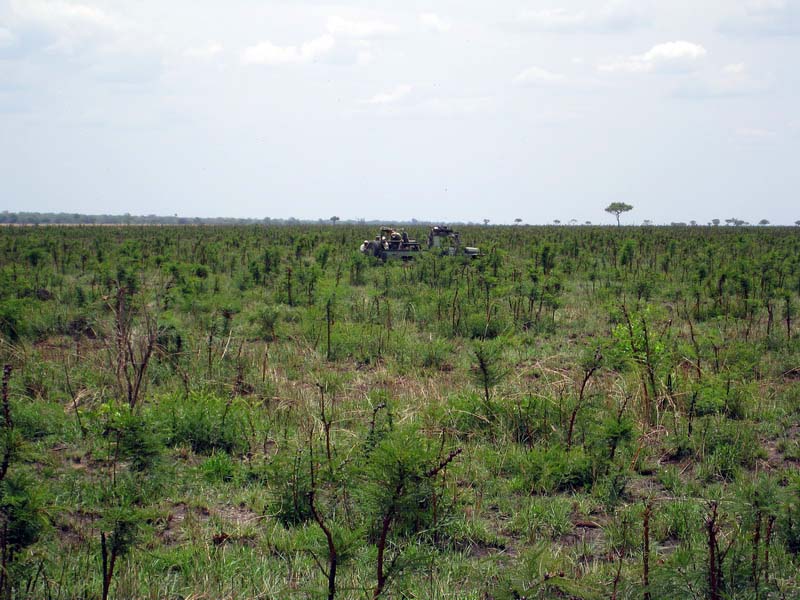 Miles and miles of whistling thorn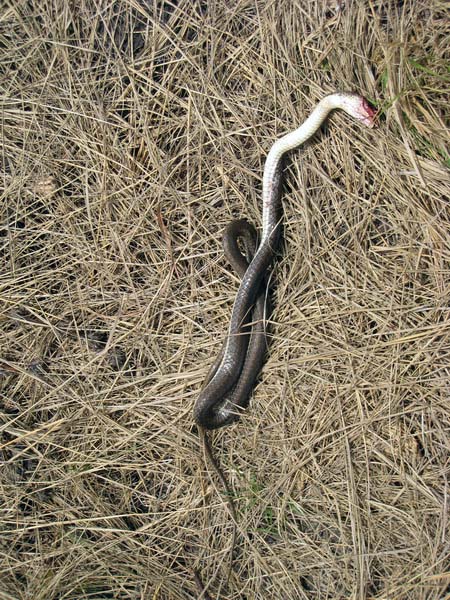 Just as we loaded our topi and headed back to camp, we found this dead snake. It looked that it was killed very shortly before we arrive.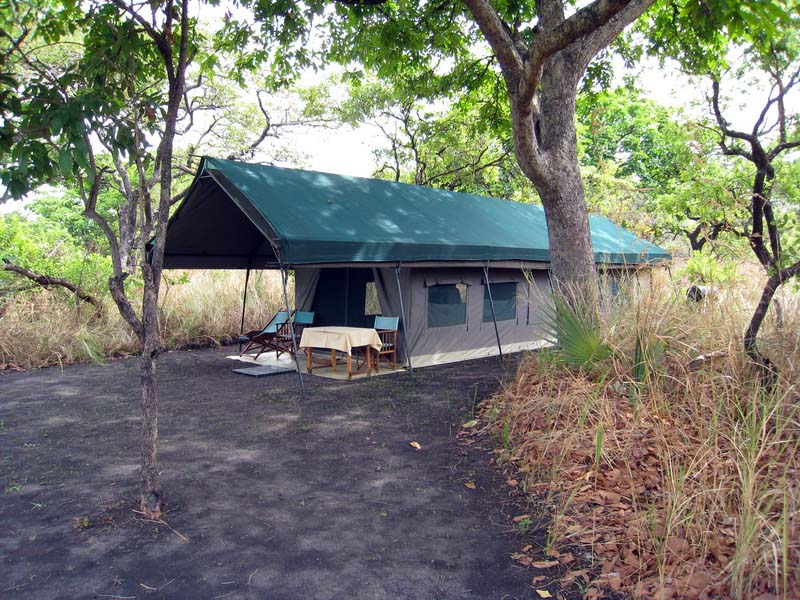 My tent at Murungo camp. Hot and cold running water was available all day. The bathrooms all had wooden floors.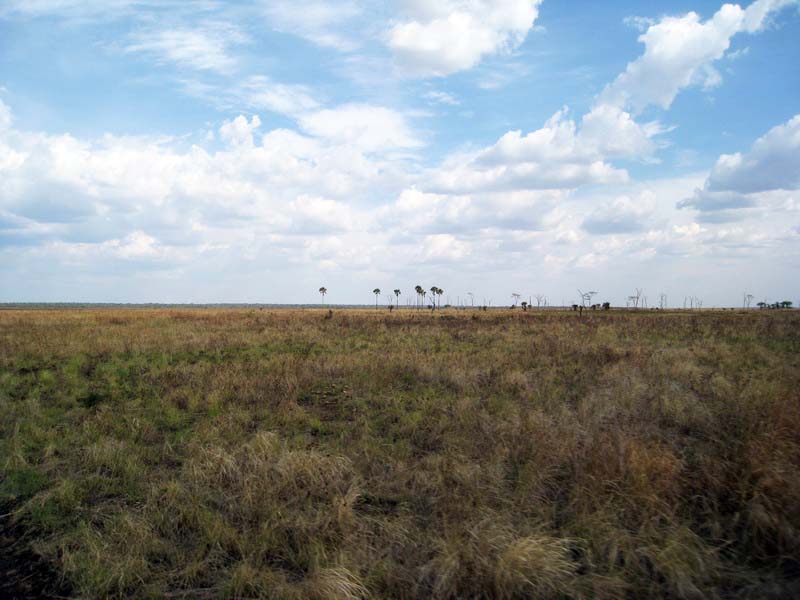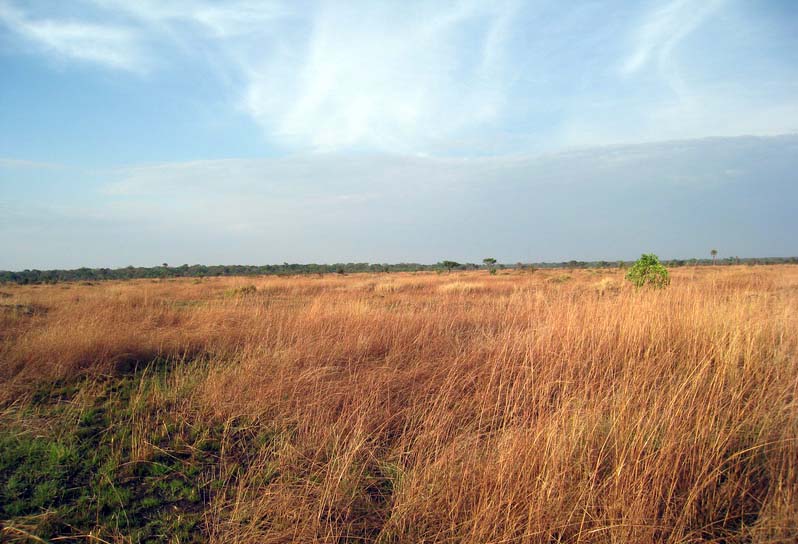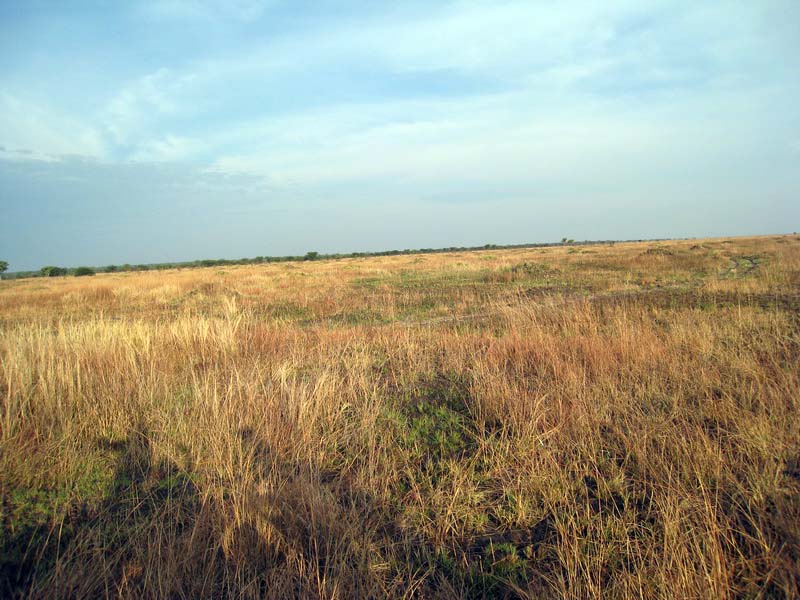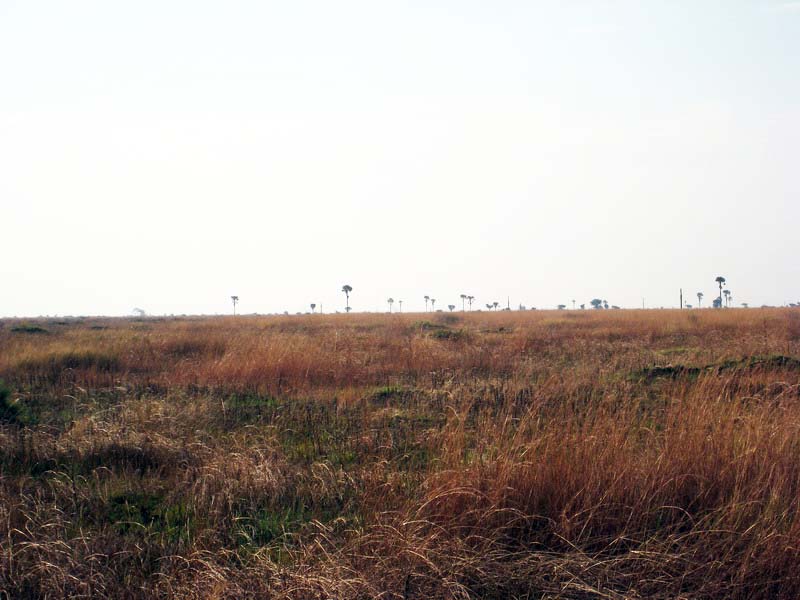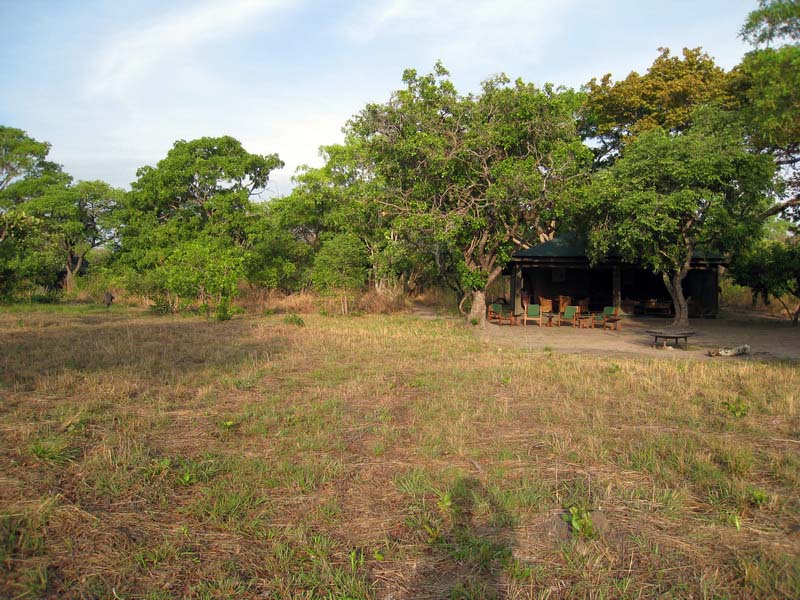 This is another camp we made use of, to have lunch at if we were too far from our own camp.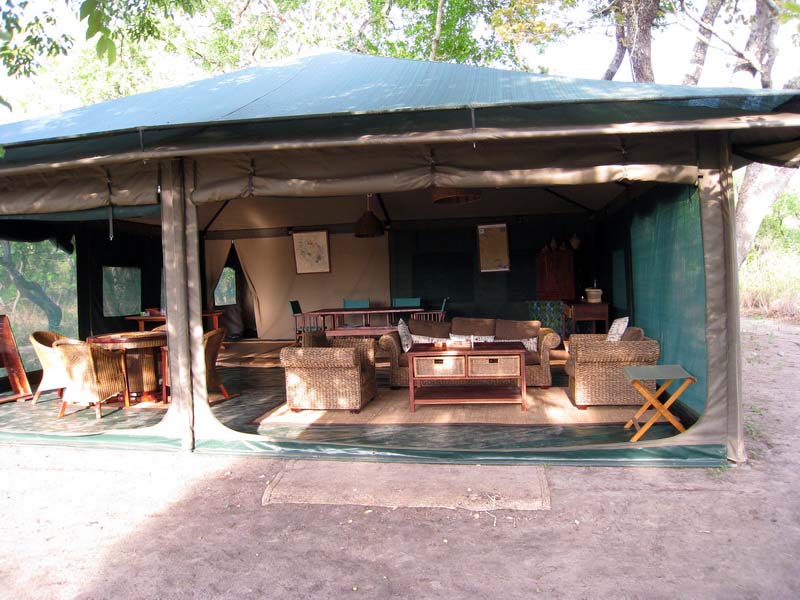 All three camps had the same excellent arrangements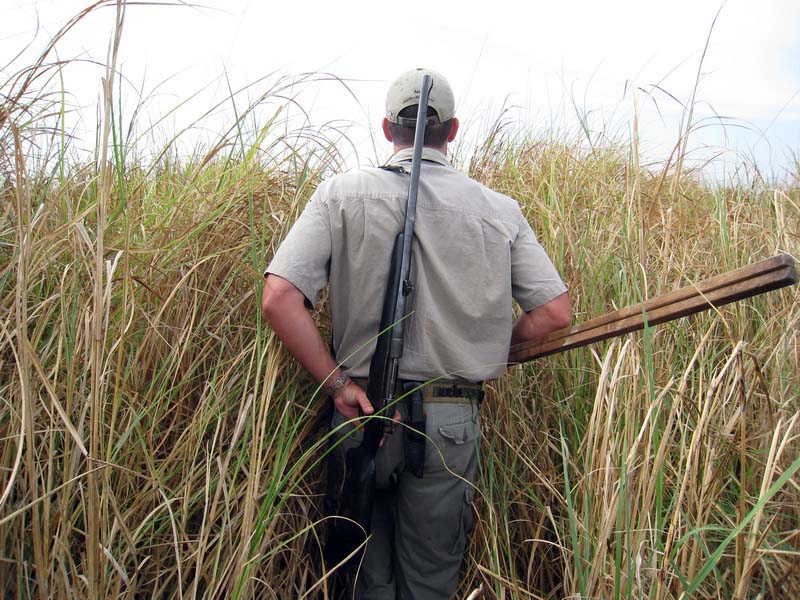 We saw three bulls feeding at the edge of the long grass, and went after them. Here is Alan leading the way. There was one mature bull, and two younger ones. We decided to shoot the mature one, and as he got clear, I gave him a shot. He ran a few yards and stopped, his head down, and seems to be going down.
I fired another shot at him. This seems to have rejuvenated him, and he took off with the others. I put another two shots into him, and he went down.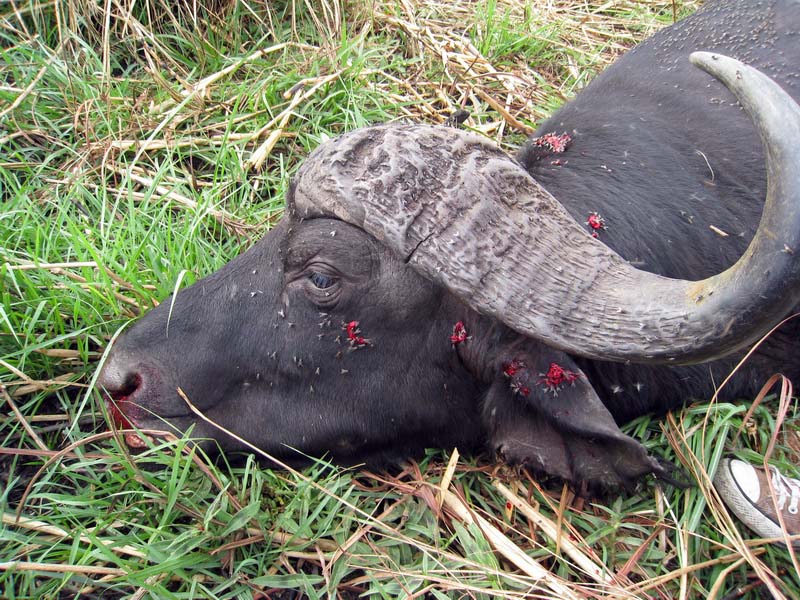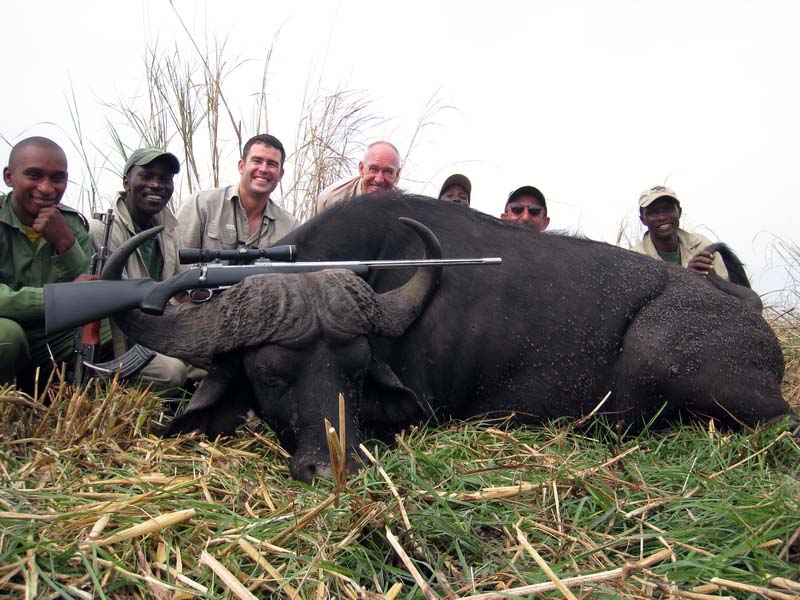 Walter took the picture above. He said it was "artistic"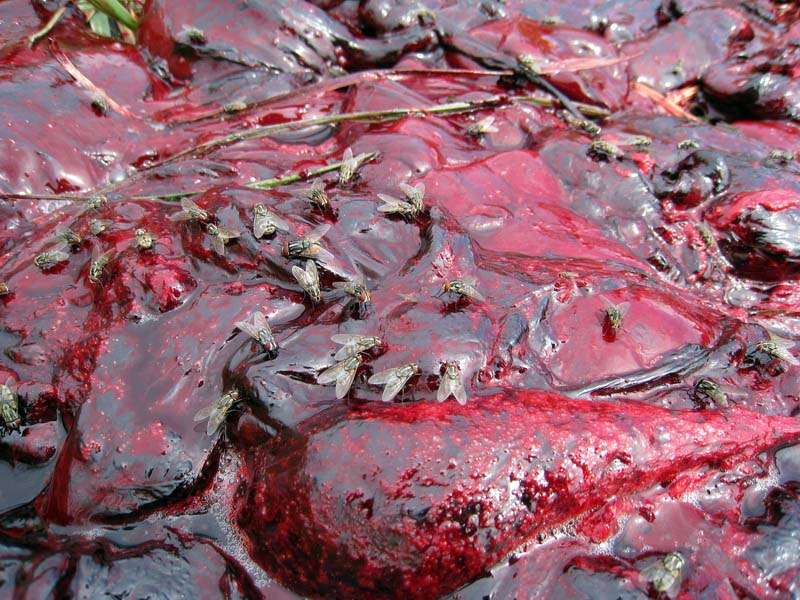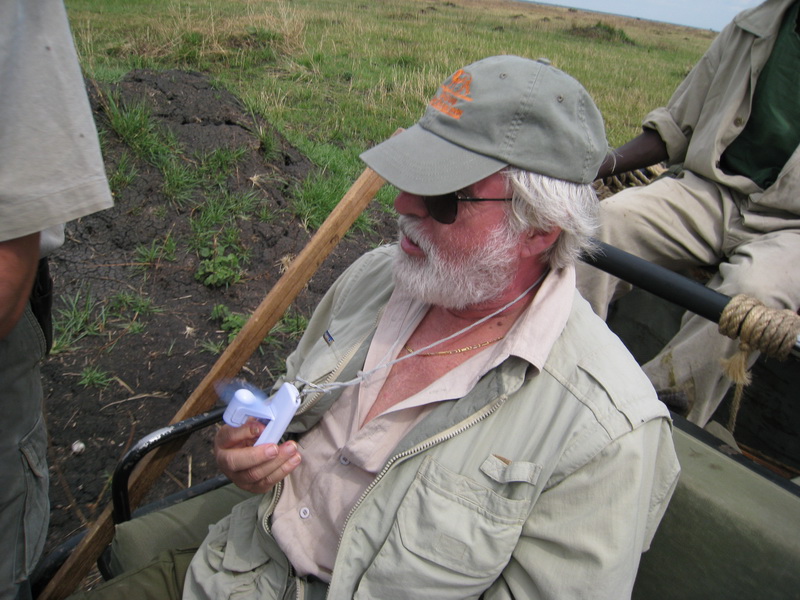 Walter got himself a portable fan, and here he is using it to cool himself, and keep the tsetse flies off him.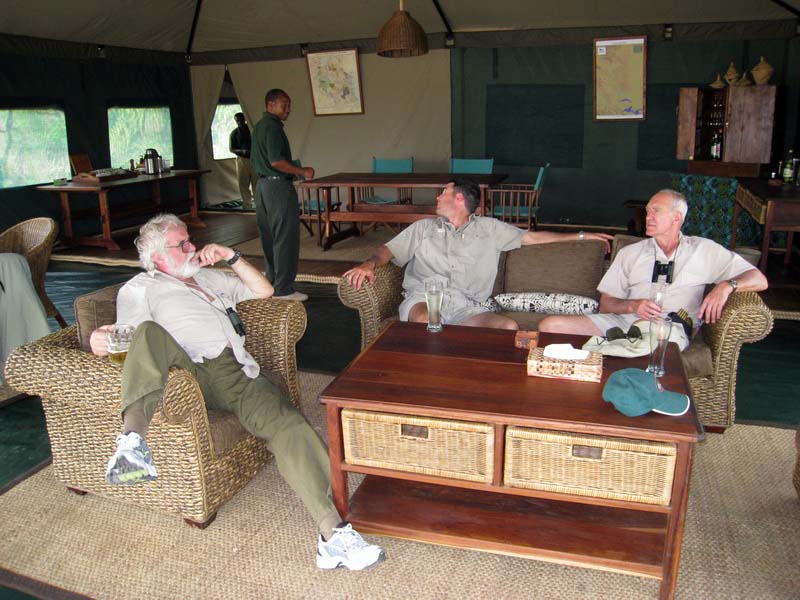 We delivered the buffalo to the skinning shed, and waited for lunch.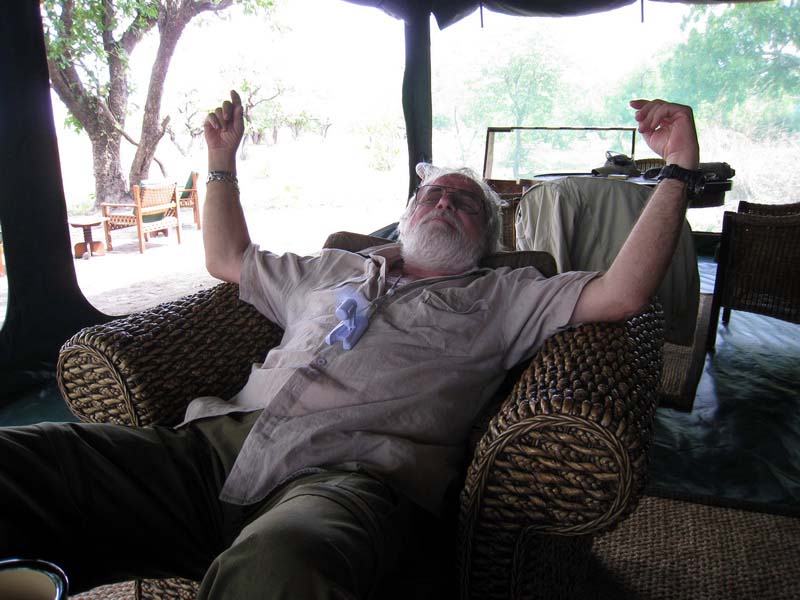 He sure knows how to relaxe. He went to sleep like this, and I got a long palm fond, and tickled his ear. He jumped up and wasn't too pleased.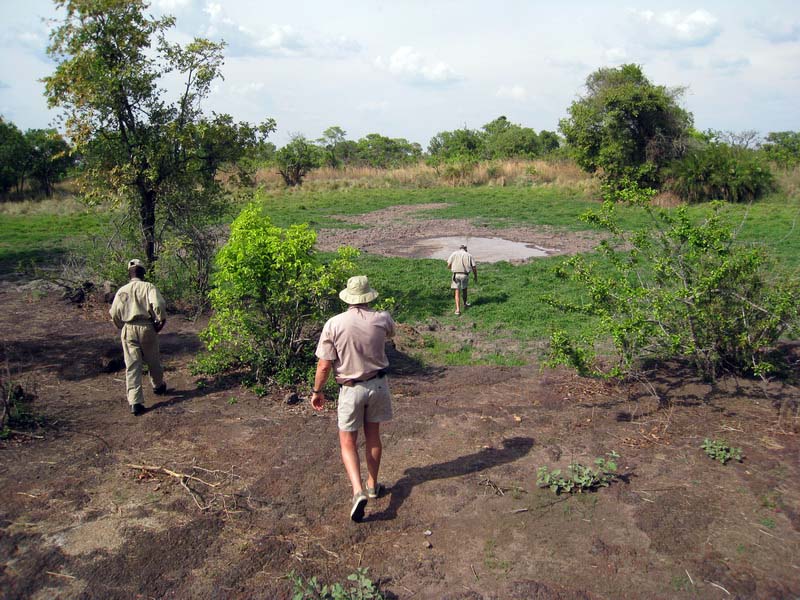 Looking for buffalo tracks at a water hole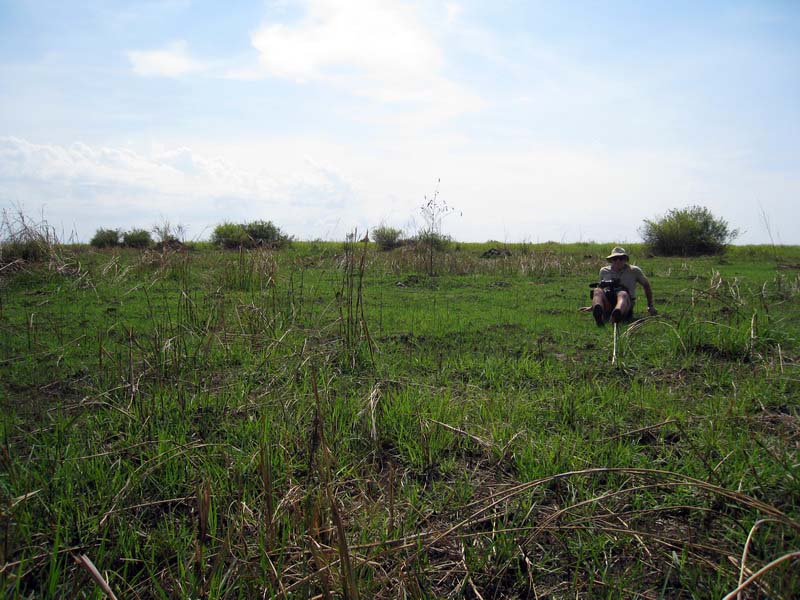 We fond the tracks of a herd, and followed it. They fed into the plain, and we tried to get close to them without being seen. A rather difficult venture while so many eyes are watching. Here you see Roy demonstrate how to crawl on your backside.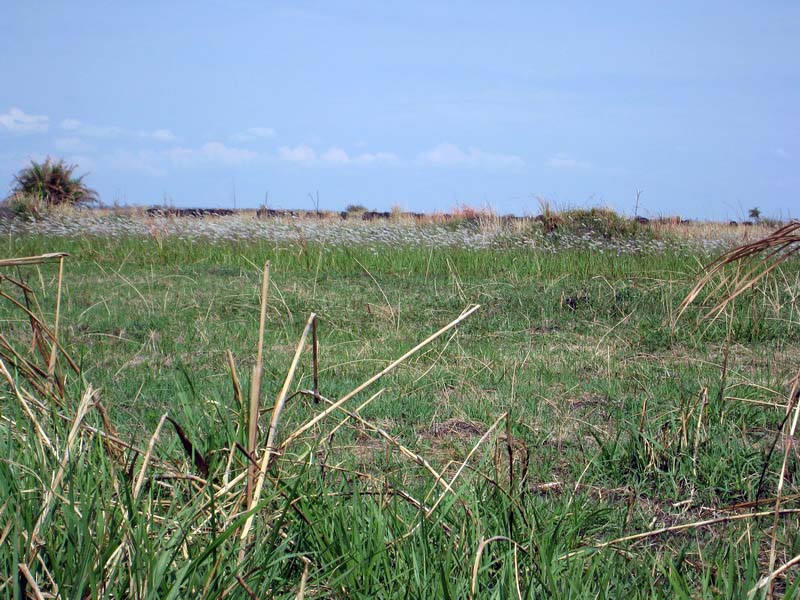 You can see the herd at the top of the picture. We tried crawling from one ant hill to another. Our efforts were foiled by one cow which got too close to us.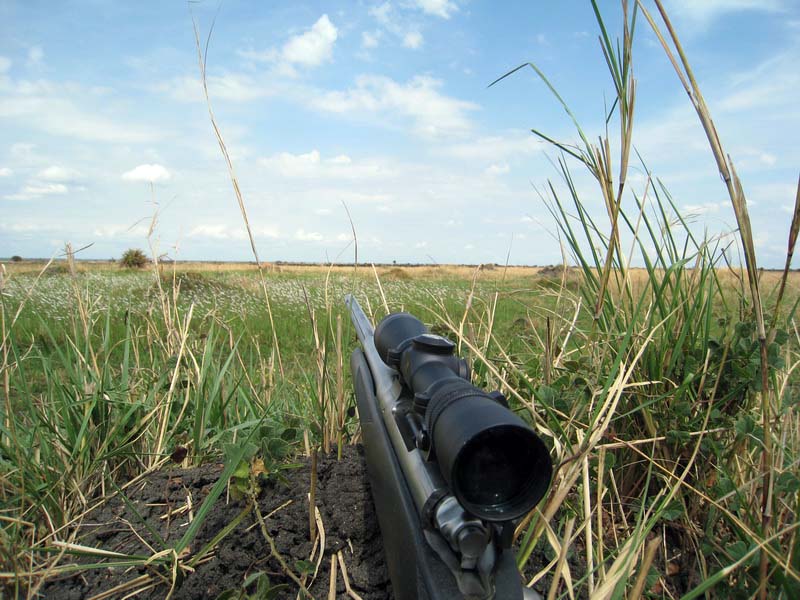 The buffalo were about 300 yards away. That in itself wasn't a problem. The problem was picking a shootable bull amongst them.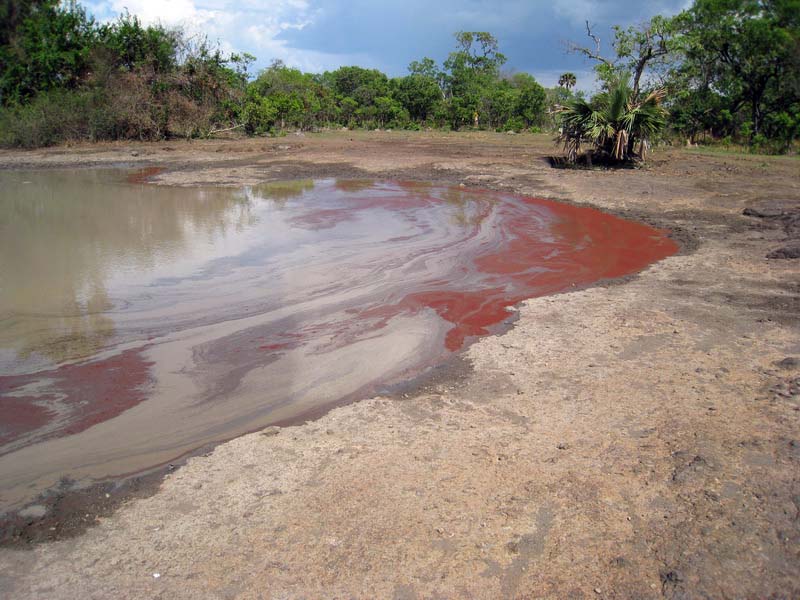 Strange red algae growing in this water hole.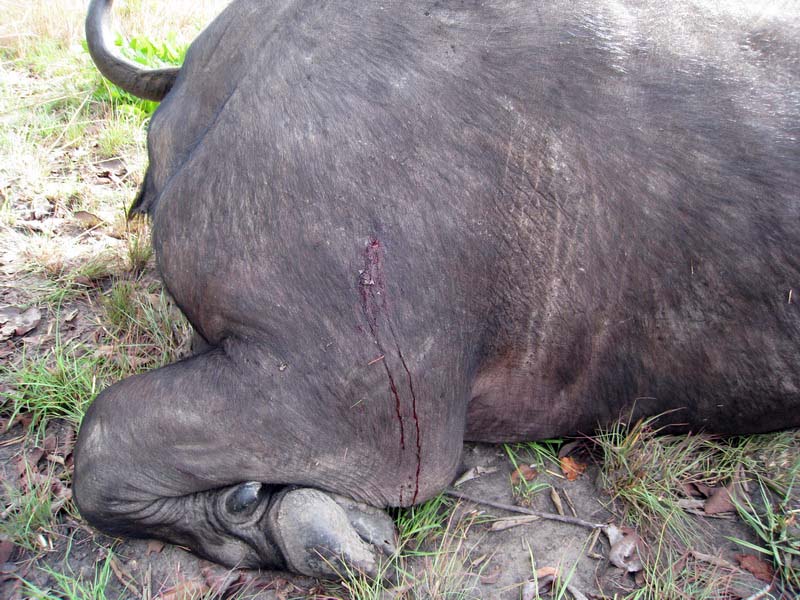 We found the tracks of a herd of buffalo, and followed it. We found them, and waited until they started to feed. We did this to make it easier to pick an old bull to shoot. As when they are laying down one can hardly get to see many f them before being discovered. They woe up and started to feed. We got in front of them, and waited. This bull walked about 20 yards from us, and I put a bullet into his heart. He ran about 5 yards, and dropped. We tried to tell Walter that this is the way to shoot a buffalo. He said "get a buffalo 20 yards from me and I will kill it just as well"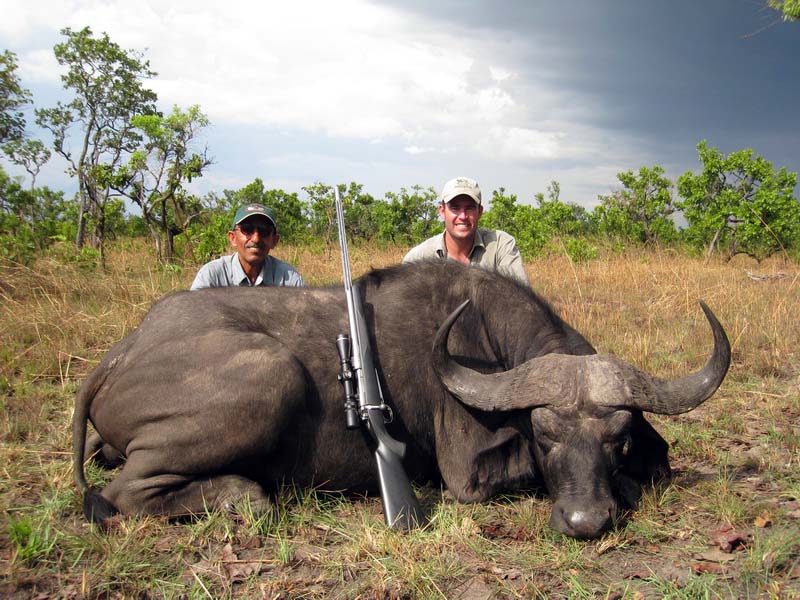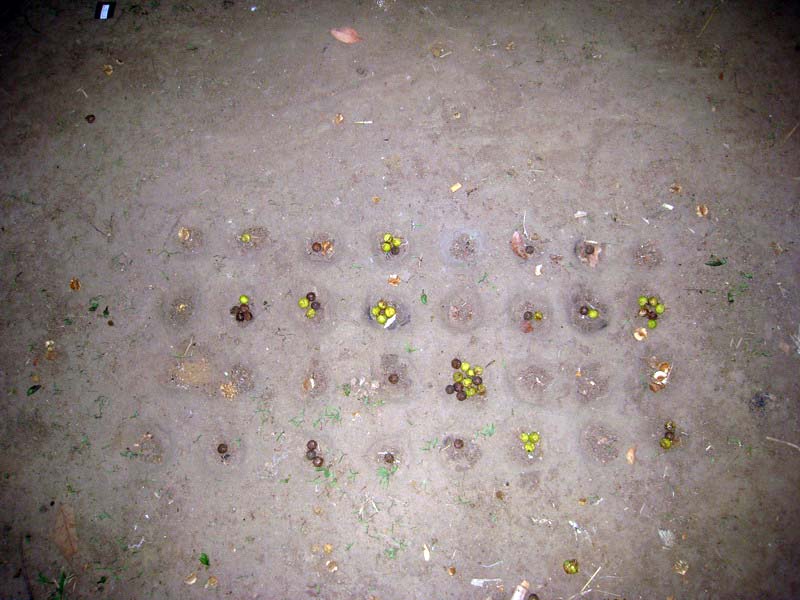 The camp staff play this game, which none of us could make heads or tails out of!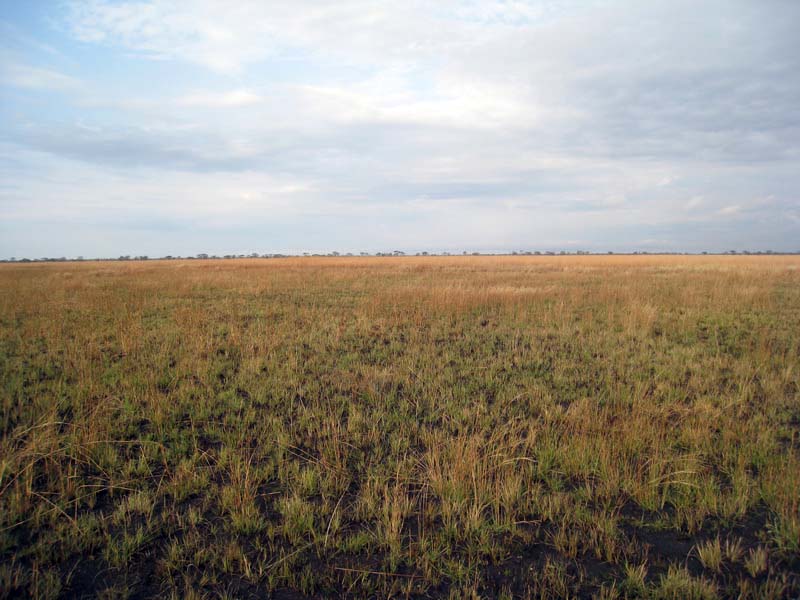 The vast open plains. They extent as far as the eye can see.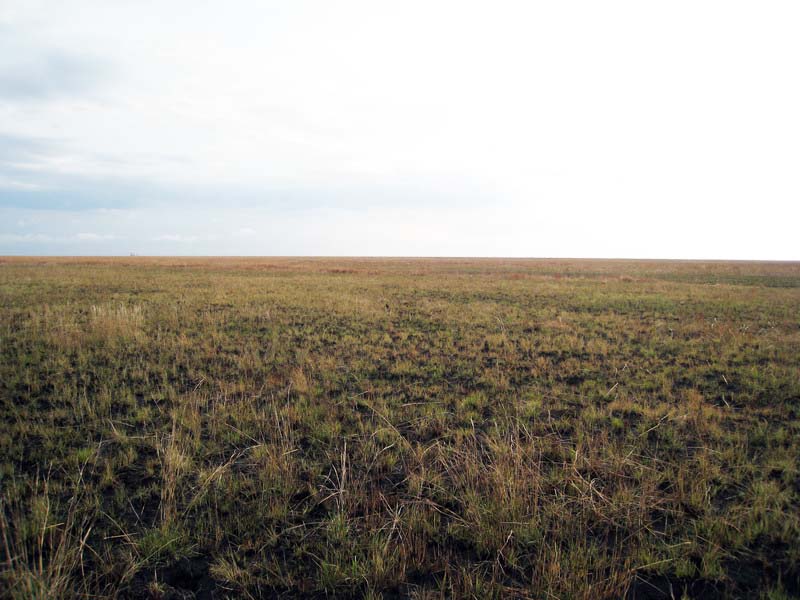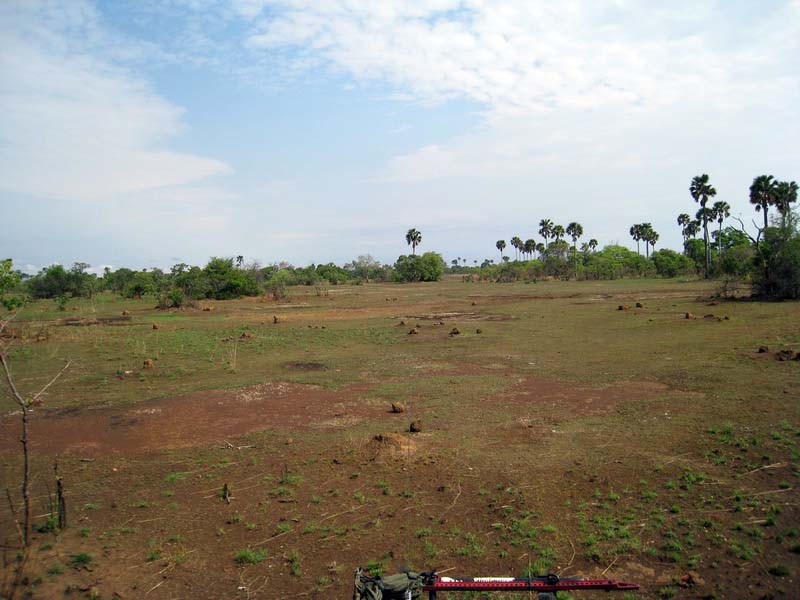 Plenty of water is found amongst the trees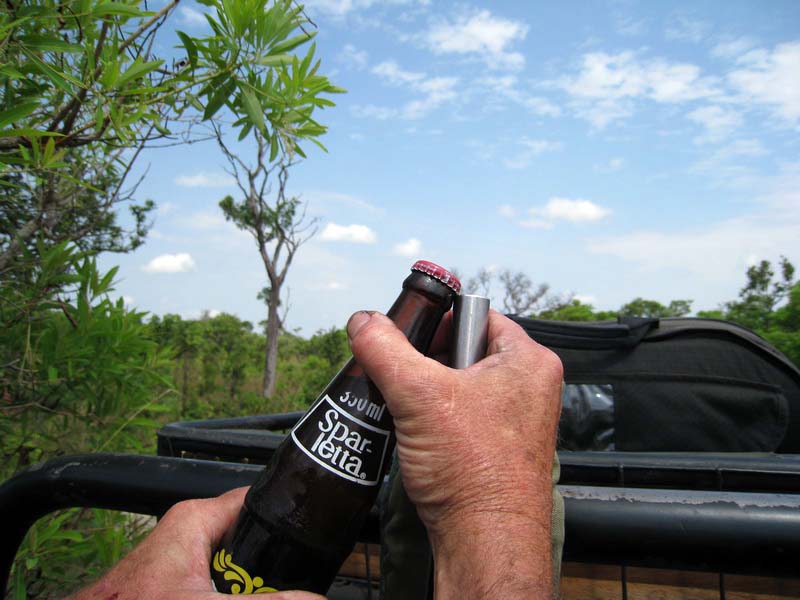 Anpther use for a rifle barrel!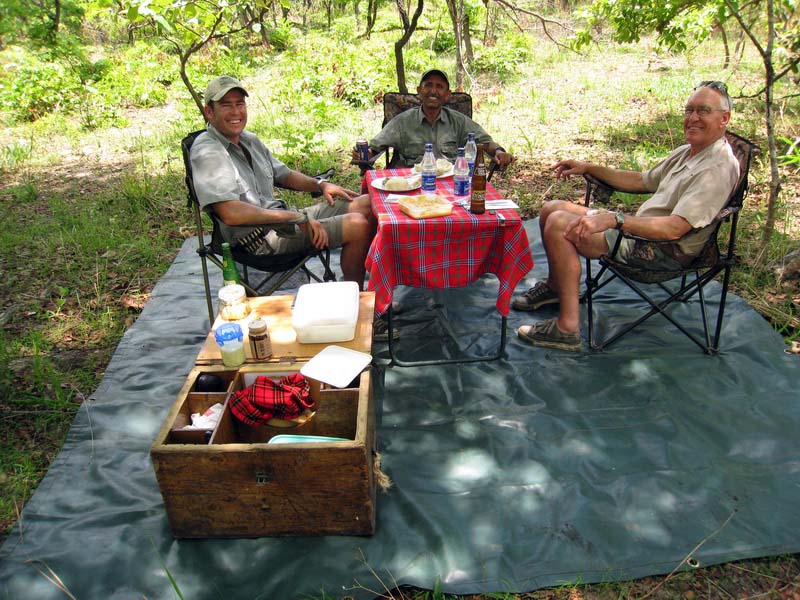 having lunch and waiting for the buffalo to start feeding.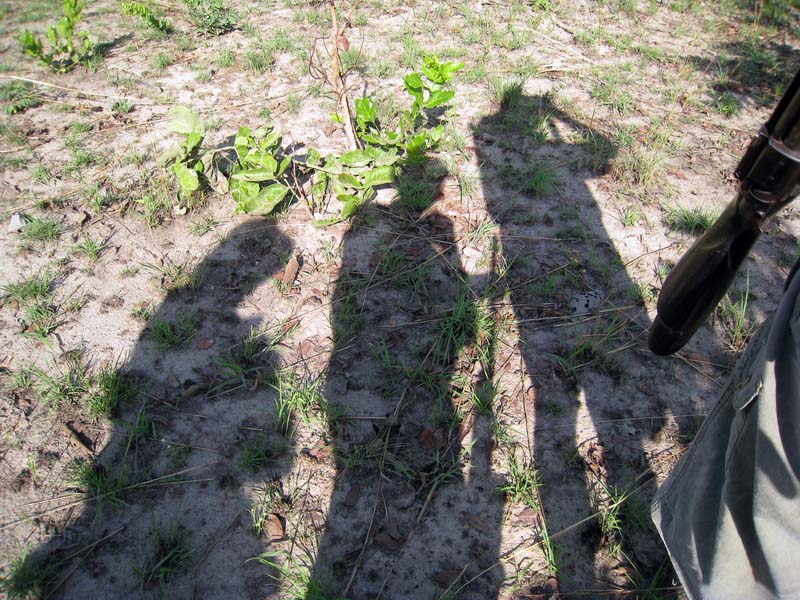 The buffalo are feeding about 150 yards from us, and we were looking to see if we can get a shot at a bull.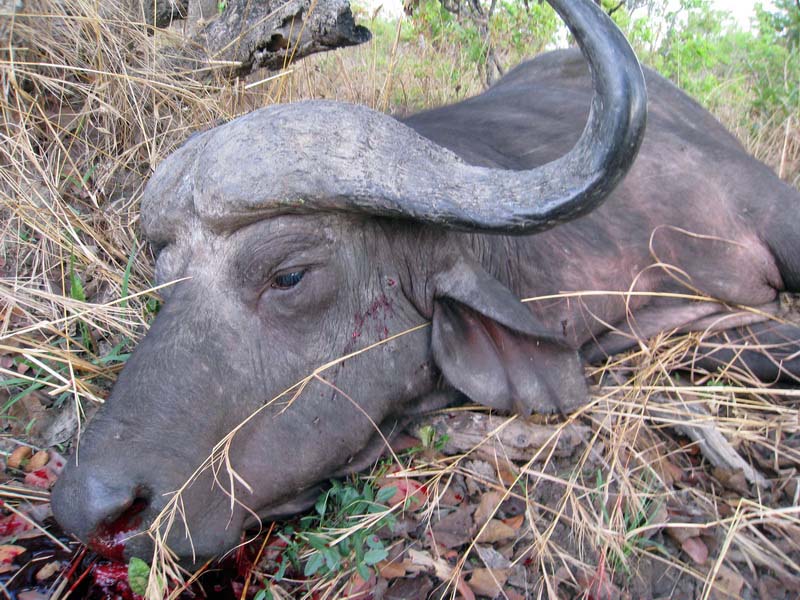 We followed this herd until almost sun down, and we never managed to get a shot at a bull. Then we saw that they were heading towards an open area, so we ran ahead of them. We startled some giraffes, and they ran off, scaring the buffalo as well.
Then a young bull appeared, and looked at us from about 40 yards. Then this one came behind him. Hidden except for his head. Alan suggested I shot this one if I got the chance, so I put a bullet into his neck. Breaking it on the spot, and dropping him.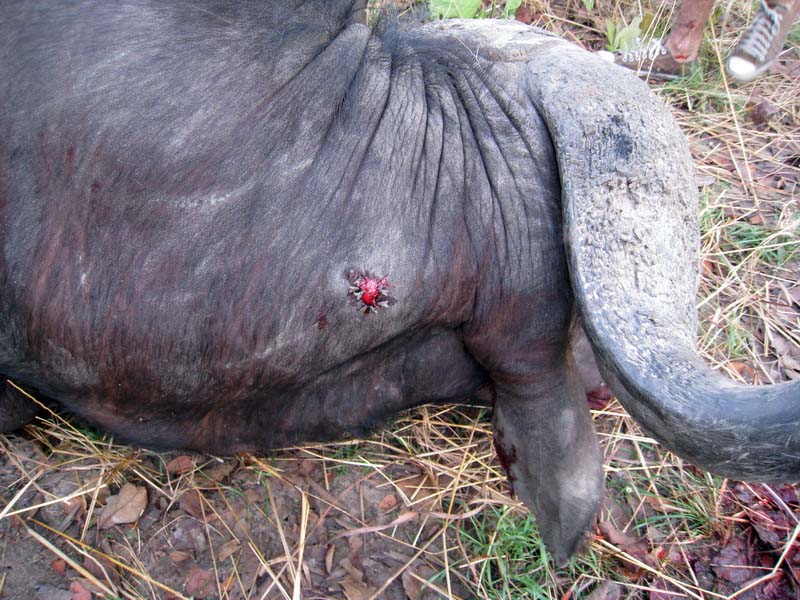 The bullet went in just ahead of the ear, and came out here.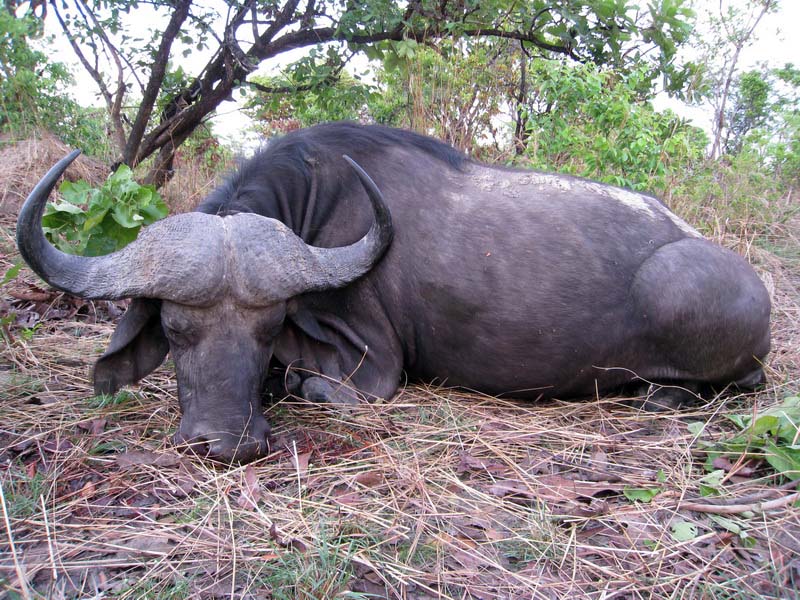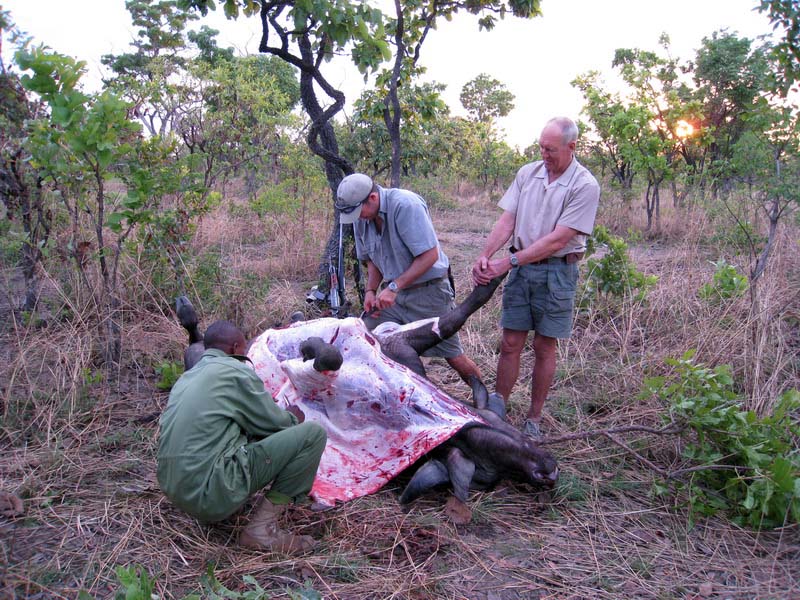 Skinning our buffalo.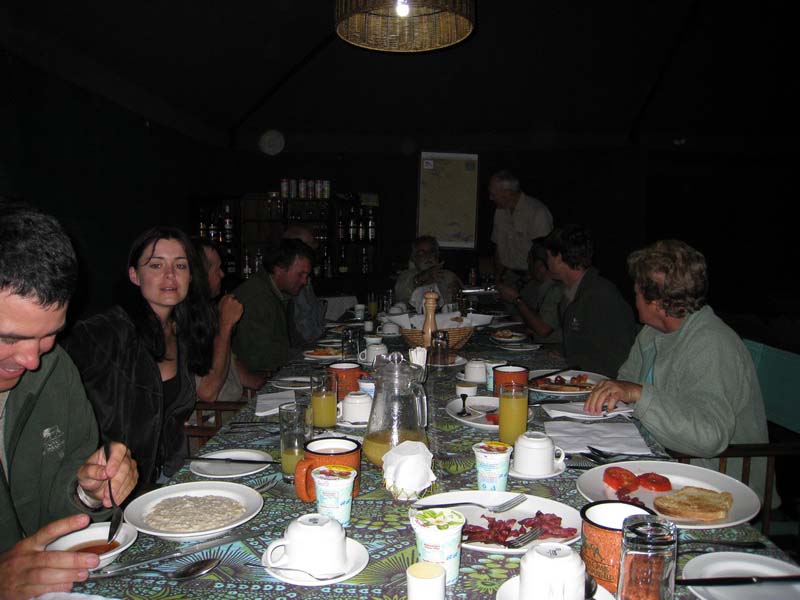 Early morning breakfast. Walter is complaining about how early he has to wake up, and Roy is trying to convince him that hunters normally start off at the break of dawn. walter was adamant that no animals get shot before 10 o'clock, therefore there is no reason to get up early.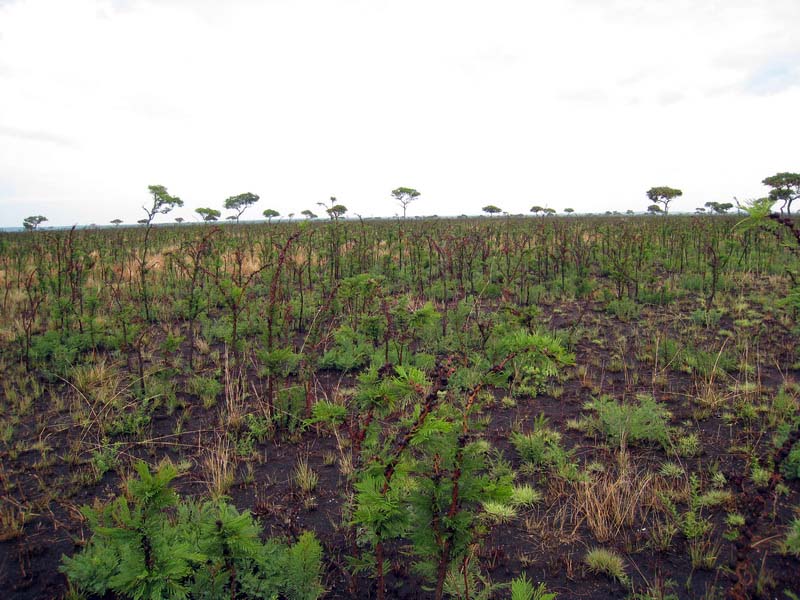 Whistling thorns. Make life very difficult to stalk and shoot.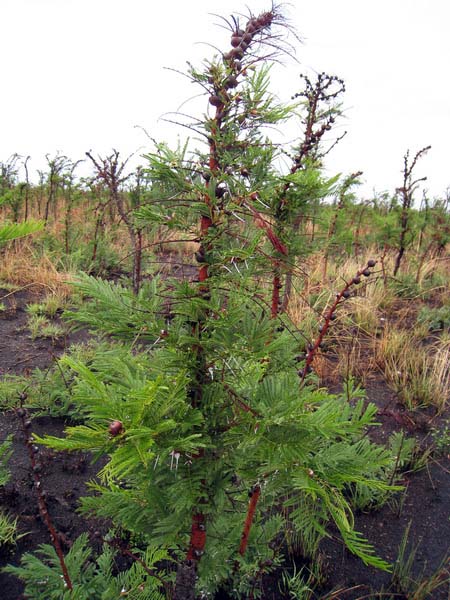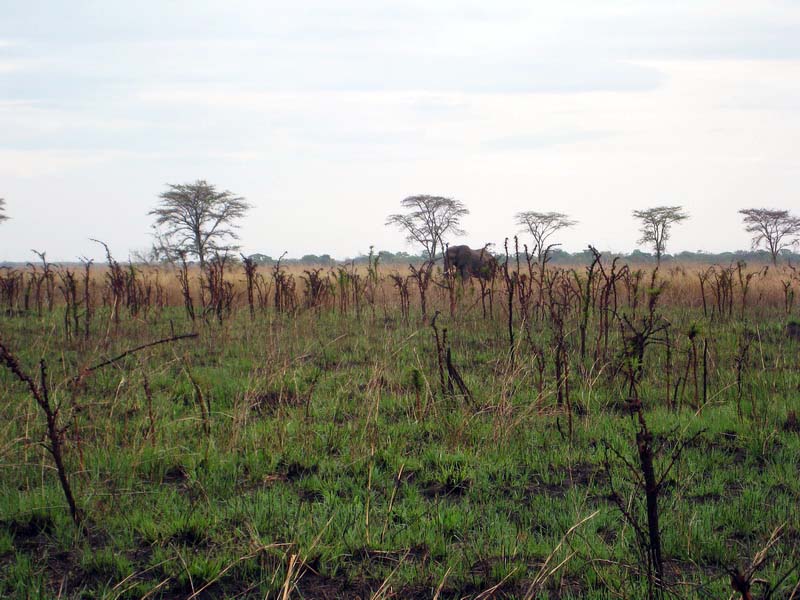 We saw this young bull as we were trying to stalk some zebra. We never managed to get close to them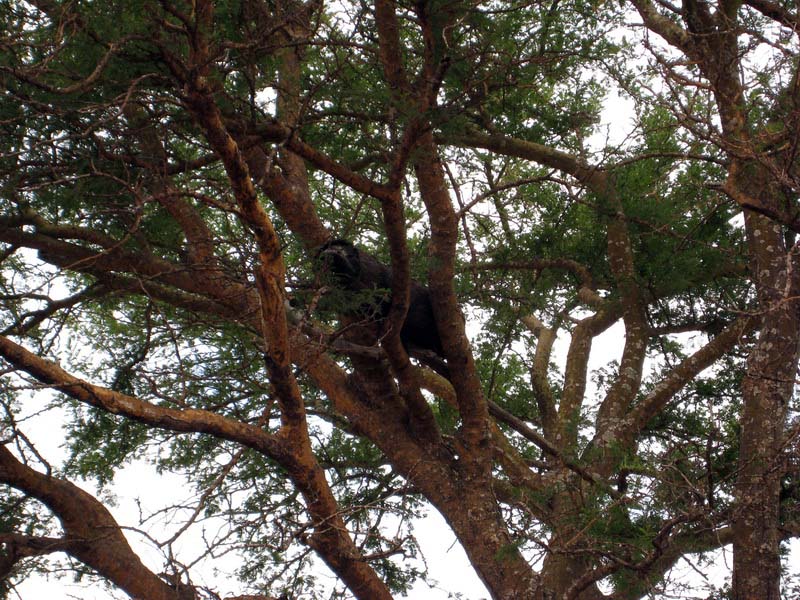 This is a hollowed trunk, the honey collectors put up in the tree, so the bees use it to build their homes in.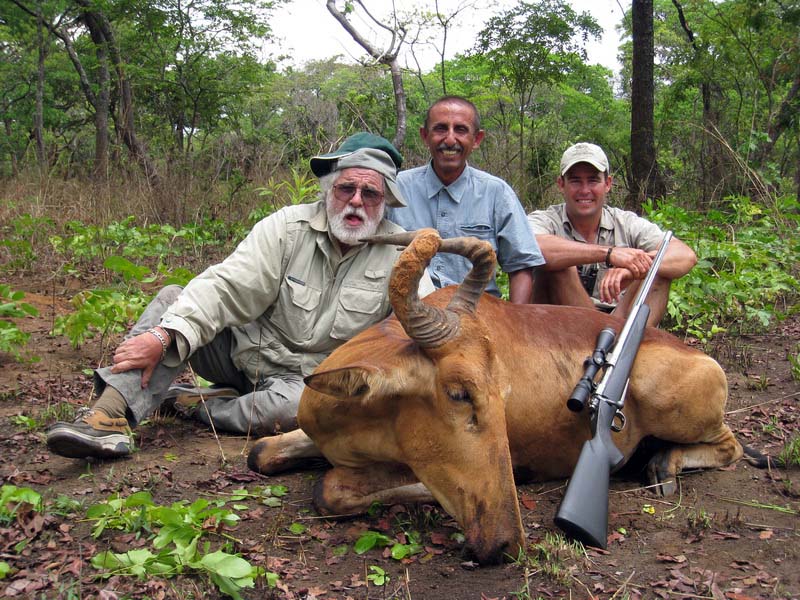 Walter wanted another BBQ, so a kongoni was shot to please him.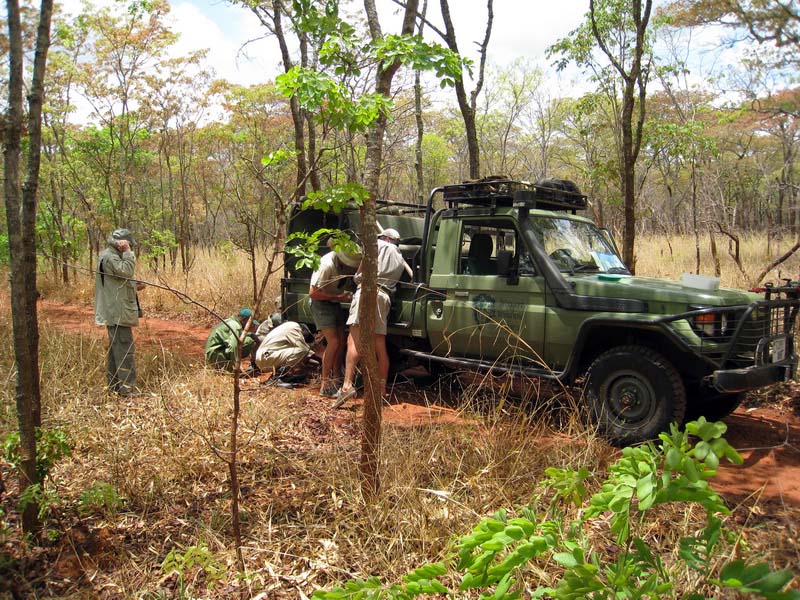 A puncture being repaired, and Walter is supervising.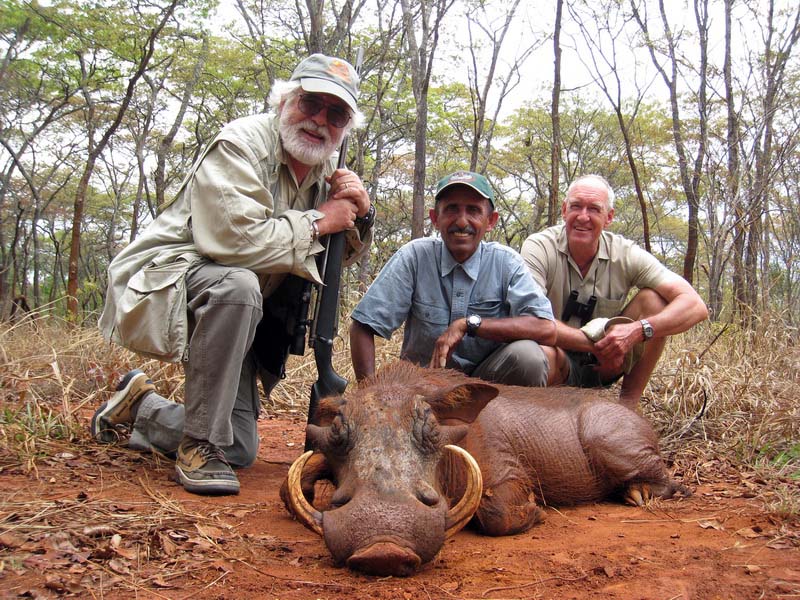 We saw this pig having a path a soon as we fixed our tyre.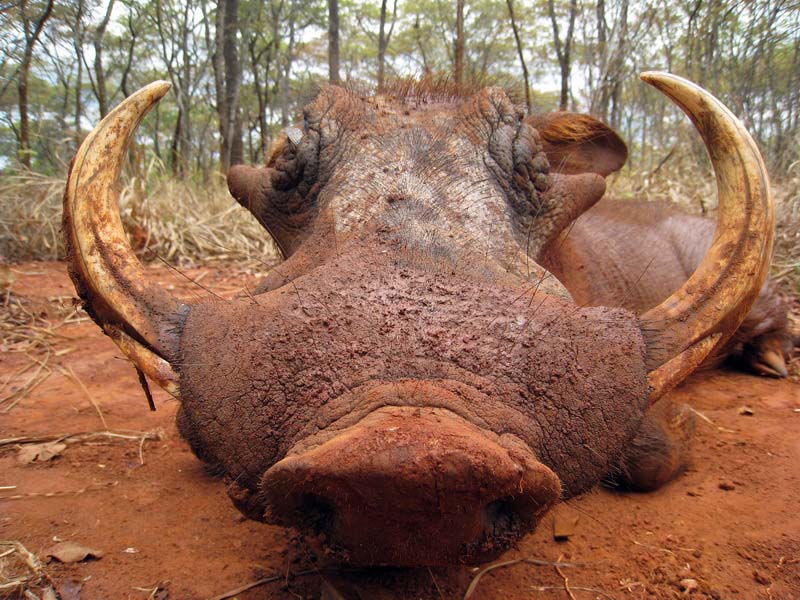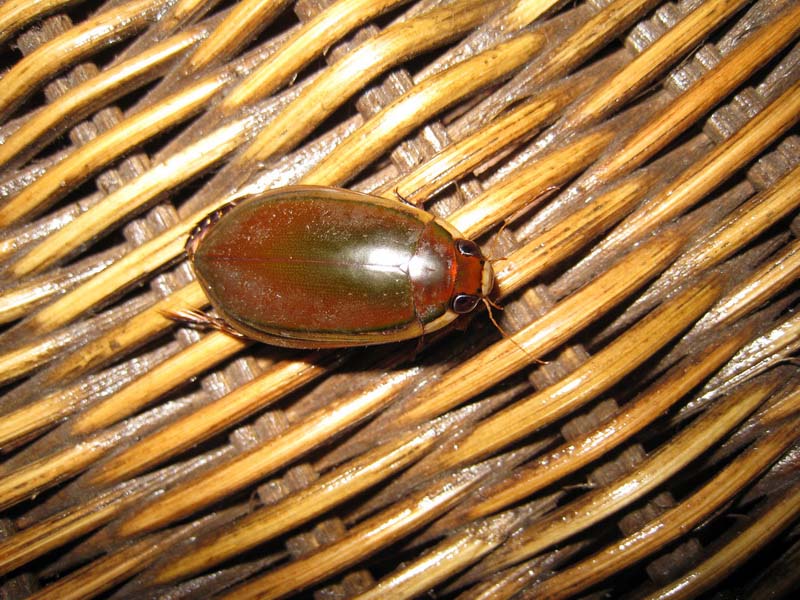 A strange bug we found. I am not sure what it is called
Sun rise view from our fire place