Tanzania 2007 Safari Part V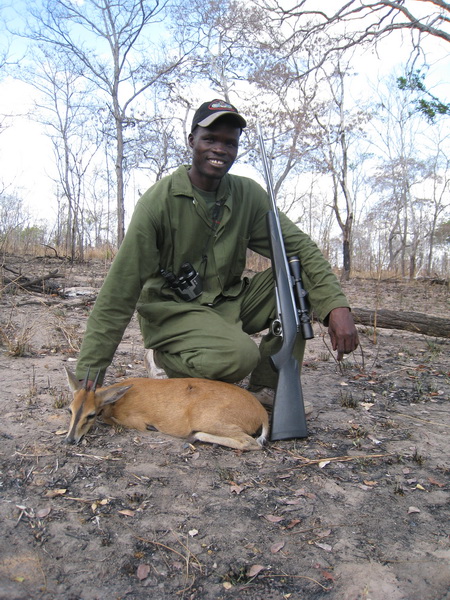 Philip, Alan's tracker for many years, is posing with a duiker I shot for Walter to BBQ!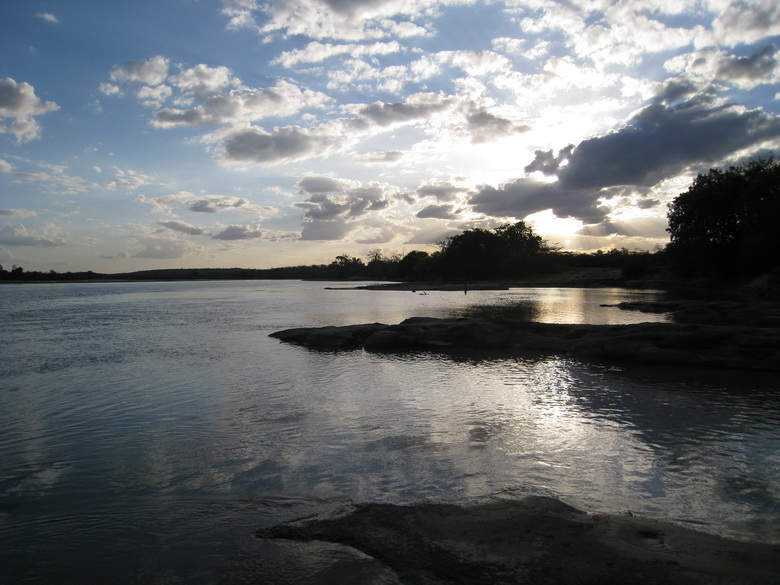 Next to our camp, this part of the river was very popular with those who wished to fish. I took this photo just before sun down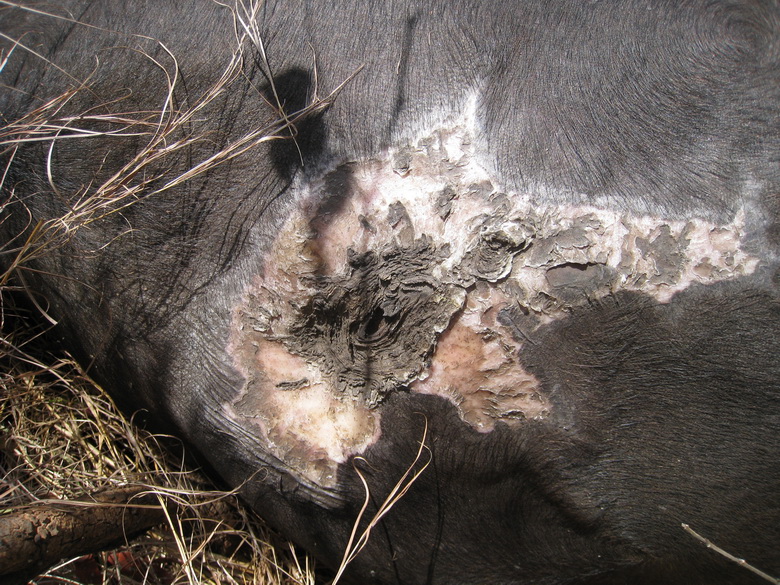 This looks like a very large old wound on a bull we shot.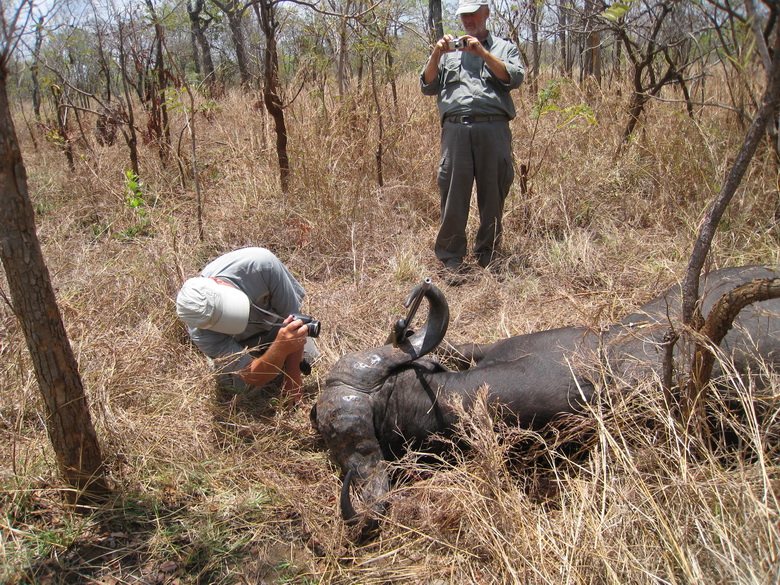 One is taking a photo, another one is taking a photo of the one taking a photo. Everyone had a small digital camera, and every one was snapping pictures of everything around.
Todd is being artistic. Nice hard boss on this old buffalo too.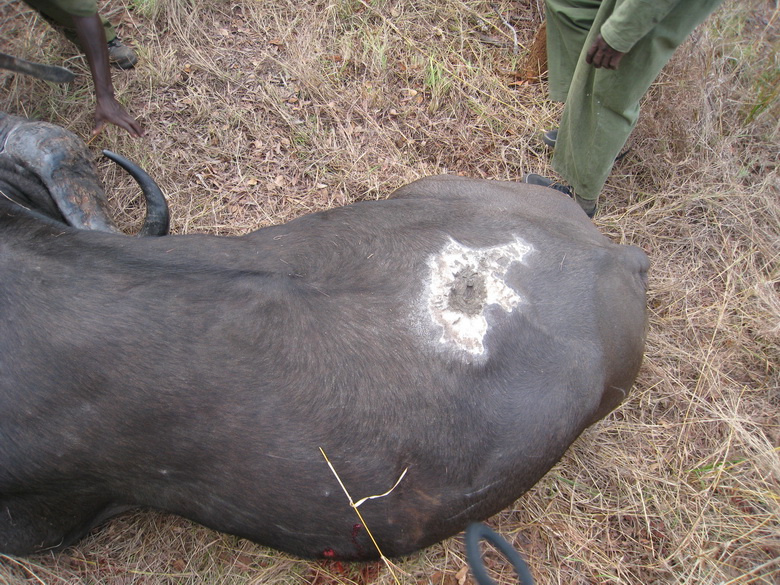 By the looks of it, this much have been a lion bite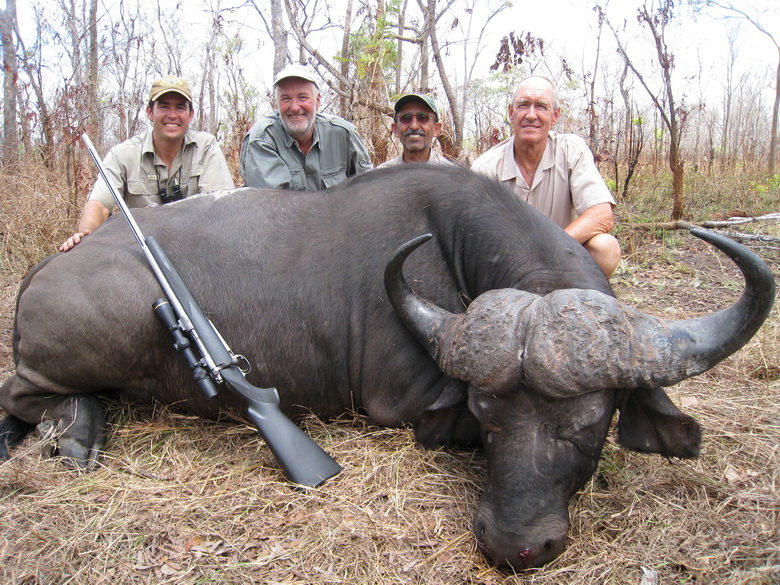 We had a bit of a problem with buffalo. They have been giving us the run around. So as luck would have it, we were driving along just before lunch, when we saw some kongoni. We got out of the truck and tried to see if we could shoot one. Somehow, that did not work out, as they made tracks into some very thick bush, and as they were aware of us, we thought we might as well let them go. We got back to the truck, and waited for Alan to come, as he stopped to video something. Suddenly, someone whispered "buffalo". We saw this herd about half a mile away in a grassy valley. The herd was feeding. We took off after it running. We caught up with them, and managed to get a shot at this bull. We went back to camp a happy bunch.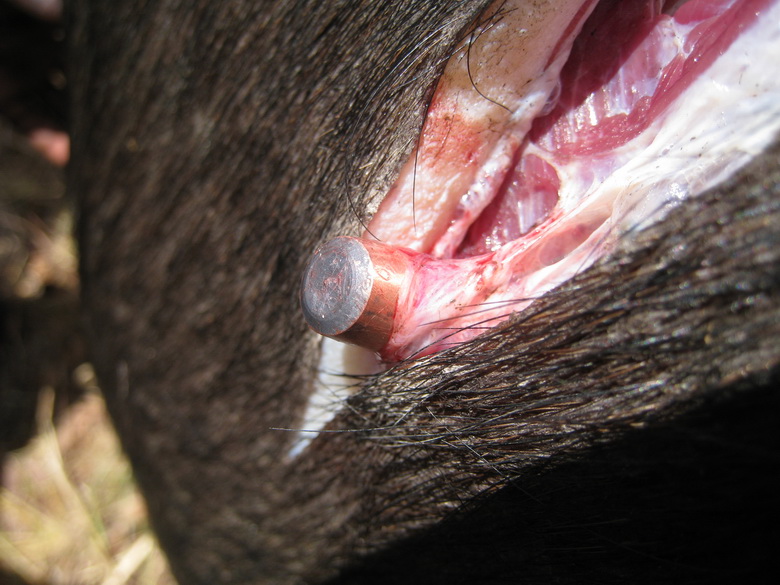 We found this bullet under the skin on the other side of the bull. It cracked the skin, but did not come out. As you can see. It has tumbled and was tail end forward.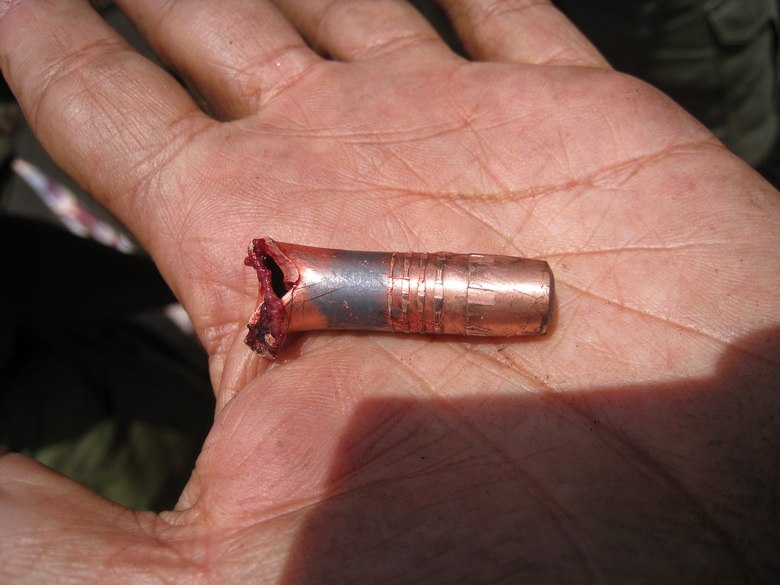 Very similar performance to some Barnes X bullets I have used in the past. This is a 300 grain Walterhog bullet, we made ourselves here on our CNC lathe.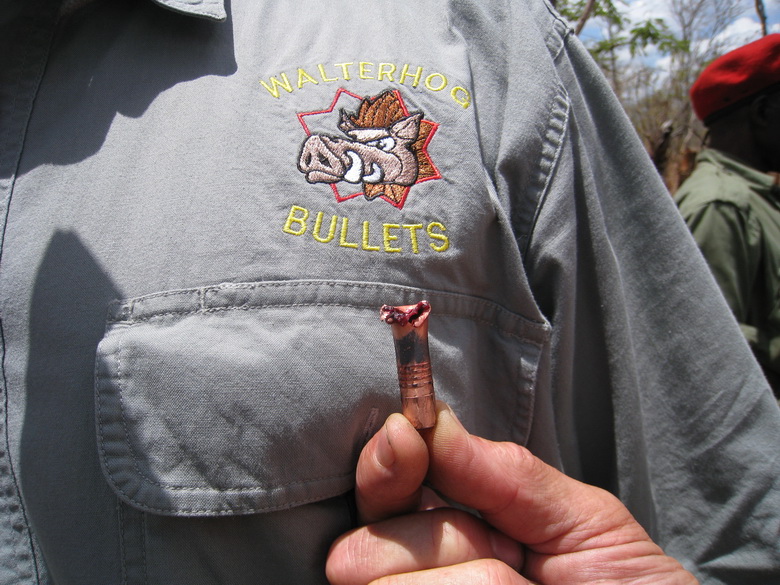 Todd even had some safari clothes in honor of our Walterhog bullets!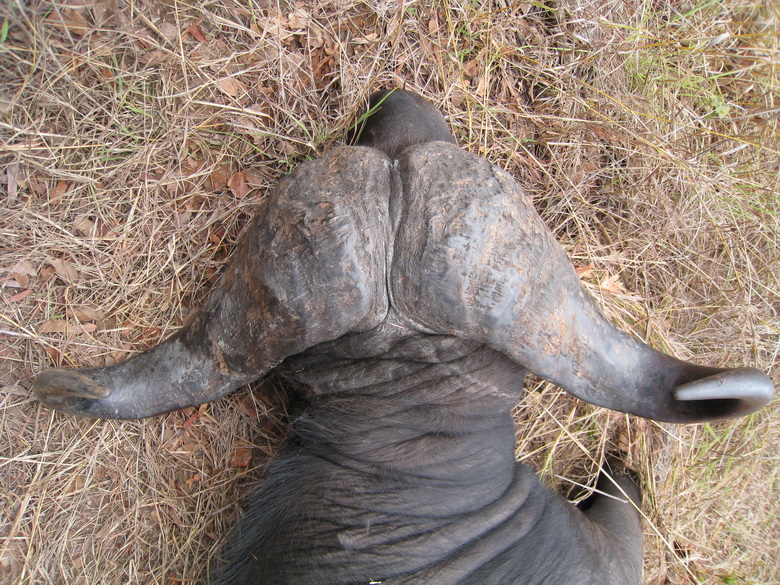 Walter said this the view one sees after being tossed - if he looked down!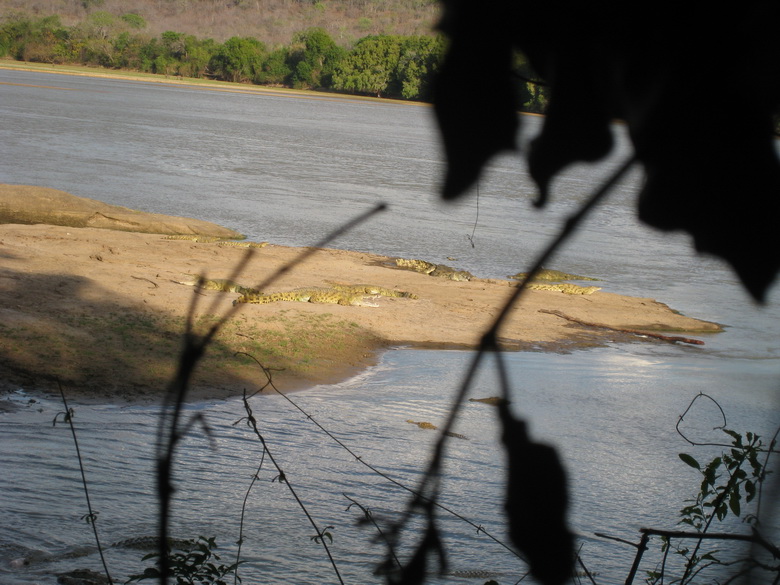 We put some bait for the crocs not far from our camp. many came to feed, none was big enough to shoot.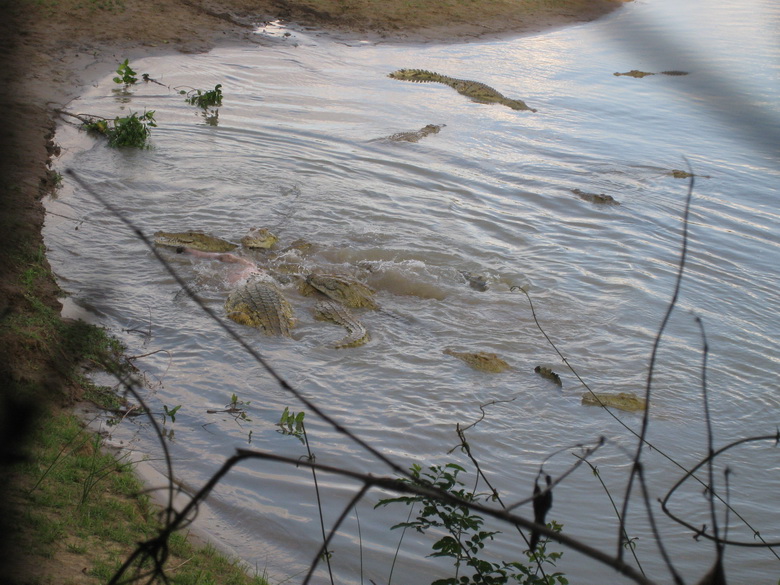 Feeding frenzy!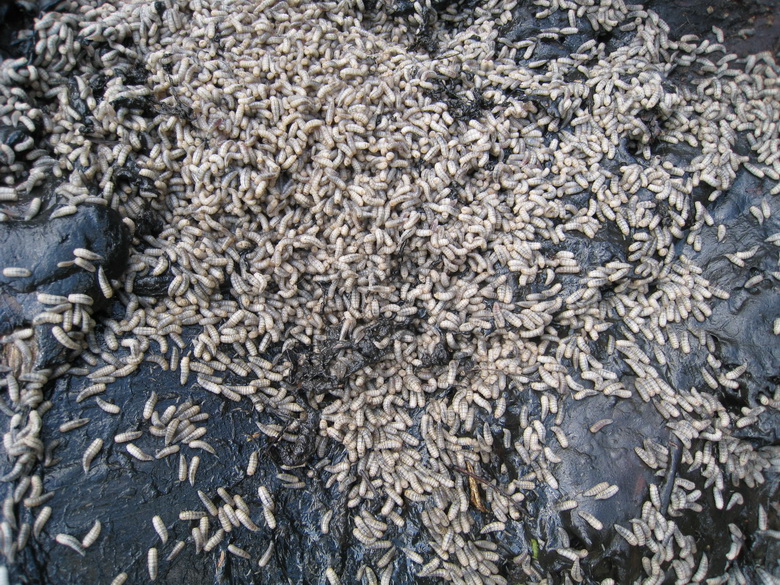 "Wild rice" as Walter calls these maggots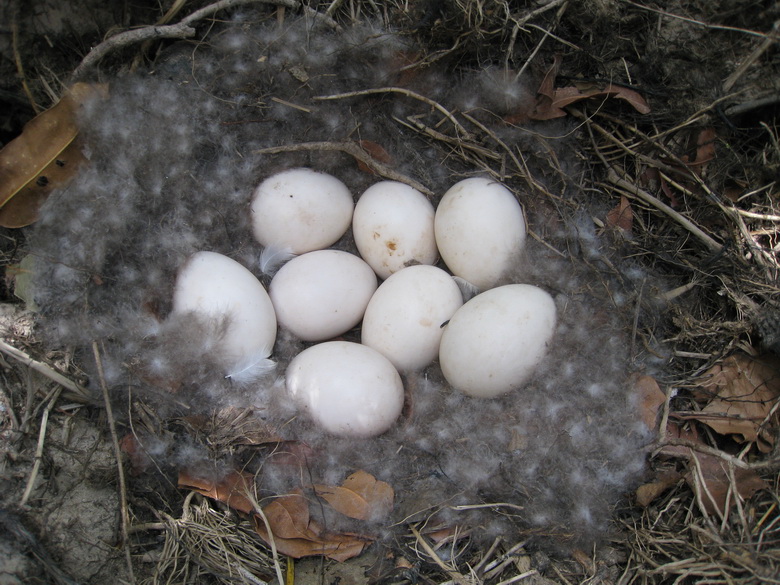 Geese eggs we found in a tree we had lunch under.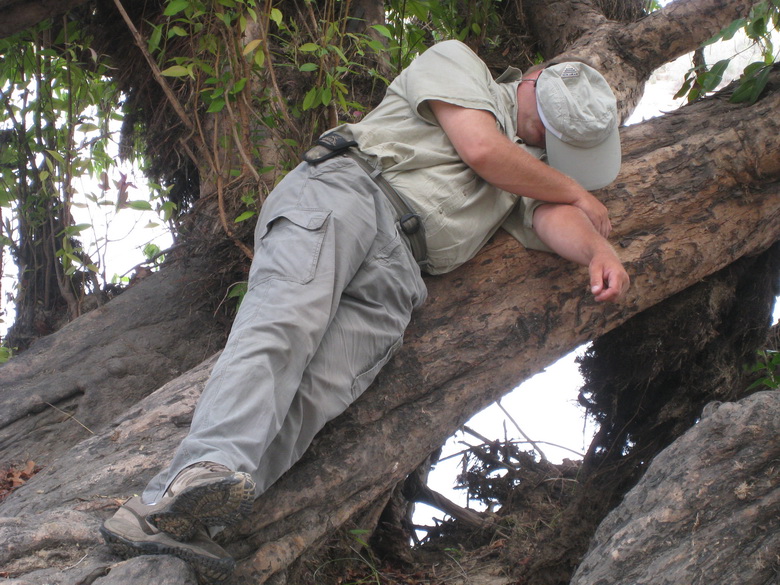 The same tree Todd is having little shut eye on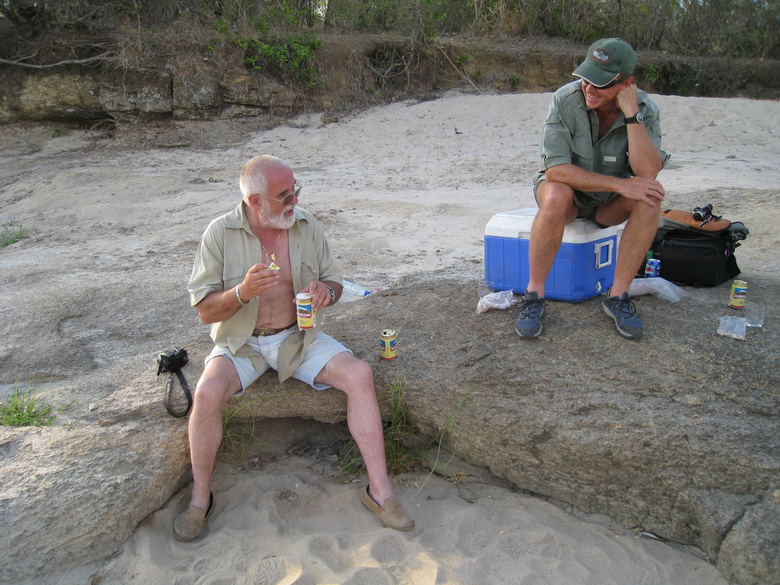 Walter and Wayne enjoying a drink close to our camp. They were fishing.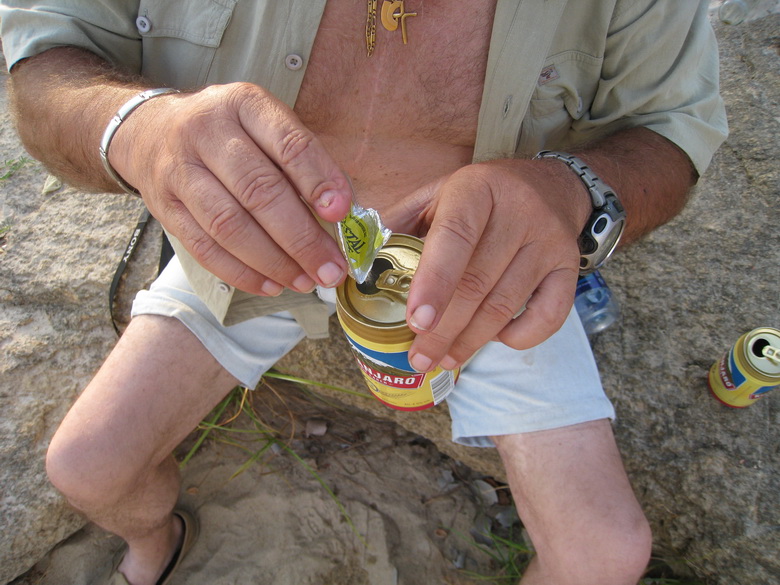 Only Walter would put Crystal Light into beer!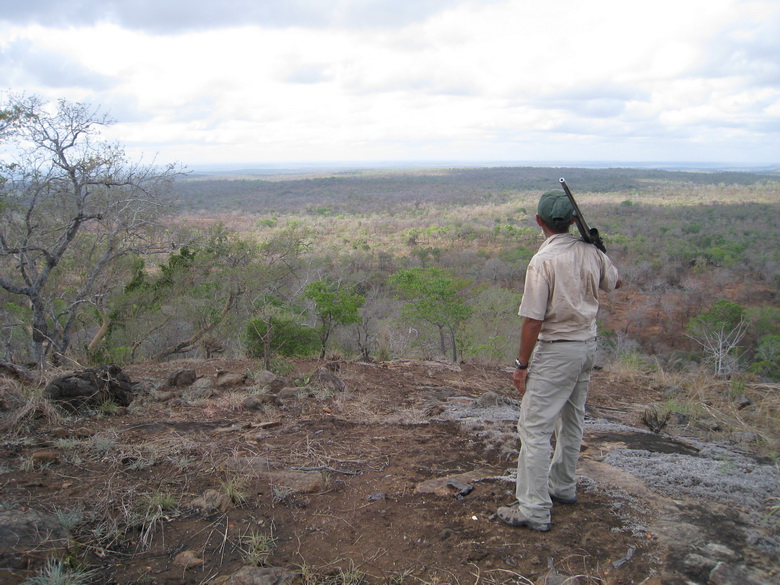 Beautiful view from the top of this mountain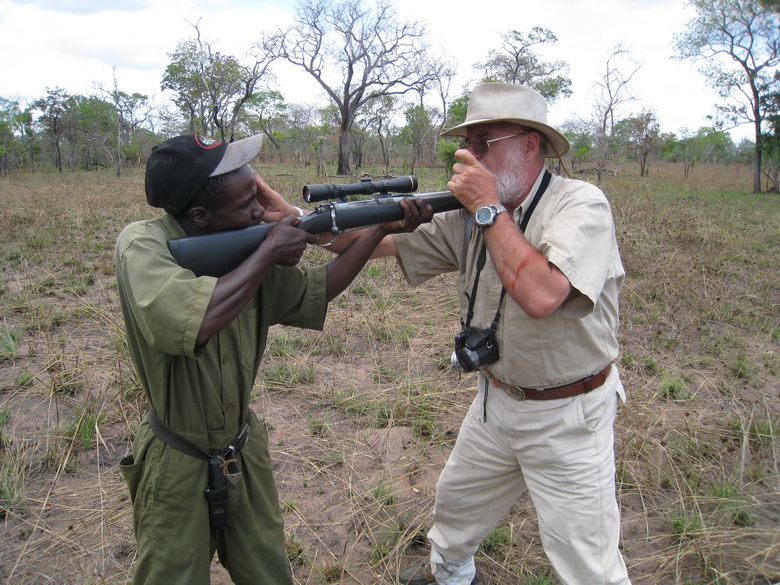 Walter is giving our tracker some pointers of how to shoot a scoped rifle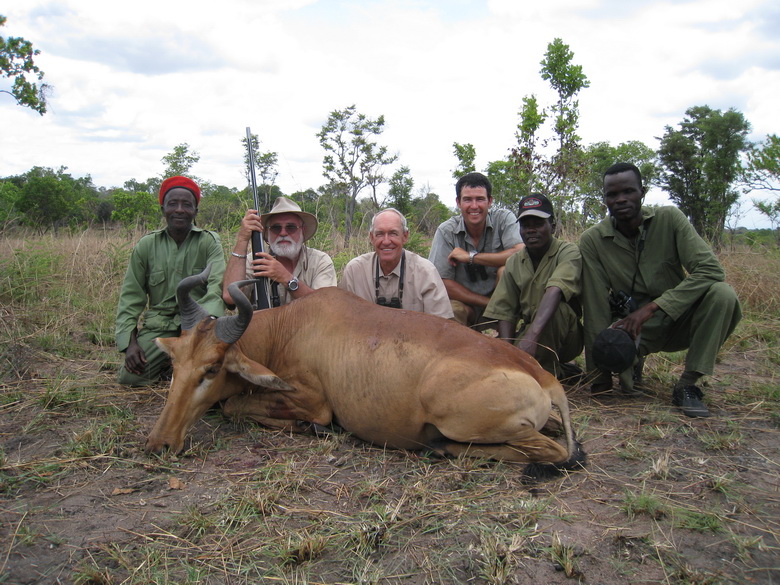 Walter is posing next to a kongoni he shot by proxy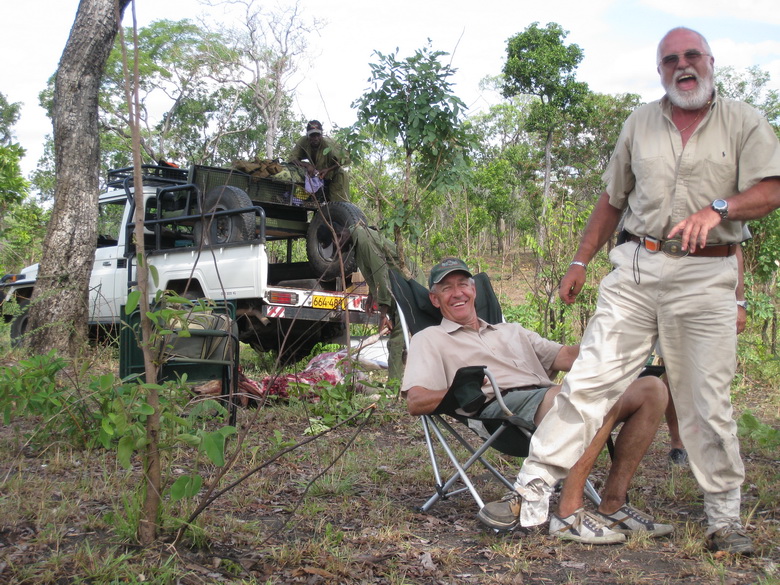 I am not sure what happened here. Obviously something very funny.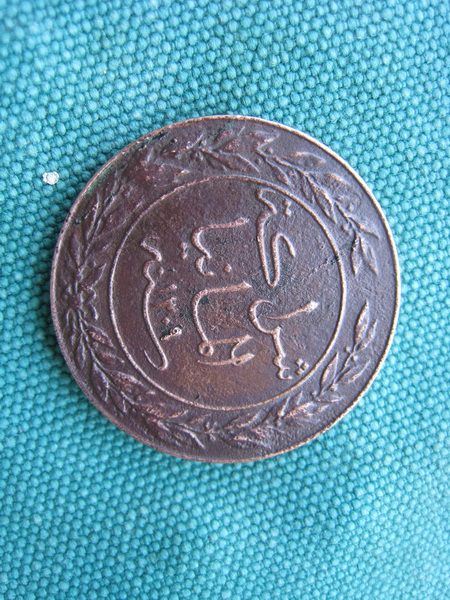 One of our trackers found this old German coin. I asked him if he wanted to sell it. He said "how much?" "Twenty dollars" I answered. He was absolutely thrilled.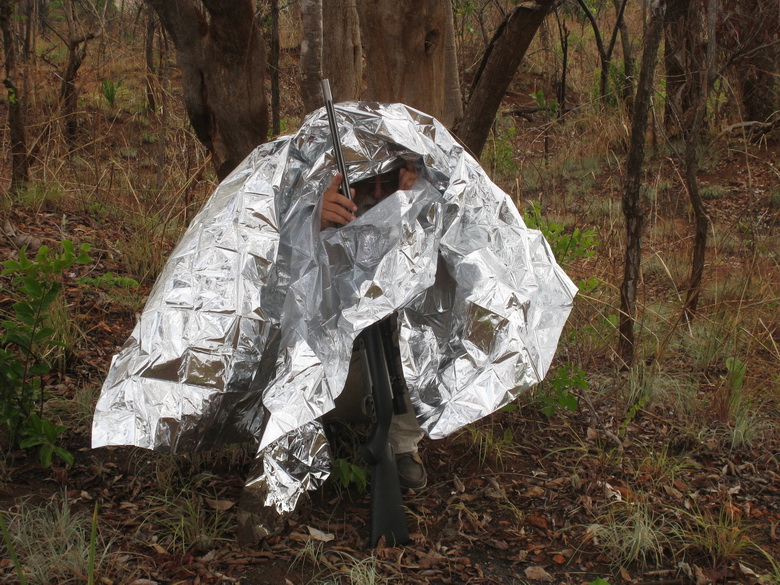 Walter with his new invention. He said any animal seeing him would just see himself.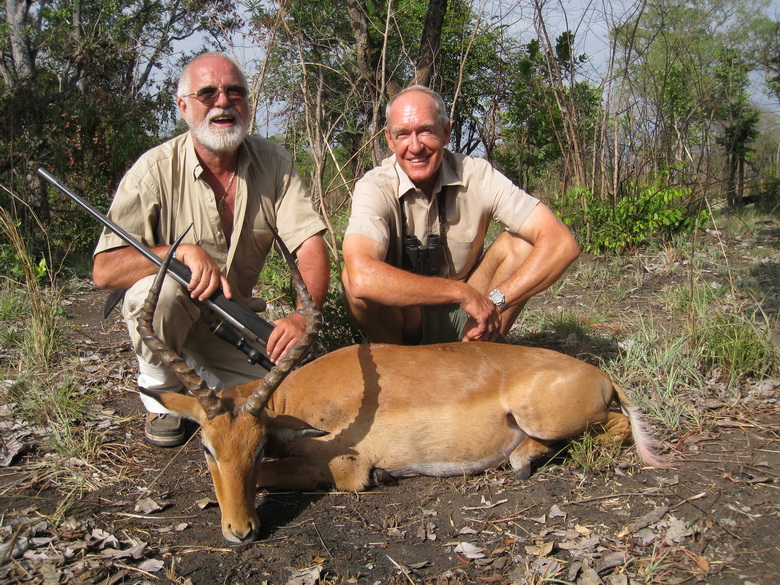 Another animal Walter is posing with. He said as he was the one going to cook it, he must pose next to it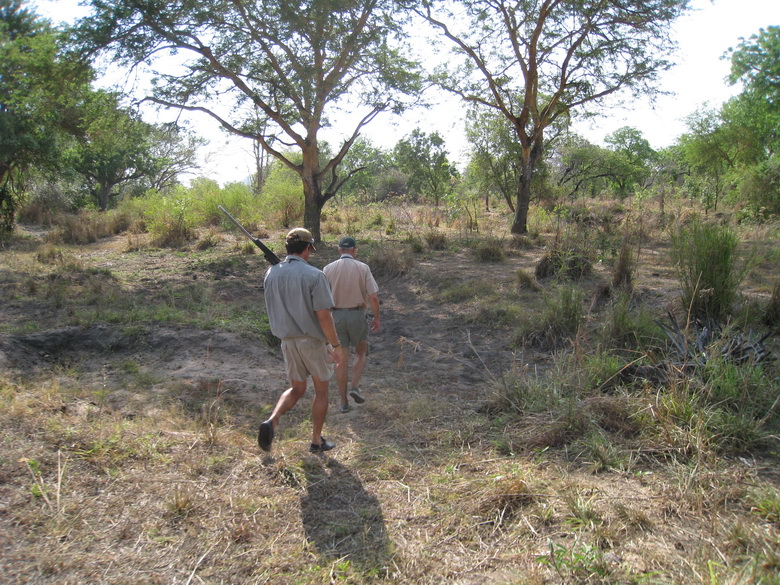 As we shot the impala you see in the photo above, Alan got stung by a wasp! He found a whole lot of them together, and decided to take his revenge. Here he is following Roy with my rifle, to shoot the wasp nest. He put the barrel a few inches from them, and pulled the trigger. We could not find any of them after that. Those Walterhog bullets are absolutely deadly on wasps!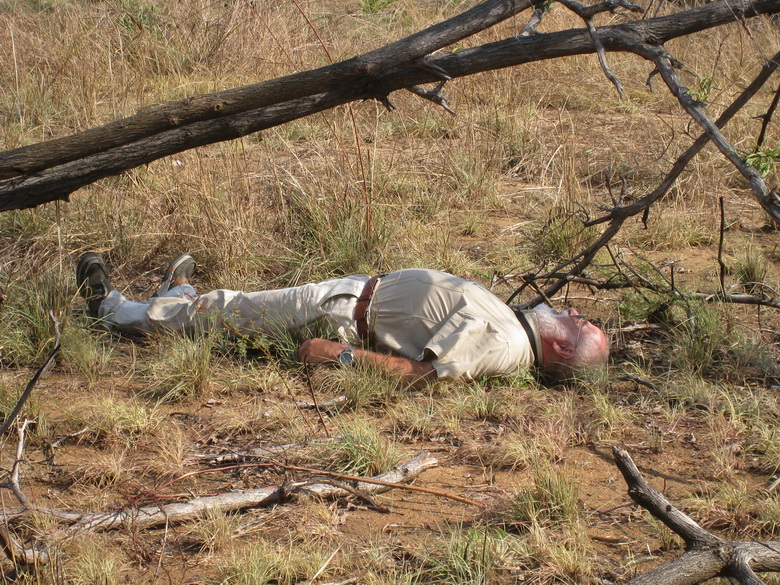 Walter playing dead! Roy got mad at him and told him "if you are going to die, hurry up and do it. We have to go find some buffalo!"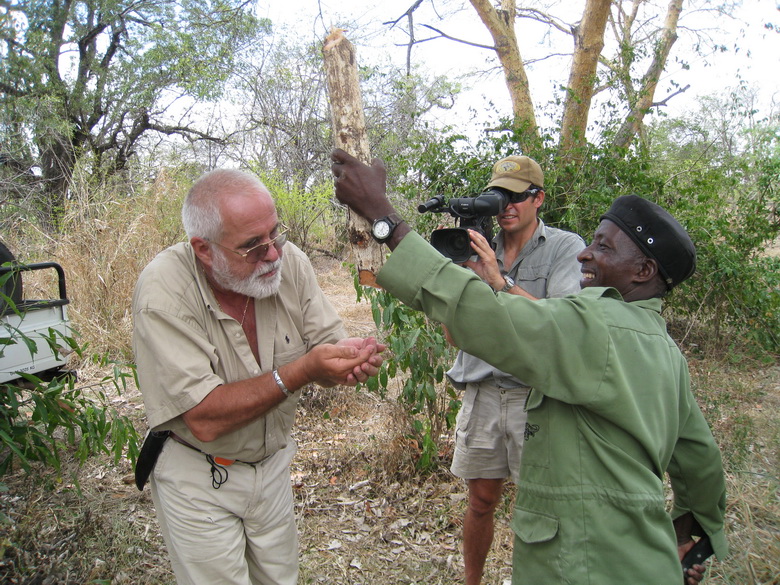 Our game scout showing Walter how to get water out of these vines. The water was very clean and sweet.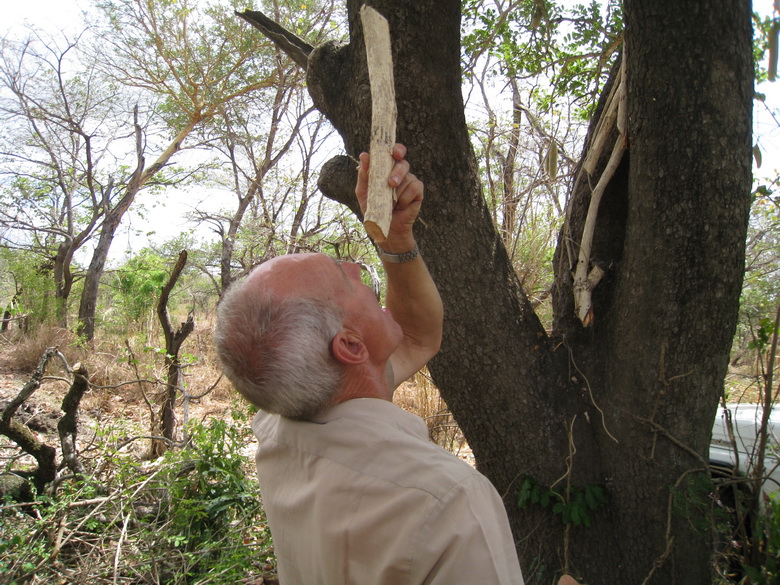 Roy having a drink from the vines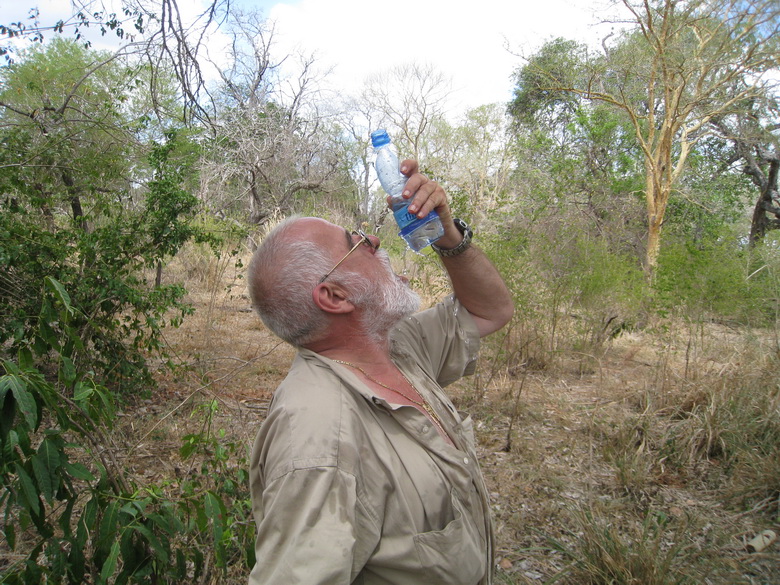 Walter, not to be outdone, cracks a water bottle and have a drink too!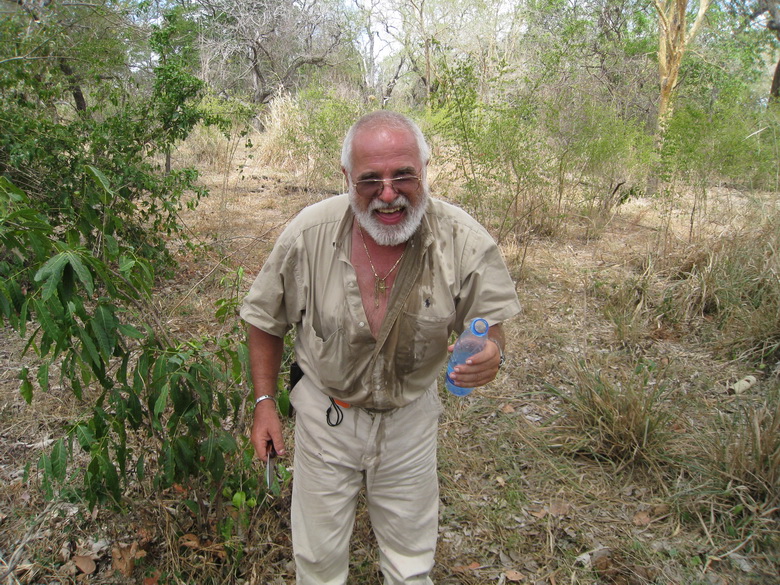 A clown is a clown is a clown1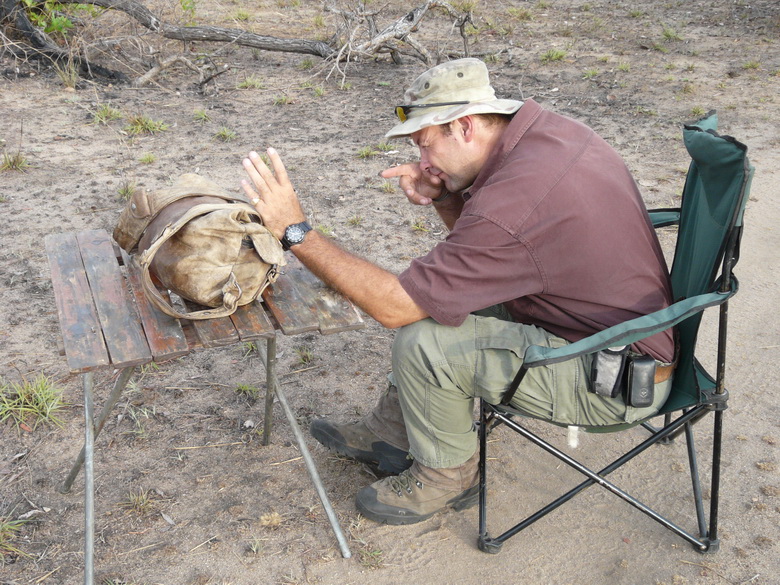 Lance showing Walter how to shoot of this very low table.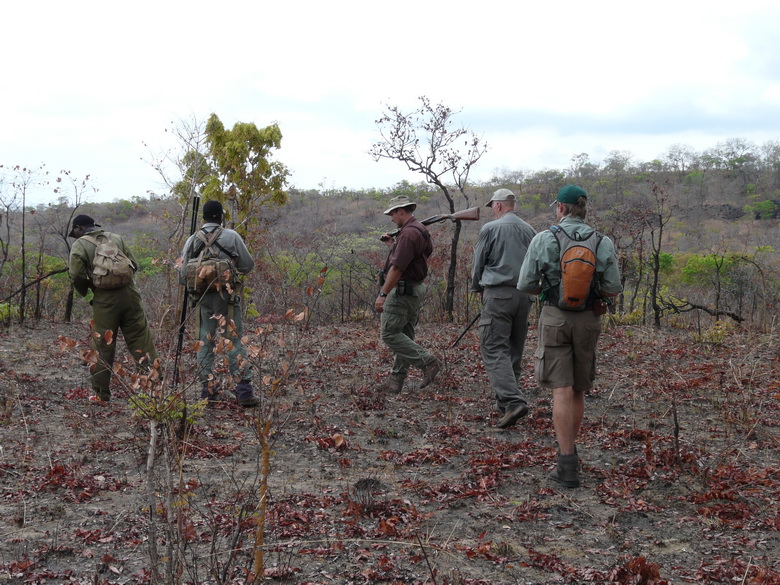 What we do most of the time. Tracking buffalo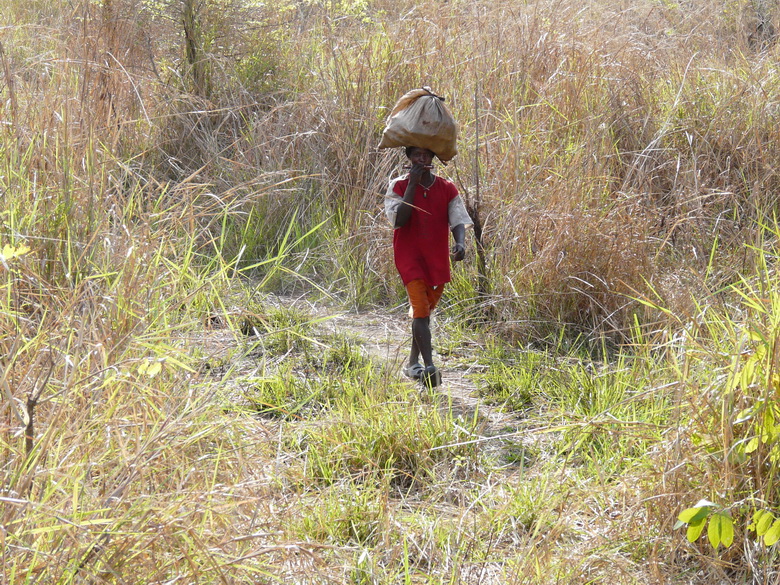 We met this man walking in the bush. How they manage to balance that load on top of their heads is a wonder to me.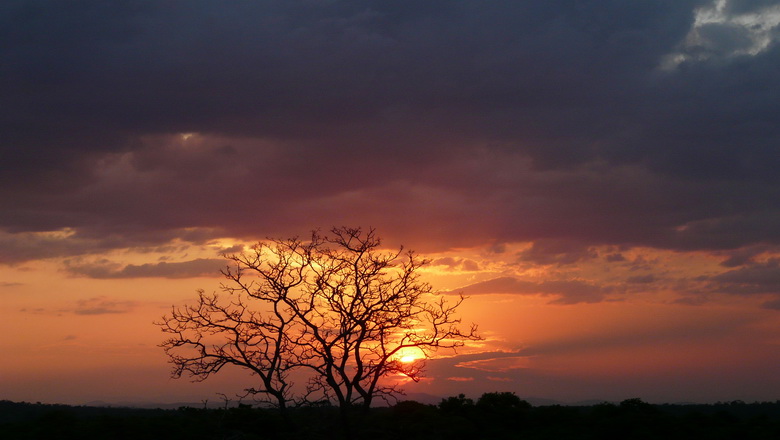 An African sunset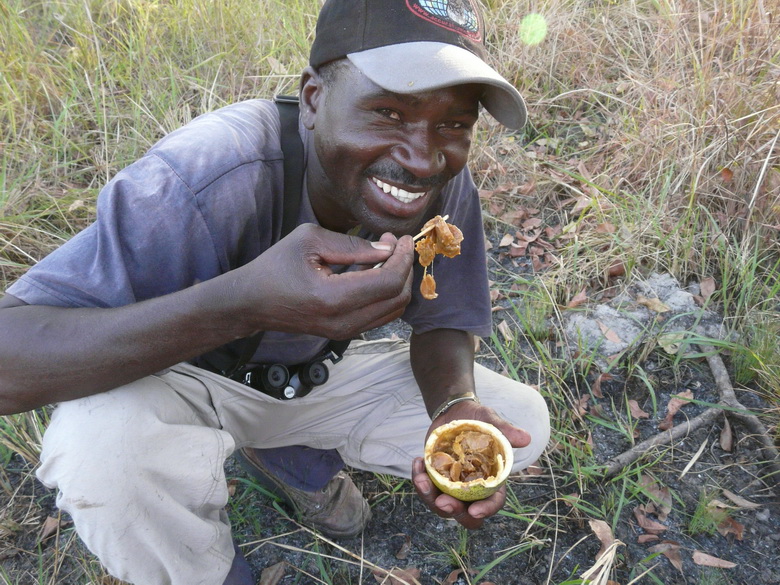 One of our game scouts eating a monkey orange
When your tracker hides like this, you know the tse tse flies are bad!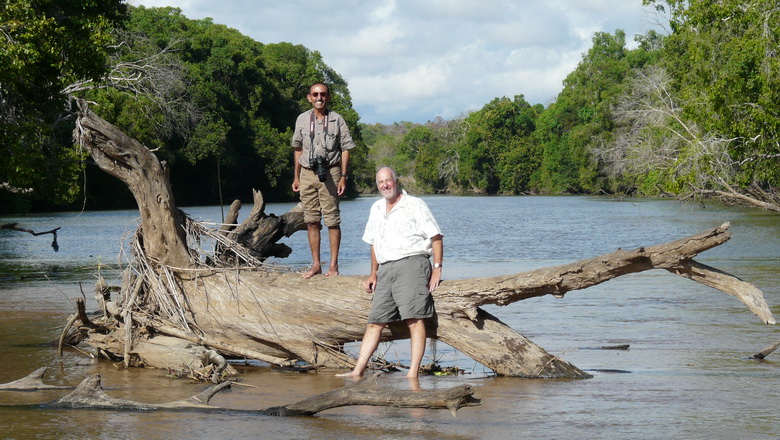 Two rivers converge by our camp, right be this tree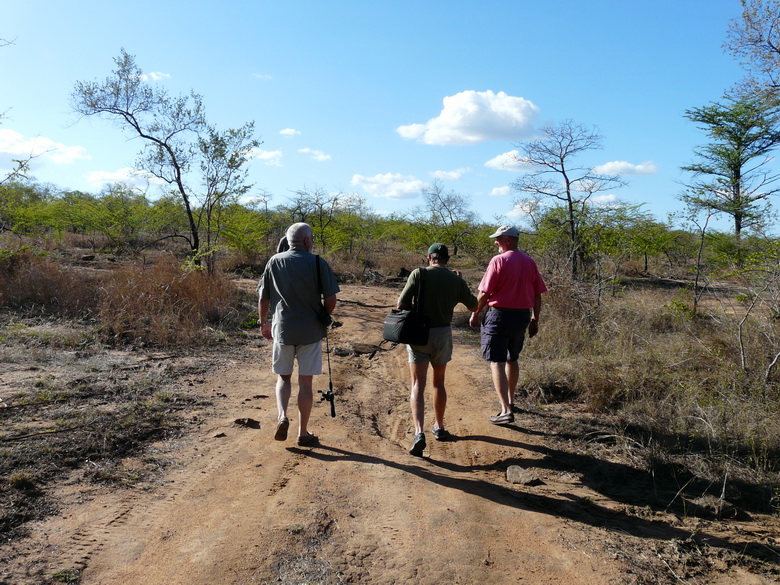 Going fishing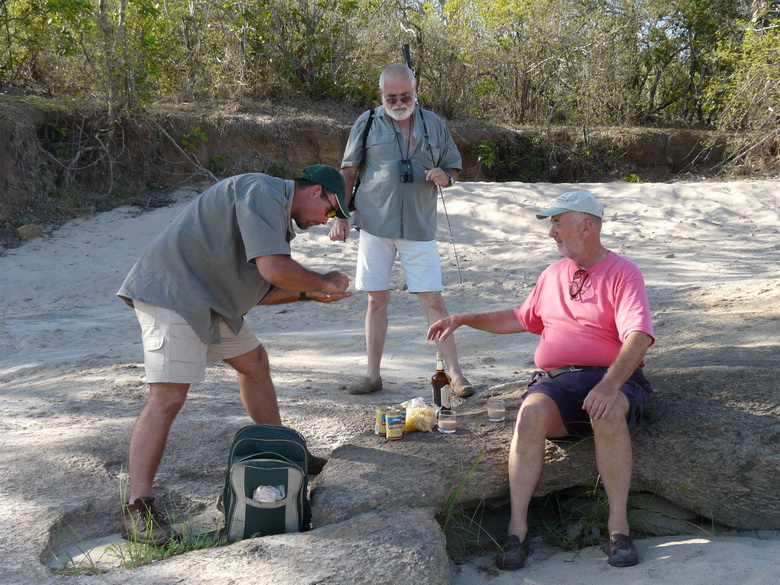 Getting ready for a picnic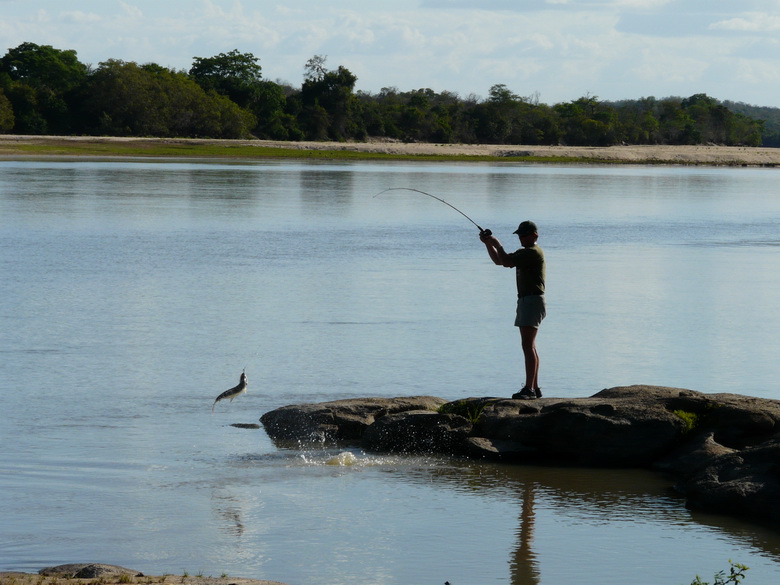 He got one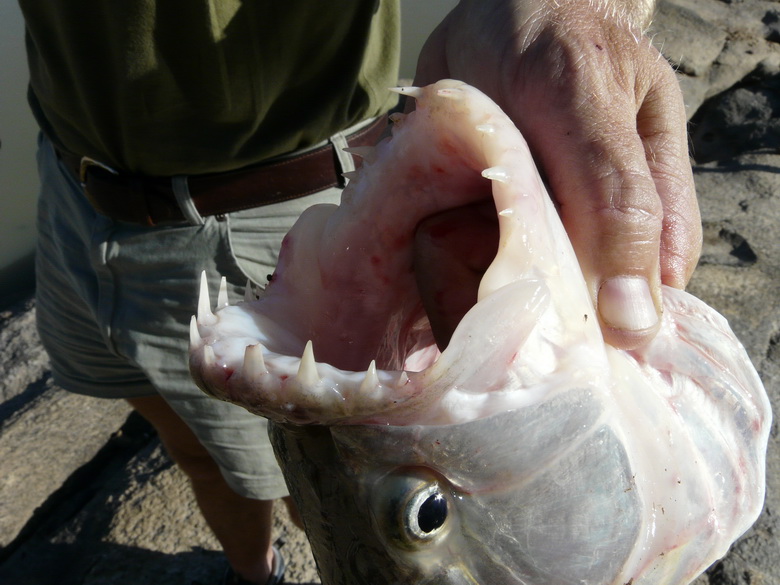 "dangerous fish" as Walter calls them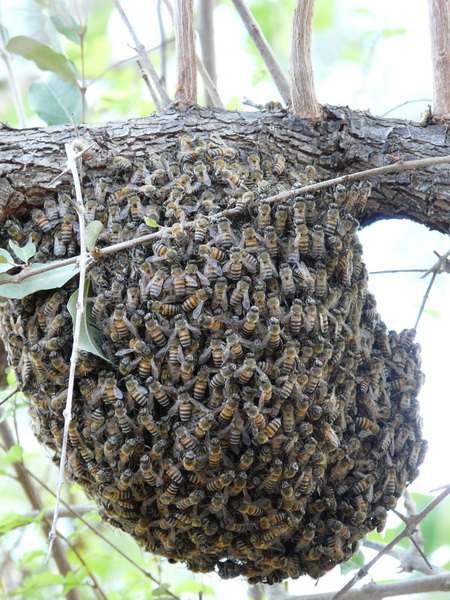 We found this honey comb close to a hippo path. We gave it a wide berth.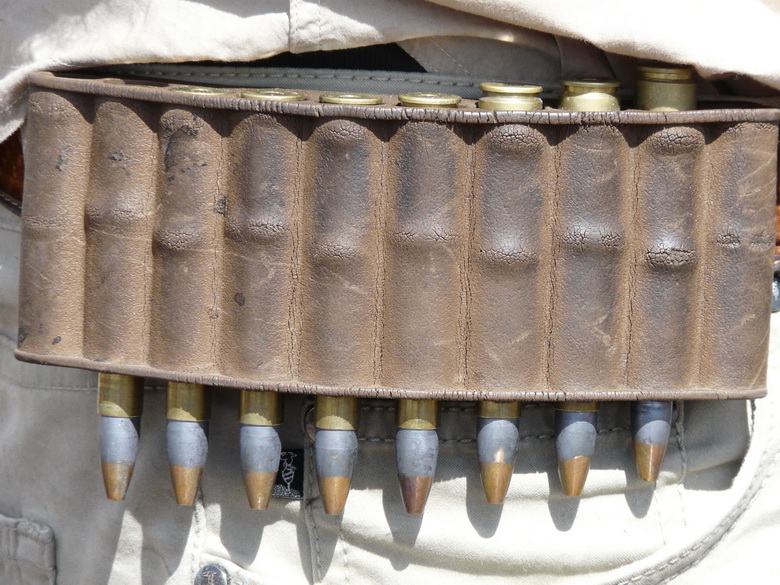 I borrowed Roy old ammo belt.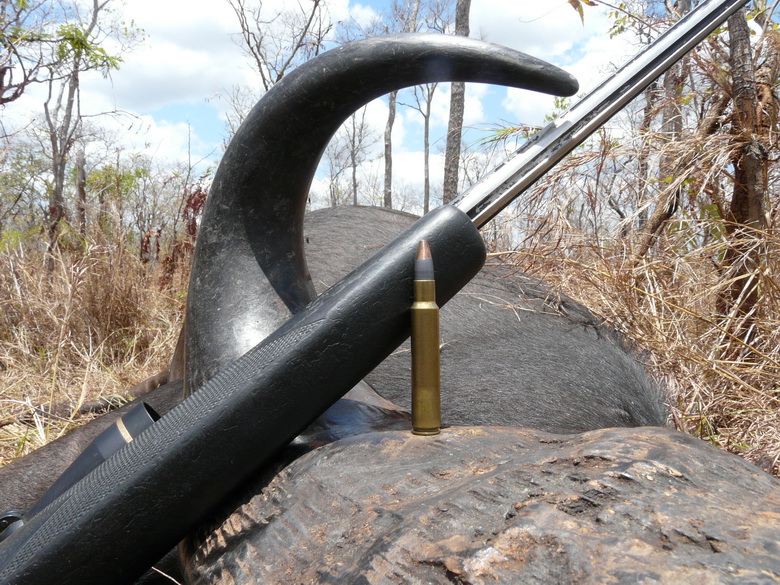 Buffalo, 375/404 and a 300 grain Walterhog bullet