Tanzania 2007 Safari Part IV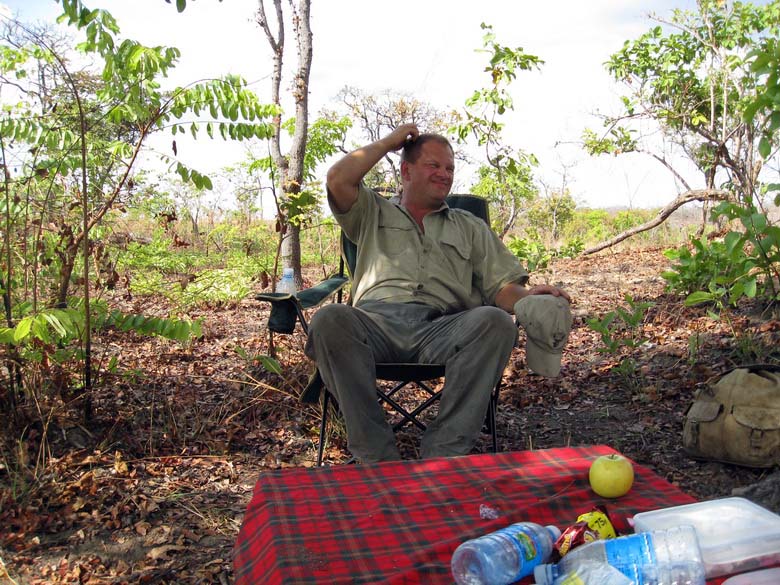 Todd is having a bit of a problem understanding a conversation between Dwight and his PH Lance
The sort of sunshine we all look forward to seeing in Africa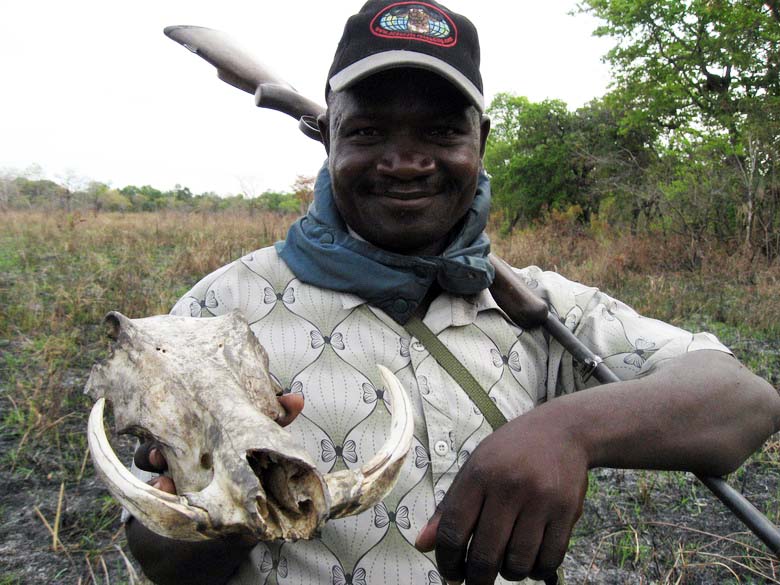 This one of our game scouts, holding a warthog skull we found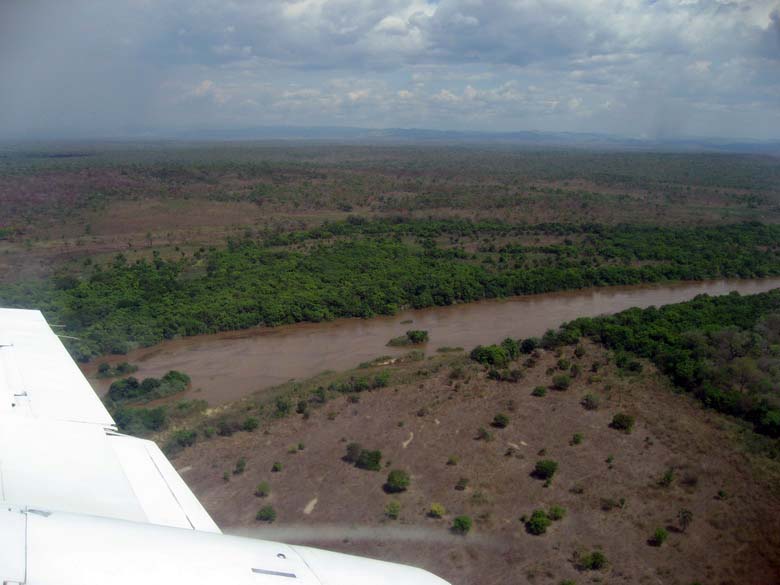 We just took off from one of the concessions we hunted, to go to another.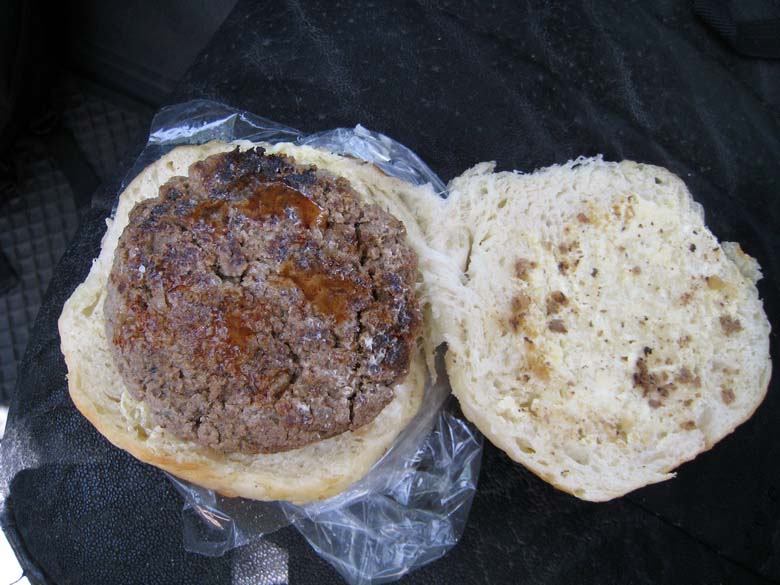 Lunch! Buffalo berger in home made buns and a dash of Tabasco
We found this buffalo skull lying in this sandy river bed, where we decided to have a little rest.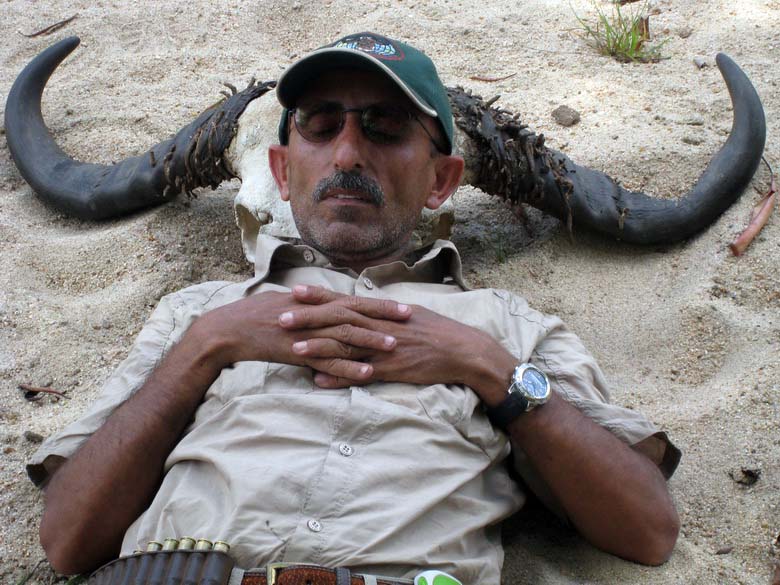 One cannot have a moment of peace with this lot! Someone decided to pay me back for taking their photos as they slept.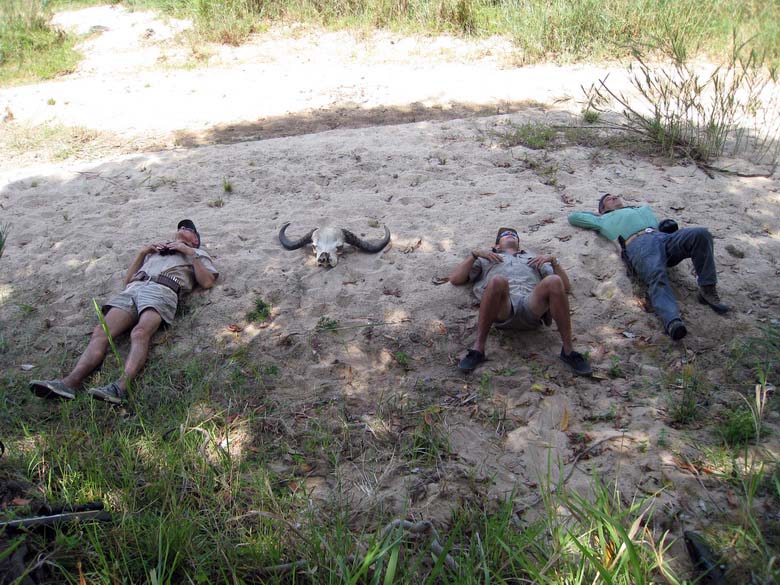 The rest of the gang having a little shut eye. Roy, Alan and Nelson.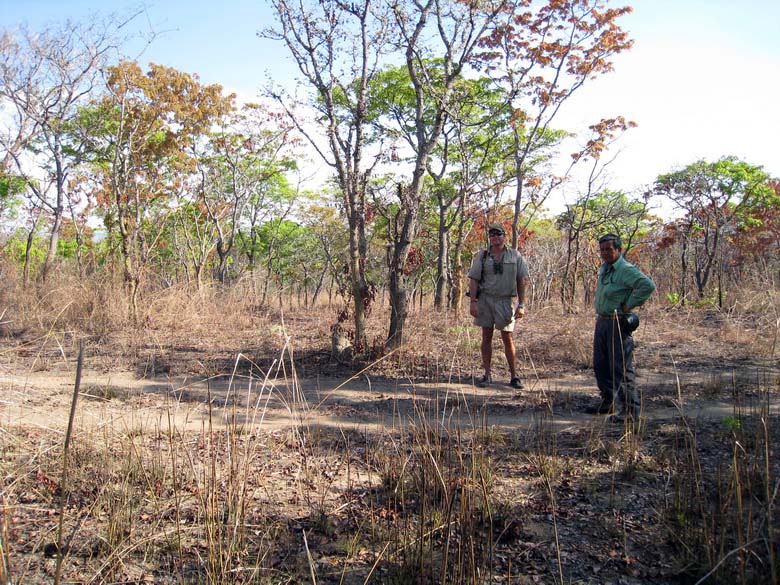 One of those common moments on safari. When the buffalo you have been following win the match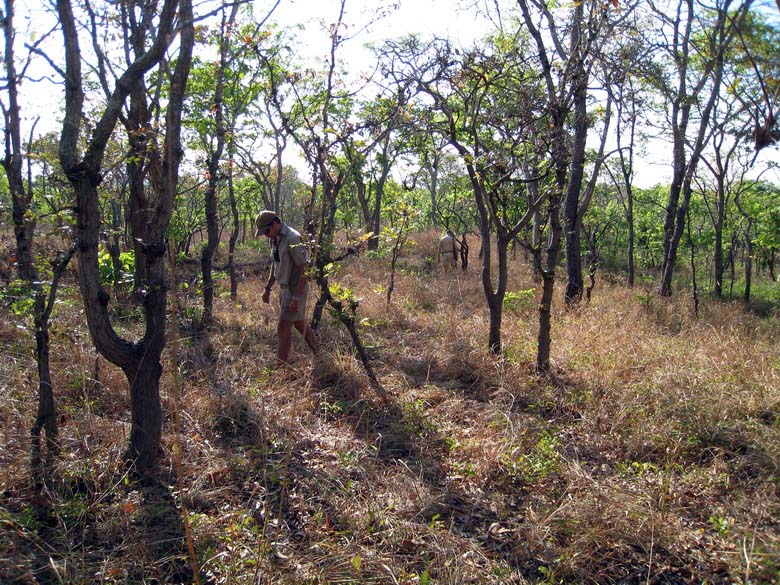 Our two professionals, Roy and Alan, looking for tracks
The buffalo have well and truly beat us this time. We followed them for hours, then they decided to cross the river into the other concession!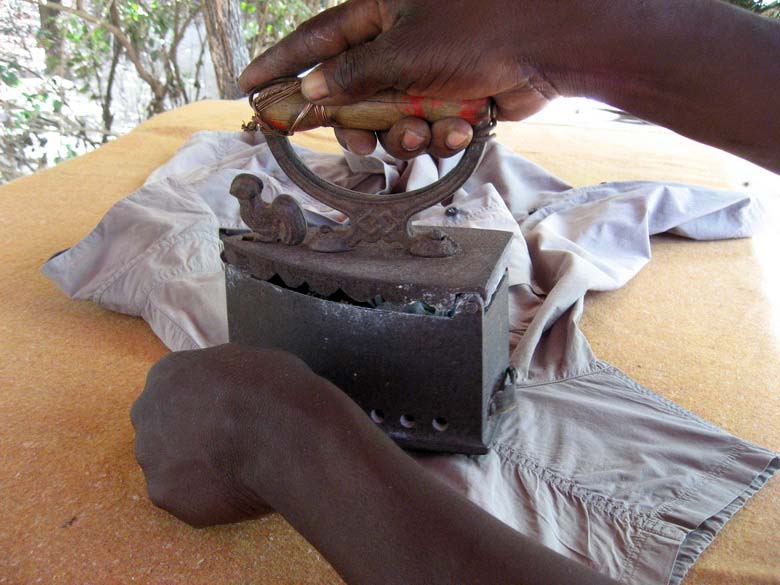 I am not sure when this iron was manufactured, but it sure has lasted more years than any of those made today.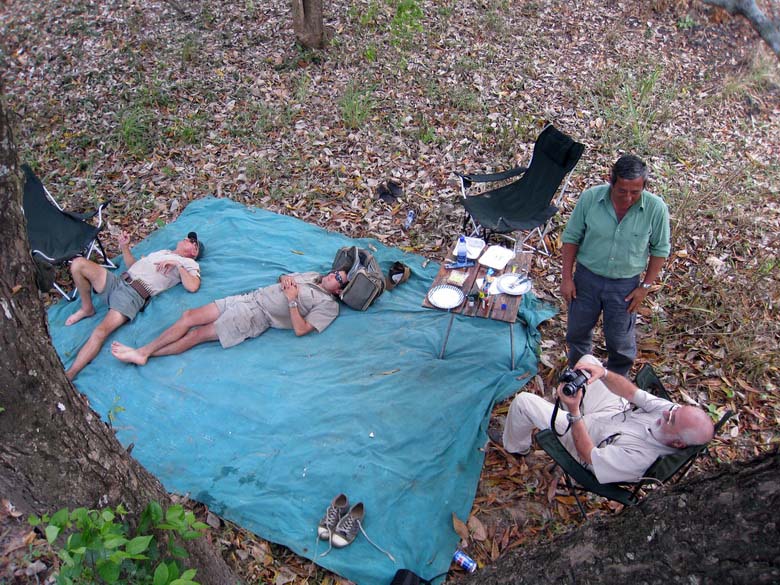 Another lunch time, so I decided to climb the tree. Walter is trying his best to take a photo of me without looking. You can see his camera poining in the wrong direction.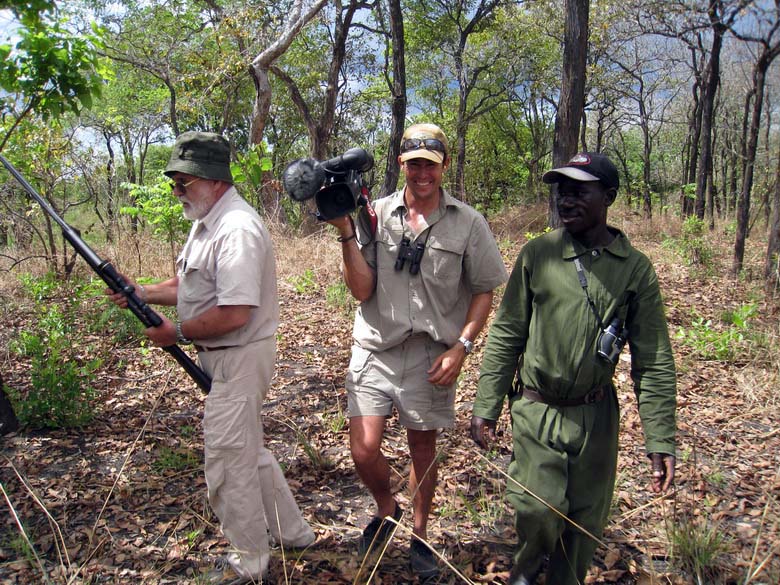 Walter was about to embark on one of his hunts. Which means anything can happen. And by the looks on Alan's and his trackers face, they are both looking forward to another srewup.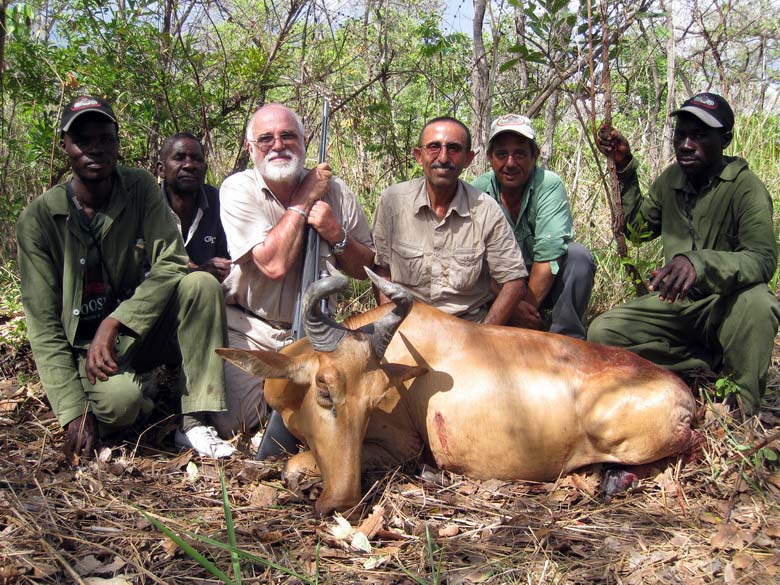 Walter and his kongoni. First he missed it. then he shot it in the dick, then I had to follow it and finish it off. He said he wanted us all to have some practice following wounded animals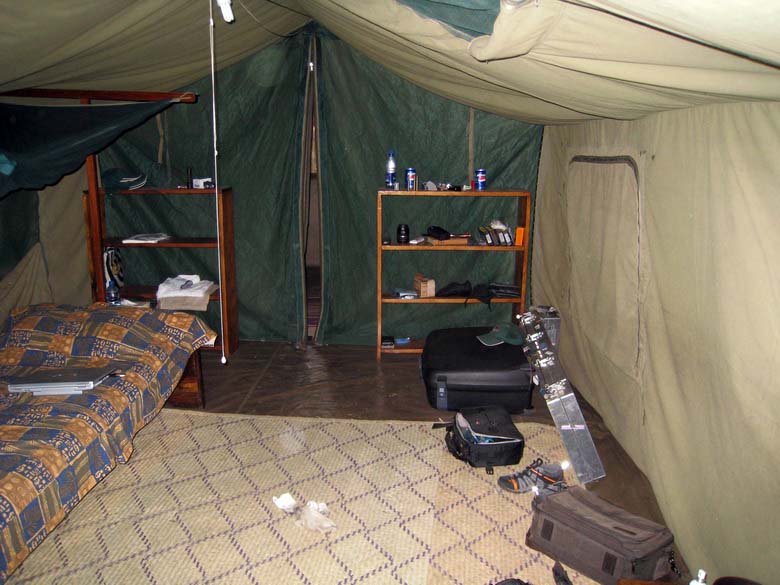 My tent in our first camp. I really have no idea, but I seem to get the tent that is closest to a hippo path. You can see the bathroom at the end of the tent. The hippo path is just behind that!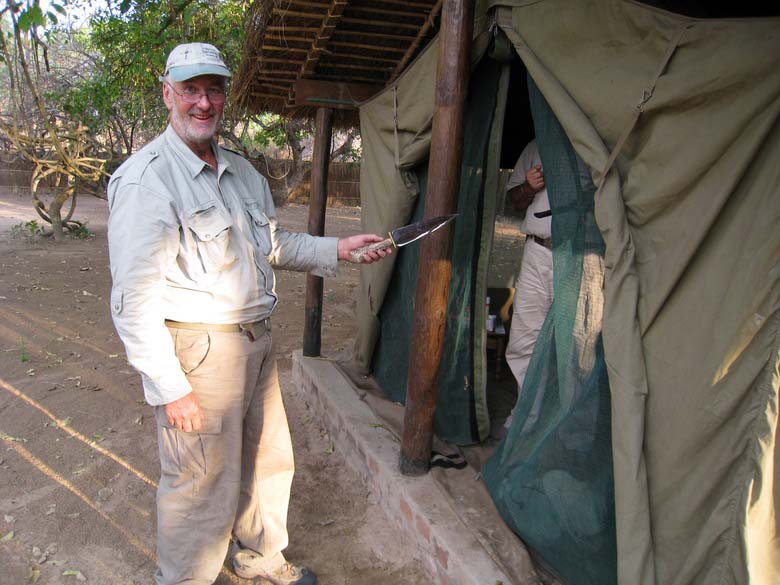 Dwight is holding Nelson's knife. Walter was demonstrating its use just in case he got attacked by a hippo earlier on. When told this knife is far too small to do any damage to a hippo, he said "before the hippo comes here he has to go through your tent. And I am sure not even you would miss a hippo that close.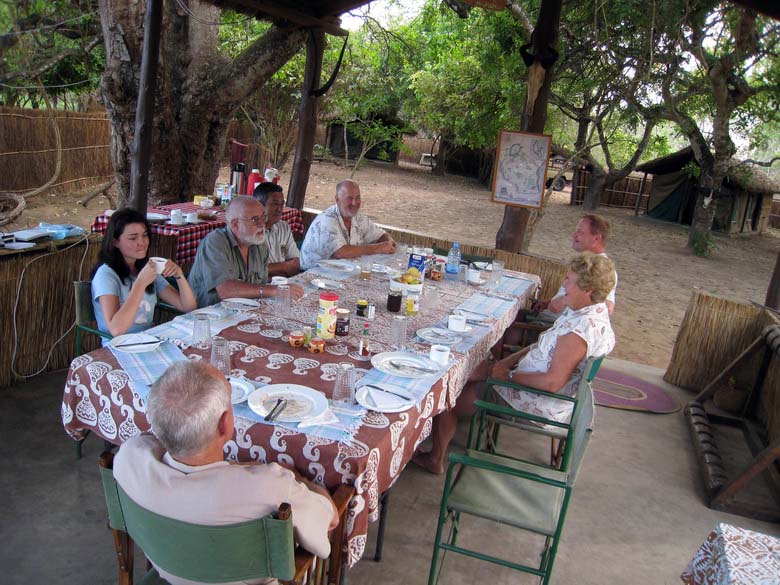 Relaxing in camp the day we were leaving to the other concession. We just had breakfast, and would be on our way to the airstrip.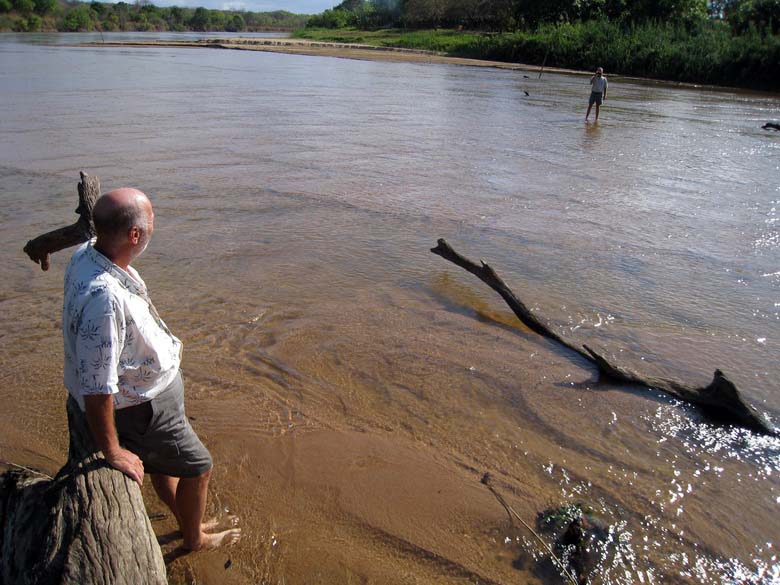 If you look behind Todd, who is standing in the river taking a photo of us. To the left of him you can see a small piece of wood sticking out of the water. There is a deep channel there, and a large croc comes out to sun himself right next to that piece of wood. Dwight asked me to get ready, as that croc decided to have Todd for lunch.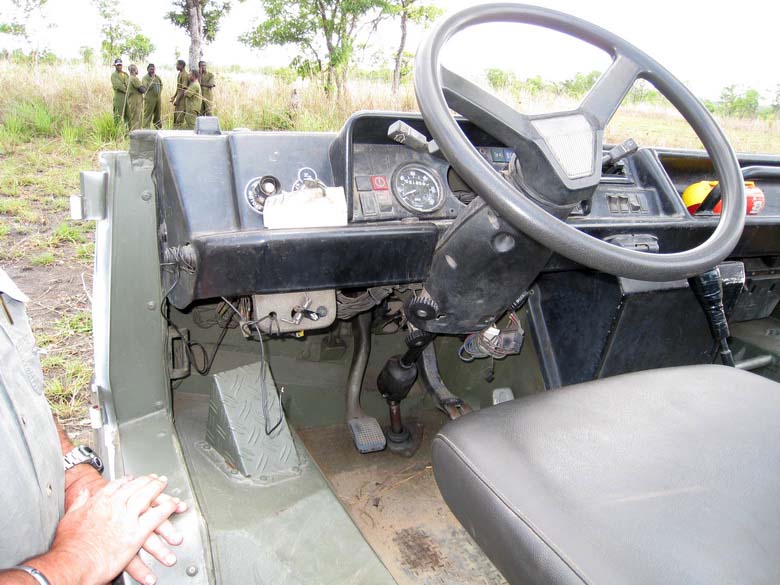 A perfectly, normal, working car. Wires were hanging on all over the place, but, the car worked just fine, thank you.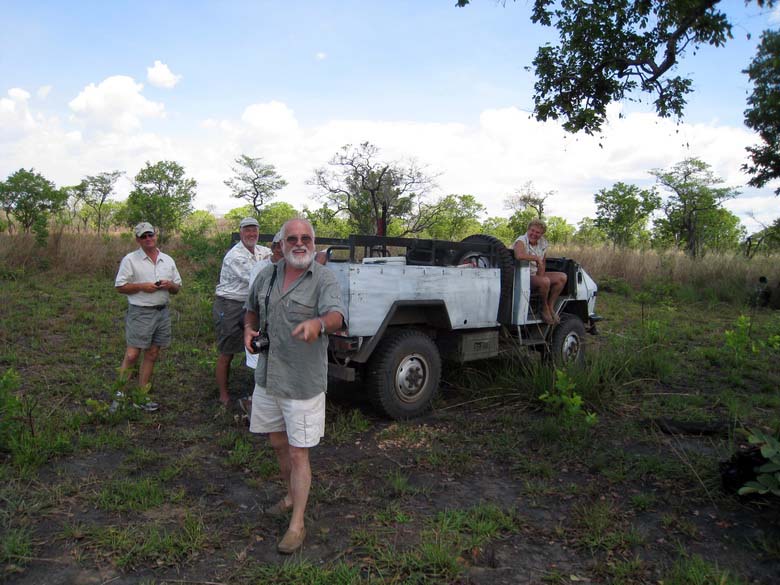 The same car you see here.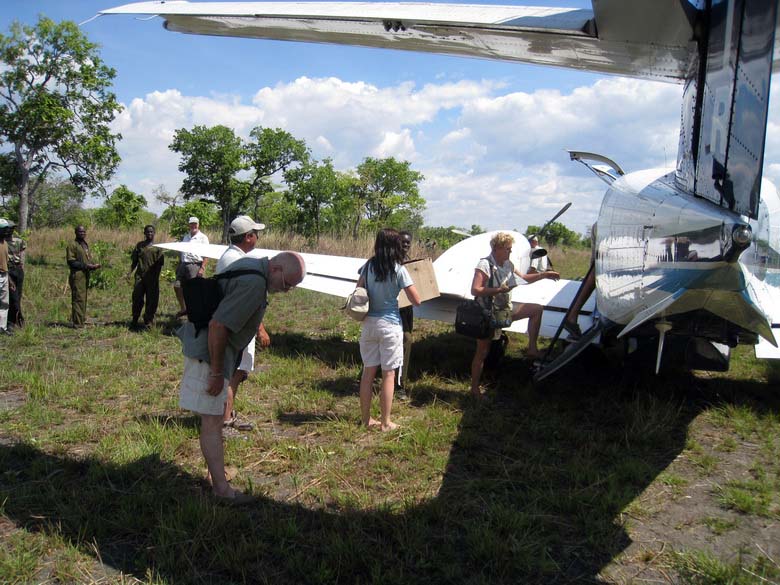 Boarding or plane to go to the other concession. Walter, as usual, seems to have lost something!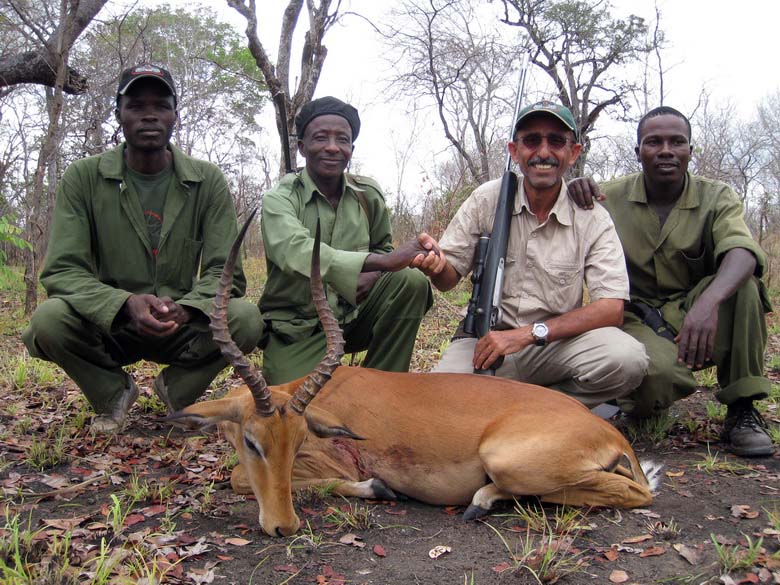 Our fearless game scout! He was such a character, he had us in fits of laughter most of the time.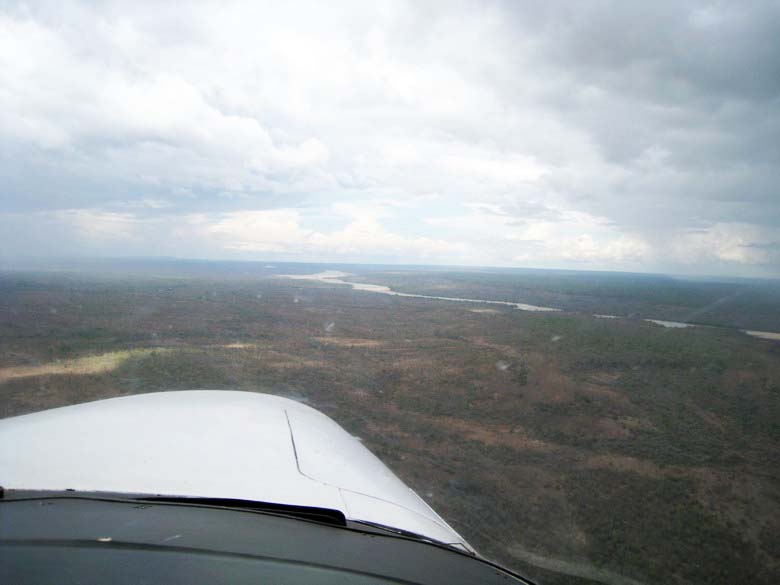 Another aerial view from our plane.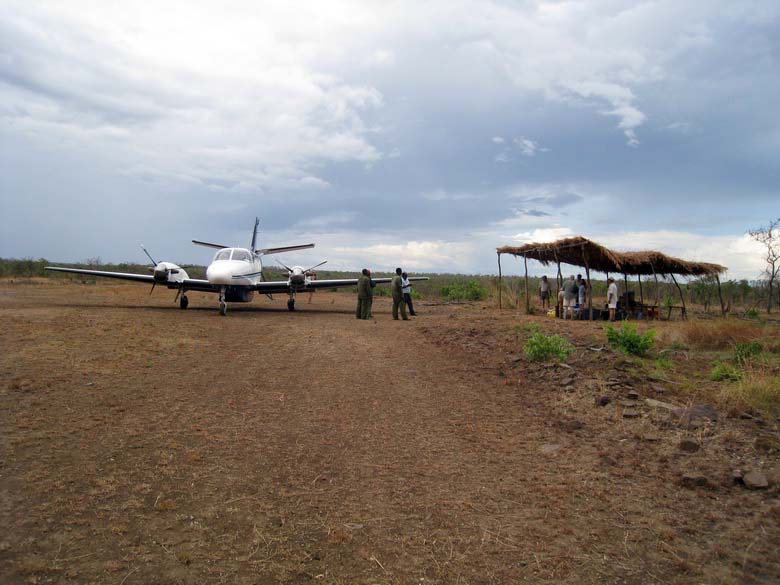 We have just landed at our second landing strip. The First Class lounge can be seen here.
Walter and Leoni, in what Walter said was their "holiday together snap"!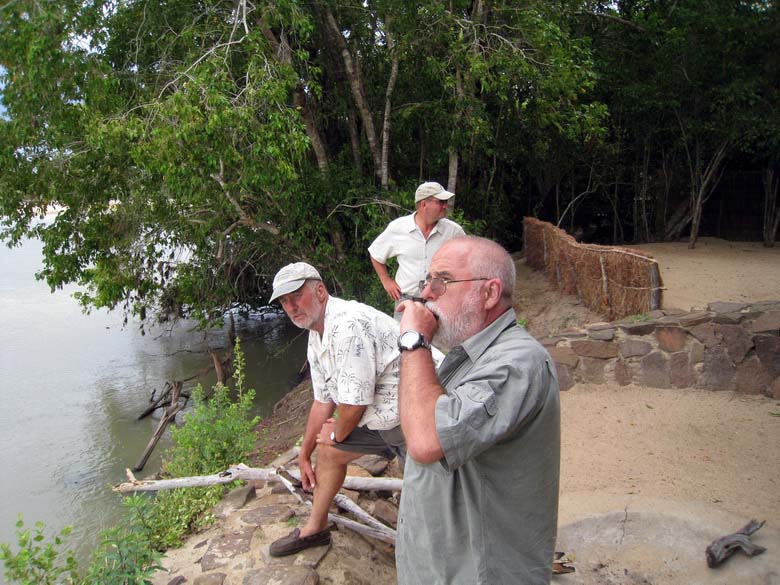 A discussion is going on between Dwight and Walter, on how to cross the croc invested river. They both had many ideas of doing it, but none of them would put those ideas into practice!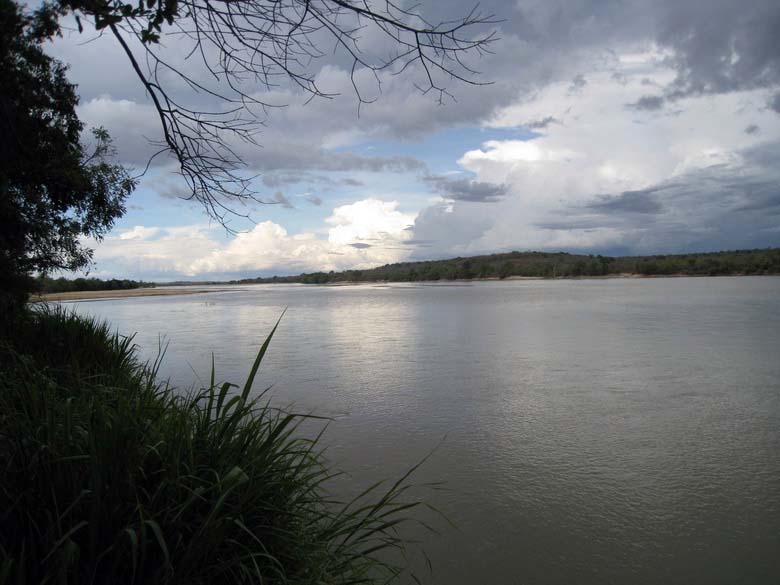 A view from our new camp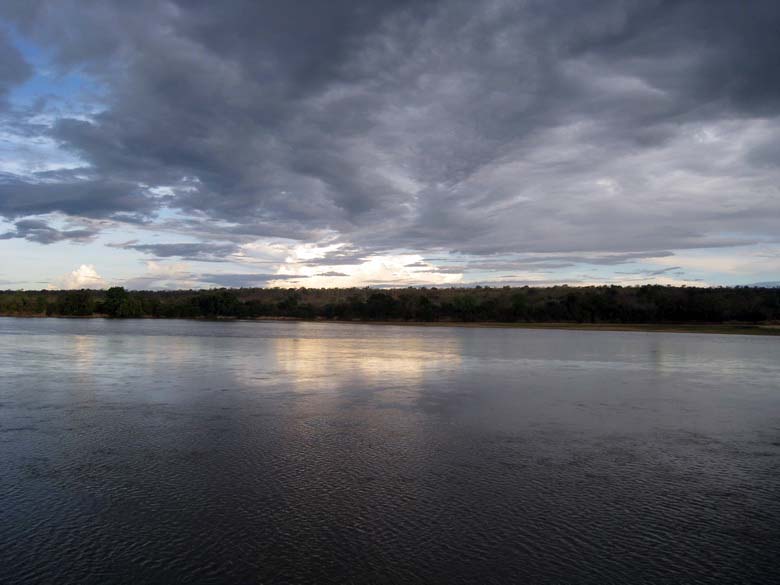 Another view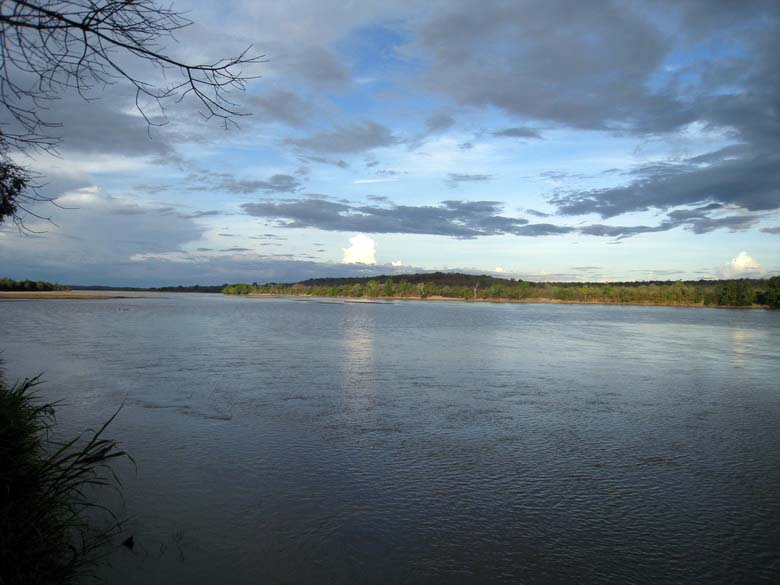 And another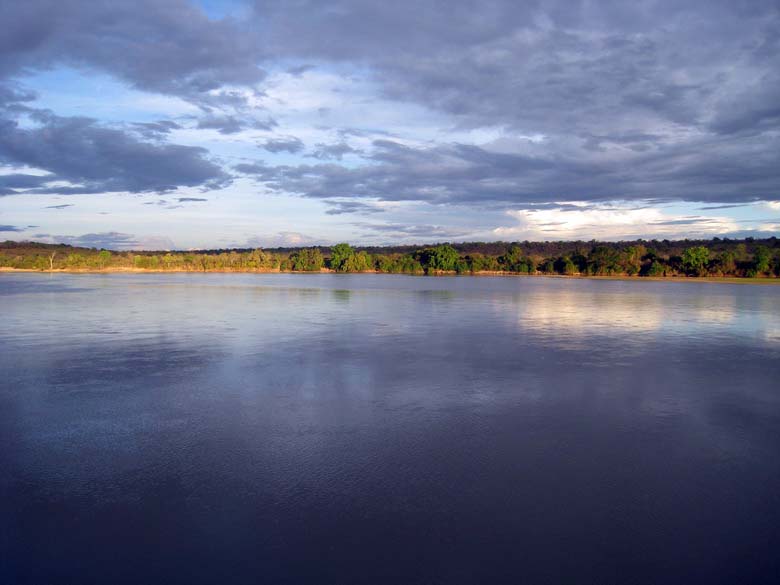 Walter said he would be happy to stay there all year round!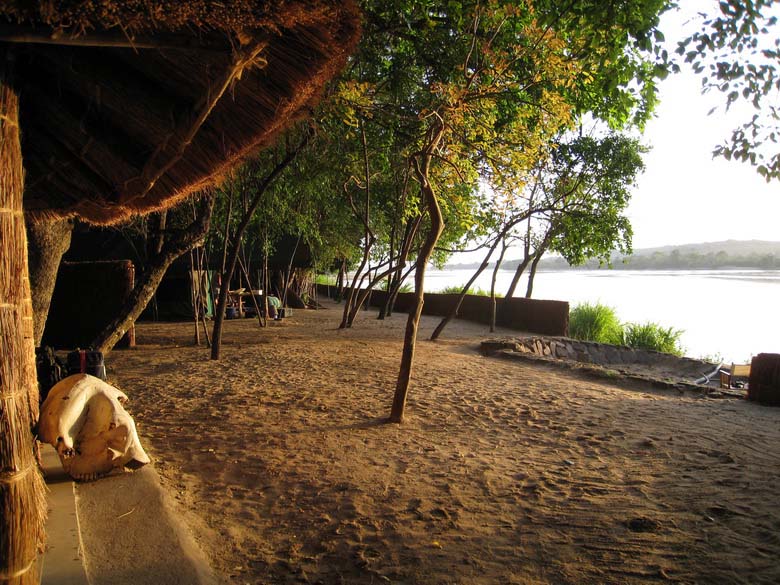 Early morning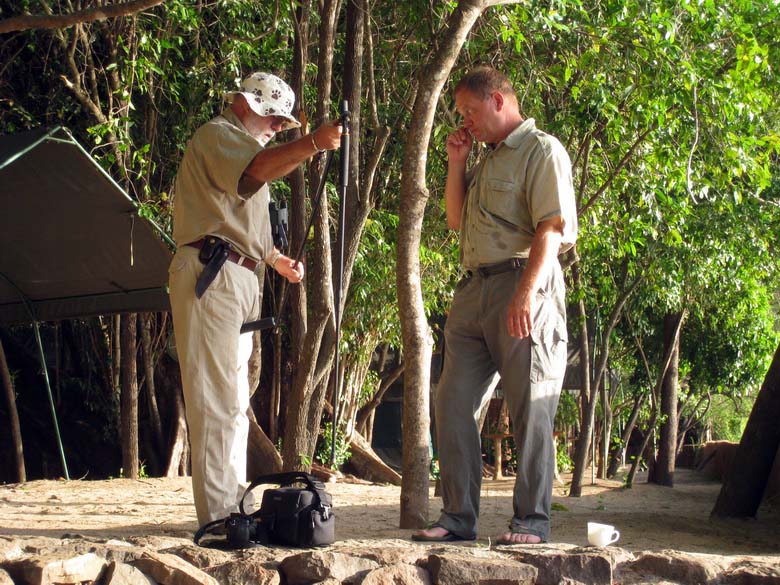 Walter with all his paraphernalia. Todd could not help being amazed by what Walter carries with him on the truck.
Tripod, 2 knives, GPS, MP3 player, stereo speakers, 3 digital cameras, one video camera, a large cigar, chocolates, biscuits, left over food from the night before and so on.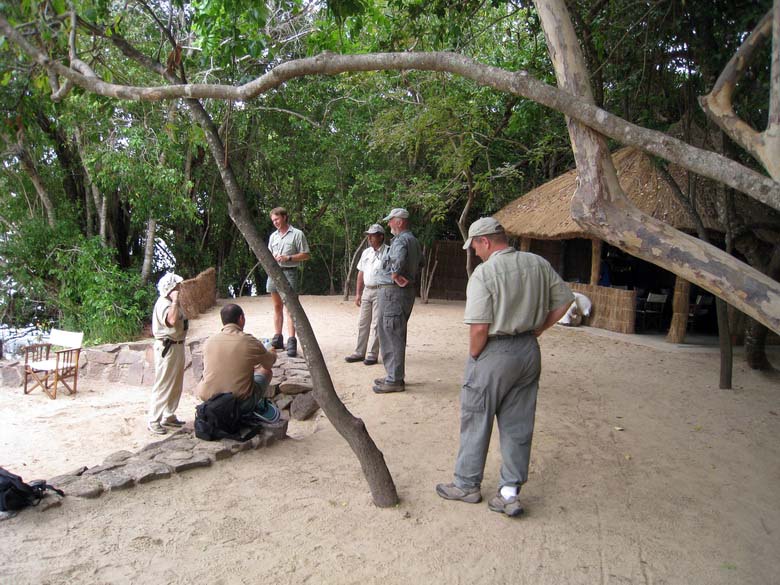 Walter is explaining to everyone why he needs all these things with him on the truck!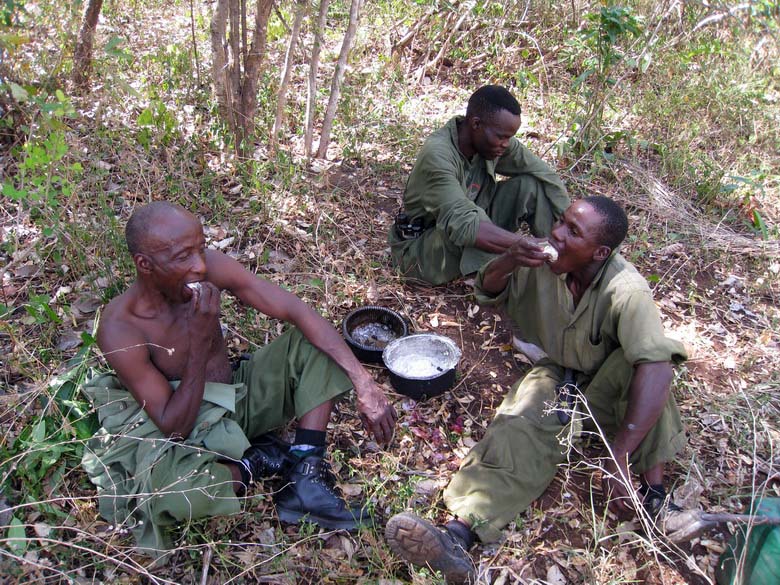 Our trackers and game scout, having lunch.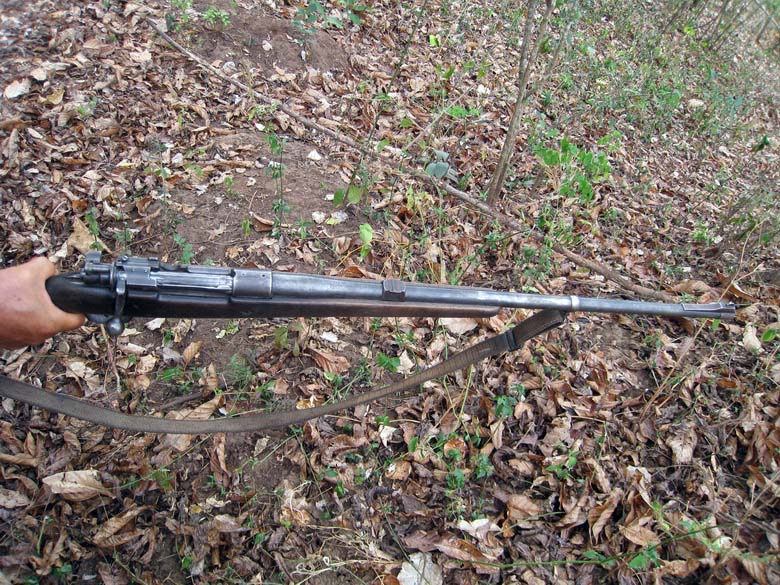 Our game scout's rifle. It had no rear sight.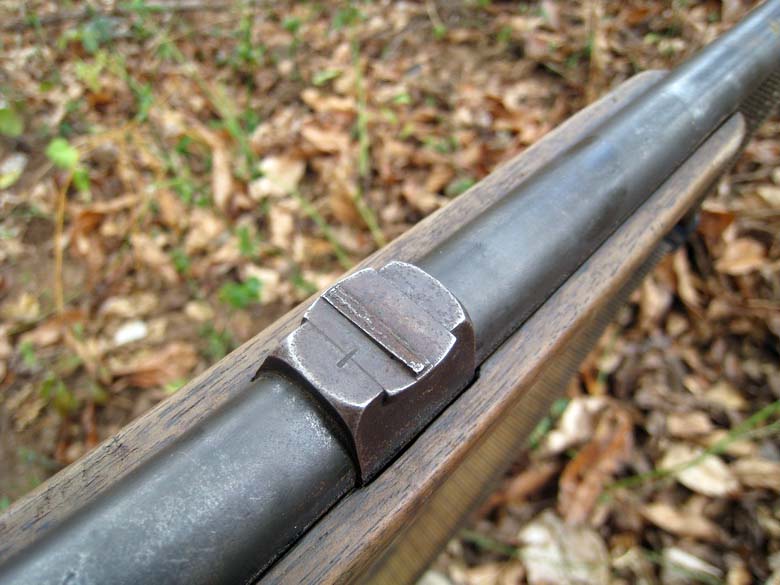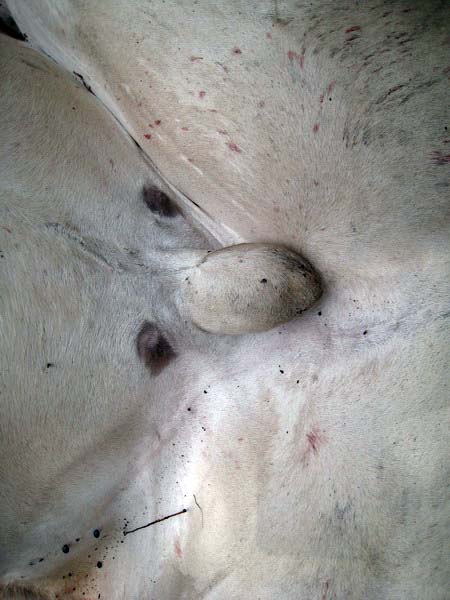 A kongoni with one ball missing!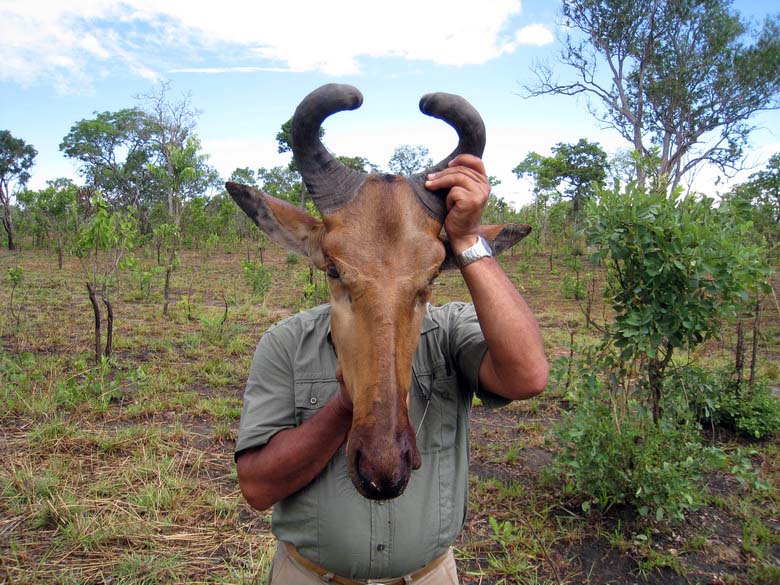 A kongoni with brain missing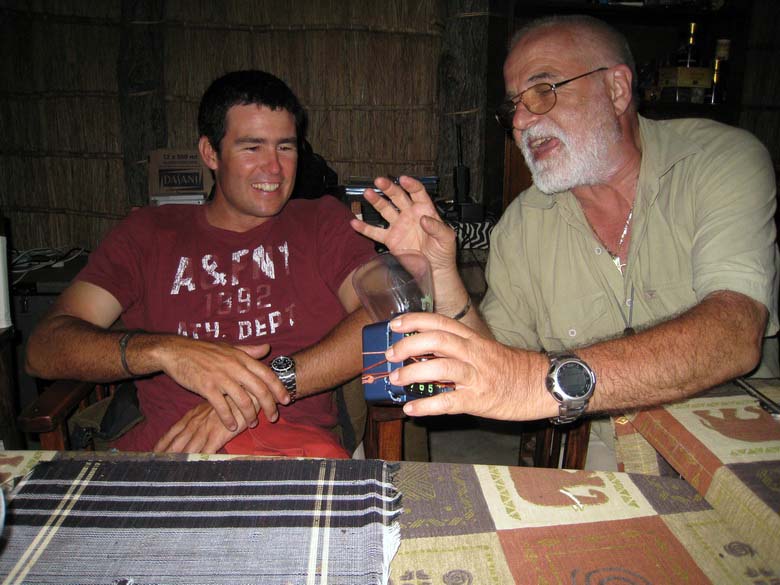 Walter brought an alarm clock that did not work. So he decided to modify it. It made one almighty bang, and then stopped working altogether.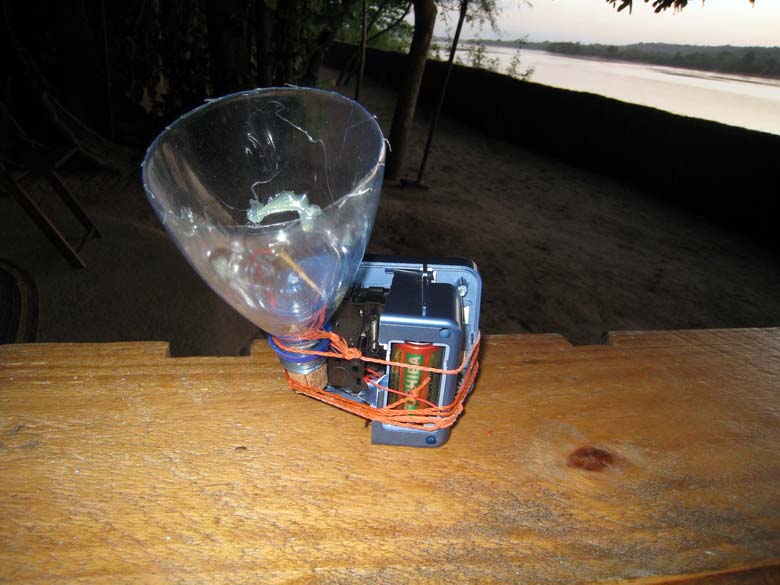 That is a cut off water bottle, used as a sound magnifier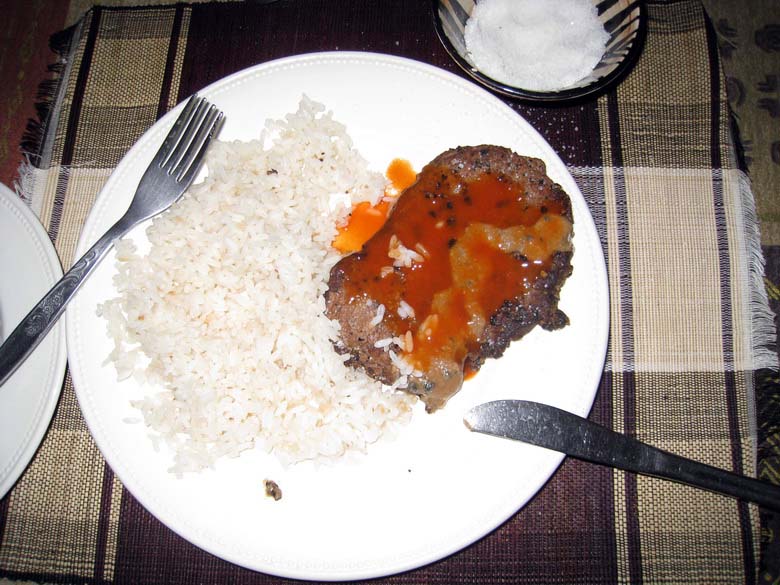 I like Tabasco, so Walter decided to make sure I got plenty on my steak!