Tanzania 2007 Safari Part II
I am falling a bit behind in posting the rest of the Hunt Report, for which I apologize. So I put the following photos for you to enjoy in the meantime.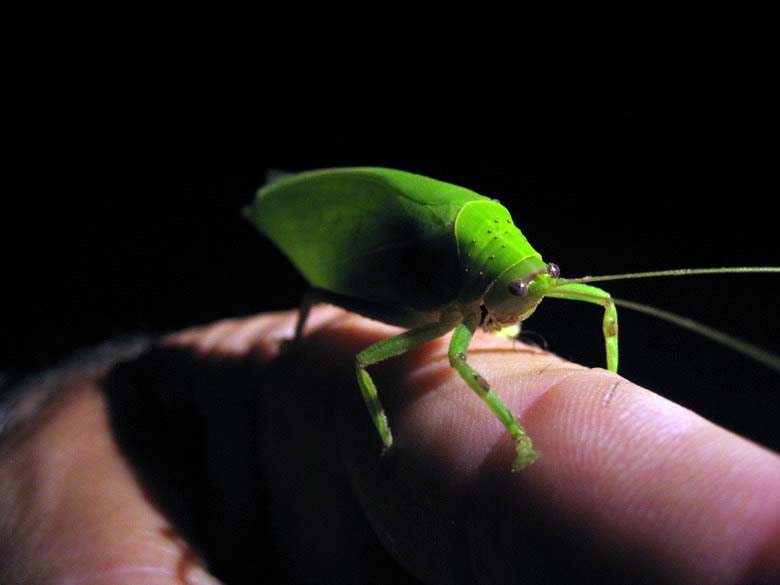 I have no idea what is the name of this creature, but he sure looks great.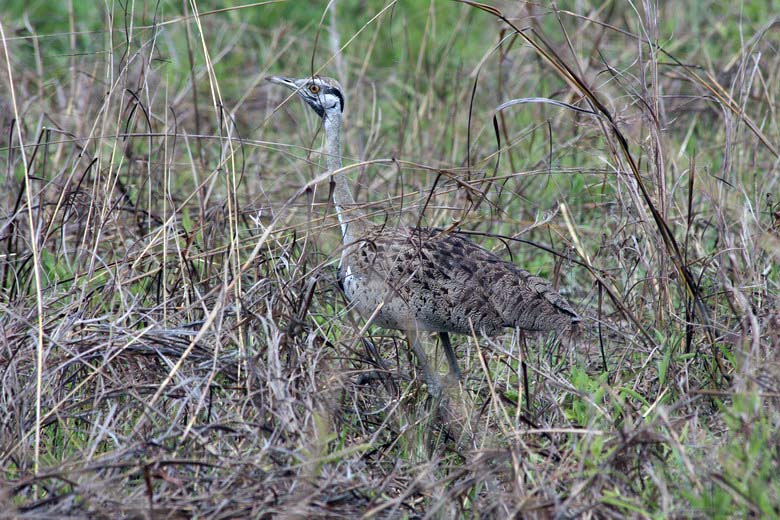 A koran bustard. They normally fly straight up and tumble n as if they have been shot.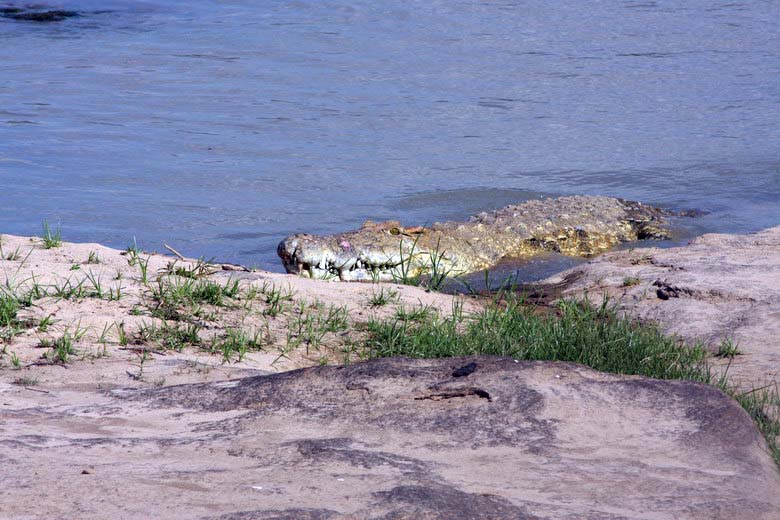 This is one of the big crocs we saw at the second croc bait we had. If we had not shot one about an hour earlier, he would have been a good candidate to be added to our trophy list.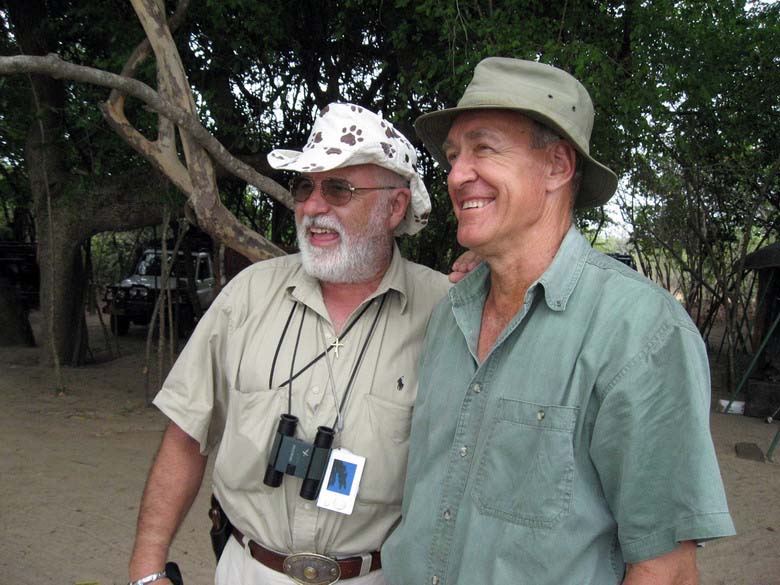 Roy always looks so happy towards the end of our safari! I think he looks forward to some peace and quiet after Walter leaves.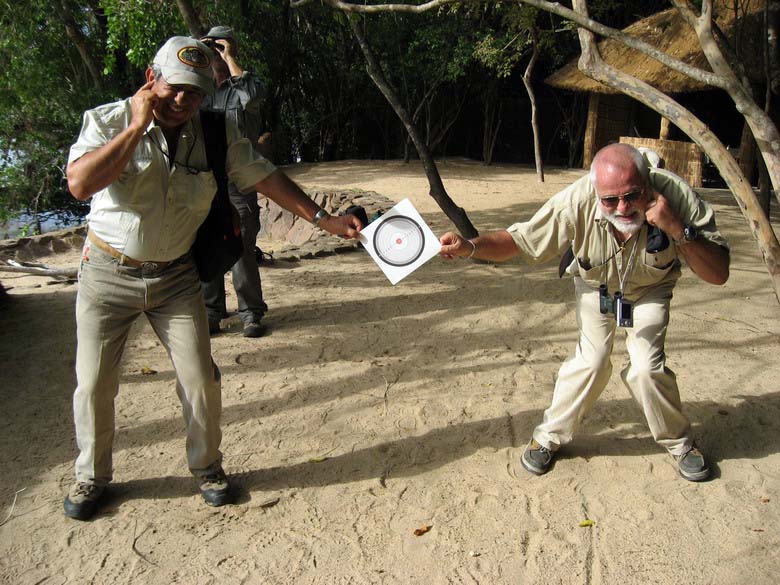 We were planning to organize a shooting contest for our camp staff as we usually do every year. Walter and Nelson volunteered to hold the target for the contestants. At least that was what they had promised. They chickened out once they saw the prospective contestants!
A view of the river downstream from where we camped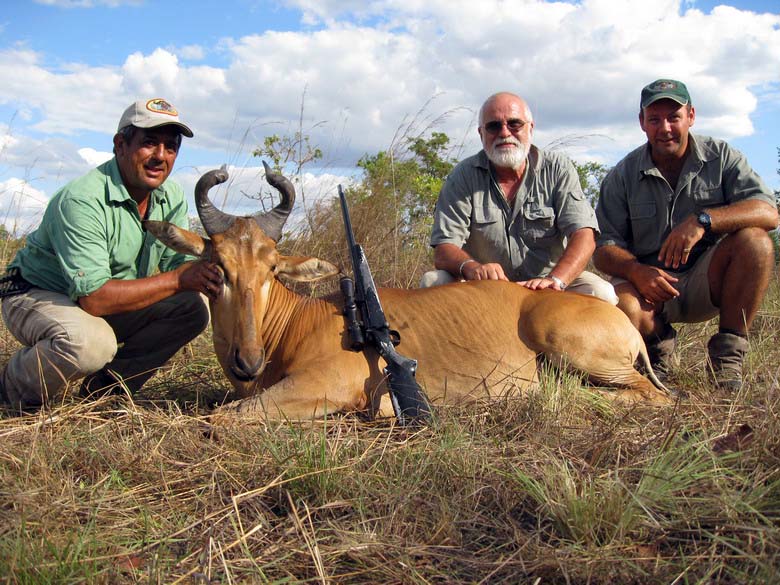 Nelson, Walter and Lance. Lance was Neslon's PH on this hunt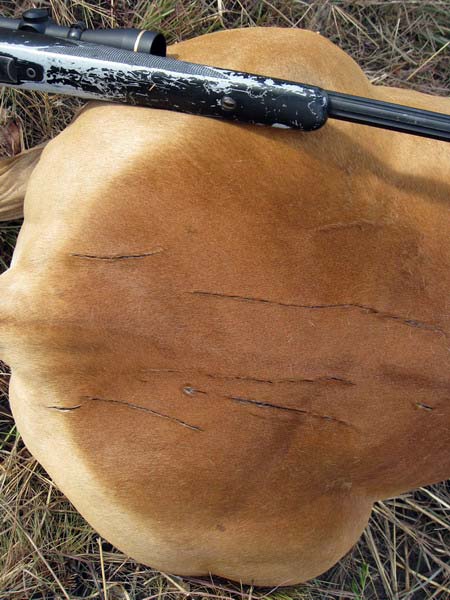 This Nelson's kongoni's back. It looks like he had a brush with a lion or some other animal who wanted to make a meal of him.
Nelson and his impala. Walter said he wanted to be in the picture to add "character" to it!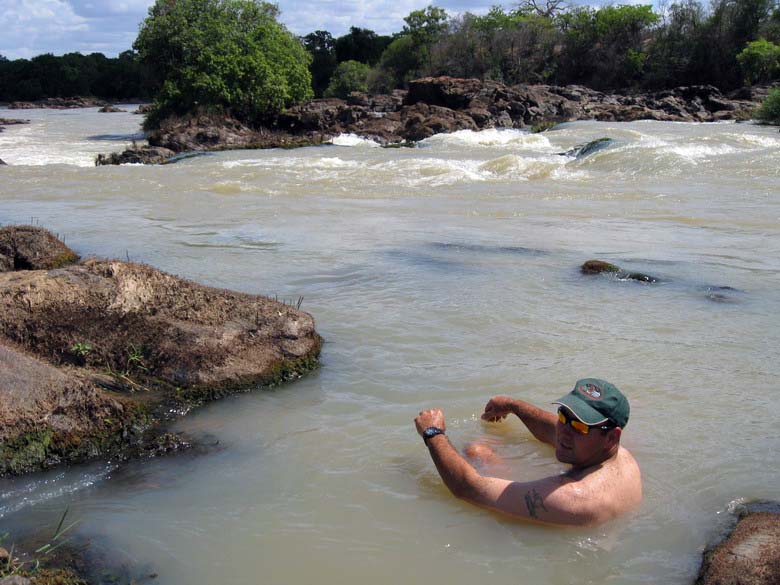 Lance is trying to be a live bait for crocs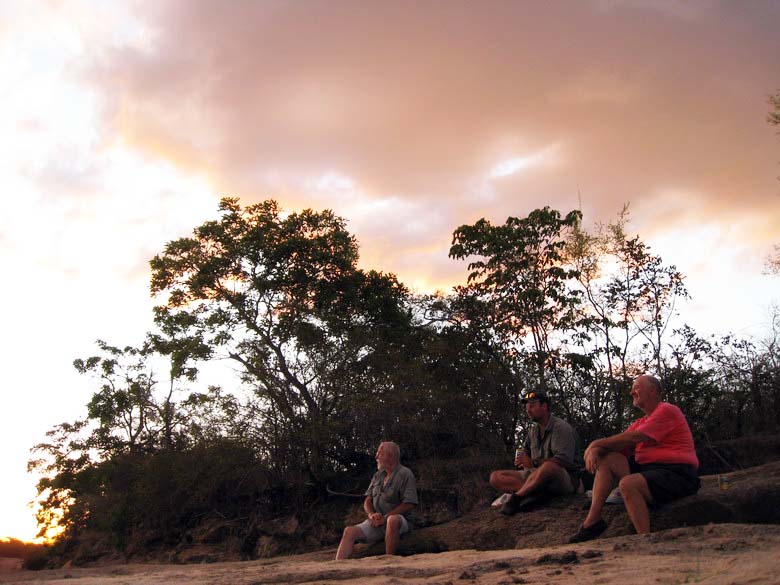 I took this photo late in the afternoon after we came back to camp. Walter, Lance and Dwight, as well as Todd, Nelson and Wayne were also with them enjoying an afternoon of fishing a couple of hundred yards from our camp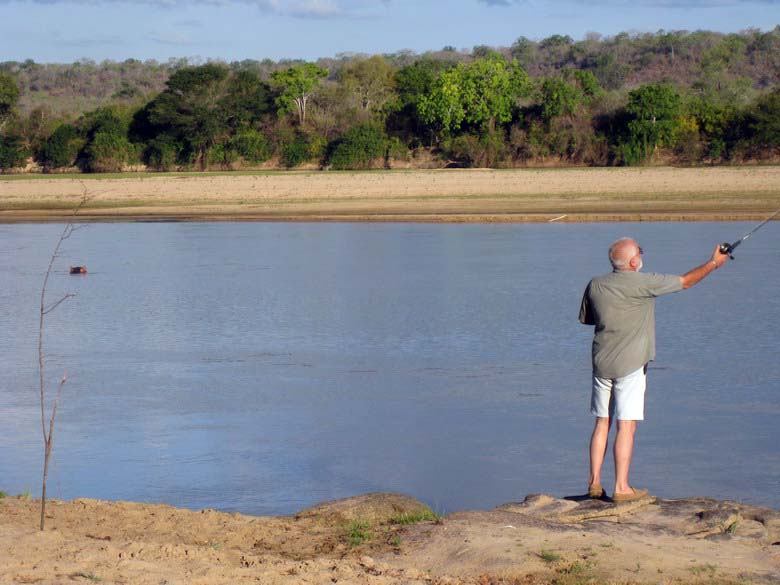 Walter fishing for hippos. He almost succeeded, and almost broke the Olympic record for running as a hippy surfaced very close to him!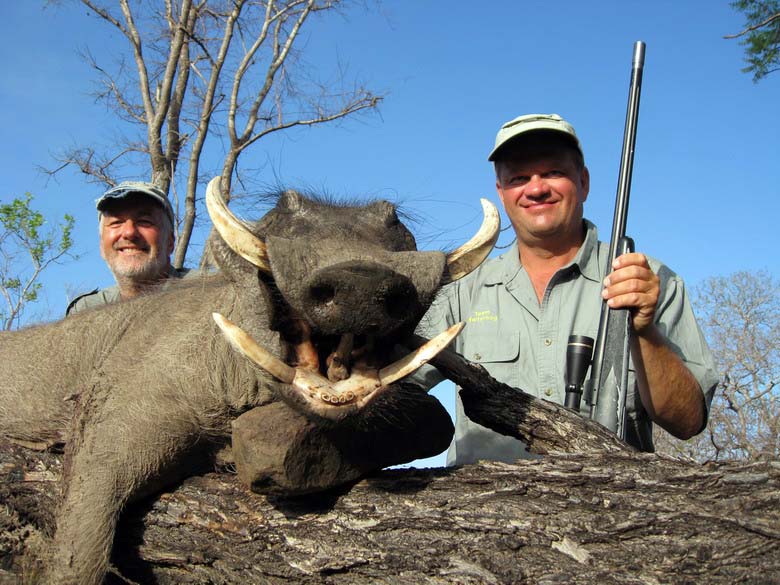 Dwight and Todd, with Todd's warthog.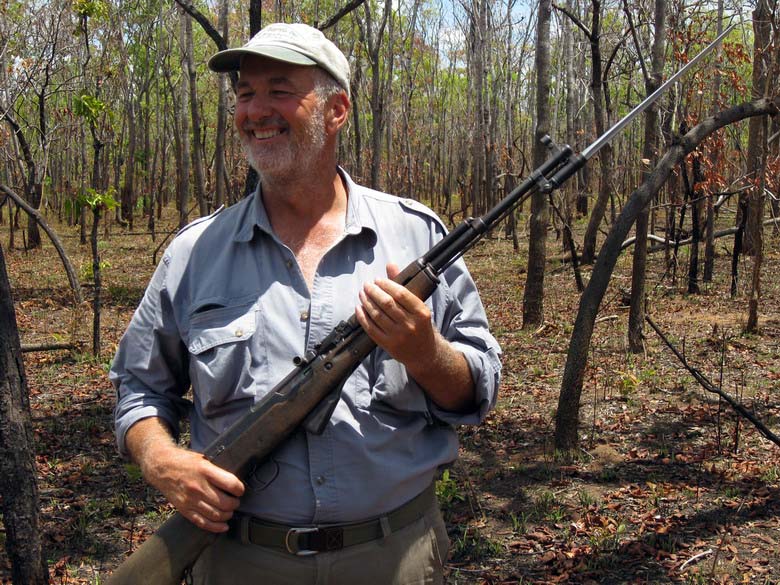 Dwight with one of our game scout's rifles. He said the bayonet would come in handy when a buffalo charges.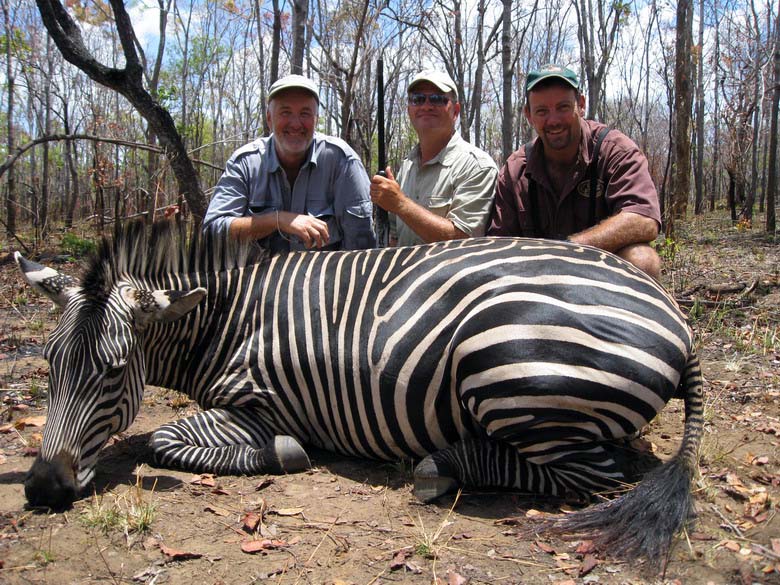 Dwight, Todd and Lance with Todd's zebra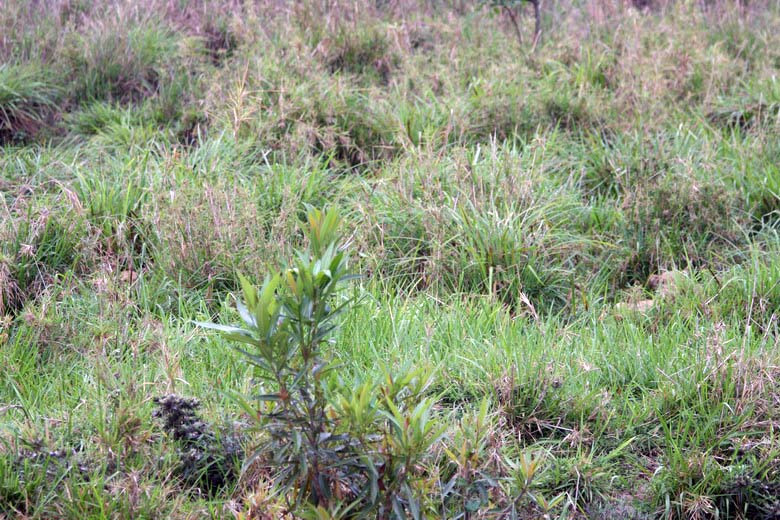 If you look carefully, you will see two lionesses we played hide and seek with.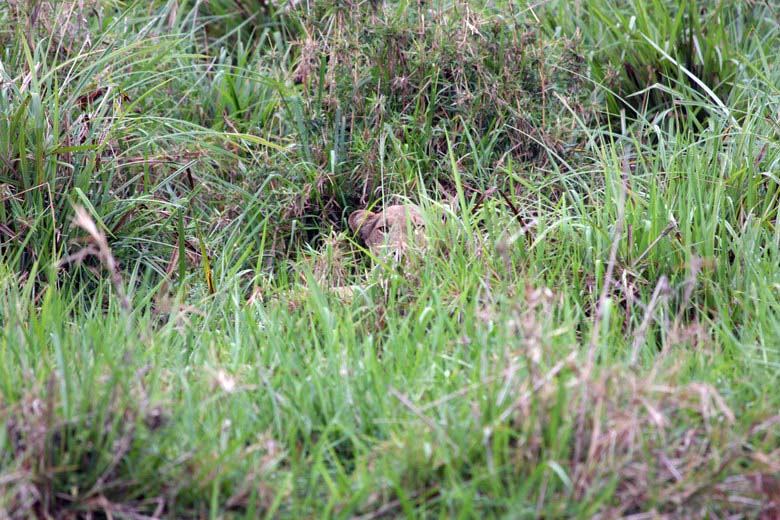 A close up of one on the right. The second one is almost diagonally opposite at the other end.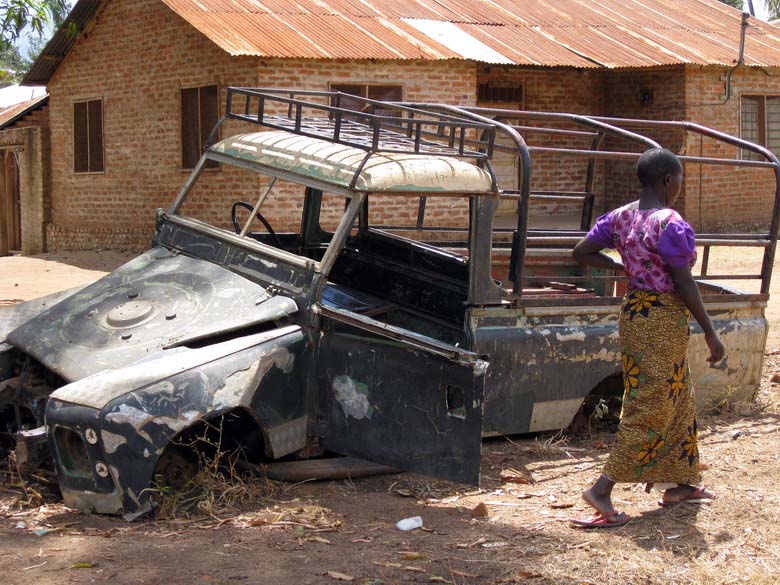 We ahev all heard complaints of safari cars breaking down. But, this one was an extreme case.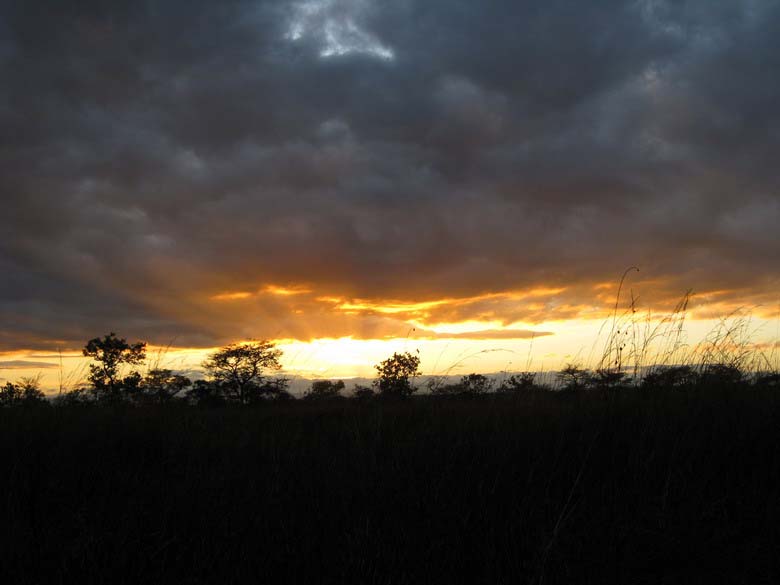 Early morning sunrise. I took this photo a few miles after we left camp one morning.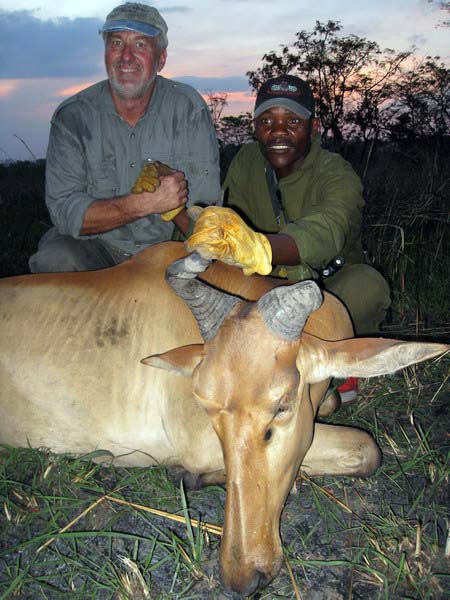 Dwight with his "outer circle" kongoni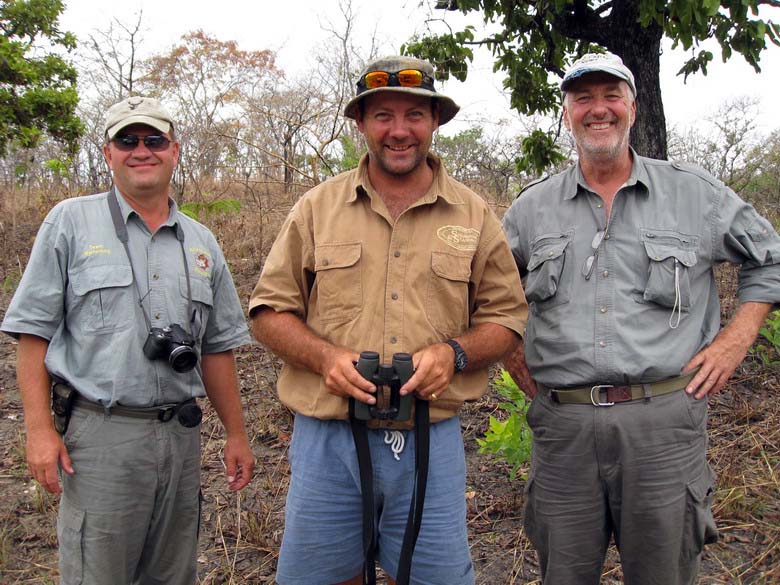 Two happy hunters and their PH in the middle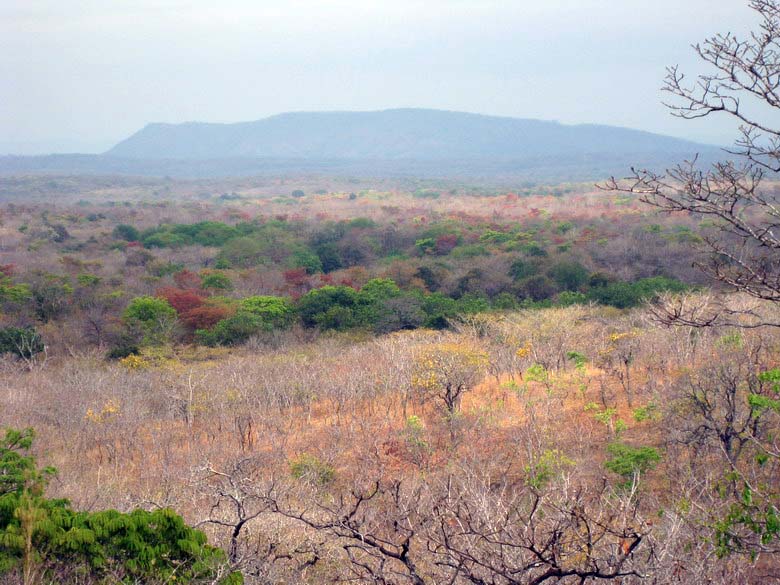 Miles and miles of bloody Africa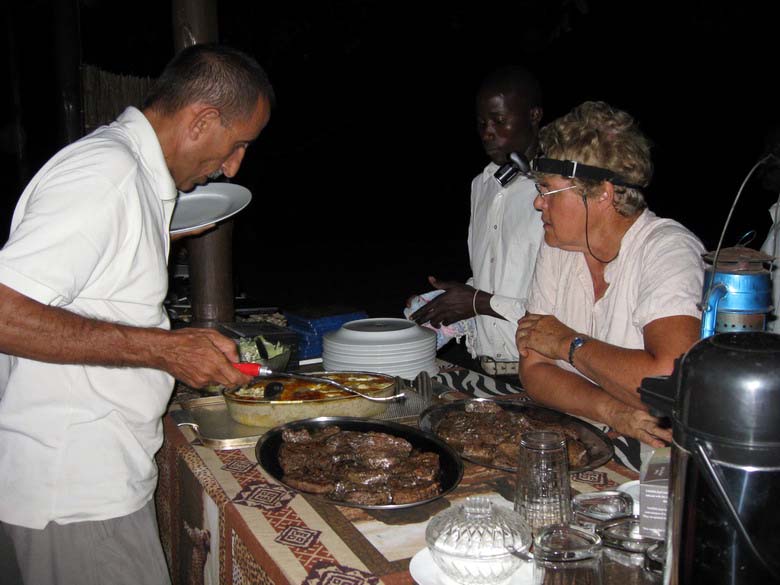 Buffalo steak. We nicknamed Rene Vincent "the brain surgeon" because she wore that light on her head.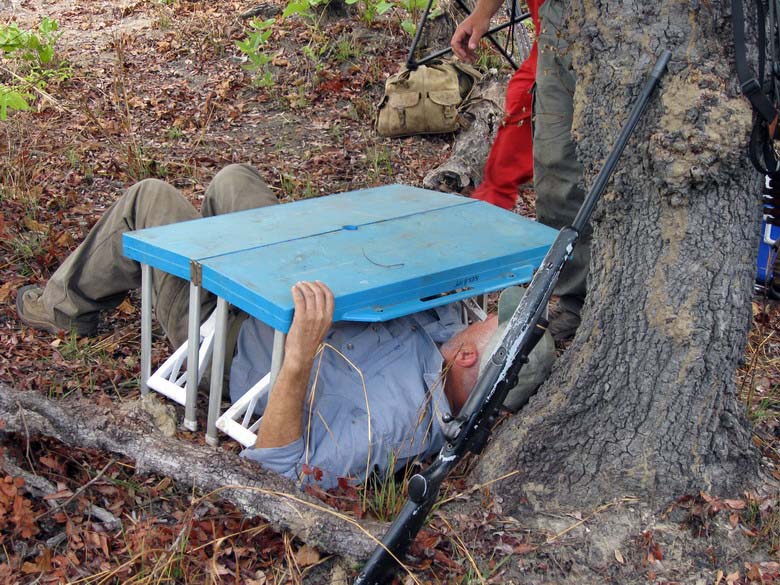 Dwight wanted a shady place to rest, and got himself entangled under the dining table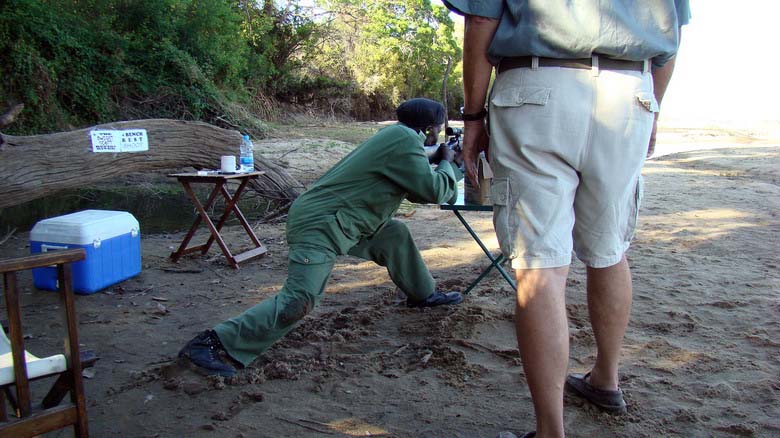 One of our game scouts, getting into his personal shooting position during the contest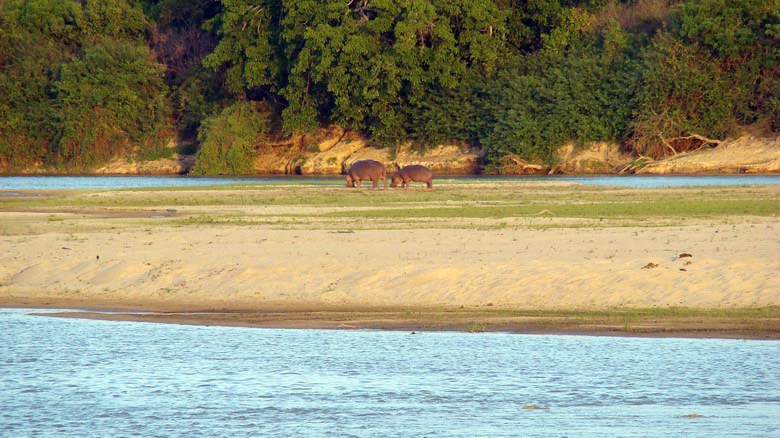 A hippo and her baby feeding outside our camp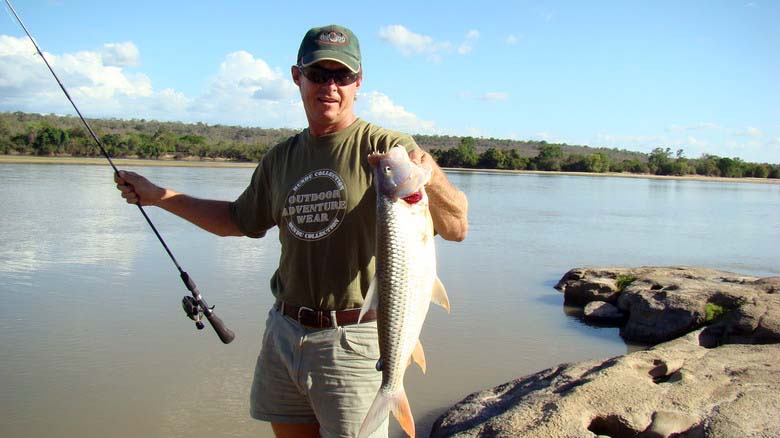 Wayne with a tiger fish he caught close to our camp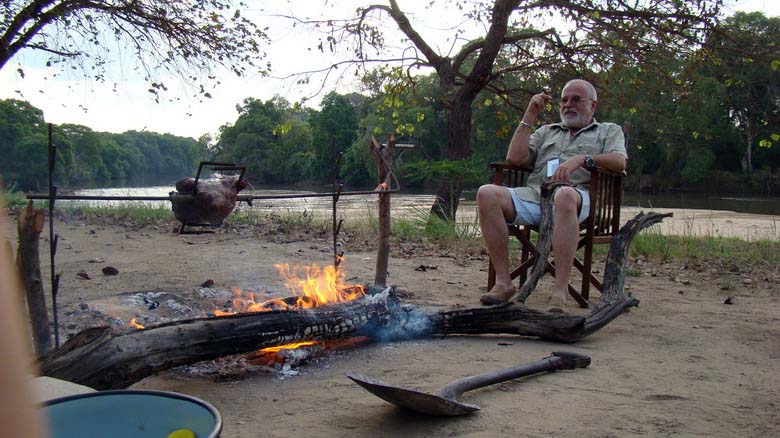 Walter enjoying a cigar while doing what he best at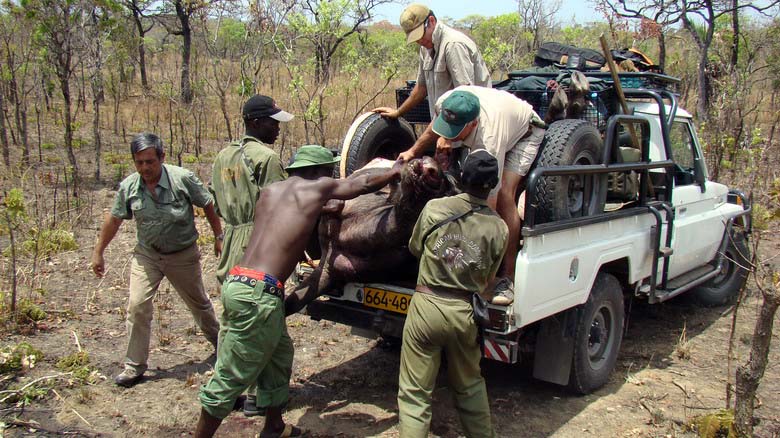 Loading operation in progress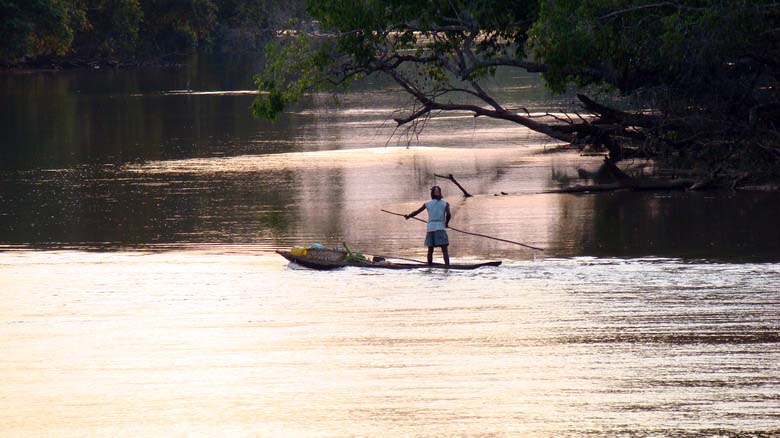 A villager passing along in front of our first camp.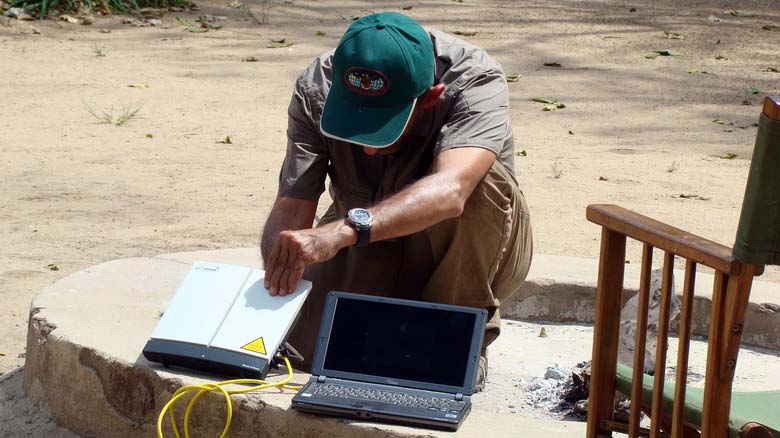 Yours truly trying to set up the satellite modem to file a report. I am doing it in the day time above as this location - best for reception - was absolutely murder at night because of the mosquitoes. No matter how much repellent I put on, at least a couple of hundreds seem o get their teeth sunk in.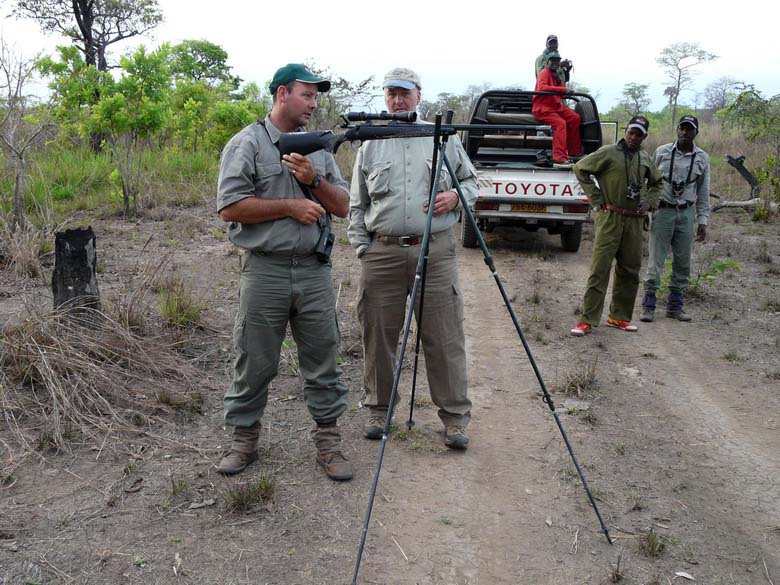 Dwight being given a lesson on how to use the shooting sticks by Lance. The trackers seems to be quite amused at what is going on.