F.R. Mitchell's Safari With Roy Vincent
Those of you who are regulars on this board would recognize my friend's F.R's name from some the loading data he has kindly given us to put on the Reloading section.
F.R. has hunted with Roy before, and I have no doubt he will be hunting with him again many times I hope - just like we all do.
F.R with his double. It is made by Ludwig Borovnik in Ferlach, Austria, and chambered for the 450 Nitro Express. It has 23.5 inch barrels. F.R. used the Woodleigh 500 grain bullets, both soft and solids, with 84 grains of Reloader 15. Velocity of this load is 2125 fps, and very accurate. Both barrels gave an SD of 7 fps. Roy is on the right with his 585 Nyati rifle. He built this rifle himself. The stock split by the magazine well, and he added two steel plates on the outside of the stock to hold it together. Look carefully, and you can see the bolts holding this togather.
F.R. and myself have had a few discussions about my "Outer Circle". I am sure many of you have heard of the Safari Club International "Inner Circles". I am not sure what are the requirements to qualify for those; but our "Outer Circle" is very simple. All one has to do is shoot the most "undesirable" trophies he comes across. This mainly includes animals with one horn or tusk missing, or a really old buffalo with his horns worn out like the one you see above. I am very happy to welcome F.R into our "Outer Circle".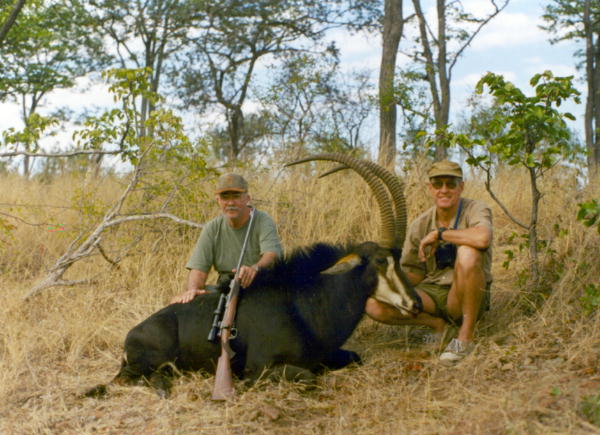 F.R. used his 350 Rigby Magnum, made by Rigby's in 1953. He used a load with the Woodleigh 250 grain soft point bullet, and 70 grains of IMR 4350. This load has a muzzle velocity of 2475 fps.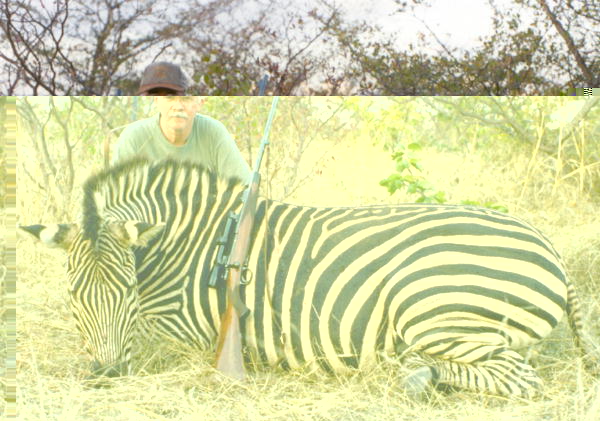 F.R., his Rigby and a zebra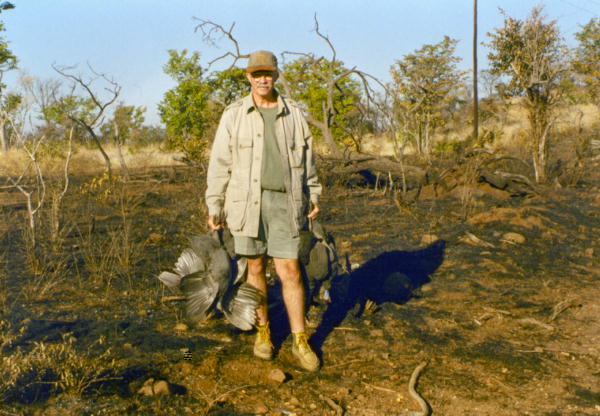 A few guinea fowl, which make make a great meal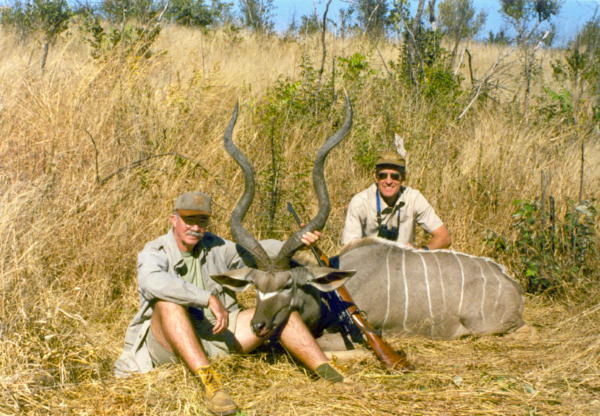 F.R. used his 350 Rigby to bag this kudu bull at 275 yards
{ Home Page | }
Last updated August 1st, 2000