Trip to Zimbabwe and Beyond – 2005

Dates – June 22 to July 5, 2005

Location – Dande Area on the Zimbabwe-Zambia-Mozambique Border on the Zambezi River and Lemco Area in Southern Zimbabwe about 60 miles from the RSA border

Travel – Arranged by Stacey Gibson – Falcon Travel, San Antonio
Fran Clark – World Travel, Tulsa

Agent – Jeff Neal, Tulsa, OK

Concession Owner and Guide Service– Dande Area – Swainson's Safari's
Lemco Area – HHK Safari's
All in country details and arrangements coordinated via Graham Hingeston and Shirley Flak - with HHK Safari's

Professional Hunters – Dean Kendall, Ben Coulson, Maurius Maartens

Gun's Used – Winchester new Model 70's in .375 H&H and .300 Win Mag topped with Leupold 1.75x6 or 2.5 x8 scopes for the .375's and 3.5x10's for the .300's. Had two Winchester Model 9422M in .22 Win Mag, one with open sights and the other with a 1.75 x 6 as a back up scope for the bigger guns. Had no equipment malfunctions on any gun or scope on the trip.

Goals of the Trip –1) Hunt Cape Buffalo with my sons (Conor and Sean) and share the entire experience with my family (wife and daughter). 2) See "real" Africa in a rural setting. 3) Have fun.

Animals Desired Before the Trip – Cape Buffalo, Sable, Crocodile, Grysbok, Eland, Warthog, Waterbuck, Baboons, Hyena and Kudu

Animals Taken – Cape Buffalo (3), Sable (2), Warthog (3), Bushpig (2), Bushbuck, Kudu, Waterbuck, Crocodile, Impala (3), Steenbok, Klipspringer, Eland, Zebra (2), Baboons (5), Francolin, Helmeted Guineas, Kudu, Giraffe

Animals Seen but not taken – Black Rhino, Grysbok, Blue Wildebeest, Elephant, Hippo, Aardvark, Civet Cat, Genet Cat, Vervet Monkey, Water Monitor Lizard, Hyena

Animals I would hunt again – Sable, Cape Buffalo, Warthog, Kudu, Grysbok, Baboons, Bushbuck, Hyena

Executive Summary

For those of you with attention span problems, here is a brief summary –
• Hunted Dande Concession and Lemco Conservancy for 11 days in Zimbabwe via HHK Safari's and Swainson's Safari's.
• No significant problems with travel, accommodations, customs, PH's, camps or equipment.
• Hunted cape buff, croc and plains game – took everything we were after plus some. Trophy quality was good with 3 animals being very good with one making Rowland and Ward (a 17" Chobe Bushbuck and possibly the 14' croc according to the PH's, we don't get into measuring).
• All promises were kept by HHK. Costs were as advertised.
• Weather was dry and warm. Never needed more than a jacket in the mornings.
• No significant "bug" issues. Tsetse flies were not a big problem.
• Country is relatively stable but appears to be going the way of most African countries with a dictator. Would rate this an 8 out of 10 with 10 being the "perfect" safari, which does not exist. The trip and all parts of it met or exceeded my expectations for a first time buffalo hunter, now, confirmed buffalo killer.
• Would recommend the Dande Concession for dangerous game- especially buffalo. We saw 500 or more animals and 10 or more good bulls. There is poaching in the area and plains game opportunities are limited. Croc hunting and shooting is very good. Hippo should be very good as well. We saw lots of hippos.
• Would recommend Lemco Conservancy for plains game. Saw plenty of everything. This is a very large ranch type area and is fenced around the 800,000 acre perimeter. We did not see buff in Lemco but saw tracks, same with leopard.
• See Lessons Learned at the end of this narrative for more observations and insights.


Intro Borrowed from another Author

The July issue of American Hunter magazine, the NRA magazine for non-political types, carried a series of articles on African hunting highlighting a buffalo hunt, a leopard hunt and a trip to Masailand along with advice on equipment and guns. The buffalo article was written about a hunt in Dande North with Ben the PH, Claudious the tracker and Bongoni the spotter – all men we hunted with. The intro to the article was well written and I include it below as the author (a professional writer versus me the professional engineer) did a good job in evoking the feelings I have about Africa and African hunting –

"It is, quite simply, impossible to hunt in Africa and not witness wonders.

Africa is a place that breeds them in every way imaginable way and to hunt there for the first time is to experience shock and awe. An African safari is never just about hunting, for that would be far too inadequate a description. A trip to Africa is about adventure, mystery, romance, danger and magic. Hunting is simply the excuse we use to go.

This is unlike any hunting trip most of us will ever experience. It is as far removed from a deer hunt in the Back 40 as is a flight to Mars from a drive to the grocery store. More than just a hunting trip, an African safari is an epic adventure.

It is where you can travel back in time and see the world as it's been for eons: raw, wild, untamed, dangerous, and wonderful. It is where death is always close and, with it, life has more meaning. Africa is a place of witchdoctors and demons, of prehistoric creatures, ancient land and primitive cultures. It's a land of blistering heart, amazing sunrises, miles and miles of wild country and more animals than you ever believed existed. It's a land that time left behind and where nature has reached a pinnacle. Some believe that Africa is the birthplace of humanity, and while that's open to discussion, nobody would dispute that Africa is the womb that nurtured the birth of big game hunting. What man would dare call himself a hunter and not dream of Africa? Few I know and not one with a bit of romance, wanderlust or imagination in his soul.

It you look hard, you can still find the Africa of Selous, Baker, Hemingway and Ruark. Each of these writers provided us a glimpse into the Africa they loved, a snapshot of their time and place. Some of it still exists in modern and updated forms if you care to look. But, Africa has never stood still and the hunting opportunities have changed, morphed and mutated. Opportunities have emerged that have opened the Africa experience to a much wider spectrum of society. For the price of an elk hunt, it is now possible to travel to Africa and take half-dozen big game animals. This, more than anything else, has brought African hunting to the masses and has opened the door for thousands of hunters to enter the African experience.

I can promise you that each of them will witness wonders" – Bryce M. Towsley, Field Editor

The Trip in Detail

For those of you, who enjoy a fairly good "read", press on from here. This is a sort of diary, sort of reflection on our recent trip to Zimbabwe.

Planning for the trip started in July 2003, just after we returned from a fantastic trip to South Africa in the Eastern Cape. We were bitten by the Africa hunting bug, quit even thinking about deer or elk and focused on a trip to "darkest" Africa for Cape Buffalo. My research started on the Accurate Reloading website targeting the agents and hunters that seemed to know what they were talking about. I learned quickly that I needed to narrow my search and research to countries and areas rather than stay focused on cape buffalo. I checked prices of traditional hunts in Zimbabwe, Tanzania, Mozambique, Botswana, Zambia and Namibia. I also had somewhat limited dates that we could hunt, being late June-early July. Those dates narrowed my options as well as the costs to hunt in a couple of the other countries. Botswana and Tanzania were eliminated due to costs, Zambia was out due to not being able to find a suitable outfit for a family trip, Mozambique was out due to dates, Namibia was out due to lack of variety of species we were after. I was very interested in Tanzania due to the stories on the AR website about hunting buffalo there. At the end, the cost was about $10,000 higher than my budget. I then researched Zimbabwe and HHK. Learned all I could about the politics, the internal problems, the hunt areas and how the safari industry survived in spite of the issues there. I met with Graham Hingeston at the Dallas SCI show to learn first hand about the area. I spoke numerous times to and met with Jeff Neal as well.

Learning about cape buff hunting in general I credit to the Craig Boddington video – "Boddington on Buffalo". He hunted near the area I was to hunt and used a PH that was known in the area. I watched his video three times to be sure I grasped what he was talking about. Basically, what I saw on the video was how things panned out during my hunt. The terrain was the same as were the hunting techniques. I used the same caliber, same bino's, same clothes and had the same results.

The decision was made to hunt the Dande Concession operated by Swainson's in partnership with HHK. I targeted this area based on our desire to hunt buff (three of us), sable and crocodile. This area, as well as Chirisa, seemed to fit. Taking teenage boys that like to hike and like to see a lot of animals, made Dande the best option. Dande is known for having large numbers of buff in the time of year we would hunt. This was confirmed by references as well. In retrospect, this was the best choice as we saw buff every day and made many stalks on shootable bulls. Croc were numerous on the Zambezi, so that fit well also. The question was sable – sable are in the area in low numbers. Dande is not a plains game area as you would normally expect. We saw occasional warthogs, impala, a few sable and bushbuck, but not in any appreciable numbers. Another plus, was that we could fish for Tigerfish in the Zambezi if we had time. I decided to pack some fishing gear just in case.

With buff/sable/croc desire sorted, we switched focus to plains game –in particular waterbuck, eland and warthog. In our previous trip to South Africa, we did not connect on these three and really wanted to hunt for a large warthog. Again, after discussions with Jeff and Graham (HHK), they recommended taking a charter to the Lemco Conservancy in southern Zimbabwe. This is an 800,000 acre tract divided into 5 or 6 sections. The area is huge, on the scale of the King Ranch in Texas, bigger than Rhode Island. The exterior is high fenced with the interior managed for plains game without fences. The area was a cattle ranch and had interior roads and water holes. The animals are all free ranging with black rhino being re-established. We would see hundreds of animals and be able to be a little pickier in what we chose to hunt.

The main issue that I had to get over was the cost of charters to the areas. After looking at the distances, the quality of the roads and the time lost driving – I finally came around to spending the money on charters rather than burn up precious days in a truck seeing the sites of rural Zimbabwe. Every country I looked at for this trip and every safari required at least two charters – so, belly up and pay the piper for an airplane. We ended up using four separate flights for our trip.

Overall, the main issues in planning were sorting out the various places, the animals we truly wanted to hunt and fitting the dates and budget together. Zimbabwe was the best fit for us. Now, I know many people are nervous about traveling to unstable places or places with bad reputations – I have been to Pakistan, Nigeria, Papua New Guinea on business several times – so I had a basic idea of what a potentially bad place could be like. I set up a meet and greet service in Harare, a good place to overnight and eat. I have learned that using a meet and greet service is the best money you can spend – the local guy with the right connection gets things done. Zimbabwe is no different than the other places I have been. In reality, the trip into and out of Zimbabwe was no problem – less hassles there than with USA customs. I had no problems and no issues. The Harare airport was clean and safe, the food was ok (just way over priced).

Further, Zimbabwe got a lot of bad press on the AR website due to Mugabe and some perceptions of posters that any hunting in Zimbabwe supported Mugabe and his henchmen. I did not see evidence of this. The PH's said that without hunters and hard currency, the economy would continue to crater, thus forcing the locals to poach and live off the land more so than currently. If sportsmen abandon Zimbabwe, then the animals will disappear. We saw evidence of this and I will discuss this later in this narrative.

For equipment issues, I relied on Jeff Neal, the list sent by HHK and what I saw on the Boddington video. Two surprises on equipment – I decided to hunt in shorts, something neither my sons nor I had ever done, and second, we used gaiters to protect our boots, laces and socks from collecting any thorns, stickers or twigs. No one mentioned gaiters on videos or on equipment lists, but Graham at HHK said to get some as they would be very helpful. He was right. All of us used the gaiters as did the PH's. We had no foot/boot problems at all.

Two last complications arose during the planning of the trip. My daughter (Lauren or Lolo) had reconstructive knee surgery on May 18th, five weeks before we were to depart on the trip. This was her second ACL repair on her right knee. She stepped in a hole just prior to going to college for her freshman year and tore the previously repaired knee. My concerns were for her walking and navigating uneven terrain. As it turned out, she re-habbed the knee and had no problems other than swelling and soreness on the trip. She hunted zebra very hard for 2 days before connecting and had no issues with her knee. She is tougher than her brothers by 2x.

My youngest son (Sean, 15 yrs old) had broken bones in his lower back in February, went undiagnosed until May as well. He had complained of soreness, but no big deal until the pain stayed with him for a couple of months. The orthopedic doc was surprised he had no serious pain with this injury from wrestling and put him in a body brace. This consisted of a hard plastic tube that he wrapped around himself from below his belt line to his armpits – to restrict his movement and any twisting on his back. This was a concern for the long plane ride and for the walking after buff. As it turned out, the plane ride was fine and he had not problems with the walking. The brace actually got him out of helping pack out the buff he shot. Ben, his PH, took great care of him and he had no problems other than the boys looked at him a little funny in his brace.

Rough Chronological Diary

Packed and ready, we left Tulsa for Atlanta to overnight and head out the next day. No issues other than we stayed at the Renaissance Hotel near the airport, an over priced and lousy hotel. Don't stay there. The food was lousy, worse than anything in Zimbabwe, and was over priced (hamburgers for $12 per – ouch). Room was $180 and was equal to a Motel 6.

Up and at the airport two hours early to check when Delta/SAA would not accept three guns in one case. They said their rules state – two guns per case. Panic!! This was not a problem in Tulsa with Delta, but Atlanta is their home turf. Now, I had to buy a cheap, plastic gun case from the local vendor at the airport, buy locks and repack a gun. At least the agent relented and did not charge me for having an extra case.

Other than that, no issues at all on the flight over to Jo-berg. Movies on continuous loop on the backs of the seats kept my teenage boys entertained. We had a scheduled 8 hour layover in Jo-berg to catch the next SAA flight to Harare. Mistake – there are several daily flights from Jo to Harare on other carriers such as British Airways. My agent did not know or did not have access to those flights. Next trip, no need to layover in Jo-berg then have to overnight in Harare to catch the charter out. Jo-berg airport is nice with good food and plenty of shopping.

Arrive Harare to meet and greet service, through customs then to the Baines Bed and Breakfast for the night. No issues and breezed through customs. Up early for breakfast, then trip to airport to catch the charter. Saw long lines at gas stations and food stores. Sugar and gasoline/diesel are in short supply. The charter companies and safari companies routinely crossed to Botswana or RSA to get extra fuel. Apparently, only fuel paid for with hard currency can be bought. Overall, Harare looked a lot better than Lagos or Karachi or Port Moresby – places I had traveled to with reputations similar to Harare.

Here is the reason to pack light and in soft sided bags – the charters are small planes and cannot take much cargo. We had to unpack the guns from the hard cases, leave the hard cases with HHK rep at the airport and cram everything onto the charter. We were ok as we did pack light and in small bags. Next time – ask the safari company to provide loaner soft gun cases or just rent the guns – a lot easier and less hassle. Also, the charter pilot was a very young (23 or 24 years old) lady from RSA with about a 1 ½ years of flying experience. She did fine, but I was a little nervous for obvious reasons. Maybe I should not be as the young pilots are likely to be the most cautious. She was and all went fine.

Fly 1 ½ hrs to Dande over rolling countryside. Most noticeable were the number of farms, dams, roads and general sites that told me that Zimbabwe was a very settled country. I expected jungle, monkeys hanging in trees, elephants standing around everywhere and zebra-wildebeests doing the "migrate across the plains thing" you see on National Geographic specials. Not so. The country is highly cultivated and "tamed". HOWEVER – I saw no winter wheat or evidence of active farming, no sign of livestock or activity. Seems that Mugabe appropriated the farms from the white farmers and gave them to the "war veterans". I learned later that of the 5000 white operated/owned farms in Zimbabwe, only 250 remain in the hands of white farmers. Nearly every white person I met (PH, meet and greet service, camp boss, etc.) had experienced the confiscation of their farms by the government/war veterans. As you would expect, the non-farming usurpers had no clue how to run a farm and hence, never planted anything in their lives. I expect, as did the white ex-farmers, that starvation and food shortages are coming very quickly. Based on what I saw, I agree. What a mess.

Once we fly over some hills and into the Zambezi River valley area, all traces of farming were gone. From the air, the place looked like the Hill Country around San Antonio or Austin, Texas. Everything was brownish-greenish-dusty looking – found out that this was the peak of the dry season and that everything was hunkered down waiting rain in a few months. All of the rivers were basically sand rivers with isolated pockets of water. The Zambezi was full and flowing, but everything draining to it was dry. Saw the occasional village consisting of the round roofed thatched brick huts, some isolated cropped areas and foot paths everywhere.

Met at the dirt airstrip by Jimmy (camp boss), PH – Dean Kendall and other helpers – Clemons (lead tracker), Bongoni (spotter and tracker), Witness (driver and tracker), Samson, Samson 2, and others. The names of the local boys were interesting as they seemed to get or pick names based on words that sound good. We met several tracker/skinner/camp boys with names like – Good Times, Bad Luck, Precious, Hard Life, Because, Love Life, and others. No last names, just fun first names. Learned that Bongoni was the most outgoing and had a lot of friends everywhere we went. The PH's described his relationships with the local girls as "having a fly camp" everywhere.

Dean was a professional of the first order, had everything lined out and set up for us. The other two PH's would arrive later that evening – Ben and Maurius. Ben and Jimmy took us to the camp, got us settled in the cottage/chalets (thatched roof, open-air huts with showers and toilets, all very nice), gave us a cold drink in the dining area and we discussed what we wanted to do and how to do it. Learned right off that Dean was a serious birder, as I am. From the dining area, he helped me spot 5 or 6 of the common local birds. There was a makeshift water hole within view that attracted a lot of birds, buffalo and other critters at night.

The camp boss, Jimmy, was a displaced farmer and worked as a camp boss while waiting out the current Mugabe/war veteran situation. Needless to say, he told us of the situation and described what life is like in a dictatorship when you had been raised in a stable country. His wife, Trisha, joined us later as she was at one of the other camps in the Dande concession. We were in the Pedza Camp.

Once settled, took the guns to the range and re-checked zero's. No problems. Adjusted the .375's to be dead on at 100 yards and the .300's to be 1" high or so at 100 yards. All shots taken, except 2 were 100yds or less on the entire trip. Both of the long shots, about 150 yds each, were on sable.

Dean saw buffalo tracks that morning close to the camp, so we all went out to take a look. To our surprise, the buffalo had not moved more than a mile from where we spotted tracks. We made our first stalk on the herd of about 100 to 150 spooking them several times over the next couple of miles. The herd split up and we followed a group of 40 or so. Finally got a close look at our quarry – I mentally underestimated the size and color of cape buff. First, I had them being cow-sized – wrong! They are a little bigger and thicker than a Hereford bull. Second, I expected them to be black, not the gray color with varying shades of "darkness". Third, I did not comprehend their sense of smell and the way the herd watches for danger. Very quickly, it became clear that buff are on guard and very nervous about smells and movement. Fourth, I expected to see them in the open, like on TV and videos – not!! These buff and those that I later stalked stayed in the thick bush and were difficult to see.

Now that my personal myths were exposed and exploded, I began to see that hunting buff was little more involved than I thought. We stalked and got busted over 30 times over the next week. Sometimes we got lucky, sometimes not. But all in all, I came away with a healthy respect for cape buff and the PH's that hunt them after this first encounter.

We managed to get close and see that this herd of 40 that had one decent bull in it, but that he was surrounded by cows that seemed to have 6 sets of eyes each. We had fun, but got busted before we could decide – so we headed back to the camp for dinner and to meet up with the other PH's. Overall, not a bad first day on the hunt! Youngest son in the brace did fine. Saw a klipspringer as we stalked the buff as well. Did not see other plains game, just a few tracks.

Noticed an oddity – the government requires that a "game scout" go with us on every hunt. We had three of these guys with us, each with a uniform and an AK47. I was a little concerned at first, but the PH's said these guys are no problem and may even be of help. As it turned out, they were just fine and enjoyable to have around.

Ben Coulson and Maurius Maartens, the other PH's, showed up later and we all settled in for dinner and made plans for the next few days. After seeing how buff are hunted, we decided to split up and hunt in pairs, rather than me hunting with my sons on alternating days. As it turned out, this was a good decision. At first I was concerned about not being with my sons from a safety standpoint, but I came to realize that the more people on a buff stalk, the less chance for success and the greater chance for a problem with an animal.

We decided that I would hunt with Dean, Conor with Maurius and Sean with Ben. All were great guys, excellent outdoorsman, lots of experience and confidence. All reassuring to first timers like us.

Added about 10 birds to my life list today.

P. S. – We heard that there are some lion hunters in another camp and they are in our area. He had located a lion closer to our camp than to his and had set up baits in several places. During our hunt, we stayed in contact with that group to try and track their success/failure. On one day, we found lion tracts directly on top of ours near one of the baits. Hope they kill the beast. I am not much on lions.

Day 2

During the night, a couple of interesting things happened. There were bats in the cottages, roosting in the steeply pitched thatch roofs. Now, I have not been around bats much and was a little taken aback by this until I figured that they were after whatever bugs were flying around. This is good, I don't much care for bugs, especially flying bugs. Second, I was awoken at midnight by what I thought were a herd of 100 elephants eating and breaking up the trees and grass about 10' from my cottage window (not glass, no screen, just a curtain). I could not believe the noise and looked out in the full moon light to see what I could see. After about 20 minutes of not seeing any movement but hearing a lot of noise, three buffalo stepped into view about 10 yards from my cottage, grazing on the grass that was grown around the camp. They had come in for water at the makeshift waterhole and decided to stay for dinner. Now, armed with a camera that I could not work in the dark and an active imagination supplemented by the malaria drugs we were taking, one of the buff must have been a fifty incher and stood six feet tall at the shoulder – at least he looked that big to me in the moonlight. I was glad my wife and daughter had not arrived yet as this would have sent her over the edge. She would have been looking for me to shoot the beast in my shorts and chase the others off with a switch.

To say I was rattled was an understatement – never having been so close to a cape buff, nor having any real idea what a big one looked like, let alone knowing that all they were after was some easy meals at the camps had me so wide awake, I never blinked the rest of the night. The trio finally wandered off, but kept me wide awake listening for ever sound the African night can offer.

Up at 5:15 for breakfast, I relayed my buff sighting to the PH's, who accepted my story as the truth but did not seem as concerned as I expected. I had hoped they would say – "Yep, we saw them as well, a real monster that one is, at least a 50" if an inch, a real mean one that we have been after for years, glad you saw it, why didn't you just shoot him on the spot? We sure want that guy out of here." Their response was – "good, seems that they are after water, we never heard them, must be the local guys". I waited for them to say – "Let's go after them!" but no, they didn't, they had other plans to check other areas. So we did.

My youngest son and I decided to try to hunt together with our PH's and trackers. This worked ok for a little while but it rapidly became apparent that this was not going to work. After getting comfortable with Ben and his guys, they went off and hunted that afternoon without us in the way.

On the drive out to look for tracks, we spotted a group of baboons coming down from a night in the trees. Being an avowed baboon hater, based on our experience in RSA two years ago (never got a shot in RSA but were harassed by them on several occasions), we stopped and I drilled the leader of the pack with my new, untested .375 H&H. Smoked his sorry blue butt with one shot while the rest of the 50 or so ran for it. Turned out to be an old male, with virtually no teeth. The PH's were impressed with the "beginner" connecting on the first shot at 80 yards. The also said that they had not seen that old of a baboon for a long time. Off with his head and down the road we went.

Ross & Sons – 1 Baboons –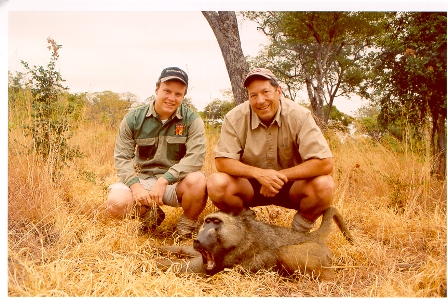 Youngest son (Sean) and I hunted together in the morning, made a couple of stalks on herds, got busted, hiked several miles back to the truck. It was good taste of buffalo hunting. I had not idea how good the sense of smell was and how we had to consider the wind at ever step. The trackers were amazing as well, telling us what the herd was doing, where they were headed, how many in the herd, when the herd split up and on and on. We finally got glimpses of the herd and picked out 2 or 3 shooters but could never get in position or close enough. So it goes with buff.

After lunch, while looking for tracks, we spotted a solitary baboon sitting on rock about 100 yards away. He looked at us, gave us a look of disdain, turned his head away and basically said with his body language – "bugger off, you mean nothing to me and scare me not in the least". With that, I got out the .375, put one right on his chest without affect/effect. He looked right at me, did not move – so I put a second one on his chest. No affect/effect. Then he started to tense his arms as he was holding onto the rock. He slowly, like in slow motion, started to lean over, then tip over the side of the rock – all in super slow motion. The PH's laughed and said they thought he did not think he had been shot, but that his body told him otherwise. Getting to the rock and the baboon, both shots hit him in the lower chest blowing out his stomach and other messy guts all over the rock on the backside from us. He was a stinking mess when we got there. Who knows what he was thinking or why he did not react to getting Swiss-cheesed with a 300 grain TBBC. Again, an old guy with no teeth. How do these guys eat without dentures? I guess Mrs. Baboon chews the food for them. Pictures, laughs with the boys and PH's, off with his head then off for buff.

Ross & Sons- 2 Baboons - 0

Hunted hard all day. Saw kudu cows, elephants, lion and leopard tracks, impala, warthog, bushbuck and lots of new birds for my life list. Did not see large numbers of anything but buffalo. Everything else was in ones and twos.

As it turned out, my oldest son and PH Maurius bumped into a herd a couple of miles out of camp, made a stalk and out flanked the buff around a hill. They climbed a ridge to get ahead of the buffalo, hoping they would head down a small valley. Instead, the came up the hill toward them, winded them and took off. Conor and Maurius regrouped and flanked them a second time. The targeted bull, hard boss and horns at or outside the ears, made the mistake of getting in front of his bodyguard cow as they came around a hill. He was tagged with a frontal shot in the heart/lungs with one shot from my son's .375 H&H, ran 70 yds and dropped. Five bellows later, he was dead – all by 10am on the first day. His comments that night were, he expected buff to be a lot harder to hunt, but this was easy. The PH's all laughed and said that this was not the norm and that they had not been that lucky in the past few years. My son did not comprehend this until he spent the next 6 days after sable and only seeing one shootable buck/bull/ram (whatever they are)
We did not get the message until dark that evening as we had hunting hard, getting up on a couple of groups of buff but getting busted every time.

That evening, we sat outside under more stars than you can see, listened to night sounds by a fire. Great time, great fun, lots of stories to tell and laugh about. The PH's were funny and enjoyable. The only downer was the weird dreams and dry mouth caused by the malaria meds. No "psychotic episodes", but weird dreams and emotions. My sons had the same.

More birds were spotted bring the count to 450.

P.S. – The lion hunters had hits on one bait and waited into the dark for the lions to appear – but no luck. Seems they have been at this for about 7 days – PH, hunter, game scout, tracker, spotter, video man – all in a blind waiting on a lion, all sweaty and tired. I will bet the conversation was a bit tense in that blind. Glad I am not a lion hunter.

Day 3

Looking over my notes from the trip – I wrote- bust of a day. But that was before Sean came in from his hunt with a big bull with 15" + bosses. My "bust of a day" was due to a) jet lag finally caught up, b) I am tired and my legs are scratched up from wearing shorts, c) made 7 or 8 stalks and got busted each time, d) finally made the perfect stalk on a big bull, bull is coming right at us unawares, steps behind a bush/tree, I shift position to smoke him when he emerges, he emerges but not where I expected and am out of position, he winds us and runs, e) we are in a sable area, decide to check a couple of places, make a long climb on a high, rocky hill, spot a sable the tracker says is a good one, get ready to shoot and the PH says "what a minute, he is small one", climb back down in the stickers and rocks tired, beat up and hungry.

The details – we hunt hard, cut tracks and make numerous stalks on several groups. A couple of times, there was no hard bossed bull in the group and we had to retreat, check another group. We find a large group in some very tall grass in a sand river bed. We cannot get close due to the grass and the wind but set up on the ridge overlooking the grass/sand river bed. We see dozens of buff grazing and working through the grass. Dean climbs a tree for a better look and spends an hour up the tree. He sees a couple of good bulls that merit closed attention. We set up ahead of the grazers, but get busted. Then try to go into the grass to see what happens. Chaos is what happens – the buff smell us, run in all directions – sometimes right at us, sometimes away. This is the first time I see one up close and personal in the daylight – a cow but big to me.

They split up and we stalked two small groups seeing a two good bulls. This time, we do not get busted, but the group splits again to about 20 animals with the two bulls in one group. We stalk and set up to intercept them. This time it works too well. They had left the sand/grass river for some hills that were relatively open. Now they decide to return to the grass/sand river bed at a slow walk. Dean, Clemons and Bongoni decide they know how and where they will get back to the rest of the herd – we set up there and wait. Here they come with the big bull in the back. I have an open shot at 125 yards, but Dean says to wait to get a better shot. Ok by me. The buff go into a low spot and re-emerge about 50 yards in front of us coming directly at us, not down the path the guys expected. Ok, now what? The lead cow gets nervous and changes direction back to the expected path – the route other buff had used earlier that day. No big deal, just change position slightly to get a good view of the buff when they emerge from the bush into an opening. They seem lined up in good order with a cow in the lead, a nice but not huge buff next, a bunch of cows, calves and young bulls, then the big bull in the rear.

If you are an experienced hunter, you know what happened next – the buff emerged right where we expected, however, guess what – the big bull came out first!!?? How? What? I asked the PH if that is one, he says "shoot!", and I hesitate and ask again – "are you sure?". He has his fingers in his ears and does not answer. The PH whistles to get the bull to turn broadside, the bull does but is obscured by brush. He stops one step too soon for me to shoot. The bull gets nervous, looks our way, stops with his chest covered by brush. PH says – "shoooooot!" As I try to get on the bull again, he turns and runs dead away from us blocking us by brush and trees. All of this at a distance of 30 steps. The rest of the herd bolts and we see butts and tails about 600 yards away as they head for Mozambique. Busted! Why wasn't the big bull in the back, where he belonged? Why did he impersonate the cow and come out first, like she was supposed to? PH and I sit in silence, spit on the ground, discuss the weather and decide that fate was on the bull's side this time.

Busted, busted, busted! Every stalk, every attempt. I have lost my enthusiasm and begin to question what in the world was I thinking when I decided to do this? Tired, whipped, ready for a nap- we headed to a spring for lunch. We ate in a deep cut into the hillside and by an active spring. We say all types of tracks, mostly baboon and elephant but lots of activity. We were in the shape, cool and no bugs with big outcrops of rocks around us. There was big tree that seemed to grow straight up out of the rocks, slowly splitting it into pieces. Quite a lot of power in a tree that is slowly pressing out of a rock. I explain a little about the oil business to Dean as we sit and discuss things other than hunting. I tell him how the business works and he listens. It is not much different than any other business – you provide a service or a product that some else wants. I provide expertise to dig holes in the ground looking for energy – he provides expertise putting people close to animals safely.

On the way in, the PH said we were in sable country and that he knew of a sable or two that hung around a particular valley and a particular hill. These PH's are mind readers and attitude readers as he could see I was about worn out on buff after this day. We headed to the area, climbed a fairly steep hill with a long running ridgeline over looking two valleys. A great place to glass from. On the way up the hill, Bongoni the Spotter sees a sable bull and says ' "good bull, shoot, shoot!!" I whip into position, get him in the scope and am about to pull the trigger and the PH catches up and says-"whoa, he is young one". Thank you Mr. PH. I just about dropped the hammer on a 32" sable to the tune of a couple of thousand dollars. Lesson learned – nearly everything is a shooter to a tracker or spotter. They know the animals but are not always the best judge of trophies. I pull up, and we wish Mr. Sable a happy couple of more safe years to get big. We continue the climb and glass for an hour. We are treated to a spectacular Oklahoma style sunset, complete with doves cooing and other noises that fit the scene.

Scratched, tired, thirsty, hungry, pissed and in a bad humor, we head to the truck and to camp. What a day – I am regretting ever going and ready to pack it in. Then we went back to camp….

Talk about smiles and high fives all around. Sean, the youngest, has a buff in camp with huge bosses – at least 15" and a story to tell. They cut tracks, found the herd two miles away, started a stalk from a rocky outcrop above them. They get busted, stalk again from above as they grazed through a small valley. They spotted a good bull, flanked them by getting ahead and waited for them to walk into them. The buff walks out and takes a 300 grain Bearclaw in the lungs a little far back. He runs 200 yards and was in sight the whole run. The bull lay down so Ben and Sean puts the insurance shot in the shoulders breaking both. He tries to get up, but Sean follows the Murphy Rule of Shooting – fling lead until it quits moving. He put 4 finishers into the finished buff.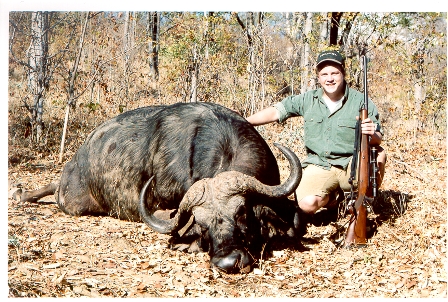 Day 4

Diane and Lauren should arrive today after a trip to Rome and Florence. They will come in by charter that same way we did. Hope the pilot is a little older on this flight.

Today, we see a spectacular sunrise – just perfect for tired buff hunters. We get a slightly later start today and had a less hectic start to the day. Conor goes for sable, again with Maurius after checking hyena baits. Sean goes for kudu and bushbuck or whatever is suicidal. Dean and I are doggedly after buff. He tells me that he has never failed to get one down in this area. Great, now I am jinxed! When you hear the "g" word (guarantee, slam dunk, in the bag, done-deal), I am a dead man. I am always the one that should have been here yesterday, the one that missed the lottery winner by one stinking number, missed the free car by being the 1,000,001st customer through the Best Buy door. I might as well head back to Oklahoma now, I will have the same success as Bob Stoops has had the last two years in the national championship football game or as well as the England rugby team has had against the All Blacks.

We head out as usual looking for tracks. Today, tracks are scattered and old. We head to an area about 30 kms from camp called Broken Bridge and start there. We try a few tracks and make a couple of stalks on herds but swirling wind and lack of seeing a hard bossed bull makes the effort in vain. We check an old water hole and see tracks, follow them for a couple of miles, get up on them, they spook and split up. We climb a high ridge that turns into a cliff over looking a valley. For once, we have the upper hand in being able to see them. We see a couple of groups as if we were in a hot air balloon. No big bulls is the problem. We send one of the trackers on a long loop to bust a group out of some thick stuff. He pushes them toward our vantage point and we see a lot of black but no hard bossed bulls. What a pisser. Get in position, then no bull amongst the herd.

We head back to the spring/waterhole for lunch. While sitting, eating, sweating, thinking – me thinks we hear baboons in a sand river bed near us. Looking over the bank, lo and behold, there is an unsuspecting troop sitting around on the rocks picking each others rear ends. We sneak up, spy the bull of the bunch. They see us, get nervous, give us the finger and start hooting and hollering. The old guy just sits behind a tree and peers out from time to time. We decide to see if he gets curious and we just sit, moving a little to keep them looking at us. Finally, a little one starts bouncing around. The big guy gets pissed or curious and wanders out from behind the tree. Big mistake – one shot from 200 yards catches him in the short hairs – he runs about 30 yards and disappears. The rest run, jump, hoot – the younger males are high fiving each other singing – "the king is dead, long live the king" and start out after the better looking girl baboons. There will be a hot time in the trees tonight.

The old guy is dead and again, has no teeth. Dean, Bongoni and Clemons all say that they have not seen three old toothless baboons before. They said they have a guy come in from Dallas every year and he shoots 10 to 20 baboons. I like this guy, I need to meet this guy. He must have had a bad experience with monkeys or told that Darwin's theory was a fact and that he actual was an ape at one time. Maybe someone else, but not me. No monkey's uncle, I am, as Yoda would say. Anyway – off with the head, pictures with Bongoni and Clemons and back to the hunt.

Ross & Sons 3 Baboons – 1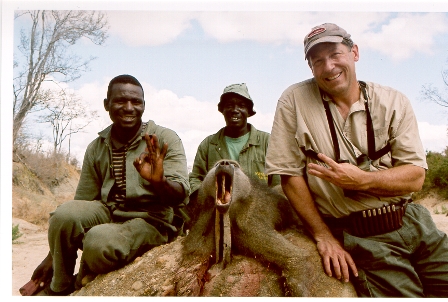 We find two herds this afternoon and spot on 40" + monster in the midst of 60 or so buff. They are in the open, under some trees, just standing around. Wind is right, we are in good cover and have a path to stalk. We get within 100 yards, the bull moves to the back of the herd, then steps out for an open shot. We debate – shoot, don't shoot, shoot , don't shoot. With my baboon kills, my shooting is proven, so no worries there. Dean just thinks, wait, a better shot will present itself. We sit for 30 minutes. All is well, the buff are milling around looking bored. Then the wind shifts – busted – off they go, out of sight and out of range. The big guy in the middle. We conclude that it was best to wait for the shot, but, darn it, he was the best bull we had seen. We stalk them at least 10 times, getting busted each time in the dense mopane brush. On the final "busting" we are both ready to spike our guns in the ground and charge the herd yelling obscene curses. The swirling wind is our downfall. Being seen is not the issue, being smelled is. We use dust, we use ashes, we use every flanking movement we know to get around the herd. We do this every time and the wind swirls, noses go up and then the race begins. We figure we have about 10 to 15 seconds when we get close before we get busted. That is a short time to sort out a bunch of heads looking at you.

We take the long trip to camp. The only redemption this day is that Diane and Lauren should be in camp with smiles and stories about Italians. I need someone else to criticize today – Italians will do just fine.

Saw lots of birds today – at least we are getting a "limit" of new birds. I find that Dean has a dream to see an Angolan Pitta, a small, short tailed very colorful little bird that stays in dense brush all the time. It only lives in the Zambezi Valley in this area. There is even a bird watching safari company named for it that organizes expeditions for 10 days just to this bird. I am a birder not quite that consumed with it. Dean says he will, one day, spy one. With my luck, we will probably see one of these before we slay the mighty nyati.

Get to camp, the girls made it in – loads of stories, especially about a pick pocket trying to get into Di's money bag in the Vatican City. Caught red-handed, the Arab woman nearly got her head bashed in by my red headed wife. Caught, surprised and about to be "Sadaam'd", the woman took off into the crowd. Di and Lauren had great fun in Rome, went to Florence on the train, shopped, had fun at the Coliseum and other old stuff in Rome. Did not get to see the pope, but, for Methodists, that was no big deal. By the way, they had an older pilot that seemed to be as old as me (50 but feel like 30 or 70 depending on the day).

Di hits it off very well with Trisha, the wife of the camp boss. They are an interesting couple, native Zimbabweans, raised a family on the family farm, then lost the farm to Mugabe's henchmen. They are doing the camp boss gig as they bide time to see what happens to the Zimbabwe economy. Right now, the economy is in free fall with inflation ranging from 125% to 600% per year depending on the day. The official exchange rate is $9,000 Zim to $1 USD. On the street you can get $25,000 Zim. Currency trading is illegal but flourishing. Apparently, Mugabe appropriated all of the foreign currency bank accounts exchanging them for worthless Zimbabwe dollars that deflated as quickly as they went into the accounts. Trisha is a naturally upbeat, optimistic person; she was fun to talk to, to learn about Zimbabwe politics, the old Zimbabwe/Rhodesia and what colonial life was like. They have nothing now, farm gone, bank accounts stolen – just waiting on the day Mugabe dies or is exiled and hopefully the rule of law returns to this rich country.

Conor came in with a miniature impala. Smallest one we have seen, not sure what he and Maurius were thinking but I think they got bored and the impala got in the way. No trophy, but fun and the boys like impala liver. Said they walked another 100 miles today looking for sable, but just found old tracks. They believe they have narrowed the area down to a place they "have" to be in.

Lauren decides that Maurius is very handsome and seems to be a bit taken by him. He is funny and a good guy, just too old (30) to suit me for a 19 year old daughter. I warn Maurius that I am a lousy shot and that I would likely wound him badly if any reason came up for a shooting war. He laughs, sort of.

That night, at dinner, a herd of buff visit the camp water hole. Lots of glowing eyes in the lights and lots of grunts and slurps. Di is a little spooked by this but gets up her courage to have a look and is impressed. We hear a leopard in the distance.

After much discussion, we decide to move camp to the Masau or River Camp about 30 miles north of us right on the Zambezi River. There is more plains game nearby and buff, should I not get one the next day. Croc is the target up here along with fishing if we have time. Besides, Trish said that the camp was prettier and there was more for the girls to see and do. We decided to hunt our way up there, with the girls going up with Sean and Ben. They would hunt croc that day with the girls. Fine by me.

At bedtime, I warn Di about the bats in the belfry. She is non-plussed and is not concerned about bats as they don't eat people. Lions do and it seems the lions ran past the camp last night, according to Jimmy and Trisha. This was not the right thing to tell Di. With no windows and only a mosquito net to keep lions at bay, she was a bit worried about being eaten. I assured her that lions are afraid of people and do not go to camps on purpose. I think I even believed that for a minute, then remembered some of Capstick's stories about lions eating his friends as they slept. Oh well. She also seems a little paranoid about malaria and mosquitoes. I assure her that I have not been bitten nor seen a mosquito. She reminded me that my lasik enhanced vision is not so good and that mosquitoes are very small and I likely would not see the little devil before being bitten. She snuggled under the nets, put on a ton of Avon Skin So Soft, then got under the sheets completely – in 80 degree heat. Oh well.

Di is also showing signs of a rash related, she thinks to the malaria med (Larium). Trisha tells her to switch to a different kind, Deltaprim. Trisha has a few extra pills, so Di makes the change. We are all a little loony, but I am not sure the Larium is the reason. Deltaprim does not have the side affects that Larium has, but is not as potent either. Oh well.

Lauren bunked up with her brothers and they had a great time talking and laughing.

P. S. – The lion hunters are down. The lions left the area and have not been on the baits. The guys are tracking them but apparently, the lions walk long distances. Maybe I should send Di over to help them. Glad I am not a lion hunter.

Day 5

Up early for breakfast, bats were busy last night as evidenced by the "guano" on the floor. No big deal just a little different than the "doggie puddles" we get at home with our dog – Stupid. I usually never eat breakfast, but here – I need the energy. We are averaging 6 hours of walking a day. I am not sure of the miles, but we are on our feet a lot. Thanks goodness, I trained for this trip by walking one to two miles everyday for several months before the trip. This helped a lot as did the practice shooting we did to get ready.

Side Bar for those bored of the hunting routine

As the guns were put together (I did not have any big calibers nor a good .300 Win Mag), we started practicing with them. I had bought my daughter a Model 70 in a .300 Win Mag. for Christmas (am a I good dad or what?! Every 19 year old girl in college wants a rifle for Christmas, right? Well, maybe not, but it sure kept the boys talking to her as she is the only girl at Oklahoma University with a .300). I bought the boys each a .375 H&H in a Model 70. I bought myself a .416 Rem Mag in a Model 70 as well. All were fitted out with Leupold 1.75 x 6 scopes. The .300 was topped with a 3.5 x 10 all in VX III's. We started shooting them at the local gun club and found the .375's to be very accurate. Conversely, the .416 kicked the snot out of me and I shelved that bad boy and started looking for another .375. Luckily, I found one and another .300 Win Mag in the Guns for Sale section of the AR website. I hesitantly bought the guns from a guy in California over the internet, blindly sending money to someone I did not know in a state far, far away. All went well, the guns showed up and I posted a "Good Guy" report on the website. I did the same thing in buying some binoculars and a Model 9422 in a .22 win mag. The "members" on the AR website are a self policing bunch and do not seem to tolerate any trolls or bad guys on the website.

Back to practice – I had all of the rifles set with 3 lbs. trigger pull and chose the same bullets for each caliber. I chose Federal factory loads with a 300 grain Trophy Bonded Bearclaw for the soft bullet and the 300 grain Trophy Bonded Sledgehammer for the solid. For the .300 Win Mag, I started with 180 grain Nosler Partition's but later switched to Barnes Triple Shock in the Federal Factory loads. They gave better groups off the bench. After sighting in with the hunting loads, I switched to Federal 300 grain VitolShok ammo for practice. This was strictly an economic decision as the hunting loads cost $55 per box and the practice loads were $25 per box. I bought 500 rounds from Midway and Cabela's and went to work. After about 200 rounds, the boys got bored with the practice as we could only handle about 20 rounds each during the practice sessions. Someone, likely from the AR website, suggested practicing with the .22's, just to get used to shooting. Good idea, and a lot cheaper.

So, I outfitted the lever action .22 mags, one with a scope and one without. We had a silhouette range at our club, so I put the boys on a mission to be able to hit all of the iron targets with either gun out to 100 yds. That did the trick. They burned through the ammo and wanted to shoot more. When we switched back to the big guns, they were deadly accurate with them. When college was out and my daughter came home, I did the same thing with her. She then worked up with her .300 win mag to be a darn good shot – hitting an 8" target at 100 yards shooting totally offhand standing. From any rest, she was good to 3". Watch out boys if you piss her off.

Practice was a key to our shooting success. We maybe lost one animal, a baboon. My suggestion is make it fun if at all possible to keep everyone's interest.

I eventually picked up a .375 at Gene Sears Supply in El Reno, OK, the biggest gun store I have ever seen. If it exists, these guys can get it. Any part, any scope, any bullet, anything. It blew me away. The prices were well under what I have seen anywhere.

My gunsmith was McCool's Gun Shop in Tulsa. Dave is a master gunsmith and gun builder specializing in target pistols and machine guns. He is a stock maker and a perfectionist. He took every gun apart, checked everything and tuned them up. I never had a malfunction and never cleaned the guns while in Zimbabwe. We discussed on several occasions the merits of a "pre-64" model 70, the new model 70 and the Dakota rifle. He brought out each, laid them out, showed me the "issues" with each. In the end, with a new Model 70, tweaked correctly by a knowledgeable gunsmith, there is no real difference between the models. After having been in Zimbabwe, seen the beating my rifles took, especially from my sons, I would not take an expensive rifle over there, especially since my tuned up rifles are shot 1 1/2'" groups or less. One of the .300's shot ½" groups.

I chose Leupold scopes for the same reasons. I like Swarovski and use Swaro binoculars, but could not justify the cost/benefit of going to a $1500 scope versus a $500 scope. My laser enhanced eyes could not see the difference in scopes. Also, we never shot in low light situations, so the benefits of the Swarovski's was not truly needed. I would love to have Swaro's on my guns, but not at the price.

An interesting side note to go with the side notes above has to do with slings. I tried a couple of types of slings as the big guns were heavy at about 10 lbs or more. I liked the Uncle Mike's Alaskan Magnum as it stretched a little as you walk – sort of bounced with you while you walked. The PH's did not use slings but carried the guns by the barrels over their shoulders. When close to buff, the guns were in a ready position in their hands/arms. I would go sling less if I had no scope, but the scope is in the way to carry the rifle on your shoulder. I personally like a sling, but no big deal if you don't like them or use them.

For bino's, I have three pair of Swarovski's – 7x30, 8x30 and 10x42. I used a shoulder harness type strap on each. The best idea I had. The harness makes carrying bino's easy and they stay out of the way. The 10x42's were too heavy to carry, so I stayed with the 7x30's and let my son's carry the others. The 10x42's were best in looking at birds. Great bino's and I have used these for years. Would not use any other. The harness I bought from Cabela's was not good and not well made. I had to adjust it and use a better tie to the bino than was provided. Next time, I will get a better harness.

Back to the Story on Day 5

Dean and I went back to the place we lost Mr. Big yesterday and picked up the track. We caught up with them, got busted and the herd split again. We think we have them when they start to cross a sand river and we are set up behind a log about 40 yards from the crossing point. Some of them cross, never winding us. The rest get into the river bed just out of sight and start across with Mr. Big in the group. Wind is right, we are covered. An old, saggy butted cow walks out, stops in the river, looks around, sniffs – gets no wind of us – but just stands, turns and goes back. The rest follow her. No mad run off, no stampede. She just takes the bunch and Mr. Big with her in another direction. Dean and I look at each other in amazement. Just bad luck for us, and good for Mr. Big.

We stalk this group four more times and still are on the group led by Mr. Big and Mrs. Saggy Butt. As we follow, (this goes on for a couple of hours), the trackers say the herd split again and Mr. Big went "that away". Dean is not sure but they have not missed a track yet, so we follow. Finally, the wind picks up, is in our face as we close on the group. We are flanking them and Mr. Big shows his backside as we work through the less thick mopane brush. He steps out and we see him, no shot, but we are close. We flank again and are close to him as he and his comrades try to merge into a larger herd just ahead. We had not seen the bigger herd ahead and this is a problem. The wind is right, we are close and there is a bigger herd ahead. If they merge, we lose. Much like when Exxon bought Mobil – the Mobil guys got hosed. Same for us. Mr. Big would get in the herd and ……. Adios!

We are tiptoeing along, Dean in the lead, me following, Clemons and Bongoni behind us as we did not need their eyes to track. I suddenly don't hear footsteps behind me. What's up? Those guys are on point looking immediately to our left into a dense mopane thicket. Dean senses something, stops, looks at Clemons. I look at Clemons and he points to this thicket. All I see is black shade – then a couple of legs.

Dean whips up the bino's looks for a minute or two. I ease up to him and he says – "There is a bull in there, maybe two".

Another minute, no movement, breeze in our favor, Dean says- "He is good one, see the one horn?".

I see it finally, at 30 steps you would think I could see anything, but not here. I make out a rough shape.

Dean says –"Take him, he is a good one, can you see where to shoot?"

I say- "I see him, but only part of the horn, is he facing us?"

Dean – "Yes, almost full frontal, slightly quartering to our right".

Me – "Are you sure? I see two legs and a dark patch down and to the left of the horn".

Dean – "Yes, I am sure. Shoot the dark patch."

Me – "Are you sure? He isn't moving and all I see is a black patch."

Dean – "Shoooooot". Fingers go in the ears. End of discussion. What is hard to express here is the tone and pitch of our voices. Dean's stayed steady, almost monotone. Mine jumped an octave with every sentence until I sounded a bit like Tinker Bell.

I shoot and the fun begins. At the shot, the bull lurches forward in warp speed. His buddy and he decide to run away, but they got confused on which way is "away" and came directly toward us. There are several more buff behind these guys but they take an exit to the rear and we do not see them. I quickly fired a second shot (I shoot very fast when excited) taking him in the lungs behind the shoulder. His buddy and he turn slightly away toward a gentle sloping termite mound about 20' in diameter by 8' high. His buddy is close to us, but not looking at us. He pivots away from the termite mound toward us, then sees us and pivots back to pass between us and the mound about 10 steps away. The shot buff turns at my second shot and starts up the termite mound crashing through 1" and 2" diameter trees then turns toward us. At this, Dean and I shoot – bang bang with Dean hitting him in the face just below the eyes. At the collision of buff and .458 Lott solid, he does a Superman impression, front legs go back, back legs collapse and he goes head first to the ground skidding about 3 or 4 feet with his legs outstretched behind him. My shot hit him just above the spine about 1/3 of the way back on his back. Dean's shot turns out the lights. He groans, bellows and dies. I shoot one more in the spine. All of this took maybe 2 or 3 seconds. He landed 7 steps from us.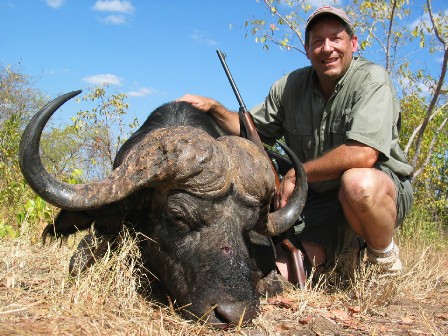 Clemons and Bongoni never moved, never flinched. Just stood and watched me wet my britches and their boss calmly put one in the head of the buff.

Now I can breathe again. We shake hands and Dean says – "A little too close to suit me, good shooting". I agree. I don't need to be that close to have a good time. We retraced the bulls steps and see that the first shot was into the lungs grazing the heart. He was coughing blood before he ran, lots of blood every step of the way, he plowed through trees and ground like a D5 Cat He piled up quickly and was dead quickly from the brain/spine shot of Dean's. My first two shots were killing shots, and he would have succumbed in a matter of minutes, but we did not have minutes when he started in our general direction. This was no charge by a mad buff, just a mad dash by a shot buff inadvertently directly at the hunter, who was me.

Lots of pictures and several instant replays of the engagement. Bongoni and Clemons were animated and enjoyed telling the story as they were spectators up front on the 50 yard line. Upon dissection of the buff, the shots were good – bullets all passed through except the finishing shot. Lots of interior damage. The first shot took out one entire lung, then deflected out through the diaphragm. I was impressed with the muscle and the skeletal structure of the beast. The ribs are over lapping and impressive. I can see why a solid bullet is needed as a back up. The soft is good first choice, but does not break the bones up like a solid.

Oh, the horns – heavily polished hard bosses – 14" or so with a 38" to 39" spread, deep curl, classic cape buffalo. Sean's buff had bigger bosses, but the spread on this one was bit wider. Great trophy by any measure, hard earned and much appreciated.

Was he Mr. Big? No, according to Dean. Mr. Big got away, but this buff was a dandy in terms of the polished boss and the deep curl of the old horns. No issue with me – this is or was the Mr. Big I was after.

We cut him in two, loaded him on the Landcruiser and headed to the barn. I was stunned at the volume of the stomach and the contents – massive amount of grasses and whatever, at least a half a barrel of stuff. The guys kept the stomach, heart and liver for dinner.

We had this done by about 10am with a trip to old camp at Pedza then a drive to the new camp at the Zambezi (Masau). Dropped the buff at the skinning shed and started north.

Stopped at an ancient baobab tree that was at least 80' tall, 150' in circumference with a large cavity in the trunk that would fit my Chevy Suburban. What a tree – massive, colossal, monstrous. Took pictures and tried to burn into my memory. Dean said that these trees live 5,000 years but have no rings. No argument here, looks old by any standard. He also said that you never see young or small baobabs as the young ones look like every other tree. They turn into the upside down looking thing we see when they mature – maybe when they are 500 years old or something. How knows. Anyway, we saw a lot of these trees and noticed that many had scars on the trunks. Dean said that elephants dig at the trunk with their tucks to get moisture or food. We saw several trees with a lot of damage. Apparently, these big trees can absorb a lot of damage and live on.

Drove through several villages, one school and saw locals up close for the first time. Saw the huts, the fires, the clothes, the smells, the children, the sullen moms. Dean says AIDS is taking a mighty toll on these people – something like 50% have it and will die of it soon. What happens to the kids? Small patches of crops, a water well, a little meat drying, lots of poor people at the edge of this concession that is a national park.

Bongoni waved to many of the people we drove past, he knows them and has an eye for the girls. I hope he knows about AIDS.

We drive to the river camp, drop our gear, look around and see that Sean/Ben and Maurius/Conor are out hunting and Diane and Lauren are with someone, I hope. The river is stunning – wide, blue-black, swift. We are in a range of hills with Zambia to the north and Mozambique to the east. A solid breeze blows off the river to cool us. The weather has been hot, at least in the 80's and I have sweated off a lot of weight. The breeze is great and keeps the bugs down. Bugs to date have not been too bad. The tsetse flies are armor plated and hard to kill, but they are few and far between. No mosquitoes. Just the darn mopane sweat bees – these are tiny bees about the size of a gnat that irritate rather than bite. Conor was swarmed by them and I was as well. The Avon Skin So Soft worked sort of – needed constant application to keep the tsetse flies away, but you end up smelling awfully sweet by the end of the day. After several days, I quit using it.

My biggest nemesis were the "wait-a-bit" thorn bushes. I blundered into them regularly and my legs showed the wounds. I am not sure about hunting in shorts, but they were cool and easy to walk in. I wore standard Columbia style, cargo pocket shorts at mid-thigh. I had two pairs and they were fine. Shirts were light cotton short sleeved with one being long sleeved in case of bugs or too much sun. Travel light and don't bring expensive clothes. The bush wears hard on clothes.

Dean and I headed to hills to look for sable and bushbuck. Driving along the river in the reeds and brush, we saw tons of birds and a host of other animals – bushbuck, vervets, spring hare, squirrels. Most of the birds were water oriented birds that Dean could identify. I had a great book and dog-eared most of the pages noting the birds for later recording in my life list. I am up to about 60 birds now. We saw marabou storks for the first time – huge, ugly carrion eaters with big bills and wide wing spans. Someone left a croc carcass out and the birds were enjoying a feast.

We tour the country side and are in a different type of terrain. This is more hilly, more rocky, more open. We see a herd of buff headed up a step hill after coming to the river to drink. They are moving slowly but steadily up a steep slope. We see baboons again and I try to get a shot, no luck as they must have heard of my reputation.

Ross & Sons – 3 Baboons – 2 (I am being generous with the baboons)

We look high and low for sable and bushbuck. No tracks, no sign. We scout a couple of areas Dean knows and will come back tomorrow for sable. Conor and Maurius are out there somewhere looking for sable also. Conor is getting frustrated with sable as I was with buff.

We head to camp and see a bunch of excitement.

Sean connected on a 168" crocodile. A monster, toothy, huge and fat! Was he ever excited. He was hopping around in his brace and talking faster than I can listen. Seems he and Ben along with Diane, Lauren and the others took a boat ride on the river scouting for crocs. They saw several on an island lying in the sun. They saw what they hoped was a 12 footer and decided to make a stalk along the bank. The tied up about a mile from the crocs, picked their way along the shore, bellied up to a bank about 60 yards from the crocs. Sean slowly steadied the .300 and drilled Mr. Croc in the brain. He never moved and never got up any farther than getting his back legs up. A second shot in the spine locked him down for good. No baiting, no blind building, just a great stalk on a sleeping/sunbathing croc followed with a great shot. Now the work began to get the beast into the boat (a party barge in our Okie vernacular) and to get to camp. Lots of help and they made to camp as we drove up. Diane and Lauren were beside themselves riding to camp with a 14' dinosaur on the boat. Lots of pics and one mishap. Sean tried to get a picture with his head in the mouth (not a good idea) and he let go of the upper jaw snagging a finger in the process. He left a little DNA material on the croc's tooth and needed a good cleaning and butterfly strip to hold the skin on. He has a history of this as he stabbed himself while gutting a deer at age 12. Anyway, a monster, a colossus, a real big croc. Ben said this was the second largest he has ever taken and the biggest in years at this camp. Dean said the same.

Now to the skinning shed. How do you skin a croc?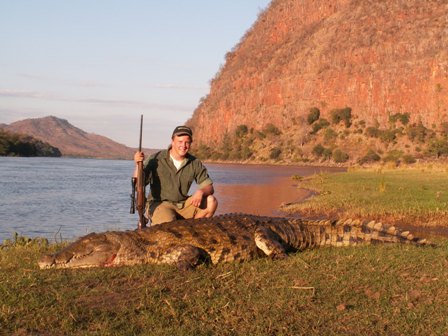 Conor and Maurius come in, beat, tired and thirsty. No sable, but have found tracks. They encountered the first significant signs of poachers and poaching – lots of snares. They picked up about 20 or 30 wire snares and brought them. Later, they will encounter some poachers.

Maurius is the life of the party and tells plenty of stories about hunters, poachers and his one year trip bumming across the USA. He was a bouncer, a dishwasher, a ski shop salesman and other jobs as he traveled the US. He liked Aspen the best as he likes to ski. He has invented a machine that makes a sausage shaped food out of mealies, the food of choice to the locals in Zimbabwe. If this method of packaging works, then he gets rich and the locals get a good way to save food. It is still in process. He also started a hunting videography service whereby hunters hire his guys to video the hunt. This is successful but not too profitable yet.

Ben is the quiet one, he doesn't say a lot but is funny when he does. He does not talk much about his background. Dean is from a farming family and has hunted his entire life. Like most other white Zimbabweans, the farm was taken from his family by war veterans. He has a wife and young daughter with another child on the way. The lifestyle of a PH is hard – gone a lot, out of contact with family, hard work with sometimes hard to get along with clients, in a dangerous situation, expected to produce game for lazy hunters, expected to know everything about everything with regards to hunting and must be a psychotherapist to coach hunters on how to cope with failure. They told us that only about 10% of the guys trying to become a licensed PH actually make it. It is hard and the Zimbabwean PH Society is hard to join.

This camp doubles as a fishing camp with two types of cottages. One is a fixed cottage with beds, bath and toilet, thatched roof, concrete floors. The others are large canvas tents on concrete pads and a "half concrete" wall around the tents for protection. They had showers and toilets. We selected the tents as they were cooler and "neater" as the kids say. Everywhere we have stayed has electricity by generator and hot water by means of stove to heat the water. We had no shortage of either. Very comfortable and very nice.

We celebrate big time tonight – croc and buff in one day. I am now ready to stay in Zimbabwe and not go back to the Sooner Nation just yet. The food in this camp is a cut above the Pedza camp. Must be the different cook. Plenty of Zimbabwe beer to try, several wines and lots of Coke and Fanta for the kids. It is amazing how a little success affects the attitudes.

We hear hippos on the river and understand they wander into camp for grass but are not very brave.

P. S. No news from the lion hunters, but no lion yet according to the new camp boss. Seems the lions are playing hide and seek as they were seen close to the Pedza camp, with tracks in the road, but not coming to the baits. The hunters are tracking for miles now. Glad I am not a lion hunter.

Day 6

Up a little later today after the big day yesterday. The croc is still sitting out where we took pictures last night and is headed to the skinning shed. Hippo's serenaded us last night from across the river, lots of groans and bellows. Had hippo's in the camp during the night, but they quietly eat the grass then run for cover when spooked. Saw where they had been eating, but no sign of them now. Good breakfast and out to hunt.

Each of the camps had a vegetable garden to supplement the food they had in storage. They were growing tomatoes, lettuce, broccoli, and other stuff. The guys that worked at the camps seem to enjoy the gardening and asked that I shoot any monkeys or baboons I see as they thieve the gardens relentlessly. No problem here – my kind of assignment.

This day, we decide to hunt bushbuck and sable as do Conor/Maurius and Sean/Ben. Sean and Ben spend the day after bushbuck in the dense areas along the Zambezi. Lauren goes with them and has a good time. No bushbuck, but saw lots of birds, monkeys and hippos. Conor and Ben are on a mission for sable and vow to return successful. Dean and I go for sable in a different area with an extra eye out for bushbuck.

You hunt bushbuck late and early in the day and sometimes at noon – always in dense, jungley areas. The bushbuck here are the Chobe variety, almost a caramel color with stripes. We have a pass through the thick stuff in the morning, see tracks and hear one barking (they bark like a dog), but never see one. We switch to sable and spend all day tramping up and down hills near springs hoping to see tracks. We do bump one group, four females and one young male. While on the tracks, we bump some impala, a duiker (too quick to see if male or female), and a wildcat (something not seen in the daylight as a rule).

Late in the day, we went to the river to stalk bushbuck on foot, to see what luck we would have. Unknown to me, this meant wading some of the stream channels along the river to get to cut out islands to set up and wait in small clearings. Ok, crocs like the river, they live on the islands, Sean shot one very big one and I cannot see the bottom I am wading. Is this a good idea, I ask? No problem, we splash a little and scare them off. I say, ok are you sure? No problem is the reply. Off go the shoes and socks and we jump in up to our knees and thighs. I hope crocs don't know I am related to a croc killer. Anyway, we ford the stream ok and press on. At the first clearing we see Mommy Waterbuck and Junior who do a 180 in mid-air to get away. We press on, but no bushbuck. We see tons of new birds and I am trying to mentally draw pictures to later look them up in my book.

We start the hike off the island see Mommy Waterbuck with Junior again, then suddenly a few sisters show up as well as, you guessed it, Granddad Waterbuck, with me still thinking we just jumped the same two again. Dean says shoot about the time Granddad jumps in the bushes and I fumble my rifle. Oh well. Sean was hunting waterbuck anyway. We ford the stream again, in the near darkness. Bongoni and Clemons do not like the water and almost walk on it to get across. The Game Scout is clueless. He can't swim, doesn't like crocs and doesn't like the dark. He is glad to see the truck. We pick out way through dense underbrush to get out, especially hard in the dark.

At the truck, we start back to camp and bump a bushbuck in the road, a youngster but fun to see. The day was the hottest yet, at least 90 degrees. On the way to camp and during our before dinner drink time, Dean mentioned that this area was home to the last of the truly "wild people" in this part of Africa.

Here Starts Digression Number 2 for the truly interested

This area and just west of us is an area where the "ostrich foot people" live. These are people that are very isolated and have inbred to the point where their feet are deformed to leave tracks like and ostrich. I had read about these people in one of the many safari books I have read (I am over 20 books now) to get ready for this trip. In the book, some hunters in the first half of the 1900's ventured to the Zambezi River Valley in search of big tuskers (local name for elephants). These first hunters heard about the wild ostrich footed people that live in the hills from the locals who live along the river. Seems the river folks thought the ostrich foot people were savages, crazy and did weird things. To me, this was like the pot calling the kettle black, as I have heard of and seen a few things that would lead me to believe the river people were a bit wild, crazy and savage. More on that later via a story from Dean.

These early hunters captured on of the ostrich footed people that was stealing items at night out of their camp. The feet were described has having 2 big, splayed toes and an elongated heel. The hunters said the wild man was truly wild, dressed in nothing and was not very verbal. He was attracted to knives and small implements. Anyway, the hunters kept him for a couple of days, used him to scout for elephants and other animals, then let him go. I passed this story off as one of those things you read a safari book that the author has made up or heard about 3rd hand – I never thought the story was true until Dean mentioned the "wild people".

Seems there is one living descendent of the ostrich foot people, a young girl living down near the river and not a wild person anymore. The deformity is noticed but she is accepted as part of the local area. Stories of "wild people" are wild to you and me, but perfectly normal to the local folks.

Dean says that there are a couple of groups of wild people that do not live in villages, farm or tend flocks that live in this area. He said they live off the scrawny squirrels they catch with snares and wild honey. Several times on our stalks we saw make-shift ladders constructed of tree branches tied up with strips of bark. These were leaning against a tree and there was usually a burned out fire at the base of the tree. When these people follow a bee-eater or find a bee hive in a hollow tree, the make a ladder, build a fire, smoke out the bees and steal the honey. We came across where someone had chopped down a big tree to get at the honey as well. Dean said he sees these people sometimes, that they are naked except for a skin or old cloth around the waist, barefooted and bedraggled looking. He has recently seen a family of four that he came across – they ran for the hills when they saw him. He said they don't poach, just live off the land.

These guys are tougher than me. I could no more live off the land by my wits than they could drill an oil well. They are resourceful and resource-less all at the same time. I can imagine that Adam and Eve had better tools and living conditions than these wild people. Dean said the government and the locals leave them alone as they don't do well in the villages. Apparently, someone tried to "civilize" them at one time without success.

We came across several mud huts under construction while hunting bushbuck. In summary, the local folks make a type of brick out of the local soil/sand/straw, fire the brick and stack them in a circle or square to make about a 12' x12' house. They use poles covered with thatch for a roof. They cook outside in an open fire or an enclose bee-hive looking oven to make lunch. Utensils are stored on a raised platform, outside, and out of the reach of dogs and other varmints. They seem to use a couple of pots, a spoon or two and other various shaped bowls and kettles. Meat is usually dried and hanging somewhere, same for fish. Nearly every group of huts and hut-owners had a patch of milo or corn nearby. Dean said the elephants and buff wreaked havoc on the locals food supply and hence there is a ready supply of PAC elephant or buff permits. PAC means "problem animal control" with these elephants given a death sentence. Any means to hunt this is ok – at night, by spotlight, during the day, whatever. If news of this ever spread to Louisiana, that would be the end of the elephant. Cajuns like to hunt, but only at night or when the season is closed. Anyway, Dean has been on many PAC hunts and the service is much needed to allow the locals to have food and yet live in peace with the wildlife.

The wildlife in Africa must pay its own way – meaning that if the animals don't bring in money or provide for the needs of the locals in a tangible way – they are gone. For instance, if buff are eating the local's crops and no one is hunting the buff, the locals will declare war on the buff. Sooner or later, the buff are gone. If hunting is allowed, the locals share in the meat and the money/jobs generated by hunting, the buff stays. If the buff gets into the crops, he gets shot or harassed. They learn to avoid the crops. Elephant are different. Once hooked on easy crops, they rarely leave unless shot or heavily pressured out – so the locals call for help from the hunting community when they see a months worth of food eaten up in one night. The PAC elephant gets shot, the locals get a large supply of meat, the hunter gets the hunt and maybe tusks, the economy gets permit and trophy fees – everyone wins – including the elephants that are not in the crops at night. It is like a Ronald Reagan trickle down economics theory – more business is better than high taxes as more business means more tax dollars. More elephants mean more business and more money. If the PAC animals are not managed, then the locals take out the cash crop.

Back to the Story on Day 6

Diane and Lauren floated the river after lunch and saw a lot of hippos, a few elephants and crocs along with villages along the river. The wind blows on the river and it is cooler there versus the oven we were in all day hunting. Lo took a lot of pictures with her new digital camera. They were much impressed with hippos, the wiggly ears and the snorting.

An observation on the hunting method used by PH's. When tracking, the tracker leads following the tracks wherever they go. It is amazing what they see and what they infer about the animal being tracked. They sort out herds, individuals, old and young, male and female as we go. We made at least 50 stalks on this trip and not one time did they goof up or go wrong. We lost one set of tracks for about an hour, then found it again. Second in line is the game spotter. This guy is looking up while the tracker is looking down. The spotter is usually a very good tracker as well, but has incredibly keen eyesight and the ability to see what we mere mortals cannot. Many times, Bongoni would whistle and point at something. I would look, not see it, put up the bino's and strain for a minute or two to see a tiny piece of an animal. He was never wrong when he pointed. I gave up trying to spot things, he was too good. Next in line is the PH, he is watching the tracker, the tracks and the spotter. They work as team with very few words and few hand signs. Many times, Dean would start off in one direction with the tracker, then Bongoni goes somewhere else out of sight, and about a mile ahead he rejoins us. Where did he go? I never figured that out. Anyway, whenever the spotter looked hard at something, I did too. The PH makes the decision on which way to go, what to follow and how far to follow. The tracker will track all day and all night if you let him. Much like my Labrador retriever will chase a ball all day, until he drops. The same with the trackers. The PH makes the call on when to keep going and when to stop.

Fourth in line is the guy funding the operation, the hunter. He dutifully follows the PH, the tracker and spotter. As I quickly learned, I was necessary baggage only. They did not need me to shoot, spot, track, or wipe butts. I was there at their pleasure. They could hunt better without me as I slowed them down, did not shoot quick enough and asked too many ignorant questions. However, seems as I had the green money, they were willing to tolerate my lack of usefulness. I also learned to stay in the back all the time except to shoot. These guys would put me on the animals; all I needed to do was be patient to let them get me there.

Last in line was the government game scout. He was an enigma to me. He served no purpose other than to be sure I did not shoot and not retrieve the animal or that I shot the right animal. He carried an AK47 and but I do not know if he had bullets. I never saw any. Sometimes they helped with loading out the animal or cutting a road to the carcass. Sometimes they spotted game. Most of the time, they kept to themselves and stayed out of the way. They were not needed, but caused me no grief. I have no opinion on them other than I expect I was paying his salary somehow.

Now, all of this changes when game is spotted. The PH moves to the front followed by the hunter/shooter with the tracker and spotter falling in behind. The game scout never gets out of last place. When a shot is to be taken, the tracker or spotter, sets the shooting sticks for the shooter, backs up and lets the PH call the shot. When the sticks go up, it is time to shoot. The PH steps to the side, coaches the shooter and plugs his ears. Hopefully the shot is true and all ends well. At least on paper, that is.

Conor and Maurius drifted into camp at dark without a sable, again. This is beginning to frustrate Con but he will persevere as Maurius is a lot of fun and will sooner or later find one. They had killed a warthog late in the day, first one on this safari and one of our prime targets. For the area, this was a dandy – had large tusks and was in good shape. Con said they bumped into it while tracking sable and that they got to about 20 steps before shooting. Con shot it but it took off, as they usually do, and made a great running/crossing shot at 30 steps in the shoulder putting the pig in the dirt for good. He was upbeat about the shot and pleased with the result. Dean said the pig was good for the area and that we not likely find better but that we had a good chance for big tusker at Lemco when we go there.

Sean and Ben come in, irritated that the bushbuck they hear cannot be seen. No bushbuck after a lot of walking, listening and hoping to see tracks. Both are quiet and tired. Ben has a look of – "bushbuck are everywhere here, what is the deal?".

During the mid-afternoon, Diane (who was them today) spots baboons crossing a sand river about the same time as Sean and Ben. She points them out to the Ben and Sean. Why not take a shot? The baboon did the usual "thumb your nose at the big guy" routine and Sean put a Triple Shock up his blue fanny. Not quite dead, another shot or so finished the issue. True to Murphy form, Sean "put the hurt" on a prime male baboon This is the first baboon we have taken with fangs and teeth. This guy needed no one to chew his food. He was the bull of the woods, note I say "was" the bull of the woods. Off with his head and into the truck.

Ross & Sons -4 Baboons – 2 (no mercy, this is a rout!)

A beer for Ben and two Cokes for Sean. The glow of the croc from yesterday is still on Sean.

At dinner, we all talked about what we liked the best so far – Con had heard several stories about elephant hunting and the stalking. He has decide that he wants to do that someday – maybe after he graduates from Harvard, if he gets in. Sean liked the croc, no wonder after his success on it. He is not the hunter his brother is, but has fun. I think he likes to fish too much and play on the computer. Me, I want to try leopard someday. Looks fun, not as tough as lion or elephant and requires some thinking and scheming. It helps that Di would like a leopard rug in the house.

The PH's all like variety. Dean likes elephant but not every hunt. Ben likes everything equally and Maurius likes buffalo. Hard to get these guys to commit as they do it everyday. All agree on the challenge of hunting elephant in this terrain. Tough tracking, miles of walking and tough getting close. They like the hunting part, but not the killing part. A dead elephant is a big pile of gray death. When the elephant hits the dust, the PH's feel sorry for the elegant foe. I think I would try paint balling the elephant, so I don't have to kill him.

We have frogs in our tent/huts rather than bats as at Pedza. The green tree frogs are inactive due to the dry season and all sit, lined up on the back of the bathroom doors. They just sit nose to rear end on a ledge oblivious to us humans on the stool.

P.S. – A radio message from the lion hunters. No luck and no sighting yet. They set up an artificial water hole, a barrel in the ground full of water, near a bait. The lions went to the old bait and ignored the water hole bait. Go figure. I am glad I am not a lion hunter.

Day 7

Hump day, mid point in the safari mentally for me. We have had limited success on everything except buff and croc. We have not seen much plains game, the bushbuck are not being seen and we (mainly me) are beginning to wear out again. Tired of the early mornings, tired of not seeing sable or bushbuck, tired of the grind. What a pansy I am. You would think that I was tough enough to do this day in and day out – this was supposed to be fun, this was supposed to be a lifelong dream – maybe a bad dream that is. Anyway, my attitude is drooping, the boys are slightly bummed out and the girls are happy to be here. That is par for the course. Today, we decide to hunt half a day, then cruise the river in the afternoon – going to Mozambique and Zambia illegally, just to say we have been there, then to see a local village up close. At least that is the plan. Conor and I hope to find sable today as we have hunted hard and know for sure where they do not live.

Dean and I are out early trying for a spring about 20 miles from camp, an 18 mile drive, then a two mile walk over the hills and through the dale. We start on a ridge about 1 ½ miles from the spring and glass the entire valley. We see our first zebras grazing on the hillside. I can barely see them with the 7x30 bino's while Bongoni sees them and counts them with his eyes. Amazing. We finally see some action at the spring, impala and baboons meandering around. We watch them hoping for sable, but not luck. We are seeing sable tracks, fresh ones on the hill we are glassing from. After an hour, we hike toward the spring following the tracks. Neither hide nor hair of sable yet, but lots of tracks. We circle the spring and head up the next ridge.

We bump into Conor and Maurius and make a plan to check out several areas but all agree that this is where the sable have been lately. It seems sable like certain places and stay in a given area until pushed out. Dean says that there have been no sable killed in this area this year. So, we should see some soon.

We head over the next ridge and start tracking up a long valley toward a spring when Bongoni (it is always Bongoni) whistles and points – 400 yards up ahead on the side of hill is a sable cow, barely in view. We stop, they have not seen us and we glass looking for the bull. A calf walks out along with another cow. One dark shape is in the mopane brush which Dean says is a bull. Not sure if it a good one or not. We watch and he steps out, nice bull, mature, thick horns but not too long. Deans says to move ahead and get a closer look. Apparently sable have great eyesight but the nose on them is not like a buff nose. We keep the wind at our face but get out of sight to make the approach.

We keep a line a trees between us and the sable and come to a gap in the trees about 150 yards across the valley from them. They are feeding slowly and unconcerned. The bull is in the trees but his buddies are in the open. Dean sets the sticks, I put my rifle up and we wait for the bull to step out, broadside in the clear. We wait at least an hour, more like 5 minutes, but seems longer. All the time the conversations go like this –

Me – "What do you think?"

Dean- "It is a bull, not bad."

Me – "What do you think?"

Dean – "No bad, a shooter maybe."

Me – "What do you think?'

Dean – "Definitely a shooter, should go about 37" or so. You interested?"

Me – "What do you think?"

Dean – "He looks heavy and old; he is a shooter, no world record but an above average bull."

Me – "What do you think?"

Dean – "Hold on his shoulder, he is bigger than a baboon, should be easier to hit."

Me – "What do you think?"

Dean – "Lean against that tree, brace the sticks, can you see him clearly? I got him at 150 meters or so".

Me – "What do you think?"

Dean – "Shoot when he steps out and is broadside. Aim for the shoulder about half way or up or less, the bullet will drop a few inches."

Me – "What do you think?"

Dean – "Shoooooot when ready."

Me – Squeeze and doof! The uninjured parties scatter in all directions. The sable lurches up at the shot on his rear legs and noses over straight down the hill on his knees with back legs working to run. We see him drop. Clemons and Bongoni walk up all smiles telling me that he is down and dead. Ben is smiling and I am smiling. No furious scramble to shoot more times as on the buff, just one shot, seemingly on target and down he went.

We approach the fallen old man and he gets up on his back legs trying to go forward, down the hill he goes half tumbling half bear crawling. I shoot again at the spine and hit it between the shoulders from about 15 steps. He lurches forward and I follow the Murphy Shooting Rule – keep shooting until it quits moving, no matter the circumstances. I shoot again into the shoulder and the heart. He is finished.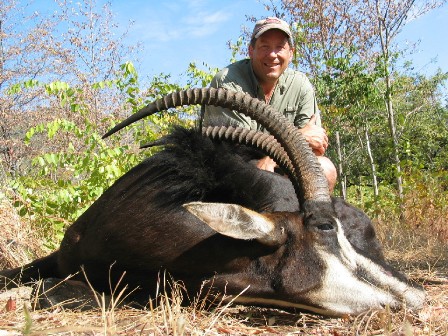 His trip down the hill on his knees damaged the cape and the face, but not too bad. He is an old, old sable, with very heavy horns and broomed tips. He carried a number of scars on his sides and face as well. Dean guessed that he was due to move on. His teeth were worn and he was pot bellied. The shots all were killing shots. The first shot broke both shoulders and penetrated the lungs. It hit where I aimed (surprise surprise!!). He was goner if we had not approached when we did. The spine shot hit the spine and paralyzed the rear legs. The shoulder shot hit the heart and what was left of the lungs.

Lots of pictures and handshakes, then the real work began. We were about 800 yards from where we move the Landcruiser. Dean decided to cut him in half and carry out the halves. The back end was easy and carried by 2 guys using a pole. The front was heavy, at least 200 – 300 lbs. We cut a pole and took turns carrying it. Bongoni got the heavy end and did a Samson-like move to carry it. We had to go down into a sand river and up a steep bank. We made it but were bushed when we got to the truck. Cokes and water for the survivors!!

Great hunt and great stalk on sable. I am enthralled with sable and want to hunt these again. They displaced the buff in the number one spot for me.

We went in to camp to meet up with everyone to make the river trip. Conor and Maurius struck out again but saw a lot of fresh tracks. Naturally, they were jealous of our "easy" success as they have been at this for several days and lot more miles than we were. They had a story to tell about running into a group of poachers. They had picked up snares everyday in this area but had not seen poachers. Today, they bumped a group of three carrying spears that quickly ran into the bush. The game scout came to life at this point as this is one of his jobs – shoot at or shoot poachers. The game scout and Maurius/Conor split up to try and catch them by "cutting them off a the pass", around the corner of the hill they were circling. The poachers disappeared but another one appeared a few hundred yards way heading up the side of a hill with his dog and carrying his shoes. Seems the poachers use dogs to chase the animals into snares or to follow wounded animals. The safari companies give rewards to shot dogs and captured poachers.

The game scout fired at the dog with no effect and Maurius carefully squeezed off a .375 H&H solid just in front of the poacher. This caused the desired reaction as the poacher dropped is shoes, and went into hyper-drive to climb through the rocks and thorns as fast as he could. Conor says the guy ran at least a 4.4 second 40 yard dash getting over the hill.

This all kind of put the picture together that poaching is a big problem. On the edges of the Dande concession, there are villages. Anywhere near the edges of the concession, there was very little if any game – mostly poached out. Two ways to cure this – hire the poachers to help in the safari business, shoot the poachers. Our guys said the best way is to hire them to help police the area and to work for the safari companies. Due to the drought and the deteriorating economic conditions in Zimbabwe, poaching is what sustains some of the locals. All the more reason to not turn away completely from Zimbabwe as a hunting destination.

I was worried about Conor being in this situation but Maurius handled it well and all of our guys had guns. I just hope the poachers don't or are as poor of shots as the local boys seem to be. The PH's never admitted to actually shooting poachers but told several stories about tracking them to their villages or camps, and hauling them to the local jail. Bush meat and especially sable meat is in high demand. These guys make a significant amount of money if they can get the meat to a market. Even in the bush, the law of supply and demand is in effect. The government does not ignore poaching as they realize that the animals draw the hunters and the hunters bring hard currency. I believe, based on what I saw and heard that the Mugabe regime at least understands the role hunters play in his economy.

Once back to camp, Dean took us on a speed boat ride to Mozambique (downriver from the camp) then to Zambia. We jumped off the boat in Mozambique, took a picture and jumped back on. We saw several other camps and villages all along the river. There was one very nice looking hotel that was shut down due to lack of customers. This was on the Mozambique-Zimbabwe border.

We then ran upriver to Zambia, across from the camp and put out at a village where the PH's occasionally buy fish from the locals. We had a little excitement here. We put ashore and scrambled up the steep shore slope to a group of huts and kids. Di was in the front of the boat and the first ashore. Dean came off last. While were talking to the locals, a family of a wife and about 7 little kids, Sean noticed the boat drifting out into the current. Thinking the boat was tied off, Dean and I watched for second then realized it wasn't. Dean jumped in, over his head to grab the rope and I scrambled to pull him out of the water before the crocs heard we were in the area. We came within a few seconds of seeing the boat float down the river and us in Zambia. Dean's quick jump forestalled a diplomatic disaster. The locals got a big laugh out of this as we looked like fools.

They use a type of dugout canoe that looks brutal to move through the water. They fish and gather up whatever to eat along the river. We saw one guy paddling against the current and noticed he had huge muscles rippling off his back. He almost looked hunch backed due to the muscles. He was an amazing physical specimen.

We got an up close look at the local huts. These were temporary as they lived right on the river bank. When the river floods or when the wet season arrives, this is all underwater. We saw several groups of huts on the river bank that we made entirely of reeds or whatever. Again, all temporary due to the wet season. The huts were extremely basic – one small room of about 10' x 10', one rope bed for 5 to 8 people. They had a few chickens and a small chicken house to protect the birds at night, a bee-hive type oven and a few utensils on the raised platform. No Nintendo, no TV's, no nothing but the clothes on their backs and a couple of pots. The kids were small, friendly and curious. They did not speak the same language as the folks in Zimbabwe, so we never did get much conversation. I was amazed that the kids played so close to the river with crocs. The camp boss's sister in our current camp was eaten by a croc two years ago. Many people are eaten every year according to the PH's, yet the people live right down on the water. That is like letting your kids play on the interstate, sooner or later you will get whacked.

As we motored up river, we saw hippos, we saw fish eagles, and we saw beautiful colors on the rocky hillsides that were on both sides of the river. If was truly a beautiful place – a deadly kind of beauty as the crocs were there as well. In the river itself are Tigerfish, a striped bass size fish with very big, sharp teeth. We saw a mounted specimen and pictures. I hope to have time to fish for these. To catch them, you use fresh, bloody meat on a hook and drift fish for them. Sounds like piranhas to me, but the PH's said they are fighters and fun to catch. There are some large catfish and large bream in the river as well. The bream go to 10 lbs and the cats go to 150 lbs. I was impressed.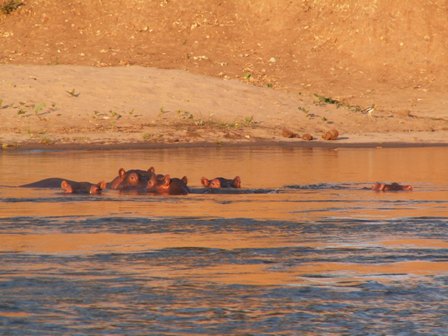 We caught up with Ben and Maurius on the party barge, tied up and drifted back down the river. They brought adult beverages and soft drinks. We saw elephants, impala, kudu and baboons along the river. The baboons were nonchalant as they must have realized I left my rifle in camp. We laughed about the day, retold the sable story, laughed at Dean's swim for the boat, enjoyed the colors of the sunset and the easy of pace as we drifted back toward the camp.

After drying out a little, we headed back up stream. We saw a Western Banded Snake Eagle carrying a green snake. Dean said that this was one of the rarest birds to be seen in Zimbabwe and that he not seen very many. We also flushed a Pel's Fish Owl off his roost. I did not see it, but Dean did and made the ID. Again, this is a rare sighting and Dean was proud.

At dinner, I quizzed the PH's about the different concessions and what the hunting was like in other areas in Zimbabwe. They each hunt in several well known places – Chirisa, Omay, Chete, Lemco, Huange, Victoria Falls Area, Matetsi. Each has its strong and weak points. In summary, they said the Dande is the best for seeing large numbers of buffalo and a good place for cats and elephant. Chirisa was very rough but good buff as well as elephant. Omay was not strong and they did not advise hunting there. In the past it was a good place, but has been over hunted and poached. Chete was a good place but not as good as Dande for buff or Chirisa for elephant and leopard. They said Lemco was great for plains game due to the way it is managed. Huange National Park is not good now due to poaching and over hunting. They said the areas varied from year to year on quality and quantity of game. The best to learn about the areas and is to talk to the PH's themselves at the shows in the winter. In general, the said that PH's will tell you the straight story on the areas and not over sell the quality of the hunt. They warned that the salesmen and sometimes dishonest agents will paint too good of a picture of the areas to sell the hunt and get the commission. Among Zimbabwe PH's, they have an unwritten honor system about misleading hunters. They just don't do it, they said.

Later, in Lemco, we watched a lot of hunting videos in the hunting lodge. These PH's knew many of the PH's or safari companies in the videos. They commented many times that – "this guy is ok, he is honest and a good hunter" or "that guy is good on elephant, I would hunt with him anytime." They were not impressed nor did they think Mark Sullivan was an ethical hunter. They thought he gave PH's a bad name due to his videos and the way he marketed himself. In summary, our PH's were focused on being ethical and honest with the client, something I appreciated on this hunt.

The camp boss was a guy named John, the guy whose sister was eaten by a croc. He made his own guitar out of a Castrol one gallon oil can and wood. He used fishing line for strings. He played for us and was very good. Conor is learning to play the guitar and was quite impressed with this guy's music. He wrote his own songs and said he plays in a local band. I would love to see a local band – in the middle of nowhere in rural Zimbabwe. He was talented and very humble. We took several pictures of the guitar.

Diane connected with one of the camp helpers, Godfrey, and found out he was Christian and gave him her Bible. He spoke relatively good English and enjoyed visiting with Di about Christ and the church in this part of Zimbabwe. We had seen a Catholic church in the middle of one of the small villages we passed by on the way to this camp. There have been missionaries in and out of this area over the years, but none at present. There had been efforts to manage the crop growing a little better by some French aid workers. They drilled a couple of water wells, cleared some land, showed the locals how to contour the land and irrigate it for year round crops. They put up electric, solar powered fences to keep out the buff and elephants. The project was successful as long as the aid workers did the work, but when they handed the equipment over to the locals, things fell apart. Wire was taken to make snares or hinges for the houses, the water pump was not lubricated, and the contours were not maintained – all in all a good plan but not a good hand off to the locals. They still used the water well, but that was it.

P.S. – No news from the lion hunters. I doubt that had as much fun as we did this day. I am glad I am not hunting lion.

Day 8

This will be the last day in this camp. Tonight we pack up; head back to Pedza and catch the charter to Lemco tomorrow. We like this camp, but need to get back to get to plains game paradise in Lemco.

I take Lauren and we go after bushbuck, again. No luck and no sightings. We see a large flock of marabou storks fly in and land near us. They are big! I had never seen them up close and they are big and ugly – long bill, sack of skin hanging under the neck, ugly to the bone, but very graceful fliers.

Conor and Maurius hunt back to Pedza in search of sable. Sean and Ben head out early to Pedza to hunt bushbuck. Diane goes with Sean.

We come back to camp about 10 am and pack up. On the road out of camp, about a mile from the camp, Bongoni starts banging on the top of the Landcruiser. He says – "big bushbuck, look!" and hands me a rifle. From my view, all I see if orange backside and horns. Dean had said if the horns look twice the height of the ears or bigger, shoot. It took no time to see this was a dandy and I take a quick offhand shot with Dean and Lauren still in the truck. The .375 caught him in the back and knocked him down. We were all stunned. It happened so quickly. After hunting several days at different times, we stumble onto one on the way out of camp. Boy, will Sean be irritated as he has been after bushbuck for longer than we had.

Dean was surprised when he looked at the old bushbuck. This was the third animal taken and the third truly old, over the hill male. He had 17" horns, scars all over his neck and shoulders, a split nose that has healed up and lost most of the hair on his neck due to fighting. He was a warrior. Dean said that was the best bushbuck he had ever taken; I was impressed that he was impressed.

The best part was the Lauren was with me when we found him and saw a good shot. The area was dense brush and reeds with a small open area, the place where I shot him. It was a 50 yard shot, not hard, but the grass as high as his back, so the target area was small. Any way they come, I am pleased with this bushbuck.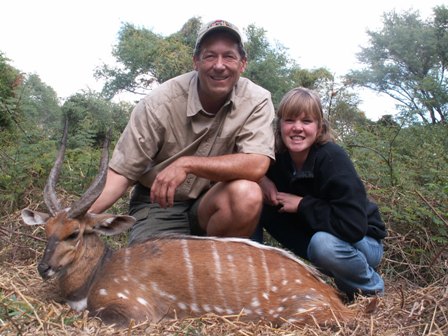 We head the 30 miles back to Pedza camp and see a Ground Hornbill on the way. This is a turkey sized and turkey looking hornbill, the largest of the four species we see on this safari. A magnificent bird and stunning to see.

We get to camp and find Sean and Ben are out as are Conor and Maurius. We have a late lunch, nap until we hear a truck drive and Maurius's voice. A sable at last for Conor!!! He has hiked and hunted all over the place and they finally connect while climbing the last likely hill to check for tracks or spoor. When the approach the crest of this high hill, there stands Mr. Sable at 30 yards, unaware of what is about to happen. Conor makes the shot and down he goes. This is a younger sable than mine, but with longer horns. I am amazed at these animals. They are by far, my favorite. This is Conor's hardest earned trophy. They hunted almost 7 days for this one. Turns out, they took on the hill I glassed from the first day I hunted sable. Dean knew there was a big one in the area as he had seen the year before. This was likely the bull.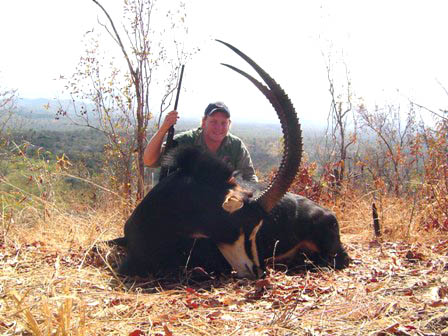 The fun began on the pack out. No way to get the truck close by, so they cut the bull in half and carried it out. Conor carried the hind quarters (about 100 lbs). The rest of them carried the horned half. They hiked about a mile, downhill, over rocks to get to the truck. When they arrived at camp, they were beat and ready to sit down for awhile. The smile for that well-earned trophy was fun for a dad to see.

Sean and Ben showed up a little later – no bushbuck, so I showed them what a bushbuck looked like. They were trying to suppress their jealousy by saying "way to go dad" but I could tell they were thinking – "that lucky stiff, we drove right by there an hour earlier and didn't seem him". Sean's big day was yet to come.

About an hour before dusk, we all decided to ride around and see if we could get lucky again – more just wanted to drink in the sights and sounds around the Pedza camp. As we crossed another sand river, guess what, a troop of baboons were crossing about 100 yards up the river. They were in no hurry and when a large male stepped out, stopped, looked at us in disgusted, scratched his rear, then sat down – Conor smoked him with a .300. He jumped a little, took one step and did a face-plant in the sand. Yeah baby, we are baboon shooters deluxe! The rest of the troop stood around, looked at the prone dead boy and then took off. We saw the young males doing the Macarena Dance and high five-ing each other as they left. Look out ladies tonight! Again, this one had no teeth. As a matter of fact, he was short all of his upper teeth and part of his cheek – apparently lost a long time ago. Again, his girlfriends must be chewing his food for him as he had no hardware to do the job. Pictures and off with the head.

Ross & Sons – 5 Baboons – 2

Later, Lauren spots and takes her first trophy – a francolin with the .22. We have been carrying these .22's all along but did not see much to shoot with them. Conor had taken a guinea or two and Sean had one francolin, but we finally got up on some where Lauren could shoot. She made a great shot on a walking francolin in heavy cover. I could not see it when she shot nor could I see the result. She jumped off the truck, walked over and calmly picked up her trophy – a bull, a buck, a 40 incher if there ever was one. We headed to camp with our prize and asked the chef to prepare it for dinner.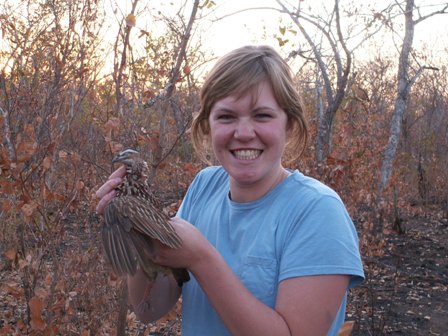 Roasted francolin was the appetizer for tonight. Never a better palate pleaser I must say.

The PH's all depart to get to Lemco by truck before we get up. Unknown to us, it is a 12 hour drive across country. The trackers and spotters have to ride on top of the truck all the way. Fuel is short and they all are hoping to make the trip with the gas they have. I would hate to make that road trip in this country on these roads. They seemed ok with it.

P.S. – The lion hunters have lost all trace of their lion and are contemplating what to do now. They are 13+ days into the hunt at this point. We learn that the PH for them is Lance, a close friend of Dean's. We hear that there are 3 lion permits a year in this area and that 2 or the 3 are successful, the unused permit is resold later at a discount and a third lion is taken about half the time. Dean says his best/worst lion hunt was 2 days in the daylight and at last light on day 17 of an 18 day hunt. Lions are hard and drive you batty, the PH's say. What happened to all of those lions lying around on prairie, looking at zebras and wildebeest's and waiting for lunch to show up? They seem easy to get up on. Maybe no one hunts those guys. We decide that it is better to hunt things that do not hunt you. I am glad I am not a lion hunter.

Day 9

Up late today for pictures with the skulls and skins, then pack for the trip to Lemco. We buy a few items from Trisha in her gift shop. They have been great hosts and fun to talk with and learn from. Jimmy is a bit sullen, but a good guy and generally up beat. He is honestly rooting for us as we chased the buff and sable.

The plane shows up, this time a twin engine with the older guy as the pilot. Lauren gets to be the co-pilot and sees Zimbabwe from the cockpit and at 5000'. A 90 minute flight puts us down on a nice, long runway in the middle of what looks like an old cattle plantation-ranch. Wow!!! What a nice place! We are met by Julia, the outgoing 40 year old wife of the camp manager. She has a nice truck full of helpers to gather our stuff and to camp. We stop at the headquarters and see quite an operation. The main house was at least 8000 square feet and looked like a plantation house; the guest houses were about 2000 square feet and looked lovely. The offices were nice and well done with full time electricity.

We had flown from the very northern most boundary of Zimbabwe to the far south about 60 miles from the South African border. Things were greener here, less thick and seemingly better watered. The camp roads were bladed and not nearly as rough as we had been on for the past week. Julia introduced us to a guy named Pongo, who looked to be about 100 years old. He was born on this ranch and never left – he is a legend and apparently is very articulate about his history. He reminds me of Satchel Paige, the ancient Negro baseball player, who never knew how old he was. Turns out, Pongo is Julia's helper and scout as she drives this 800,000 acre ranch. He knows ever road and every hill. She takes us on a tour of the area as we head to the Ripple Creek Camp.

On leaving the airstrip, we see several herds/groups/coveys of impala. Not just 2 or 3 but bunches of up to 20. We see more impala in 10 minutes than we see in a week in Dande. We bump into giraffe and zebra as well – not knowing that this combination will play havoc on our stalks tomorrow. We see warthogs, we see black rhino sign, we see waterbuck, we see lots of critters.

The drive to camp was about 15-20 minutes, all inside the Ripple Creek area of the Lemco Conservancy. The Lemco area is made up of 5 or 6 ranches that have been merged or consolidated into one large contiguous tract. This is private land and owned by whites. It has not been appropriated by the government, yet. Julia tells us that the owners have an agreement with government to allow this to remain a wildlife conservancy and off limits to war veterans. So far so good on that. It pays to know the right people, I guess.

We get to the camp, what a camp. This is luxury, fixed buildings, elegant bedrooms and bathrooms, all set on a large lawn looking down to a 200 acre lake. This is nice and a much needed break from Dande and the dust and bumps. There is a dining room, a nice outdoor bar and TV room loaded with hunting videos. It takes us no time to get settled in. Julia tells us that there a few hippos in the lake and they graze in the yard an night, be careful, do not stir them up as they run into things and do considerable damage to the place.

I grab my bird book and walk the 150 yards to lake to have a look around. On the way to the lake, I see impala, warthogs and waterbuck. On the far side of the lake, I see bush pigs and warthogs through my bino's. Lots of birds, mostly cormorants, ibis, heron and a spoonbill. I see a 4' long water monitor lizard swimming near the boat dock, looking for eggs or birds or whatever they eat. He sees me and dives.

Back to the lodge/cottage, there is a herd of warthogs on the lawn. I cannot get over the number of critters we see in the first hour there. I imagine that tomorrow, when we go out to hunt, we will be whacking and stacking big time.

We take another drive around and see kudu, steenbok, duikers, zebra, giraffes, waterbuck, impala, and warthogs. We are tempted at this point. Later, when we get in, Julia goes over the list of what we can hunt – everything we want to except bushbuck. Apparently, the bushbuck population is low here. She saws she would like for us to take out 200 giraffe as they have that many to cull if hunters don't take them. That is what I like, a challenge! Conor volunteers to take one. I have a hard time getting excited about such a large and slow target. Later, I would change my mind and wish I had the time and ammo to waste about 500 of the beasts.

The PH's make it in late with their guys. It was a long dusty trip and they are beat. A good meal, a shower and they get recharged for the next day. The cook in the camp is super. He is skilled and prepares an appetizer of soup or salad or pate or whatever – it all tastes great and there is plenty of it. My boys like that part the best.

Day 10

Eager and ready to go as we are headed to hunters paradise. At breakfast, we learn that Dean has not hunted this area before, Ben hunted it several years ago and Maurius has been here several times. We each have a local spotter that knows the area to go with our regular guys. The extra guy is not a game scout, just a guide. We all discuss what to hunt. Conor and Maurius are after giraffe first, Sean and Ben are after waterbuck, and Dean and I are after whatever. We take Lauren and Sean takes Diane with him.

We all head out together to a road about a mile from the lodge to re-check the guns. The rifles are fine and we decide to have a .22 mag shooting contest with the boys. I have heard that the regular African is a lousy shot. That rumor is now fact and well confirmed by what I saw. The boys shot about 150 rounds at hats, rocks, targets and rarely connected at distances of 10 to 50 yards. We picked up Witness, Clemons the tracker's son, as a driver. He had been in Dande but was helping out at the camp and was driving. He is a tracker in training and a bright kid. He looked 15 but was 26. I mention him here in that he was the only one to actually hit the various targets. Not bad. Bongoni, the spotter, shot about 10 times at a ball cap at 20 steps. He connected maybe twice. Diane got into the act and shot several targets as well. Lauren made several good shots as well and now wants to hunt with her .300.

Maurius and Dean each took turns shooting at .375 cases and hit them regularly – putting a .22 hole through the empty case. These guys are good.

We scatter after a bunch of laughs and head out, in search of whatever we find.

Lauren decides that a zebra skin would be a great gift for our friend, Mama Wolfe. So off we go. We quickly spot some and make a stalk and promptly get busted. What? Zebra busting us? Come on?!! Dean proceeds to tell us that he usually has more trouble with zebra than anything. They have the eyes and ears to sense us and they are alert. Great, we pick a tough one for Lauren's first big game hunt. We soon learn that zebras are not going to be easy and that they use the giraffes as sentries to spy us out. Every stalk we make, we bump giraffes and they in turn spook/warn the Mr. Stripes. I am getting pissed by the minute and am ready brain every long legged spy I see. Overall, we try 5 long stalks, get busted every time and come home empty handed. Here we are, in the proverbial zoo, and we come up empty.

We broke for lunch and found that Conor had taken a bull giraffe about 30 minutes after the shooting contest. We had heard shots but did not know he took one. His first shot spined it and over it went, face first in the dirt, only to stay alive. Six more .375 shots and he died. Darn they are tough, and even tougher to skin. What a stinking mess. The head looks 2 feet long and the hide is big enough to make a hot air balloon. The skinners were not smiling when I came by the skinning shed.

They head back out for kudu or eland.

The big shooter of the day was Sean. He comes in with a monster waterbuck, a bush pig and warthog. On top of that they see two aardvarks in the daylight hours. They chase them and one of the aardvarks drops over like he was dead. He passed out and looked bad but recovered and got up to amble off. What a sight to see!

Sean tells the waterbuck tale and he truly makes a great shot on it. He needed a pick-me-up after the fruitless days on bushbuck. Basically, he and Ben cut waterbuck tracks and waterbuck as they cruised around. They stalked several different groups only to not see a good bull. This goes on all morning without success. They break for lunch and are heading in when Claudius spots a shape in the bush. They stop, make a short stalk when Ben sees this is one big bull, all alone, no cows to spook him. They see a shape in the thick mopane brush about 75 yards ahead looking directly at them. All freeze and Sean takes a hard look as does Ben. No sign of horns or body at first look, but through bino's horns take shape as well as an unprotected part of the chest. Ben says to aim for the center of the exposed part. Sean takes aim with his .300 and doof!, down goes the waterbuck with a neck shot. Massive horns about 28" long with bases too big to get your hands around. This was a goal of Sean's since the trip to the RSA two years ago. There, he took a superb nyala after going after it for three evenings. In South Africa, the waterbuck are transplants and raised on ranches to be shot. Here, they are free ranging and in the natural habitat.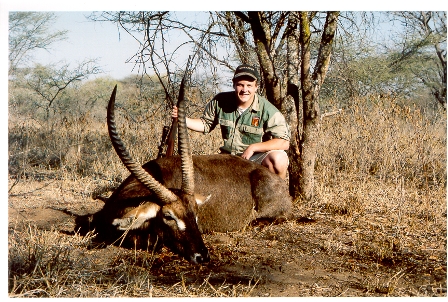 Sean and I had hunted Red Lechwe in RSA but upon arriving at the "ranch" to hunt them, we saw that there were about 300 animals in a 600 acre paddock. The land was stripped clean of browse up to the reach of the Lechwe. We see them everywhere and the "guide" on this ranch us telling us to shoot, shoot, shoot. Sean and I look at each other and say "no way Jose, this is not hunting and we are out of here". We leave this area with a bad taste in our mouth and I tell our RSA host that we are not 'pen raised animal shooters' and won't do this type of "hunting". He gets my point and agrees. Sean, Conor and I decide right then and there that we do not hunt over feeders, in fenced in paddocks for transplanted game. No more canned hunts for us. We had been to a 2500 acres deer ranch in central Texas in their early years and taken whitetails and an elk-red deer cross. This was when they were young and we needed to see some game to make the hunting interesting. However, now that the boys are older and understand the ethics of hunting and the thrill of the chase – no more canned hunts on dumb game

I do not see the waterbuck until it was skinned, but it is a dandy. Ben says that is one of the bigger ones you will see. All of the PH's feel as we do about canned hunts. Ranch hunting is part of hunting today, but not shooting animals in small areas out of the natural habitat. The high fence around the 800,000 acres at Lemco is more to keep people out than to keep the animals in. It is slightly unnatural due to the number of man-made water holes, and dams but these were holdovers from cattle ranching days. Further, the water helps balance out the fluctuations in carrying capacity of the land during the dry and wet seasons. We do not hunt the water holes, as most PH's do not hunt water holes. We check for tracks and at times, followed game that left the water hole.

Later, Sean and Ben take a bush pig and warthog while hunting kudu. This is the beauty of hunting in Africa. Many times, we are out hunting a specific animal and stumble into something else, change our plans and hunt that animal. A bush pig is relatively rare to see in mid-day. They came on an old boar and Ben said it was a good one, take it. Sean did. Same with the warthog. We had been stymied with warthog in South Africa as we were a bit too far south in the Eastern Cape to find them in abundance. Here, there are warthogs in plentiful numbers. We saw them many times each day. The trick was to see a good boar and get a shot. Conor and Sean both walked up on their pigs and made good shots.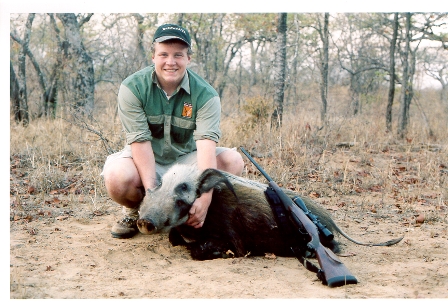 Seeing a big smile on Sean perks Lauren and me up as we were dog tired and frustrated by the giraffes. Dean says this is normal and to expect more of the same but that sooner or later we would find the zebra looking the other way. Dean relates a story to us about a hunter who shot a zebra in the shoulder, breaking a leg but not hitting a lung. They tracked it for 2 days and 20 miles before catching up to it. He says they are tough and that we have a worth opponent. Thanks for the encouragement.

Digression again for PH client stories

Dinner was great, almost gourmet style with appetizers and homemade breads. As we have gotten to know the PH's they open up to us with more and more funny stories about clients. I will relate three that I liked –

Dean tells us about two sisters, 70 years or older, who came to hunt on several occasions but decided to hunt elephant. Having heard all of the tales about elephant hunting – the many miles walked, the sweat, the thirst, the climbing, the flies, the inconvenience – I was surprised Dean would take this on. Basically, the hunt went like this. Dean, Claudius and Bongoni would scout and track all day from the place they hit tracks. The sisters would wait at the truck with an umbrella, a couple of books and soft drinks. Dean and group would return with good or bad news depending on the outcome of the tracking. The ladies sat and snoozed, read and visited while elephants were looked for. When Dean found one, he high-tailed it to the truck and gathered up the ladies to hike to the last sighting. If lucky, they would find the tusker somewhere close and get a shot. This goes on several days and they finally get up on one, but it required crossing a muddy stream bed. The ladies had custom Italian leather hunting boots and did not want to get their boots scuffed or muddy. Dean had to carry the ladies across the offending ground piggyback style and place them on dry ground – all the while keeping a sharp eye out for elephant or other problem. He said they each killed elephants in the 25 to 30 lb range and had great fun. At dinner each evening, the sisters appeared in semiformal sporting wear and looked like they had just stepped out of the Orvis catalogue. Dean said they were good sports, good shots and did not complain. Good clients.

Second story was about elephant hunting. We heard many tales of walking up and down for miles and miles and making good or bad shots on elephant. Two tales jumped out to me. First was an elephant that Maurius had put a client on only to that the head shot not kill the beast. The elephant took off for parts unknown with Maurius and client in hot pursuit. They see the beast climbing up a hill about 700 yards ahead of them in the clear. The client or Maurius decide to try a shot, anything to slow him down. The shot with a .375 H&H at that distance would drop a bunch. A guess on hold over is made, the shot taken with no apparent affect. The make a beeline to the ridge the elephant crossed over and find the beast standing just over the ridge on three legs. Seems the shot caught the elephant in the back foot in the ankle area. Now, an elephant cannot walk or run on three legs due to its size and weight, a fact I did not know. They finished the elephant with a brain shot and examined the foot. Seems the bullet barely penetrated the foot but hit a tendon in the ankle, incapacitating the elephant. Some kind of luck.

The other story was about an elephant that was killed near a village. When this happens, the locals turn out in scores to get some free meat. Protein is in short supply and any meat is consumed by the locals. The game scout or a local official tried to take control of the situation as the PH's knew things would get wild with 200 people trying to butcher an elephant and sort the meat. These officials got on top of the carcass, told the people to line up and each would get a fair piece. They were to line up by ages and sexes – old woman first, young woman second, old men third and so on. This went fine for about the first 3 people, and then some in the back decided that they would get shorted, so a melee broke out. The officials had hippo hide whips and were flogging the people to get them in line to no avail. The men were overwhelmed by 50 men with axes and knives carving up the elephant and flinging meat out to family and friends. The carcass was swarmed and the officials gave up.

When the elephant was opened up, guts out, men went inside the chest cavity up to their knees in blood and gore, hacking away at any meat and the ribs. On the outside, men and women were on top of the carcass chopping away with axes and adzes coming within inches of each other and those inside the carcass. Finally, one errant adze hit an old man in the calf, shredding his muscle and causing a 30 second stop in the action while he was carried off. No telling what happened to him. Another old woman caught the pointy end of pick in the forehead, bleeding profusely from an arterial bleed. She grabs a handful of dirt and gore, rolls it in her hand and slaps it on her forehead to stop the bleeding and continue gathering up meat scraps. A third old woman is having a hard time getting close to the carcass to get what her men-folk hand out. She is handed the end of the intestines and is being mauled by others trying to grab them away from her. She grabs the intestine in both hands and starts pirouetting (spinning) around and around wrapping herself like thread on a spindle with elephant guts. When she was about twice as big as when she started, someone cut her loose and she ran for the bushes to drop her load with the family.

In less than 2 hours, the 10,000 pound elephant was reduced to a puddle of slim. The gore, blood, bones, eye balls, tail and toenails were gone. The PH's said it was a miracle no one was decapitated by the swinging axes.

End of Digression and Back to the Story

Too keyed up to go to bed, we sat up and watched hunting videos of various hunters taking bongo, lion, lechwe, buffalo and topi. We watched a couple of Mark Sullivan's notorious – Black Death! Eaten by Lions! Charged by Horned Devils! – videos of him and clients wounding buff or lion to induce a charge, then shoot to drop the animal at their feet. The PH's knew him and felt he should be banned from the business due to his ethics and antics. I tend to agree. Wounding an animal on purpose to induce it to charge is shameless and creates a false reality by the viewers. The unsuspecting hunting public would think that all buffalo charge, that all lions charge and that all elephants drop with a frontal brain shot only to rise up and charge. There is always a dark side to something good.

Day 10

No malaria issues here, so no netting and Di does not have to sleep completed covered. However, we were told about the hippos in the yard, so I woke up to check out. Sure enough, there were two in the yard about 20 steps behind our chalet. I shined a light on them and was impressed by the distance between the red eyes looking back at me, about 14 to 16 inches was my guess. Tracks and munched grass were evident when we got up for breakfast. Di never woke up and is not afraid of hippos, at least not as afraid of them as lions, leopards and mosquitoes.

Revenge is the word for the day. Death to Giraffes! Death to zebras! At least, death to a zebra if we could sneak up on one. Sean sleeps in as he did the serious shooting yesterday. Conor is out after eland with Maurius.

We head out and see a pair of Steenbok on a grassy hillside. We had seen one here the day before and now there are two. They stay in pairs in a fairly localized territory, so we may see them again. They are the size of jackrabbits and quicker. So, seeing and shooting the male is a little bit of a quick decision. We go on.

Lo, Dean and I head out and spot Mr. Z fairly early in the day, just lounging around in an opening. We sneak them, they move off slightly stirred up. We take great pleasure in the fact we see no giraffes anywhere. They must sleep in on cool mornings. Anyway, the z's head toward a more open area, cross it, then head to the bush. Clemons and Bongoni track them and we see bits and pieces as they graze ahead of us. Dean signals and Lauren creeps forward on here hands and knees. He is squatting and looking under the brush at striped legs about 125 yards ahead. He shows them to Lauren and the wiggle into a possible shooting stance and aim at an opening in front of the grazing zebras. There is a nice stallion in the group, solid looking, no phantom stripes on this Burchell's zebra. The trackers and I hold back about 30 yards. I can barely make out some stripes but not idea what part of the animal I am looking at. Bongoni likely sees every whisker and eyelash. The gun goes up, no shot. The gun goes down. Back up, no shot. Back down. Up, slowing looking at them – Boom!!!

Zebra's scatter like racehorses, except one running with his head down, like he is running downhill. We watch as he goes about 40 yards, disappears and we hear a crash into a tree. A real collision and the trackers are high- fiving. They say – Dead zebra!!!. I can't see it but they judge based on the noise. The other members of the group run off but stop somewhere and whinny back. No answer. That means dead zebra.

I catch up with Lauren, she is shaking, knees knocking, and she tells me she made a good shot – just like what we had practiced. Dean says she hit him right on the chevron on the shoulder, the spot where the stripes go from horizontal to vertical. This makes a little triangle looking chevron stripe and is a good target. Dean says – dead zebra. Lo gets hugs from everyone.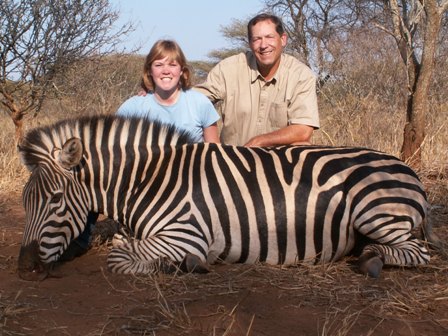 As we walk to the zebra, a bull wildebeest trots out, look at us – says – "shoot me if you can" then walks into the brush. Dean says to take him is we see him again. We weren't hunting wildebeest but had seen a few. Dean says they are hard to hunt and hard to take a nice one. From our trip to the RSA, Sean had taken a blue and black wildebeest without much trouble. I was under the impression that they stand around in large groups waiting for lions, leopards, cheetahs, wild dogs and crocs to eat them. They don't look too smart and don't seem too wary. Wrong. I come to find out that they are tough, travel in large groups and are rarely outsmarted. Lions, leopards and other carnivores have a tough time catching them and prefer impala and less robust game. Anyway, we think he is long gone, then he walks out again. I am ready, got on the sticks for a 125 yard shot; squeeze the trigger at the same time he turns to run. I miss. First time on this trip, but a clean miss. Good shot, but he turned while I was squeezing and he dodged certain death from the Hammer of Thor. Off he goes and off we go to track him. We go about ¼ mile and quit. He is trotting and not likely to stop according to Dean and the boys.

Back to the zebra – we find him piled up against a tree. Lauren made a perfect heart-lung shot and he went down quickly, for a zebra. Lots of pics. Lo names the zebra, same thing she did on the last one in South Africa. Lots of smiles and we load up. A real fine first trophy for my gun slinging daughter.

On the way to the skinning shed, we cross herd after herd of impala. Must be Impala Day at Wal-Mart. Anyway, after about 5 groups, I say- "Dean, any good ones?"

Dean – "Yes, but most of them only get so big here, about 21 inches. Look for spread and thickness to tell which one is big and which is not."

Me – "Ok, how about that one over there?"

Dean- "Shoot the big one on the left."

Me- "Are you sure?" By then, they run, jump, dance away. Bongoni gets of the truck and he and I put on an improvised stalk. We follow them and see the ram I am after. He ducks into the bushes emerges on the other side with girl impala and another ram. They are milling around looking at us, but not totally alarmed. The big one and his nephew cross back and forth, the girls do the same. They stop and all I can see are torsos and legs.

Bongoni says –"Shoot the dark one".

I say – "All I see is a chest, is that him?"

Bongoni says – "Yes"

I say – "Are you sure?"

He says – "Shooot him!"

I say – "Are you sure?" They hear or see us and bound off. Yep, he was the one we were after. Ooops, my bad. Now I am the goat in this scene. All is quiet back to the truck.

Dean says that it is ok not to shoot if you are not sure. I think he is saying that to make me feel better. Anyway, I decide to shoot a little quicker next time.

We see warthogs, we see more impala. At every warthog sighting, I am ready to shoot but Dean says he has not seen a real good one yet. They all look good to me. We bump more impala on the trip in. This time, we see a real good one – heavy, curving out from the head. Dean stops and we stalk. This one goes about 100 yards, stops quartering away from me and I take the shot offhand. He jumps up, drops and doesn't move no mo'. Good shot the boys say – they always say that when the animal is down, but I accept the congratulations. Sometimes it is good to have the ego stroked.

Nice impala, heavy, older, flaring out horns. Shot was perfect shoulder-heart-lung shot with a .300 win mag. Great pictures and lots of fun on this one. Impala are the cheapest trophy except for baboons, so I have fun with these. Into the truck with him and home for lunch.



We drop off the zebra and impala and find that Conor has been in. He and Maurius are missing the eland but have taken a big bush pig. Dean says that it is odd that our group has taken two in the daylight as most groups rarely see one, let along shoot one. They go right back out for eland.

Sean and Ben were in as evidenced by the kudu horns lying in the skinning shed. What a start to the day. The kudu is 50" + and a nice. Diane was with Sean on this and saw the stalk and hunt. The kudu was spotted along a semi-dry river bed, a short stalk was made and Sean made a perfect 100 yard shoulder shot. Down he went with out a problem. The kudu here are bigger than in South Africa and just as fun to hunt. I will hunt them if I have time on this trip as I took a nice one in South Africa two years ago.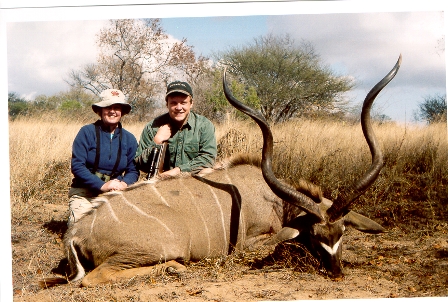 Diane has stayed in while Ben and Sean went back out. She joins us for the afternoon. Most days, we rest from noon to about 2:30 as the animals seem to bed down during that time and it is very hard to find anything moving then. If the weather is cool and cloudy, they may stay up and about a little longer. Bushbuck tend to be up at noon and in the late afternoon, resting in the morning and mid-afternoon.

Lo is still with me and we are after warthog enroute to a place to hunt kudu. Apparently the kudu in the area live near some hills above a semi-dry river. That is where Ben and Sean are hunting today. Conor and Maurius are on foot and after eland.

We head slowly toward the hills and pass the spot where we saw the steenbok earlier. Bongoni taps on the truck and points to the bushes. Mr. Steenbok has come back and is not running like a rabbit this time. We stalk him for about 50 yards, he takes off but stops – big mistake – I take him with a shot that nearly turns him inside out. The .300 is a bit much for a 5 pound Steenbok. The horns are nice, about 5". We take pics and talk about how little they are. I took one in South Africa after a long stake out and the jump and run shot. I made the shot of my life on that one – running flat out dead away and I snap shoot him in the neck with my .280. Great fun. There is a widowed steenbok looking for company now.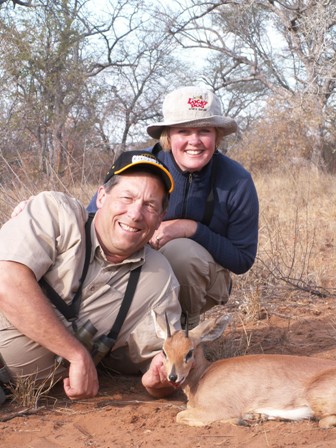 We head on out looking for kudu. After a couple of hours a looking at dozens of pigs, Dean sees one he says is a great one. I do not ask – are you sure? - I start after him with Bongoni. We tiptoe through the brush playing hide and seek trying to head him off before he finds a hole. He is with a female and a few little pigs. As he is headed into thick stuff, I take a 40 yard shot offhand and catch him in the neck. No spine shot, but caught the jugular vein and he "bled like a stuck hog". He dropped after a few steps.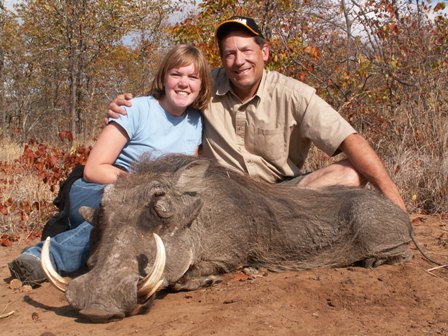 Seeing him confirmed the long tusks. What we did not know was that he was ancient. His teeth were worn, he was scarred and his skin hung in folds on him. He was losing weight and losing the battle with life. Dean and the boys were stunned at his condition. They felt he was due to go soon. Good one to take and a real nice set of tusks. I finally had the top trophy on my list – a dandy warthog. Into the truck and off for kudu. That is the best part about Lemco. Take one species and keep right on hunting with the chance to take several more. The best part of the day was that we did not see any giraffes.

About an hour later, we jump another group of impala. Again, a nice ram was in the bunch and I decided to take him. Out I go, stalk about 100 yards, and throw up the rifle – bam! No impala. What, a miss at 50 yards? Yes, embarrassingly yeeees! What happened to ol' Dead Eye?! Too casual and too confident. I did not take my time, squeeze and shoot. I just shot as if I were shooting a clay pigeon. Oh well, this impala is at least a little smarter. And so am I.

Darned if we don't keep seeing wildebeest while looking for kudu. Well, the heck with kudu, let's for after wildebeest. We stalk them several times, once to within about 20 yards when neither of us knows the other was there. We hear a snort and hoof steps. We had tracked him for a couple of miles and walked right up on a bull and did not know it. Blown stalk. This happened a couple of times until we found a bunch that were with zebra's. This time, I told Dean that if I get a shot at a zebra I will take it – made no difference to me – zebra or wildebeest. Well, as if on cue, the wildebeest got nervous and wandered off but the zebra did not. Bad for them, good for me. We stalked and snuck up on them until I had a 100 yard quartering shot. Sticks go up, steady rest and a zebra takes one in the shoulder. He runs about 50 yards and drops. Okay, the daddy can still shoot after a blow up on the impala earlier. Load him up and head in.

We stop several times to take shots at francolin and let the boys take shots. There are few near misses, but no hits. At one stop, I am about to shoot at a francolin and a jackal runs for cover at about 80 yards. I shoot quickly with the .22 mag with open sites and miss. Jackals are vermin to the locals and we are to shoot them on sight.

We all get in at dusk. Conor and Maurius are discussing a missed eland. Conor had a shot but missed. Not sure why, but they worked very hard to get up on a group of 5, one a nice bull. They played tag or hide and go seek all afternoon but never got a clear view. Con's shot was through the brush but not blood was found. They decide to pick up the tracks tomorrow.

Most of the time, if a track is abandoned at dusk, the trackers can go back to the spot and resume the tracking the next day. I am amazed that they can do this. The PH's all hunt the same way. Tracking is the key and they prefer tracking to spotting/stalking. They have more success locating the track, then following it to the animal or herd. They can tell the age of the track as well as if the animal is walking or running or trotting or milling around. I have no clue.

P.S. – No news from the lion hunters. I am glad I do not hunt lions.

Day 11 – the last full day –July 4, 2005

Now what? After yesterday, I am full up on animals except for kudu or wildebeest. Sean says he is done and has taken everything he is interested in. Lauren says she is done. Conor is still after eland. Me? I am here to hunt. Whatever is fine at this point. I am ready for bear (well, maybe not).

At this point, I have now landed on Life List Bird number 497. I started birding in July 1990 and started recording sightings, drawings, lists and whatever about birds in a notebook. I had traveled the world in my business and had the good luck to see unusual birds in places like Papua New Guinea, Colombia, Ecuador, Israel, Kazakhstan, England, Australia, New Zealand, Bolivia, Nigeria, South Africa, and now Zimbabwe. I have spotted about 80 new birds during the hunt. I will list them at the end of this narrative, but suffice it to say – I did not expect to add so many to my life list. Well, now, I am almost to No. 500. Dean is keen to help me get that one. For number 497, we see a Southern White Crowned Shrike, one of the many shrikes we have seen. N. 498 was a Red-billed Buffalo Weaver we saw in camp in one of the flowering trees, checking out the flowers for bugs. No. 499 was Groundscraper Thrush – a robin sized bird that has what look like black tear drops on its breast, mostly brown with the unusual spotting. As we rounded a corner and started down onto a low water dam, we spotted several birds in the backed up water, a Hammerkop, a Green Backed Heron, a Grey Heron, then we spotted no. 500 – a huge, gorgeous Saddlebill Stork. A solitary sighting, a stunning bird for No. 500 – the big bill with the yellow and red saddle across it. This was most appropriate for our family. When the kids were little, I used to read to them from a book of birds. The birds were from everywhere and we practiced identifying them. Most of them were birds from outside the USA, so I doubted they nor I would ever actually see Hoopoe's or Egyptian Geese, let alone a Saddlebill Stork. Now we have seen one. Bird number 500 for me and on the 4th of July to boot. What a day!!!!!!!!!!!

As it turns out, I end up at number 504 before the end of the day. I had started at number 418. Now at 504. My bird watching buddies will be envious.

Big weather change today – cloudy, drizzly and cool – temp in the 50's. A little nippy for shorts but I keep them on. The boys and Dean are freezing. They are not used to weather much below 65 degrees. The drizzle does not help. We decide to head to a new area to look for kudu, not far from where Maurius and Conor are looking for eland. Sean and Di come with me with Lauren going with Conor.

The cool weather has the animals up and about. We see lots of waterbuck, impala, warthogs, kudu cows, one eland, zebra, wildebeest, giraffe, duiker and steenbok. As we are moving to look for kudu, we make a couple of stalks on wildebeest without success. They are tough and I have no luck with them. We come onto some impala, a bachelor herd with about 10 rams; one is a dandy with slightly deformed horns. He is old, the horns are heavy and one turns out at an odd angle. I decide to go after it. Bongoni and I stalk it across several open areas before he bunches up with his buddies. Bongoni sees him and positions me to shoot. Again, all I can see is chest and legs on about 5 of them. He says – "shoot that dark one on the right". This time, finally, I just do what they say – bam!!! Down he goes with a neck shot. I never see him fall, just about 10 others jumping in twenty directions. Bongoni smiles and says he is down. Everyone comes up and we take pictures. The horn is odd but still looks good to me. Another nice, old male – much like the warthog, the sable and the bushbuck. I like hunting impala. They are fun, not to hard and remind me of whitetail deer. Lots of action and nice animal.

Into the truck and off again. We come up on a watering station for cattle and see Maurius truck parked and one of his guys skinning something. We stop and find that Conor has killed a very large Klipspringer – about 5 ½". Dean again says this is a dandy and we should be happy about it. I had never seen one, but they are a little bigger than a Steenbok and weigh maybe 10 pounds. They hang around rocky places and are very agile climbers. They had odd fur meaning the fur is more like that of a porcupine – the hair is hollow and falls out easily. The hair is very course and stiff also.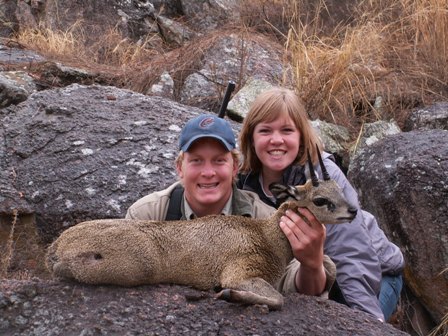 We build a fire in an empty concrete watering tank to warm up the boys and decide to have some lunch. Earlier, Witness had killed a francolin with a frontal brain shot (right between the eyes) and Bongoni and had killed one as well. I shot a dove and the boys took the liver out of the impala. The roasted all of this over the coals of the fire for lunch. We had our normal box lunch that we heated up on the fire as well. While eating, Dean had the boys pronounce some of the local words/names for the animals and other things. Most of them sounded funny to us as the pronunciations often included clicks and clucks. Diane taped Bongoni and Clemons as they pronounced the various words. We had a great laugh and lots of fun.

Then, a shot rang out close to us.

Then two more, then three more.

Conor and Maurius must have been closer than we thought. We had been shooting at francolin and doves with the .22 mag off and on for the past hour during lunch. Had we busted their stalk on eland? What happened? We started off in the direction of the shots after about 30 minutes to let things quiet down. We walked about ¼ mile and saw Maurius and a tracker standing in a road about 600 yards from us. They waved and we knew something was up. We sent two guys back to get the trucks and continued walking to catch up. Maurius had come to the road as well and everyone was all smiles. They had caught up to the eland from the day before finding the bull they were after. A careful stalk put Conor at 50 yards with a tight shot. He made it, the first one we heard, and the bull went off into the brush with a broken shoulder. Conor and Maurius ran after it and Conor made two more quick shots – all hitting the shoulder or just back of the shoulder. The bull kept going. Maurius took a shot followed by two more by Conor. Conor follows the Murphy Shooting Rule, shoot until it stops moving. Maurius tells us the story as we hike into the bush to the site.

Conor is sitting by the bull with one of the trackers all smiles and tired. He had hunted eland in South Africa without success and now, had success on the last day of the hunt. All of us were there to share the moment and take pictures. An eland is bigger than a buffalo, longer and more massive. What a massive animal. Another old one, horns worn down, a long hairy "ruff" on his forehead between the horns. We rolled it slightly to get pictures but it took all 6 men to get it moved. It took an hour to get it loaded/folded/crammed into the back of the Landcruiser. That truck groaned as it started out of the bush with an eland in the back. What a day for Conor!!! Klipspringer (little guy) and Eland (big guy). On this safari, Conor takes the prize for the most "pounds" of meat – a buff, giraffe, eland and sable. That is a lot of meat.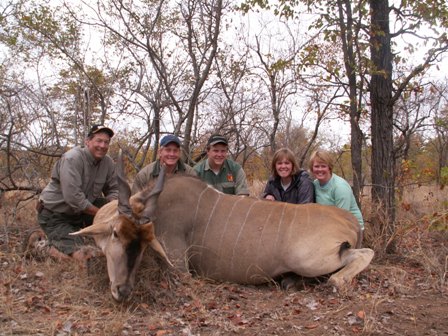 Conor and Maurius head in with the eland. Di goes as well. Sean and I decide to hunt out the last day looking for kudu or wildebeest. We cover a lot of ground but have no luck. We see wildebeest but no shootable kudu bulls. While passing a water hole, we see a black rhino heading into the deep bush.

Di and Sean had bumped one the first day at Lemco. The rhino had a baby and started moving toward the truck. Ben decided to back up, but the rhino was coming on anyway. Diane tells Sean to roll up the window. Sean looks at her – what, a rhino being kept out by a window or do you think the rhino will say – 'ma'am, please roll down the window so I can gore you". We all a big laugh at the thought of a window holding a rhino at bay or a rhino asking to roll down the window. Oh well, we thought it was pretty funny.

We call it a day and head to the barn. On the way, we see an aardvark. The third one Sean has seen and the first for Dean in 15 years. We get out and chase it. Seems they have lousy eyesight but a great nose. We get up close, it runs, not too fast, and is looking for a warthog hole to hide in. While running, it gives off a very strong, nasty odor that we run into a couple of times while chasing it. It was strong enough to cause us to take a breath and stop for a second. It was like a musky skunk smell and powerful. Mr. Aa found a hole but not a deep one. I reach in and grab him by the tail and give him a pull. He does not like that that digs in with all four feet. I let go and he commences to dig like a tied up gopher trying to get underground and away from us. He succeeds and I consider it a plus that I "counted coup" on an aardvark.

Day is done, we clean up, have a great dinner and retell all of the stories we can, hating to leave yet needing to leave. Ben has left as he has another client coming in tomorrow to Dande. Maurius and Dean have more clients later in the week. We have a long plane ride home to look forward to.

Final Score – Ross & Sons - 5 Baboons-2
The baboons have asked for a rematch in the future. No problem.

Day 12

Up to catch the charter to Harare. Pack, say our goodbyes to the boys and the camp staff. Leave tips for everyone. Go to the gift shop that Julia runs and buy the usual stuff – a skin map of Africa, coffee cups, coasters, a wooden bowl, a cane. We are not much on trinkets but like to have a couple of things from wherever we go.

The charter is the same plane the brought us down, same pilot. No problems on flight back, Di was the co-pilot. Saw lots of fallow farmland on the flight out, lots of dams to hold water, lots of highways but very few cars. At the airport, we cleared customs, checked bags with no problems. They check the guns this time.

Di and Lo traveled to Jo-berg with us, then went home via Zurich-London-Toronto-Chicago-Tulsa. We go Jo-berg-Atlanta-Tulsa, about 30 hours in all. The only surprise we had was when we cleared customs in Atlanta, the customs official wanted to see all of the guns. When mine was opened, it was loaded. Damn, I thought I unloaded it and the boys unloaded and we all checked and double checked our guns in Zimbabwe, but somehow, this one got by us. What a surprise on the lady customs officer face. I expected to be arrested or tortured and but in Guantanimo Bay prison. I acted totally pissed at the boys, blamed them and the Zimbabwe officials, begged forgiveness from the officer and kept on talking until the guns were re-packed and re-checked onto the next flight. So much for Homeland Security.

Got to Tulsa tired, Mama Wolfe picked us up. We lost a bag somewhere and it showed up two days later. No big deal and not problem. We took 3 days to unpack anyway.

P.S. Never heard on the success or failure of the lion hunters. All I know is that we were successful and I am glad I am not a lion hunter.



Post Script or Thoughts after the Fact

I just re-read an article I first saw in American Hunter magazine, July 2005 issue, about hunting in Africa. There were several sub-articles with one being about a buffalo hunt in Dande North. The main characters in the article were the author/hunter, Ben the PH, Bongoni the spotter, and Claudious – strikingly familiar names to us as we just returned from hunting with these guys. The story paralleled our hunt with similar descriptions and similar feelings. He was successful as well on a hard bossed bull in Dande North. I urge you to read that article for your own benefit.
Lessons Learned (in no particular order of importance)

1. Use an agent – They take care of details, provide advice, speak the "safari business" language and create/modify/coach the hunter's expectations. Answers most questions. There are many good agents out there. I contacted several – Wendell Reich (Hunter's Quest International), Jack Atcheson (Atcheson & Sons), Steve Robinson- (Kudu land Safari's), Ray Atkinson (Atkinson Hunting Safari's), Adam Clements (Adam Clements Safari's) and Cabela's. All were fine except Cabela's. I felt they were not really interested in helping me and had the fewest options for a family safari. I settled on Jeff Neal of Jeff Neal, Inc., because he lives in my city and I could hunt him down and kill him if needed. Plus, he knew the HHK people and the areas.

2. Use an experienced travel agent – I am an experienced international traveler having been to 40 countries and lived abroad. I used Stacey Gibson, Falcon Travel in San Antonio, as she handled a previous trip. She arranged tickets for my sons and me. I used Fran Clark of World Travel in Tulsa as she handled most of my international travel in the past for business. She arranged the trip for my wife and daughter to go to Europe, then to Zimbabwe to join us. An observation on travel agents – they know their business. The business is rapidly changing to where they do not earn the commissions they used to earn. Stacey is an agent for South African Airways and may not always have access to other carriers. She is a safari destination specialist and is very well versed in trips to anywhere in Africa, especially areas served by South African Airways. Fran handles nearly all airlines. Fran arranged for my wife and daughter to fly using American Airline frequent flyer miles to fly business class all the way to Zimbabwe and back with the exception of one segment. She also arranged a side trip to Rome. She charges $200 per ticket to arrange travel using air miles. This was well worth it. I did not ask Stacey to do this and do not know if she provides that service. Overall, the airplane rides were fine without hassle. One thing to remember – only 2 guns are allowed per case. I got to Atlanta and had to buy an extra case because I had 3 guns in one case. I think the Delta/SAA rep was wrong but lost the argument. The seats on SAA were fine. I am 6'3" and 250 lbs with sons nearly my size. We were uncomfortable, but not totally cramped in the coach seats.

3. Take small bills – I had about $4000 cash with me for tips and possible additional animal permits mostly in $100 bills. Next time, I will take very few $100 and the rest in $20, $10, $5 and $1 dollar bills. No one has change for a $100.

4. Take one rifle per person – I took two per person, a .375 H&H and .300 Win Mag. Not needed. The .375 H&H works fine and shoots well. I took a couple of .22 win mag lever action rifles for the scouts to shoot at birds. This was a huge hit and success. The boys burned up 300 rds of .22 mag ammo in no time. They managed to hit 4 or 5 birds.

5. Use premium bullets – I used Trophy Bonded Bear Claws and Trophy Bonded Sledgehammers. They all worked fine. We brought 60 rounds per hunter. This was fine.

6. Take no guns – rent them. I may do this next time. Taking the guns is a huge hassle as well as the ammo. If the PH has the gun I like (a Dakota or Model 70), I will rent his gun next time. I would fly through Europe as well.

7. Don't take gifts for the boys- use cash. I had taken t-shirts, caps, slingshots, knives for the boys on a previous trip. Too much hassle, cash is the universal language.

8. Use digital cameras – forget film cameras. Too easy to spend time and effort on film. Digital is the way to go. Take a lot of batteries. Leave the unused ones behind.

9. Use light weight bino's – 7x30 or 8x30. Leave the rest at home. I took 3 pr of Swarovski's- 7x30, 8x30 and 10x42. The 10x's stayed in the truck due to weight.

10. Take a Bird Identifying Field Guide – I am an avid birder and most of the PH's were as well. This was fun to do while hunting and the PH's enjoyed looking for birds as well as animals.

11. Do your homework on the area and the safari company – Spend time online, at shows and on the phone learning all you can about the area you hope to hunt, the PH, the safari company and the country you are traveling to. I spent a lot of time on this and was not disappointed. My expectations were slightly skewed due to my lack of experience with dangerous game areas/safari's/PH's but I learned quickly that the agent and the safari company represented the areas and the game expected correctly. References are a must and I recommend contacting several.

12. Be realistic in what animals you hope to see and hunt – I had the sights set on buff and sable with no real knowledge of the rest of what may be encountered. I learned that buff and other dangerous game are usually in areas not populated by large numbers of plains game. At first, I was surprised to see buff and baboons only for three days, then realized that plains game are in other areas. Be sure to communicate your expectations and desires with the agent/safari company/PH. I was worried, early in the trip, that I would not have a shot at plains game. After we took our buff, we changed areas and saw plenty of game.

13. Be realistic on your trophy expectations – A 40" buff is rare in the area I hunted, however, a large boss was the norm. We were happy with our large bossed buff with a narrower horn. Same for sable – 37" was the norm with 40" very rare. Be careful not to get bummed out if you do not see "record book" animals. As it turned out, my youngest took a 14' croc and 5 ½" klipspringer that were the best of the trip. The 37" sable my other son took required 7 days of intense hunting to take – so that was his "trophy". My best was a luck shot on a 17" Chobe bushbuck. We went on the trip with no expectations of "inches", but focused on "effort" to measure the trophies. The PH's were excited about the bushbuck, the klipspringer and croc due to size and effort.

14. Expect minor problems – They will happen, especially in Africa. Go with the flow, everything typically works itself out without a lot of screaming.

15. Avon Skin-So-Soft – This works on flies and mosquitoes. Tsetse flies seem to avoid it for about an hour, then attack. The mopane honey bees, a little sweat bee type of insect, do not like it. The mopane bees were the most annoying on my trip.

16. Generate a budget if money is an issue, then add 15% for unknowns – enough said

17. Pack very light – follow the many lists out there on AR website or get a list from your safari company. Do not bring extra anything except batteries, glasses and film. You can buy anything you need in the Jo-berg or Harare airports.


Birds Sighted (in order of sighting)

Tropical Boubou (pronounced boo-boo)
Southern Black Flycatcher
White Browed Sparrow Weaver – very common and very pretty
White Bellied Sunbird
Blue Waxbill – a bluebird looking bird with a pale blue breast
Little Bee-eater – very colorful and noisy
Black capped or Black eyed Bulbul
Green spotted or Emerald Dove – very common and everywhere
Long-tailed Starling – scissortail length tail, iridescent black
Yellow eyed or yellow spotted Canary
Jameson Firefinch
Lilac-breasted Roller – larger than a bee-eater but color like a box of melted crayons
Red-billed Oxpecker – saw on cape buff
Kurrichane Thrush- looked very much like a robin
Yellow Bellied Bulbul
Crested Francolin – shot some of these, larger than a quail but behave the same way
Crested Guinea Fowl – smaller than helmeted and fairly rare – black and white
Cape Turtle Dove
Grey Headed Parrot – never saw one sitting, always flying in groups
Red Billed Hornbill – very common and fun to watch
Crested Barbet- stunning yellow and red, like a blue jay with different colors
Arnott's Chat
White Crested Helmet Shrike
White Backed Vulture – very large and light colored, very common
Brown Snake Eagle – hard to id due to so many eagles looking alike
Dark Chanting Goshawk
Gaber Goshawk
Natal Francolin – red legs
Swainson's Spurfowl – like a francolin
Black Bellied Bustard – huge ground bird with stripped wings
African Hawk Eagle
Grey To-Away Bird – named for noise it makes and large top knot
Mottled Spinetail – the only easy to id swift
Crowned Hornbill
Grey Hornbill
Common Scimitarbill – long curved bill
Green Red-billed Wood Hoopoe
Arrow Marked Babbler
African Pied Wagtail
Meyer's Parrot – small green parrot always flying
Shelley's Francolin – rare
Double Banded Sand grouse – found near water in the mornings and evenings
European Roller – stunning
Chinspot Batis – black and white bird near the reeds
Scarlet Crested Sunbird
Little Egret
Cattle Egret
Green Backed Heron
Hammerkop – odd in that it kicks the muck to stir up his dinner
Fish Eagle – large like our bald eagle
African Jacana – like a mud hen but prettier
White Crowned Plover
Red-faced Mousebird – long tail like a cedar waxwing
White-fronted Bee-eater
Pied Kingfisher
Great White Egret
Marabou Stork
Hooded Vulture – smaller than white backed
Batis Chinspot
Western Banded Snake Eagle – Dean said this was very rare and he has not seen any, it was carrying a green snake as if flew by
Red-eyed Dove
Namaqua Dove – red wings
Southern Ground Hornbill – huge, turkey sized
Wire-tailed Swallow – long tail
Red-billed Helmet Shrike- red eye
Black Backed Puffback
Golden Weaver- bright yellow canary looking bird
Red-billed Firefinch – bright red throat patch
Jameson's Firefinch
Three Banded Plover
Blacksmith Lapwing Plover
Southern Yellow-billed Hornbill
Black Headed Eastern Oriole
Southern Pied Babbler
African Long-tailed Shrike
Grey Headed Bush Shrike
Golden Breasted Bunting – stunning colors
Coqui's Francolin
Giant Kingfisher – very large compared to other kingfishers
Gray Backed Bleating Warbler
Three Streaked Tchagra
Southern White Ground Shrike
Red-billed Buffalo Weaver
Groundscrapper Thrush
Saddlebill Stork – no. 500 and a stunner
Yellow Spotted Nicator