Who: Me (Brian) and my wife Becky
Beckyís parents, Paul and Susan (well seasoned world travelers and hunters)
Beckyís brother, Gary (one previous trip to Tanzania)
Beckyís sister Anne and husband Dan
Beckyís sister Debbie and husband Jason
What: 7 day cape buffalo hunt
When: September 23 Ė October 5, 2005 (6 hunting days)
Where: Lower Lupande GMA, Luangwa Valley, Zambia
Why: Need we ask?
Outfitter: Kwalata Safaris Ė Peter Chipman
Animals Taken: Cape Buffalo(4), Zebra(2), Impala(4), Kudu(1), Warthog(1), Bushbuck(1), Hippo(1)
Animals Seen: Elephant, Lion, Leopard, Crocodile, Hyena, Puku, Sharpes Grysbok, Waterbuck, Giraffe, Baboon, Vervit Monkey, Klipspringer, Common Duiker, Guinea Fowl, Francolin, Dove, probably others.

Introduction

This is the story of my 2005 African Odyssey. As many have reported on Kwalata Safaris and Peter Chipman in the past, my comments will center on my own experiences, thoughts, and observations. And thereís lots of them. This could be the longest thing youíve ever read.

It all began in January, the week prior to the SCI show in Reno. We were invited to Beckyís parents for dinner Sunday evening. Visiting them was Robin Hurt, his wife, and son Derek. They were in the states for the show, and came to visit with Paul to do some bird hunting and see his new trophy room. I had met Robin at my first visit to the show the year prior, but had not grasped his status in the circles of African hunting or even seen the movie. I was none the less excited to meet him. Paul had hunted with him a number of times and they have become friends. At dinner, the subject of a family trip to Africa again came up. Robin being there only encouraged Paul and his conspiring. By the end of dessert, we had tentative dates and location, Maswa. I remember it well, because this is when the wheels in my head began to race, and where my first African internet search began in earnest.

The subject of going to Africa had come up before, but my response had always been, ya, maybe in 20 years, but this time it was for real. I had imagined the opportunity to go could possibly materialize, but not so quickly. With the completion of Paulís trophy room, my fascination with and dreams of going to Africa were quickly being cultivated.

The SCI show commenced, but I was unable to go. Paul and Jason came back with trip plans and the job of convincing our wives was to begin. Unfortunately, a hunt with Robin Hurt, or his company, was no longer in the works. I soon realized that a trip for 11 with his organization would have been significantly more cost prohibitive than the numerous other options out there. The trip was instead planned with Dean Robinson, with whom Paul had done a rhino dart hunt in RSA the previous summer. They got along great, and Dean had a new area in Zimbabwe that seemed promising. My research efforts immediately switched from Tanzania to Zimbabwe.
I could recall the issues with a hunt in Zimbabwe. I reacquainted myself with news stories of confiscated farms and crazy Bob. It was not until I found AR after not too long on the internet, that my concerns with Zimbabwe were mitigated. But, as I eagerly searched for information on our outfitter and the area, I soon realized there might be more to be concerned with. I contacted Ganyana via email for some answers:

Zim questions
Ganyana,

I'm new to the AR Forums site and have been reading heavily of late. My interest in African hunting has spiked as my father-in-law recently invited me and the family on a safari this fall. He booked it at the show in Reno just a few weeks ago. This will be my first African experience, and though I have little to do with the planning, I'm trying to do my homework.

I have some questions that I wanted to take directly to you, as my searches have come up with mostly negative and I don't want to come across as the naive newbie on the forum. Our hunt is booked with Dean Robinson of Adventures Africa. The concession is the Charara Safari Area. I read with great interest and concern from the '03 threads "Are you part of the problem?" and "Dubious concessions". You referred to the area as a new government cash cow. Others called it "affirmative hunting." I've also read from Africa Indaba about shady deals in Zimbabwean concession allocation and army poaching in the Charara area.

So, I'd just like your up to date input on the situation. As far as our outfitter/PH, we booked directly with Robinson so there's no suspect agents involved. And though nobody on AR has mentioned hunting with him, my father-in-law (with extensive africa experience) hunted with him last year in RSA with very positive results. Charara is a new area for him, and he's very excited about it. The game is supposedly very plentiful, and hasn't been hunted for some years. I'm not sure what to make of that, especially if no hunting opened the door for more poaching.

I would love you hear from you that everything is on the up and up, and that the hunting will be terrific. Thanks for your help. You seem to be the authority, and I love the AR site.

And Ganyanaís response:

Hi Brian

Charara (main area) is a national parks concession leased to a consortium of Army Generals who just forgot to pay parks...

Dean is not a licensed PH in Zim, nor a registered operator, so he presumably has bought a hunt off the generals who will be supplying the professional hunter and necessary paperwork.

For your own protection you need to know who is the actual operator and be aware that you need to see and sign the TR2 form at the end of the hunt. The PH should also sign it.

Cheers ganyana

Well, that about sums that up. I did eventually e-mail Deanís wife and got the name of the two licensed Zim PHs weíd be hunting with. I still had concerns, but I was in no position to do anything about it, so I maintained my preparation with optimistic anticipation. A time or two during the summer, we got reports back that Deanís clients in Zimbabwe were doing very well.

In the meantime, things were happening behind the scenes. Our plans were not coming together as they should, and the fuel issues in Zim were becoming more of an issue. I wonít detail or comment on it all, as I was not privy to everything, but it culminated in the following email I received from Paul, :

"Subject: Africa trip on hold

Hi all! I just got a phone call from our PH in South Africa and he is recommending that we do not go to Zimbabwe this year. He tried to bring in a load of gasoline in order for us to have enough on our trip and it was confiscated. There is no gas available to buy.

I am looking to still go to another country at this time so keep doing all of the things I have asked. Possibly Zambia with people I have already been with and, in fact, where I got my huge buffalo. So sorry."

And my thoughts, as posted on AR.

Well, what can I say? Yes, our hunt was booked with a South African. He is reputable in our eyes, and I highly doubt this was an illegal hunt. It was to be held in a government concession controlled by one of the less than savory Zim generals in what was noted on a long ago thread as a "dubious" concession. Be that as it may, I don't know the details of that relationship, and in fact my days of AR education began after the hunt was booked.

I say anecdotal because I assume this experience to be an isolated incident. I can't imagine the hundreds of hunters yet to arrive in Zim being turned away for lack of fuel. Actually, there could have been other factors in the dissolution of our hunt. You all have been reading the successful hunt reports to date, so I don't want to take away from those and the excitement and optimism you might have for an upcoming hunt.

So the moral of the story is that when they say its best to book with a large, or at least well established safari company, it's probably good advice. I never imagined that this would rear its head in the form a MY hunt being canceled.

Complete thread, with comments from others including Ganyana on that situation:
http://forums.accuratereloading.com/groupee/forums/a/tpc/f/1411043/m/943102213

Update: I met Dean Robinson for myself this past January. He did seem to be a great guy, and I eagerly questioned him about what had gone on in Zim the previous year. As it turns out, it was a good thing we didnít go. A week or so prior to what wouldíve been our arrival, his camp was cleaned out by some bandits, leaving him with the clothes on his back and what equipment was with his vehicle at the time. Makes you wonder. We were told that because it was a government concession that it would be safe. Anyway, I also got to ask him about his deal with the concession. He says that he in fact purchased the concession and has the rights for 5 years or so. His partner in Zim is none other than the wife of the Zim Finance Minister, or some such chick with a similar title - I donít recall a name. Other than her obvious close ties to the Mugabe regime, I guess thereís no problem, right? Dean says heís committed to the area, and thinks that the operation will be more stable in the future, although he says itíll never be much of a money maker. He wasnít even marketing the location at the show. Weíll see how it goes, especially since Paul rebooked with him for 2008 Ė I guess heís really loyal.
So, sorry for the Zimbabwe detour. This is about our trip to Zambia. Although not confirmed until just a month out, our hunt did indeed come together. During the process, I heard the name Peter, and hoped that it was in fact Peter Chipman, as I had become fairly familiar with him through AR. I was elated to find out that we were booked with none other than Peter and Sarge. We went from sketchy to star studded. As it turns out, Paul had hunted in Peterís area a few summers prior, with Peter Swanepoel. Hunting with them was Sarge, an apprentice at the time. On that hunt, Paul got his lion, along with Bushbuck, Puku, Kudu, waterbuck, and an amazing buffalo.

Peter was able to fit us in last minute, and only one client was displaced by our arrival Ė another 7 day buffalo hunter from Norway, who was in good hands with Ron. The four of us hunters were to hunt 2x1 with Peter and Sarge. The trophy list menu was subject to availability, and dwindled from our first contact to the day of our arrival. We ended up with the following available, to be split between 4 hunters: 0 puku, 1 bushbuck, 0 waterbuck, 4 each warthog, impala, kudu, zebra, and hippo. The trip was mainly to target buffalo, and we had 4 secured, although they were acquired just for us, in addition to Peterís regular quota.

On to the hunt!

Day 1 (Tuesday)

We arose at 5:30, ate breakfast, and milled around some before leaving. We headed out just outside camp and set up to site in the rifles. One of the trackers chopped a bulls eye in the bark of a tree about 100 yds out. Interestingly, he was also our forward scout, running in and out of the picture (30 yds or so) between shots. At my turn, I took my spot on the hood of the Land Cruiser, horribly uncomfortable, and proceeded to barely clip the outside of the tree, right on up and down, but a foot left. I didnít know what to make of it except not to ever shoot off the hood. Peter volunteered to take a crack with my rifle and was the only one to hit the bull. No problem with the guns, off to go find something.

Gary and I went with Sarge north of camp along the river. Before long, we found ourselves in a veritable zoo Ė game everywhere. We saw impala, puku, warthogs, elephant, giraffe, and bushbuck Ė well, glimpses of bushbuck. They take off and run with much more purpose. I suppose they knew they were high on my list of priorities. Occasionally we paused to evaluate an impala or two, but found nothing to warrant distracting us from our pursuit of buffalo, our main target that morning. We never did find any, and it was soon too late to expect to find any not holed up in the thick stuff, well off the river and main roads. As Paul would possibly be hunting leopard, and I had zebra on my dance card, we went for a drive in the foothills to the east to find some bait. It was a fun drive, although the game was much less plentiful than down in the river valley. We found signs of a buffalo herd, but nothing worth going after. After an hour or so in our new surroundings, we came upon some zebra. I was on, since Gary already had himself a zebra from Tanzania. We made a short stalk and it was not long before the sticks were up. There were about 6 in the herd, out about 150 yards. As they crisscrossed through the brush, it was very difficult for me to get on to what Sarge was describing. We picked up and moved on for another opportunity. About the 3d time in shooting position, I finally got on one and put the squeeze on. CLICK!! Damn, forgot to chamber a round! Back to the chase. We had tracked them a few hundred yards before they moved faster, but toward the river. We let them go. Sarge knew weíd catch up to them in a better position, which we did about a quarter mile further. It wasnít long before we had a nice stallion out in the open staring at us. On the sticks, cartridge in chamber, and I shot. He took off and was down after maybe 50 yds. I was very pleased with the shot and excited to have my first African trophy, and first blood for my new rifle. I was impressed with the striping - black and white, no shadows Ė and surprised at how small he was. The hide didnít have too many scars, and the mane was tall. If a clock was on his chest, my shot wouldíve hit at about 10:30. Not perfect, but the 375 did the job. After some silliness trying to get him loaded we headed back for lunch.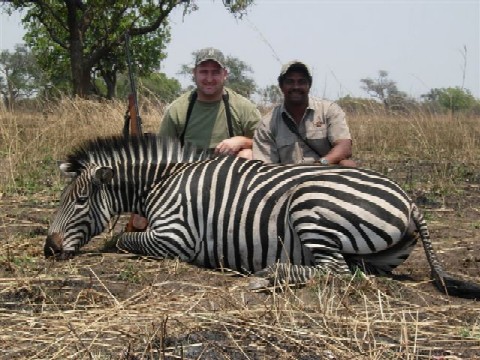 On the way back, we spotted impala again, this time one worth shooting. I was still on, and took Garyís 7mm. After a very short stalk, Sarge had me on the one we were after and I dropped him. The shot was perfect and I felt very good about it. The horns had good mass, and a slight turn out. He was old, and very nice for the area.

Back at camp for lunch and a nap. This was welcomed after the previous sleepless night. Gary and I again went out together in the late afternoon. This time we went well south of camp, near some of the villages. Sarge talked with a few of the locals. They reported having seen some solitary bulls in the area, so we parked and went for a walk. One of our trackers stayed with the vehicle, and one of the locals joined us for the walk. Our game scout was in rubber slip on dairy boots, and the local in flip flops. I donít know what all the concern is about safari footwear. We walked until dark, and didnít see a thing. I have a feeling on any given day, the locals have seen some buff, and theyíre all big!

An hour or so in the Range Rover and we were back at camp. One day down, not bad.

In the other vehicle, Jason got an impala in the morning, and they put out some of my zebra bait in the evening. Paul reminded Peter that he didnít want to waste any of the groupís time messing with baits, so Ron took over bait maintenance for the duration of the hunt. They only had about 4 up at a time, and never got any hits, so the leopard hunt never did materialize.
Day 2 (Wednesday)

We slept much better, but got up an hour earlier. This day I went with Paul and Peter and Tim, the video guy. We were out early enough to get a good jump on any buffalo crossing the road from the river. We went about an hour south of camp, well into the concession. We stopped at tracks on a few occasions. It was just neat to see the PH and trackers evaluate each situation. Finally, the decision was made to follow some tracks. We tracked, well, they tracked and we followed for about an hour and a half. It was all very slow and silent. The only game we saw was a couple of grysbuck escaping from a dry riverbed. I donít know if there was a male amongst either of them, but we moved on and pretty much ignored them, except that I kept looking back, trying to get a better view. We reached a point where I was not confident that weíd catch up to the buffalo. I guess the tracks had been lost a time or two, and we took a short break as the trackers circled to regroup and redirect our pursuit. Not long after that, we spotted the herd of buffalo. I didnít see a herd, but just the dark belly of one through the brush, but it was my first live cape buffalo sighting and I was excited. The wind was not good, so we swung out wide to try to get in front of them for a closer look and approach. The hunt was definitely on! We made it out where we wanted to be and just Peter and I, and the tracker Darius continued. We traveled only another hundred yards or so and the whole herd came into site. We were tucked behind a tree and a bit of a mound. Peter and Darius were sorting through the buffalo. I started seeing the numbers of animals and was excited and worried. I was concerned that it would be difficult to get on the buff I was supposed to be on, that Iíd have to thread a needle through the herd, and that if I did shoot, Iíd lose mine in all the commotion. In a nutshell, I saw all the difficulties I had imagined unfolding before me. Well, before long, like a minute or two, the sticks were down, and I came out from behind the tree. ďShoot that that one, right there:Ē Thankfully, it was obvious what my target was. There was an open corridor to him, and he was the only one in view. And what a view it was, he was very wide. I noticed the top of his head, or his boss area, was pretty narrow. I didnít see a velvety, round, bulbous boss, but it wasnít massive and knarly either. No time for nit picking, I settled in for a broadside shot and took it. It looked like a good hit, but he turned to take off, along with what now seemed to be a huge herd. But Peter had no trouble keeping an eye on him. The buff probably moved only 30 to 50 yards, and we repositioned ourselves. This time I had a shot on the opposite broadside. Whispers, ďwait, wait, wait, donít shoot the horns, waitÖ.shoot him.Ē Again a good hit and he turned and was down. We were very happy now. I hadnít noticed it, but Tim the video guy had snuck in behind me and had it all on film. Paul, Dan and the others had joined us. Peter said he first thought it was a big old cow, maybe the same thing I saw, but that it was a very wide, very nice buffalo. We slowly made our way to the downed beast. From 30 yards, he looked dead, but I put two more in him from underneath, between the front legs. He was awesome on the ground. Peter said he was the best shot in the area for the last few years, and estimated him at 44, maybe 45Ē. For the record it was 44.5Ē. The boss is in fact puny, and Iím sure most would label it as soft. He has what I think is a somewhat unique, but very good look. I definitely have room to get another with a different look, though I know 44+ inches may be hard to come by.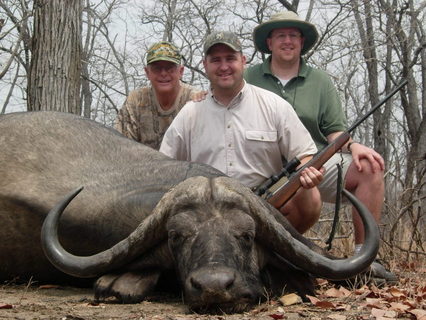 Paul, Me, Dan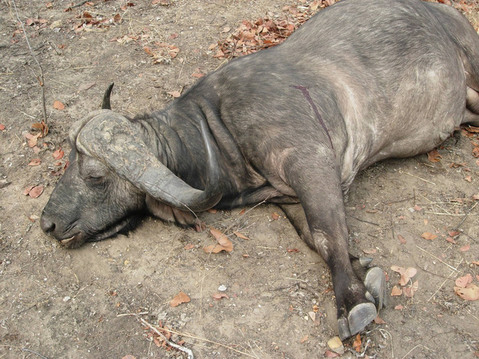 From the side.
We waited about an hour for the cruiser to arrive. The cleaning was something to observe. The only thing that we left behind was the grass from the stomachs. After the difficulty getting the zebra loaded the day before, I wondered how weíd get two buffalo halves up and in, but it proved to be no problem Ė guess we all dug in a little better. On the way out, we gut stuck in the sandy steam bed, but nothing a winch couldnít remedy. Also, while dodging branches over head, I reached out to clear one from my path, and came out with a couple dozen short hook shaped thorns from elbow to finger tip. As I lifted my arm, Tim let out a warning, but I didnít listen or understand. This was my first experience with a true thorn bush, although I donít know the true name. Tim obviously had experienced them before and could see my bloody fate coming.

We made my first trip to Peterís permanent camp along the river, and the skinning shed. It was a stinky place. I saw the day old skinned carcass of my zebra, and the sand pit for skulls and horns. I had assumed the skulls were boiled clean, but here they bury them for the bugs to clean. I guess it works, but it wasnít the prettiest sight. What was neat to see was a collection of the seasonís trophies being assembled for shipment. I saw probably a dozen buffalo skulls, and assorted bushbuck, warthog, kudu, puku, and waterbuck horns. I also saw a number of croc skins and a couple elephant tusks, including the one busted up by a poacherís makeshift bullet.

After lunch, our whole group got together to go visit one of the local villages. Peter had arranged for a crowd to gather and perform some dances and singing for us. We spent well over an hour there, mostly clowning around with the kids. Susan brought a Polaroid camera and was the hit. Becky and the others were taking countless digital photos and video. They all enjoyed seeing themselves in the small digital screens, and Becky obliged them after each shot. We handed out candy and some assorted balls that we brought from home. It was a fun, but chaotic time in the village. The people were happy but very poor. I am sure some of the women and children were in their best dress, but nothing that spoke Africa to me. More like refugee. I assumed that there would be some ornate native dress and culture Ė music and dance Ė but the songs, rhythm, and dance were simple and repetitive. I guess their culture is poverty.

Following the festivities, our hunting crew arrived with the hind quarters of my buff. Jason, Dan, and I loaded up and headed not too far to another village and dropped off the meat. I enjoyed seeing my efforts directly benefiting the local people. We stopped in a couple locations to check out some warthogs. Nothing of interest, but the terrain is beautiful. I really enjoy the low land adjacent to the river. We traveled with Peter to a place known for attracting lone mature bulls. We drove off road until dark without seeing anything. My bearings were totally off, especially with the overcast skies, and I thought we were in for a long trek back to the main road. Luckily I was wrong and in all the weaving through the grass and trees, we had circled back. Only the regular hour plus drive back to camp was ahead for us. One thing I enjoyed on our drive was the long grass. I saw the long grass construction all over, but this was the first location where we were actually in significant stands of the stuff.

As we passed back through another one of the villages, Peter stopped to talk to some of the locals, and he got an earful. Apparently those folks that he had told of our visit didnít pass the information on to all. In fact, they told them the wrong day. So a number of families missed out on the spoils of our visit, including some of the ladies that had taught the others to dance. They were pissed. Peter tried to be diplomatic, but we all just had to laugh. I guess the behavior of people doesnít differ all that much from home to the depths of the African bush.

On the way back, we spotted a critter that flashed in our lights just off the road. As we passed, I could see the silhouette of a hyena in the dim light. It was very pleasing to see another of Real Africaís creatures. The drives back to camp each night were really enjoyable, even as they were weary on our butts. I never tired of seeing the leaping impala, although I never saw what they were jumping over. I guess itís an evasive maneuver to escape the grasp of predators, and they canít help but practice it often.

It was overcast for most of the day, and by evening there were sprinkles in the air Ė a nice break from the 100+ degrees of the previous day or two. Sarge, Jason, and Gary got into a herd of buff, and even on the sticks a time or two, but no shots were fired. At least they got to work some animals and be part of the hunt.
Day Three (Thursday)

Back with Sarge and Jason. I began to be called ďgame hogĒ over the first couple days, so Jason was the man this day, and I was the observer. And it was a good day to be observing.

As we left camp at first light, a whole new world unfolded for me. The overnight spritz left an clean slate in the dirt, ripe for crisp clear tracks. I was oblivious to the amount of foot traffic that surrounded us, everywhere we went. The elephant tracks were everywhere, and I saw lion tracks for the first time. And of course, buffalo. No longer was I scratching my head each time we stopped to check something out. Again, we looked over a number of tracks before deciding to dismount our Rover and take of the spoor.

This was the first time I really got to see Sarge and his crew of Shadrek and Festo in action. We were following pretty fresh tracks at a good pace. Occasionally the group was separated by significant distance. This caused me to wonder if they were searching for tracks, or on separate trails, or just covering a broader swath of terrain. The overcast sky turned to drips and then sprinkles, eventually enough to wet the eyepieces on my binocular. I worried that the tracks we were on would be wiped out as fast as they were laid down, and for good reason. Luckily we came upon the buffalo before too long, an hour and fifteen after leaving the vehicle. There were two mature bulls. I assume Sarge identified the better of the two and Jason was on the sticks for a shot of under 100 yards. I donít know the exact angle he had, but he made a decent hit we thought. The two escaped immediately into some thick stuff, with Jason getting off a second shot I believe. We followed and got a single glimpse of the two of them lumbering straight away from us, with no opportunity to identify the wounded one. We wouldnít see buffalo for more than two more hours. The chase was on.

Sarge put on his game face, and I could tell we were no longer on a happy stroll through the woods. His 458 Lott was no longer flopped over his shoulder, but quite often shouldered in ready position as we went through intermittent brush and open areas. I was confident that heíd be ready should our buff appear in close quarters. We pursued for nearly an hour with few words spoken. The rain was just enough to clean the slate again for clean tracking, and it was dry for the rest of the day, and trip for that matter. After some time, I was beginning to wonder how long it would take to catch up to the buff. He obviously was not too hurt, although there was a point where the blood trail picked up considerably as he blew open holes that had previously dried closed. There was pink lung evidence, and just the fact that we new we were still following our wounded buff was encouraging. After almost a couple hours or so of earnest tracking, we took a break. Sarge explained what had been going on, and our trackers continued to sort things out ahead of us. We had lost the tracks a time or two, but a circle or two always got us back on. Apparently our wounded buffís buddy joined back up with him. So for some time Sarge and the trackers were following separate tracks. Sarge was confident with the way things were going. I guess two hours and a couple miles isnít all that much.

When we resumed tracking I, the method had changed. Rather than picking our way through each track, we advanced ahead at a faster pace, to a location where a straight line search could be used to again pick up tracks. In this way we were able to get out in front and catch a glimpse of our buff for the first time, albeit 3-400 yards out. We were up on some of the higher ground in the area. Both Sarge and Jason almost lobbed shots in an effort to slow him down, but didnít, instead taking off on a foot race. The fun had begun again. I couldnít keep up, and didnít need to. With a pursuit angle that wouldíve made my high school football coach proud, they caught up to the buff. He was moving still though, and was back in the thick stuff. At one point Sarge got of a quick shot that probably helped to slow him down. We finally caught up, all six of us (Sarge, Jason, Me, two trackers and game scout.) The final moments were fast and intense. I donít know who shot first, Jason or Sarge, but with the first shot the buff had had enough and turned on us. He was just across another dry streambed, partially concealed in brush, but it was clear when that huge silhouette turned. And thatís when the holy war started. Jason, Sarge, and even Shadrek carrying Sargeís backup 416Rem all practically unloaded, and for good reason. That thing just stood there and took it. He did go down of course - reloading wasnít necessary - and I never felt the need to join in the fray with the 300 I was carrying.

The group was elated at having finally dispatched this tough creature. He turned out to be a grizzled old bull. In contrast to my buff, this guy had a massive boss, with the look of a squared off military helmet. With up to a dozen shots fired, it was impossible to evaluate exactly what shot did what, or how well or not the original shots were made. It didnít matter though, as he was down, over 4 hours after picking up the tracks off the road. I wouldnít give back my buff hunt experience of the day before, nor would I purposely muff a shot in hopes of a more extended version of the hunt, but that was an awesome experience to be a part of.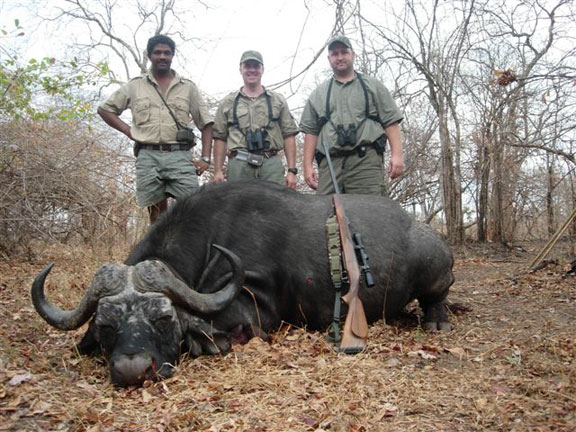 Sarge, Jason, Me
The trackers were gone over two hours bringing the truck back. We enjoyed the rest and reflection over an awesome hunt. Sarge and the game scout went to work on the buff. Sargeís knife wasnít very sharp, so I offered my 2 Ĺ ď Old Timer. It had a sharp blade, and believe it or not, after a good while, we had that buff in two pieces. Instead of the indiscriminate ax chops through rib and spine, Sarge surgically made his was around that whole buff, and all it took was a couple guys each on the head and hind legs, and we snapped it in two. I was impressed.

We finally had a truck to load him into Ė always a messy, strenuous job but we made it. On the way out, we had a bit of a flat. That was heavy load to be jacking up on uneven ground.

It was about 3PM by the time we made it back to camp. The girls had gone to Kafunta for lunch, and stayed for a night drive in the park. They came back with amazing stories and photos. The guys pretty much took it easy for the rest of the day. Gary got his buffalo in the morning as well. Sometime over the course of the first two days, Dan got his impala, and Gary also.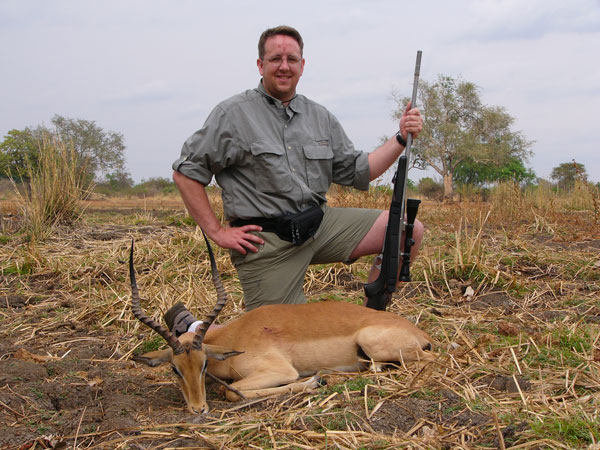 Dan's Impala - first blood, anything, ever!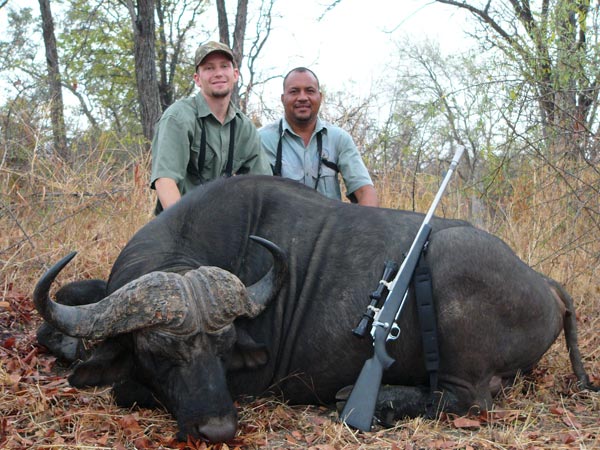 Gary's Buffalo, with Peter
This one is a beautiful trophy. I'd love to have one like him some day.Day Four (Friday)

Sarge, Jason and I again went out together. With both of our Buff in the bag, we were pretty much cruising for whatever target of opportunity that might come our way. High on the list were kudu and bushbuck, and all warthog received close scrutiny. Our vehicle had the green light this day for the only remaining bushbuck on quota, and before long Sarge stopped the vehicle and asked who was up. In Jasonís mind, it was a draw and thatís what we did. Thankfully I won the toss, rock-paper-scissors, or whatever it was we did.

Just a side not on the bushbuck. From the time of our original plans to go to Zimbabwe, bushbuck was high on my list of trophy desires. The Zim location was a rough DG area, and I knew there wouldnít be a plethora of plains game available there. So I had latched on to the bushbuck as one of the few probable trophies to be taken there. As such, I spent a lot of time researching bushbuck and the various hunting strategies associated with them. So I was real excited to go after one, and felt that I was deserving of the opportunity. But, as a 2x1 hunt goes, there was a 50% chance that I would not get that opportunity.

So out of the vehicle we went, having seen a bushbuck on the fringes of the cover. I caught a glimpse of him but he was off before we could get on the sticks. We put the sneak on through the area but couldnít locate him.

Back in the truck we were following the road along the river. It weaved in and out of various terrain. In another thick area, I spotted another bushbuck up ahead of us, not far off the road and less than 100 yards out. I was the first off the vehicle and had him in my sights immediately. Sarge followed with the sticks, verified that he was a shooter, and gave me the go ahead. He was tucked away in some light brush, which accounted for him still being in our vicinity. The brush was enough to give me pause, but Sarge said take him, so I did. I had Jasonís 300 in hand, I guess because we determined the 375 to be a bit much for a bushbuck. Anyway, I took the shot and the bushbuck took off. It didnít take long to find blood spoor, if not a distinct track through the leaves. I again was concerned that heíd gotten away, so we spread out, making our way slowly through the cover, which wasnít all that thick. After a few minutes of milling around, Shadrek summoned us over, as he had located our quarry. I found him still alive, but laying down head up tucked under a tree. I put another one in him quickly, and it was over. I found three holes for the two shots fired. The follow up shot was clear, but the original shot appeared to have definitely hit brush. As can be seen in the picture, a huge oblong hole was left just below the spine, behind the shoulder. And below that in the ribs, was another ding, presumably from a separated bullet or piece of deflected brush. At any rate, we got him. The horns are the most beautiful that I could imagine on a bushbuck, and measure 16.5 inches. His cape was pretty thin, with a lot of gray skin, worn free of hair. Iím not sure, but maybe he was in a transition period from winter to summer coat. I was very pleased with him.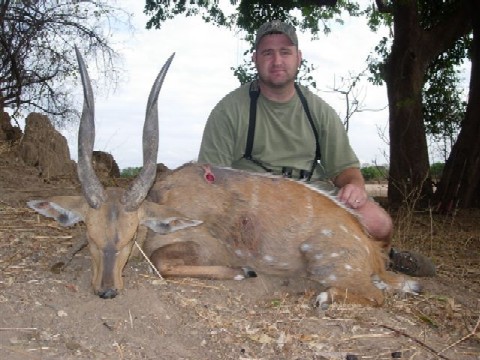 Jason got his Zebra on this morning. One unique thing about it was its hide on the butt. One of the stripes had a distinct offset in it, almost an inch shift where the hide was ripped and healed out of alignment. No doubt from a run-in with a lion. Very cool.

We met up with the whole group in a village to visit the local school. We dropped off some exercise booklets purchased in town for them, along with some pen sets and the requisite candy. It was nice to again spend some time with the kids, and see their humble school rooms. They sang their version of the alphabet song, and we shared ours. Paul and Susan made arrangements with Peter to fund a new roof for the school room.

Following the school visit, we all headed for the river for a group hippo hunt. Gary had decided that he wanted one, so we all went to watch. He along with Peter and Sarge made the stalk to the shoreline, while the rest of us held back. Within 15 minutes or so, they had one shot, and we all waited for it to surface. We had an informal pool for the exact time that is would come up. I think we were all too soon, as it took almost two hours. I was also surprised to see so little of him break the surface. Somehow, I envisioned a bloated beast floating down the river, half out of the water.

The hippo experience was a little weird. It felt like we were all in the stands at a horse race, bull fight, or something. The only thing missing was horsíderve and tea. I donít think Iíd ever take one, unless it was on land and I wanted to test my manhood, or on a lion hunt for bait.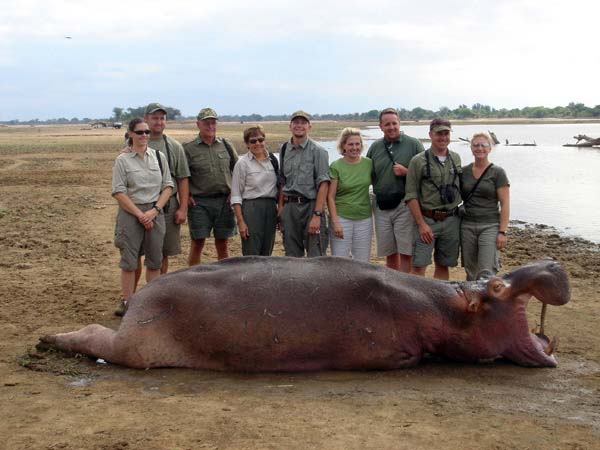 The whole gang. Local fish camp behind us down the river.

When we arrived back in camp around 3 PM, there was a huge bull elephant making himself at home. Paul was taking pictures and provoked a bit of a mock charge. We enjoyed watching him from the cruiser, and it was evident that no one was going to move him. He eventually made his way out, luckily through the staff side of the camp. Wow!!!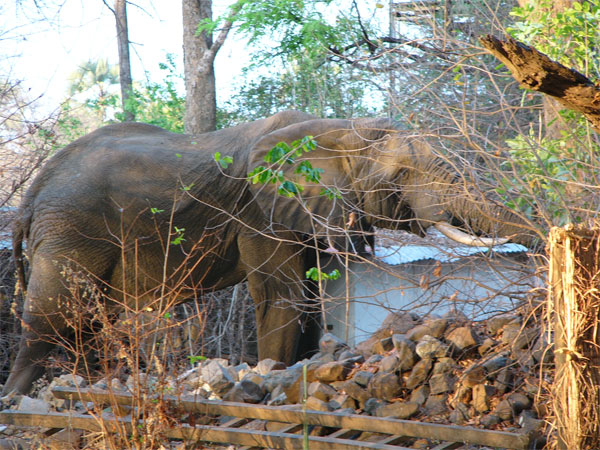 Day 5 (Saturday)

I had shot my share of game, and the girls kept raving about their daily activities, so I took the morning hunt off to spend with my wife. We went into the town of Mfuwe, first to visit Mayemís family. They live in a typical enclave of mud & thatch roofed huts. We again took pictures and distributed candy. Mayem has 2 kids and a beautiful wife. They seemed very happy despite their humble surroundings. Mayemís home was bigger than most, and he showed us with pride his collection of galvanized steel roof sheeting, hanging in the rafters of his thatch roof. You could tell he had bigger and better plans for his family. One thing that was interesting, he and his wife showed little affection. Either he gets to see her and the kids more often than I thought, or their culture is just different than ours.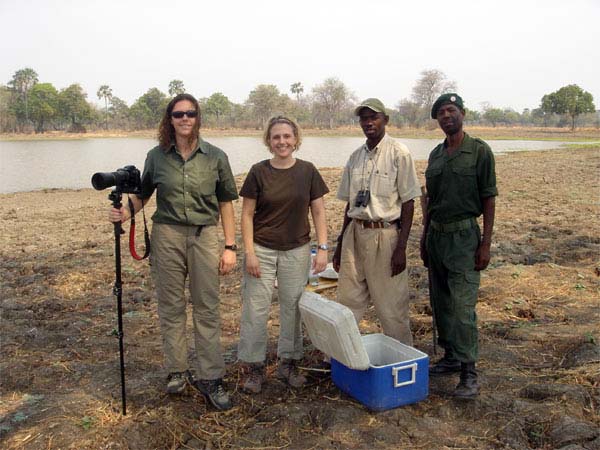 Becky (and her new weapon), Anne, Mayem, Gamescout
After this short stop, we continued to the Tribal Textiles manufacturing facility. This is the economic strength of the community, employing many locals in producing a very nice variety of products. We got to see the various production processes and took home a nice array of wall hangings, table coverings, pillow covers etc. Of all the junk, er, souvenirs and gifts we brought home, these textiles were the most well received.

Our last stop was well off the main road of Mfue. We witnessed the various farms and rural settlements deep in the heart of Africa. One small community was drawing people from all over as they gathered for a funeral. We saw toddlers being bathed by their older siblings, in water holes dug in the sand of dry river beds. We saw fisherman in the few remaining ponds, dragging their nets through the shallow waters for what mustíve been the umpteenth time. Our destination was a cultural village, set up specifically for foreign visitors to learn about and experience the daily life of a Zambian family. It sounded like a great concept, but it was no Disneyland. They have a lot to learn when it comes to catering to tourists. But we were polite and listened to what the care taker had to say. We got to see them making and eating a typical meal, and saw a game the children play in the dirt with rocks and a ball.

I enjoyed the time with my wife, but that afternoon the reality of our hunt coming to an end was troubling. I was anxious to get back into that bumpy cruiser, and spend some final time with our PHís and trackers.

While I was away, Jason and Paul, came across the only kudu bull of our group. Jason was able to take it. I only saw a digital picture, but it was very beautiful, although it measured well below 50Ē. I was so happy for Jason. It helped cure my guilt for getting the lucky draw on the bushbuck. Of course, if I hadnít gone site seeing, I wouldíve been paired up with Paul that morning and the kudu couldíve been mine. Then Iíd have felt really guilty.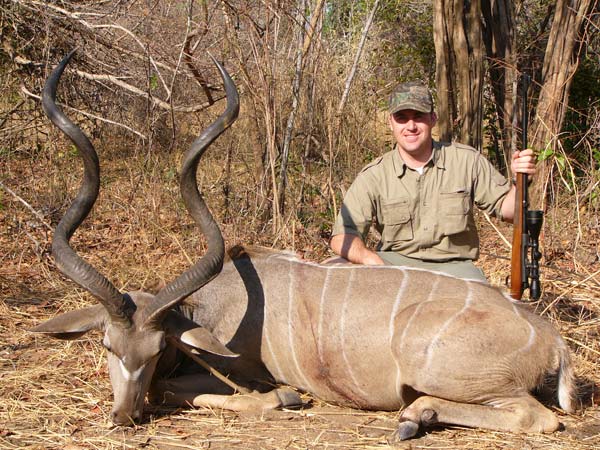 Jason's Kudu
For the afternoon hunt, Paul and I went with Peter for a drive into the mountains/hills to the east of the river. We saw a number of species for the first time, including duiker and klipspringer. We saw a number of female kudu, but still no bulls (at least for my eyes.) While on the narrow road in the hills, we were approached by a group of a 6 or so elephant. I was surprised to see them so far from the river. We stopped to let them pass, but it ended up costing us more than a half hour of the dwindling evening light, as they followed the road for quite a distance. As they approached, before I knew it, our tracker had a fire built next to us to encourage the elephants to keep their distance. It was only then that I realized why I saw so many small burn areas, especially from the plane coming into the hunting area. Try as I might, I couldnít spot any game from the air, just a lot of smoldering stumps.

We didnít really hunt anything that evening, but it was a beautiful trip. Paul spent the time talking to Peter about his safari business. One thing I have yet to mention, was the ice situation in camp. Pretty much the only time we had ice in our drinks was on the evening of our arrival. Apparently the ice box at the Tundwe Lodge was over taxed by our crew, and the best it could do was to keep our soft drinks and water bottles cold. The first few days were hot and muggy, and we went through a ton of liquid. I was never bothered by it, but Paul saw the lack of ice as unacceptable. And he wasnít shy about letting Peter know about it. By the end of the week though, Paul was explaining to Peter what kind of ice making system he needed to be investing in. Iím sure he tipped enough to make it happen, and Iíd be curious if Peter ends up taking Paulís not so subtle advice.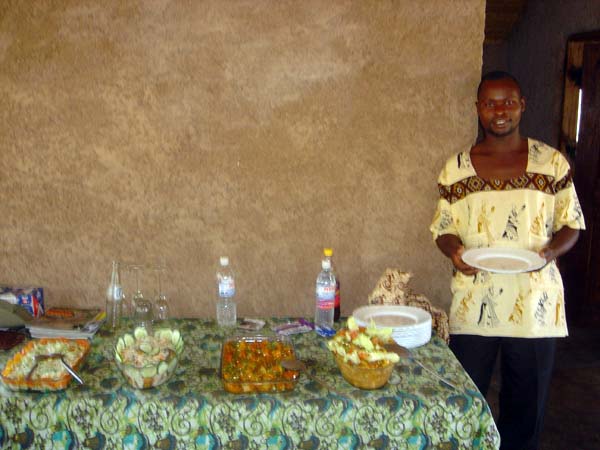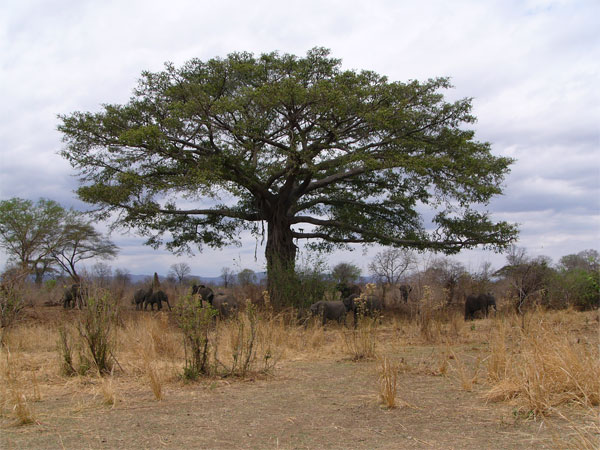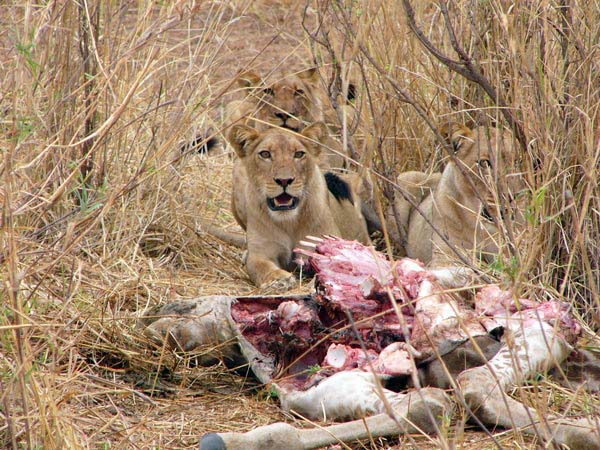 The girls came upon this lion kill of baby giraffe. They radioed to Peter's vehicle, but I never got to view them in person. 7 females and immature males!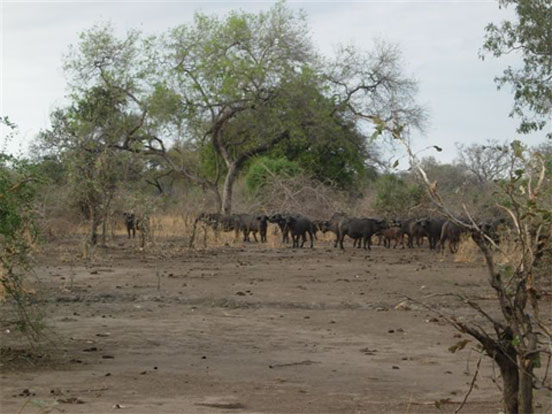 Day 6 (Sunday)

Our final morning hunt. I went out for the last time with Sarge and Jason. Jasonís wife came along this time, and the atmosphere was definitely a leisurely one. I paid special attention to every detail, knowing that it would be my last trip through the bush. I had given up on kudu, but not warthog! We again road along the river, in and out of brushy and open areas. Before long we found a group of warthogs with some potential. We made a short stalk and I took a 150 yard shot with my 375, and I missed! Another offhand shot at him running, and an even bigger miss. Iíve never shot at deer or anything while running. Itís hard to do. We gave chase from the open grasses into the thick stuff where he went. We didnít find him, but as we entered another grassy area we spotted a different group, with an old one worth shooting. I took my time on the sticks this time, and made a good shot. For the first time, I heard my bullet hit. Iíve always heard about this, but never experienced it in the handful of deer Iíve shot over the years. I think it may be that with a weekís worth of hunting and shooting, I finally was able to keep my senses focused, and not be temporarily incapacitated by the recoil and bang factor. Iím a definitely a better hunter and rifleman for having spent a week in Africa.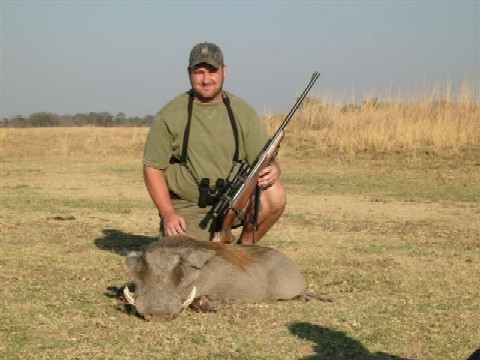 Warthog
We took the pig to the skinning shed, and enjoyed a cold drink in Peterís main camp. We were able to see a group of tourist types on the other side of the river, in the National Park. As I reflected on the events of the week, I knew they wouldnít experience what we had, and I felt very grateful.

CAMP

Our group stayed at the Tundwe Lodge. This is an old, somewhat run down, photo safari camp located about an hour north of the main camp, closer to the city of Mfuwe. The main reason we didnít stay in Peterís main camp was the size of our group. He has 3 client quarters (see Bill Cís report), where the Tundwe has 6 chalets. With our video guy, we had them all filled. I really enjoyed the location, with respect to the surrounding landscape. We were right on the river, and the road in off the main road passed by a lagoon. There was always lots of game to view on the way into camp. It is also situated in the part of the concession where the river and the mountains/hills to the East are fairly close. We had good plainsgame hunting near the camp, but most of the good buffalo hunting was near and even farther south of the main camp. I think it was a great arrangement for our group, but as a hunter, I wouldíve preferred to be in the hunting camp. One thing in particular, was being so far removed from the trophy processing. Half of the trophies taken by others, I was never able to see in person. Peter uses a sand/maggot pit for the cleaning of skulls and horns, so unless you were there when the trophy was dropped off, it was buried and gone. We also only got one recovered bullet from all the animals, a solid from Jasonís buff. I think had we been in more regular contact, we couldíve put the pressure on to dig a little deeper. I also liked the more rustic temporary camp facilities, and all the long grass construction.

FOOD

The food was plentiful and tasty for the most part. In addition to beef and I think chicken dishes, we had buffalo steaks and liver, and impala kabobs. The impala was my favorite. There was always a fresh vegetable dish which really hit the spot, as well as the meat and other hot stuff. There were also great appetizers and desserts.

TRAVEL

Travel arrangements for everyone but Paul and Susan were made through Kathi Klimes. I had given Susan Kathiís contact info and she was pleased with the good service and prices that Kathi offered. We flew redeye Sacramento to Atlanta on Delta, then ATL to Joíburg on SAA. Paul and Susan had made previous arrangements to use frequent flier miles through one of their regular travel agents, and flew Lufthansa through Frankfurt (first class no doubt), meeting us in Johannesburg. After 2-3 hours layover, we all boarded SAA for Lusaka.

In Lusaka, we were met by Kessy, the wife of Martin, Peter Chipmanís Kwalata business partner. She got us through customs and had our gun permits ready. We stayed overnight in Lusaka at the Taj Padmodzi. Prior to our 2PM Mfuwe departure, we did some curio shopping. We filled our bags, but we had opportunities at the end of the trip to buy more and better stuff, so I would avoid the temptation to load up too soon.

The only airline baggage issues when their bags trickled into Lusaka a day after our arrival. Apparently they got lost in the shuffle during the 12hr layover in Frankfurt.

Notes on SAA Airbus. First, we were lucky to have a South African friend of Paulís who used his SAA connections to get us the emergency exit Row 45. There were a lot of jealous folks surrounding us. Despite the generous legroom, the seats were not wider, and I had to contend with what I guess was an airbag bundled to the seat belt. My butt wedged into the seat with not a millimeter to spare. Once I got settled though, the flight was quite tolerable, and even passed faster than I had imagined. I would definitely fly SAA Airbus again, if that was my ticket to Africa. If I was planning and paying for the trip, I might still look into other options.

Note on Wild Travel. Kathi was very good to us. As our travel plans for Zim were wavering throughout the spring and summer, and some of our wives still questioned whether theyíd be able to leave there kids for 12 days, Kathi patiently kept extending our reservations. As time was running out, she went out of her way to make sure our tickets didnít fall through the cracks, contacting both Susan and me. All this was just prior to her leaving for her own trip to Africa. We will definitely use Kathi again.

GUNS AND EQUIPMENT

Iíll give you a rundown of the firearms we brought, and some of the additional equipment I in particular took along.

Paul originally assured us that we could borrow guns from Deanís camp, and that we neednít purchase additional rifles for this trip. I of course wasnít convinced, and wanted to take a little more ownership of my first African buffalo hunt. I educated myself on AR about the proper firearm for a first time buffalo hunt, and checked most all of the local gun dealers looking for something of interest and affordable. Anything 375 or above is hard to find in No. Cal., so my options were few. The new Winchesterís and CZís available did nothing for me, but I did find an old (1985) BRNO 602 375 H&H on consignment in one shop. It had some character and was $2-300 cheaper than the new versions. After much reading, shopping, and anticipation, I took the plunge. It wasnít until a few days later that my wife found out about my purchase, and it didnít go well - a little too much for my 2yr old marriage to handle. Iíd suggest discussing such things before hand!

In keeping with my low budget, I topped my new gun with a Leupold VX-1, 2-7. It has performed fine for the few rounds Iíve inflicted upon it, and Iím happy with the combination. In contrast to those who so often report on AR of hundreds of practice rounds and trips to the gunsmith to make their weapon ďsafari readyĒ, that just wasnít in the cards for me. I mounted the scope, and over two occasions, shot less than a box before departing for Zambia. After sighting in, I did shoot a 3Ē, 40 yard group, rapid fire and offhand to make sure the thing cycled properly. It did, so I was good to go.

In addition, we had in our group Paulís 375 A-Bolt stainless, Garyís 7mm RemMag A-Bolt, and Jasonís 300 WinMag Model 70. I guess you could say we are not a group of gun snobs.

As far as optics go, I brought along my Leica 900 SRF and 8x32 Nikon Venturers. I debated taking a rangefinder and didnít use it much if at all. My Nikons were a new purchase, researched here on AR. I found them as refurbished at one of the online NY camera stores for under $500. The Nikonís are great, but no glass can compensate for the dust, sweat, and rain combos I experienced daily. I packed a ďlens penĒ and tried to baby the lenses to keep them pure, but what I needed was lens paper and water to get a good cleaning.

We, especially with the women, took all sorts of other crap. Despite Peterís area being truly wild, ďreal AfricaĒ, the conditions were pretty benign. To each his own on what to bring, but I think simpler is better. For instance, I brought the only soft rifle case, and never used it, and the amount of survival/first aid stuff we came home with was astonishing.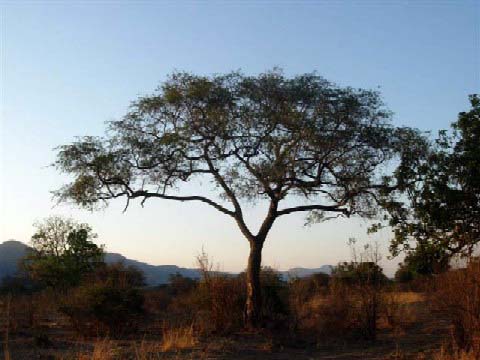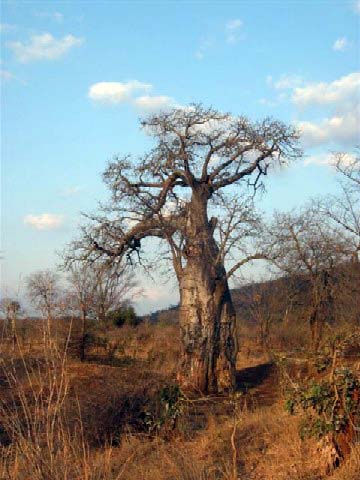 ē Whether it is just part of longing to be back on safari, or an actual lack of pictures, I will definitely be more diligent in picture taking next time. I need more of a photo journalist perspective. My wife was the photographer, with the exception of my trophy pics and the occasional nature or people shot on my pocket digital. I took for granted that sheíd get a lot of the pictures Iíd want, but she didnít have my perspective. Next time, I want to hunt with a camera in addition to my rifle. There is an amazing amount of satisfaction that comes from a well executed photograph, and Iíve never been a photographer. Africa is very inspiring, and its beauty can make artist out of most anyone with a camera.
ē As we filled out our paperwork on Sunday, our Day 6, I learned that our licenses were to expire that day. I thought that we were leaving early, and couldíve hunted another day had we wished. Donít take for granted what constitutes a hunt day and a travel day. I donít fault Peter and his interpretation of such. We arrived in camp on Day 0 at dark, so I donít think anyone would call that day one of a seven day hunt.
ē Paul didnít shoot anything the entire week. But donít feel sorry for him. He spent an extra few days with Sarge in the Kafue, shooting both Kafue and Black (or Red) Lechwe and a Tsessebee. Actually he went to both Kafue and Bangwelu (sp?) No luck with Sitatunga though. So he was able to add to his collection, but it didnít stop there. From Africa he flew to Europe and met up with a friend for a Tajikistan Marco Polo hunt. He was very successful, getting a 65Ē trophy. He can be seen as the poster boy in most of the recent Shikar Safaris literature and advertisements.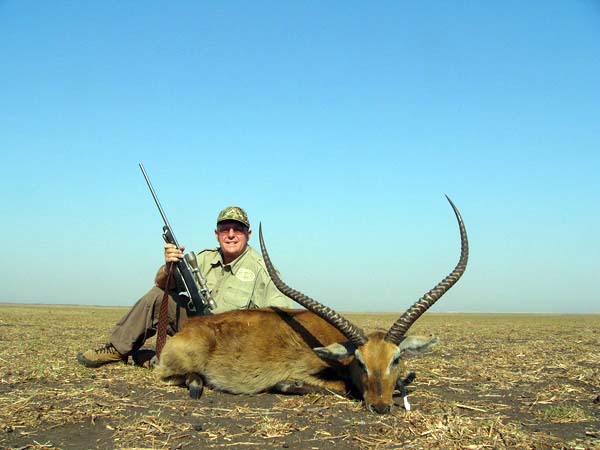 Kafue Lechwe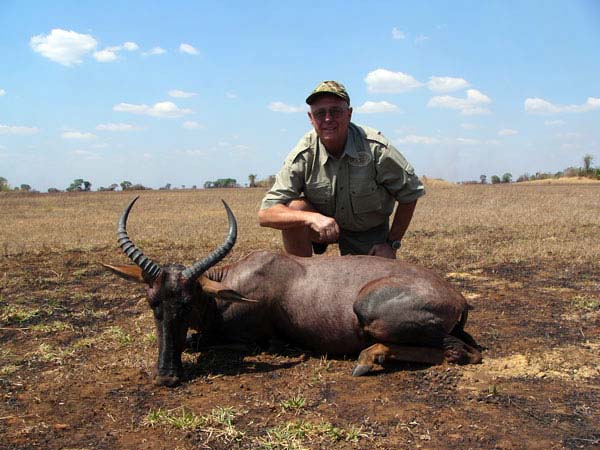 Tsessebe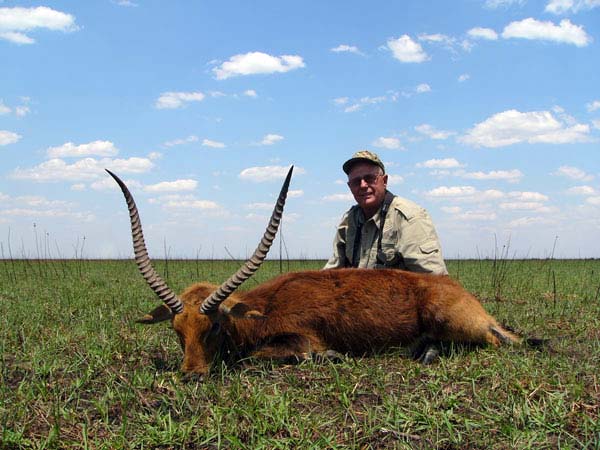 Red Lechwe

ē We arranged a trip to Victoria Falls, pretty much on the fly. Star of Africa was used for the charter from Mfuwe to Vic Falls and back to Lusaka. We had hoped to leave Sunday afternoon, but the charter didnít arrive in time for a daylight flight, so we rescheduled for 6:30 AM and stayed another night. Instead of returning to our camp of the last 6 days, we arranged to stay the night at Kafunta River Lodge. The girls had a lunch and siesta there earlier in the week, but not the guys. It was a nice change from the hunting camp. We ate out on the patio built overlooking the river, with all the requisite sounds of Africa. We mostly saw hippos, but the girls saw a leopard on the far side. They have flood lights that almost reach to the far side of the river. The dinner was exquisite, and the accommodations were incredible as well- king sized bed, ceiling fan, mosquito net that didnít suffocate you, standing oscillating fan. You can tell the photo safari tree hugger types get treated well. If I return for a mixed hunting/touring trip, a lodge of this caliber would really be nice.
ē Victoria Falls was awesome. The flow on the Zambezi was very low, so we got a view of the fall that many do not. It was not as spectacular, but you could actually see, instead of being enveloped in the mist. We stayed in the Zambezi Sun. It was nice, and we overate in the buffets. We also came across a group of young Italian gals doing an adventure trek across Africa. Most of them were lookers, as it was a made for TV event, or maybe we had just been in the bush too long. At any rate, we sure enjoyed the day and a half of leisure and luxury. We were met in Lusaka by both Peter and Sargeís wives. They were both equally as great as their husbands.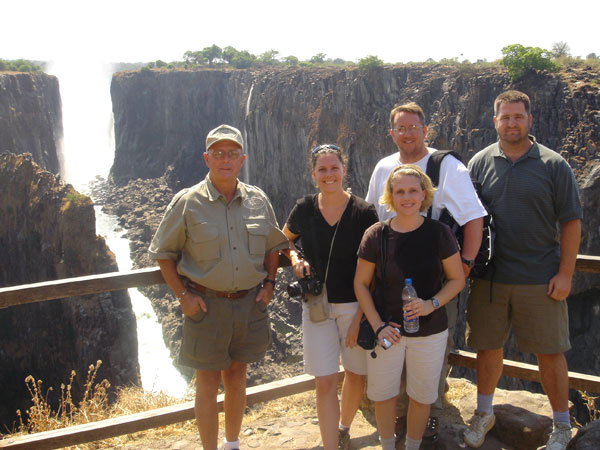 Victoria Falls