Eastern Cape province
Area: we hunted different concessions from the coast near Port Alfred north to Tarkastad.
10 days 1:1, 17-28th march 2006
Outfitter: Safari International (Russell Lovemore of Hunts for Africa have teamed up with Larry McGillewie of Outdoor Adventures).
PH: Russell Lovemore

General information:
This was a great hunt with a well-run operation. My African experience is limited to three trips, but this was the best so far. Everyone involved went that extra mile to insure our satisfaction. It was a pleasure to shear these days with PH`s, trackers, skinners and camp staff. We hunted hard, 10-12 hours a day and it really paid off. The hunt was a combination of spot and stalk, and stalking through areas Russell knew was good for certain species.
We were the first clients this year, which probably meant that the animals was a bit easier to stalk. The weather was comfortable with 22-28 degrees Celsius (one or two days close to 35 which was HOT). Not much rain, but a couple of showers.

Animals taken: eastern cape kudu, cape bushbuck, cape grysbok, vaal rhebok, southern mountain. reedbuck, southern bush duiker, blue duiker, cape springbuck, black springbuck, white springbuck, black wildebeest, oribi and southern impala.

Animals sought, but not taken: none.

Rifle/load: Schultz & Larsen .30-06sprg., 165 Hornady Interbond.

Other information: my friend Olav hunted with PH Ian Hendry and also shot 13 animals.

We arrived by midday on the 17th, and managed to zero our rifles and head out for a short evening hunt. We stalked to appr. 50 yards of two mt. reedbucks 500 meters from camp. I had the crosshairs on a beautiful ram, but the female was standing behind him and he moved away first. I also saw some kudu, duikers, baboon and a couple of barking bushbucks so it was very promising indeed.

Day 1:
We spent most of this day looking for kudu in a good area 1 hour from the lodge. Saw 12 bulls, with 1 or 2 shooters, but couldn't close enough. Got my chance on a common duiker, but couldn't steady my rifle for that 120-130 meter shot. This was a very hot day, around 35 degrees Celsius, especially when you're crawling around in the bush.

Day 2:
Hunted on Russell's own farm today, which is a pretty open area, were springbucks and black wildebeest roam the grassy plains. There are also thickets there, and in one of them we found a kudu bull. Eventually he disappeared before we could see him well enough to judge the horns. We went of to try our luck at a cape springbuck that we spotted lying down. Stalked behind a termite mound, which brought us only 60-70 meters to the resting buck. My PH tried whistling and shouting to make him stand up, but he only turned his head from side to side. Eventually I shot him lying down, and he never got up. A pretty old ram, with scars from a battered life: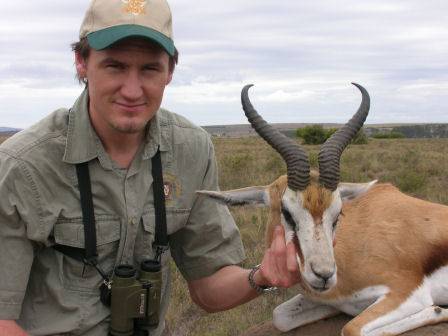 After skinning we went off to stalk a big herd of black wildebeest. The should change the name of these animals to crazybeest or something. They were running around like h... when they knew something was wrong, but after a while they came close enough for a 200 meter angling shot at the herd bull. He ran almost 200 meters before falling over: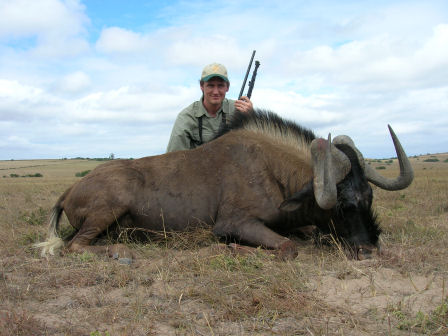 We did try our luck after bushbuck, but only saw 1 or 2 males, but 6-7 females together so we knew they were there somewhere.

Day 3:
Early this morning we spotted a group of impala, with a great buck. After a short stalk we got into appr. 70 yards, and he dropped instantly to a shot on the shoulder. He measured 25 1/4":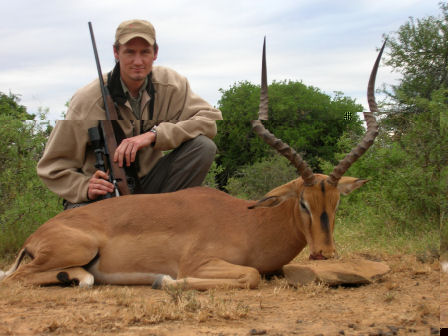 A little later we found a couple of kudus, and get within 250 meters after a long stalk. I'm having a hard time getting the crosshairs steady enough.. When the bullet leaves the barrel I know it was a bad one.. But the bull drops like a sack. When examining the bull we can see that the bullet entered right under the left eye, exiting out the ear.. Not a good feeling even if the animal is dead. I have no good explanation, except a terrible bad shot from my side. 43 1/2" is still a decent cape kudu: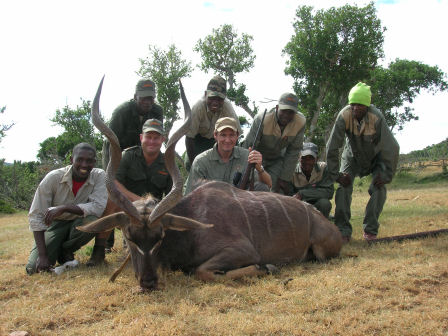 On the way to camp we spots two bushbuck from the vehicle. After waiting for appr. 45 min, the male comes out of the bush and drops from the shot. A dark, old cape bushbuck is a real beauty: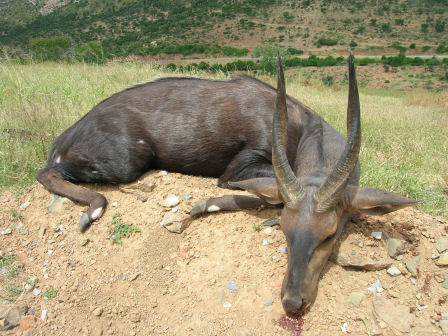 Three animals before lunch! Wow.. And there are still many hours left of this day, which we use for mt. reedbucks. We're spotting 3 different groups, and all contains a good ram. We blew the stalk on the two first groups and almost on the last as well, but the ram is the last to know something is wrong and a quick shot puts him down: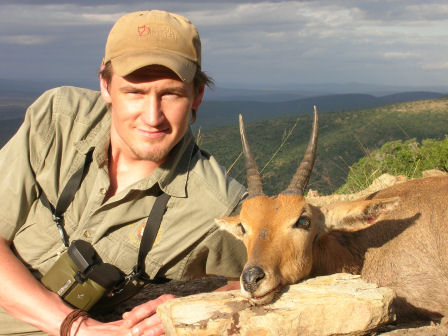 Day 4:
We're leaving camp around 7 o'clock to drive a few hours to an area with black and white springbuck. First off is the black version. After a couple of hours trying to get close, with biting mosquitoes, we get a good one at 200 meters. A pretty old one: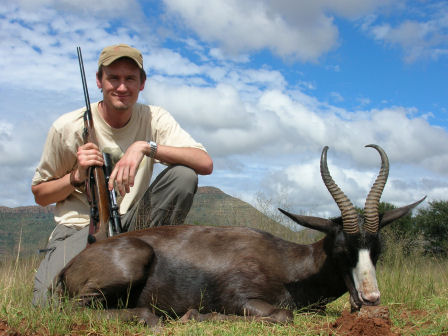 The weather is getting worse, and it looks like we're gone get hammered any time. We're driving like crazy to reach an area were they have seen some good white ones. Tomorrow we're off for vaal rhebok, so this might be the last chance. We find a group, just as the rain starts.. After 20 min my quest for the different springbuck is over! This is also the biggest white springbuck they have ever shot in this area: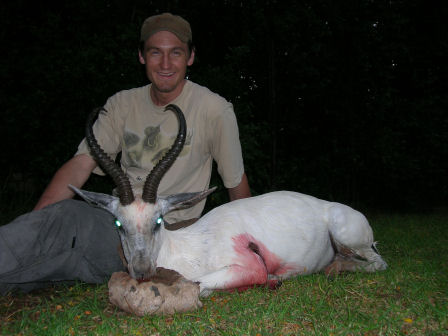 Day 5:
Our vaalie hunt area is close to Tarkastad, with mountains up to 7500 feet above sea level. Through the day we spot 6 different groups, but they are hard to stalk. They've got some eyes! Compare them with 15x Swarovski and you're probably close. I get my chance at 260 and 400 meters, but both shots are clean misses. Not a good feeling. There aren't many different species up in the mountains, but this is a very scenic landscape!

Day 6:
We`re trying as hard as we can, but can`t connect with a ram. We leave the area about 13 o'clock because we're gone try for a grysbok this evening. We'll be back for the vaalie later in the hunt. Stay tuned!
The grysbok is a interesting and different hunt, using a flashlight and vehicle at night. I had thought about the ethical aspects for a while, but decided to have a go, which I'm really glad I did! The fourth grysbok we spots allows us close enough for a shot. I borrowed a .223Rem to avoid extensive damage. It's a beautiful 3" fellow: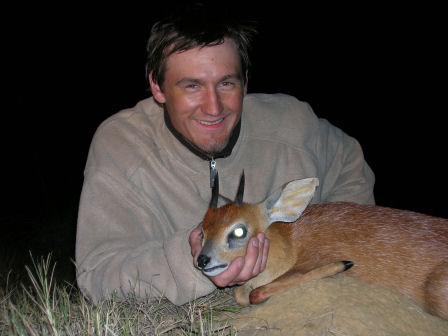 We saw a small spotted genet as well, but they had no permits at the moment.

Day 7:
Blue duiker and oribi day!
We're hunting close to the coast line. We hunted the blue duiker with beaters and dogs, using a pump action shotgun with no 1 pellets. On the first beat one blue duiker passes by without me being able to see it. They are quick! The next beat is a lucky moment. Pretty quickly I can hear hoofs traveling trough the dense undergrowth. Safety off, there he comes.. Bom-bom-bom.. I get him on the third shot.. And what a "monster"! We're measuring this little fellow to 2 4/16":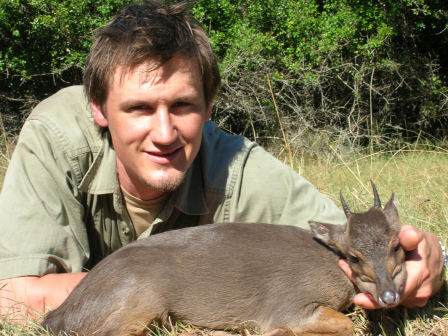 After lunch we're out looking for oribi. Hadn't actually planned to hunt these ones, but when they told me they had one license left I decided to try. There were many of them around, and I eventually got one, after missing one. I also managed to wound the one I eventually got, so the evening was a bit stressing. But, it's in the salt now!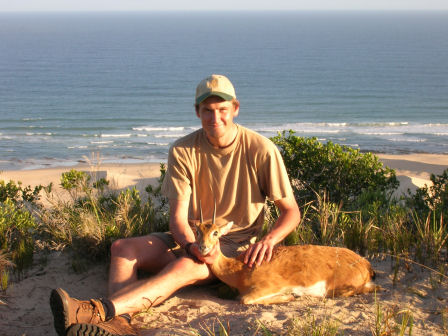 Day 8:
After several days of pretty hard hunting we decide to sleep a couple of hours extra and then visit a taxidermist, The evening is spent looking for duiker, and we get one we had seen a few days earlier. And a good one too, 5 5/8:

Day 9:
We're off again looking for vaal rhebok. Around 11 o'clock we spot a heard lying down under a big rock hammer. We crawl and stalk as careful as we can on top of the boulder. At first we can't relocate them, but then we hear the whistling sound of their alarm call.. Then we see them. Their keen senses has already brought them 220 meters away. And they will not stay around for a long time. I'm having trouble finding a good position, and Russell is getting nervous. "They will move pretty soon", he says. Bom! He's down and he's mine! Handshakes and BIG smiles all around: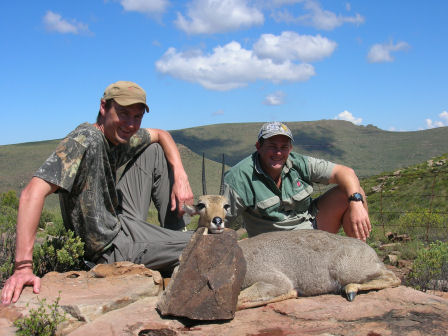 Day 10
:
Last hunting day! We're out a couple of hours looking for steenbok, but I'm more than happy with the hunt. And my budget is way off anyway, so I suggest we spend some relaxing time in camp, and get to measure our trophies.
Summary
:
A GREAT HUNT! I can really recommend this outfit to anyone! Please feel free to contact me if there's anything I can do or answer. I might post some other pictures of the area, camp etc. as well, if anyone's interested.