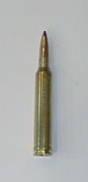 7MM STW LONG RANGE TARGET LOADS
The following loads were developed in a HALL Giant actioned rifle, with a 29-inch heavy barrel from HART. Jewel trigger and LEUPOLD 24X BR scope in JEWEL live center rings in KELBLY bases. The chamber was cut with tight neck, and the REMINGTON 8mm cases were sorted and match prepped, then neck turned down to allow about 0.001 thou clearance around the circumference of the neck.
All bullets were molly coated, FEDERAL 215 primers provided the ignition.
All groups are 5 shots at 100 yards.
POWDER

VELOCITY

GROUP

BULLET

85.0 WMR

3824

0.315

SIERRA 100 HP

86.5

3895

0.740

88.0

3971

0.352

89.5

3992

0.139

91.0

4089

0.922

92.5

4158

1.161

78.0 RELOADER 22

3423

0.231

80.0

3575

0.262

81.5

3636

0.466

83.0

3739

0.387

84.5

3797

0.210

86.0

3950

0.336

87.5

4017

0.677

89.0

4082

0.663

85.0 H1000

3635

0.327

NOSLER 120 BALLISTIC TIP

86.5

3696

0.654

88.0

3799

0.646

77.0 WMR

3395

0.633

78.5

3455

0.353

80.0

3500

0.485

81.5

3605

0.398

83.0

3651

0.905

84.5

3755

1.135

86.0

3802

0.933

77.0 H1000

3193

0.335

SIERRA 130 GR MATCH KING

78.5

3253

0.198

80.0

3376

0.370

81.5

3411

0.580

83.0

3500

0.586

84.5

3625

0.298

73.0 RELOADER 22

3209

0.295

SIERRA 150 GR MATCH KING

74.5

3253

0.323

76.0

3268

0.506

77.5

3373

0.337

79.0

3433

0.586

72.0 RELOADER 22

3067

0.400

HORNADY 162 GR

A-MAX

73.5

3135

0.118

75.0

3225

0.299

76.0

3254

0.653

77.0

3275

0.308

78.5

3404

1.129

75.0 H1000

3049

0.075

76.5

3114

0.242

78.0

3192

0.338

79.5

3254

0.706

81.0

3322

0.918

80.0 H870

3014

0.496

82.0

3064

0.633

84.0

3133

0.470

86.0

3201

0.217

88.0

3279

0.344

90.0

3327

0.321

92.0

3394

1.478

85.0 H5010

3065

0.727

BRAWAND 168 GR HP

86.5

3097

0.724

88.0

3204

0.448

89.5

3240

0.808

85.0 H870

3086

0.693

86.5

3173

0.759

88.0

3190

0.609

89.5

3214

0.926

75.0 H1000

2970

0.784

76.5

3030

0.590

78.0

3072

0.654

79.5

3117

0.458

78.0 H1000

3175

1.772

SWIFT 160 GR

A-FRAME

82.0 H870

2970

0.275

BERGER 180 GR HP

83.5

3030

0.264

85.0

3095

0.394

86.5

3122

0.313

88.0

3169

0.573

89.5

3194

1.094

90.0 H5010

3187

0.291

66.0 VVN 165

2738

0.213

67.5

2771

0.112

69.0

2832

0.213

70.5

2885

0.193

72.0

2928

0.216

73.5

2975

0.575

75.0

3049

0.430

76.5

3098

0.839
Last updated 3 March 1998