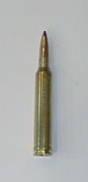 7mm STW
RIFLE: REMINGTON 700 CUSTOM # T6227660
BARREL: SS FLUTED 26 HART MATCH BARREL
TRIGGER: JEWEL 2 LBS
STOCK: REM CLASSIC SYNTHETIC
SCOPE: LEUPOLD 4.5-14 IN LEUPOLD BASES AND RINGS
PRIMERS; FEDERAL 215
BULLETS: NOSLER 120 BALLISTIC TIP, MOLLY COATED
I prepared and sorted 100 8mm Remington Magnum cases. 10 were loaded with 77 grains of Hercules Reloader 22 and the Nosler 120 Ballistic Tip bullet. These were to sight in the scope and break in the barrel. I fired 1 shot and cleaned the barrel for the first 5 rounds. Then I just fired the next five rounds. The bullets I used were not molly coated. Brass fouling was very little after 4 rounds, which means the barrel was very well polished.
The gentleman who owns the rifle wanted a load for plains game hunting, with a request that I should develop a load for him with the NOSLER 120 grain Ballistic Tip.
1. 77 RELOADER 22 3165 0.805
2. 78.5 3292 0.675
3. 79.5 3329 0.612
4. 80.5 3389 0.583
5. 81.5 3406 0.733
6. 82.5 3580 0.404
In the Nosler # 4 Reloading Manual, they show a maximum load of 80.5 grains of Hercules Reloader 22 for a velocity of 3618 with a 26-inch barrel – the same as this rifle. They did not specify the action which was used, apart from the barrel which is from Lilja. It seems I had to use 2 grains more powder for a velocity which is 38 fps less. This could be due to my lot of Reloader 22 being slightly slower than the lot they used.