7.62 X 39 RUSSIAN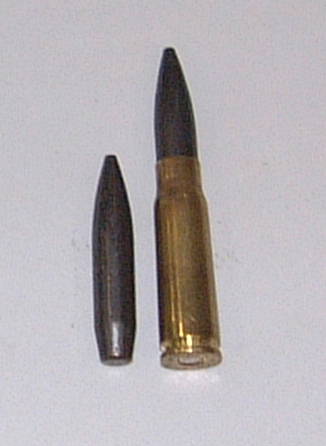 A Sierra 240 grain Match King bullet next to a load round with the same bullet.
We chambered a Krieger stainless fluted barrel, with a 10" twist, for this cartridge. It was finished at 25.5 inches, and installed in a Remington 700 action. A Leupold 6.5-20 scope was installed in Leupold rings and bases.
Remington brass and Federal 205M primers were used in all the loads. All groups are 5 shots at 100 yards, and all bullets were molly coated.
| | | | |
| --- | --- | --- | --- |
| POWDER | VELOCITY | GROUP | BULLET |
| | | | |
| 23.0 H 4198 | 2051 | 0.616 | 125 SPEER TNT |
| 23.5 | 2117 | 0.884 | |
| 23.0 | 2108 | 0.423 | 125 BERGER |
| 23.5 | 2158 | 1.144 | |
| 24.0 | 2195 | 0.614 | |
| 24.5 | 2282 | 0.773 | |
| 25.0 | 2321 | 0.356 | |
| 25.5 | 2369 | 0.781 | |
| 26.0 | 2434 | 0.672 | |
| 26.5 | 2464 | 0.933 | |
| 23.5 VVN 130 | 1974 | 0.663 | |
| 25.0 | 2133 | 0.784 | |
| 25.5 | 2196 | 0.772 | |
| 26.0 | 2265 | 0.788 | |
| 26.5 | 2319 | 0.698 | |
| 27.0 | 2376 | 0.892 | |
| 27.5 | 2422 | 0.480 | |
| 28.0 | 2512 | 0.888 | |
| 28.5 | 2547 | 0.902 | |
| 29.0 | 2557 | 0.646 | |
| 23.0 | 1990 | 0.649 | 150 RUBRIGHT |
| 23.7 | 2052 | 1.194 | |
| 24.4 | 2102 | 0.467 | |
| 25.1 | 2180 | 0.524 | |
| 25.8 | 2229 | 0.563 | |
| 26.5 | 2281 | 0.521 | |
| 27.2 | 2339 | 0.290 | |
| 27.9 | 2382 | 0.787 | |
| 23.5 | 2024 | 0.605 | 168 SIERRA MK |
| 24.2 | 2079 | 0.566 | |
| 24.9 | 2154 | 0.580 | |
| 25.6 | 2207 | 0.837 | |
| 26.3 | 2247 | 0.985 | |
| 27.0 | 2292 | 0.822 | |
| 27.7 | 2340 | 0.438 | |
| 28.4 | 2383 | 0.801 | |
| 24.0 | 2021 | 0.630 | 175 BERGER VLD |
| 24.7 | 2083 | 0.193 | |
| 25.4 | 2134 | 0.570 | |
| 26.1 | 2186 | 0.635 | |
| 26.8 | 2253 | 0.744 | |
| 27.5 | 2298 | 0.783 | |
| 28.2 | 2325 | 0.722 | |
| 23.0 | 1855 | 0.438 | 210 BERGER |
| 23.7 | 1916 | 1.118 | |
| 24.4 | 1949 | 1.031 | |
| 25.1 | 2009 | 1.661 | |
| 22.0 | 1793 | 0.741 | 240 SIERRA MK |
| 22.7 | 1812 | 0.245 | |
| 23.4 | 1870 | 0.790 | |
| 24.1 | 1914 | 0.872 | |
| | | | |
{ Home Page | }
Last updated September 20th, 2000