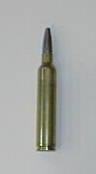 7.21 FIREHAWK
The following data was developed in a LAZZERONI 2000 rifle with a 28-inch stainless steel fluted barrel. As with all LAZZERONI rifles that I have seen, this one was extremely well made.
The rifle arrived a short time before a planned hunting trip to Zimbabwe. I only had one type of premium hunting bullet on hand.
BULLETS: SWIFT A-FRAME 160 GRAIN
PRIMERS: FEDERAL 215
CASES: LAZZERONI
SCOPE: LEUPOLD 3.5-14X LPS in LAZZERONI MOUNTS
All groups were 3 shots at 100 yards. Cartridge over all length was 3.570 inches.
| | | | |
| --- | --- | --- | --- |
| POWDER | VELOCITY | GROUP | |
| | | | |
| 70.0 RELOADER 22 | 2873 | 1.640 | |
| 72.0 | 3001 | 1.557 | |
| 74.0 | 3092 | 1.623 | |
| 76.0 | 3120 | 2.583 | |
| 78.0 | 3168 | 0.981 | |
| 80.0 | 3241 | 1.447 | |
| 82.0 | 3331 | 0.834 | |
| 84.0 | 3384 | 1.221 | |
| 85.0 H1000 | 3278 | 1.387 | |
| 87.0 | 3373 | 2.047 | |
| 90.0 H870 | 3159 | 1.195 | |
| 92.0 | 3220 | 1.271 | |
| 94.0 | 3298 | 0.828 | |
| 67.0 RELOADER 19 | 2793 | 1.272 | |
| 70.0 | 2903 | 1.042 | |
| 72.0 | 2980 | 0.639 | |
| 74.0 | 3031 | 1.100 | |
| 76.0 | 3098 | 1.557 | |
| 78.0 | 3172 | 1.532 | |
| 80.0 | 3254 | 1.179 | |
| 82.0 | 3325 | 0.741 | |
| | | | |
| 84.0 RELOADER 22 | 3526 | 0.521, 0.592, 0.528 | SIERRA 130 MATCH KING – Loaded for accuracy check only – no load development. |