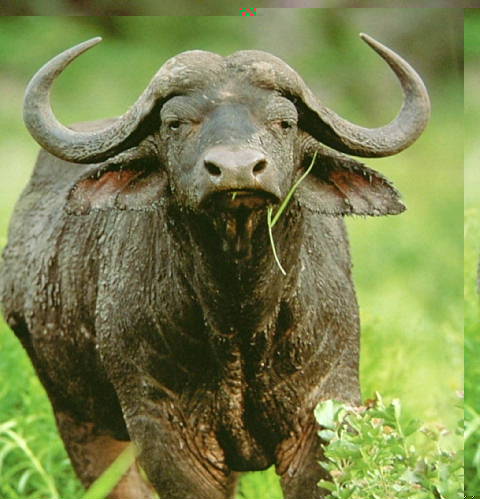 375-404 JEFFEREY
The following data was developed in a custom rifle built on the Dakota 76 action. The rifle has a 25 inch fluted barrel from Shilen - # 5. It was installed in a black synthetic stock in the classical style. The rifle has a Leupold 2.5-8X scope in Dakota mounts.
This rifle has been used by several people on four separate African safaris, bagging over 150 game animals, ranging in size from the gresbok all the way to elephants. And except for elephants, we have used the Barnes X 300 grain bullet exclusively.
We used RWS 404 Jefferey brass and the Federal 215 primers. Eventually we found out that you can form the cases much easier from the 416 Dakota case. All you have to do is run the 416 Dakota brass through the 375/404 full length sizing die. This actually forms a double shoulder – very much like what George Leonard Herter had some years back. Cases formed this way do not need to be fireformed. I loaded some of these and used them on two safaris in Africa. My friend Dwight Scott, who built the rifle, was not very impressed with idea at the beginning, eventually he did not mind using it himself.
All bullets were molly coated, and all groups are 3 shots at 100 yards.
| | | | |
| --- | --- | --- | --- |
| POWDER | VELOCITY | GROUP | BULLET |
| 93.0 H 4350 | 2942 | 1.169 | TROPHY BONDED 240 BEAR CLAW |
| 95.0 | 3036 | 1.127 | |
| 97.0 | 3084 | 1.595 | |
| 99.0 | 3162 | 1.430 | |
| 90.0 H 450 | 2760 | 1.718 | |
| 95.0 | 2884 | 1.331 | |
| 98.0 | 2920 | 1.603 | |
| | | | |
| 90.0 | 2644 | 1.666 | TROPHY BONDED 300 BEAR CLAW |
| 93.0 | 2704 | 2.743 | |
| 95.0 | 2741 | 2.227 | |
| 98.0 | 2780 | 1.655 | |
| 83.0 VVN 160 | 2469 | 2.150 | |
| | | | |
| 86.0 | 2543 | 0.754 | BARNES X 300 |
| 89.0 | 2620 | 0.464 | |
| 92.0 | 2725 | 2.602 | |
| 95.0 | 2813 | 0.539 | |
| 97.5 | 2942 | 2.480 | |
| | | | |
| 88.0 RELOADER 19 | 2598 | 1.861 | |
| 90.0 | 2631 | 1.652 | |
| 92.0 | 2710 | 1.690 | |
| 92.0 RELOADER 22 | 2615 | 1.702 | |
| | | | |
| 95.0 H 4831 SC | 2603 | 0.473 | |
| | | | |
| | | | |
Last updated July 1st, 2000