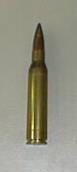 338 LAPUA MAGNUM
The following data was developed in an ACCURACY INTERNATIONAL Arctic Warfare military rifle. It had a 26 inch barrel. I understand that this model is used by the Special Forces of several countries. And as the results below show very clearly, this rifle is extremely accurate.
All loads used LAPUA brass and FEDERAL 215 primers. The 200 NOSLER BALLISTIC TIP bullet was loaded for 3.705 inches over all, and the SIERRA MATCH KING 300 was 3.730 inches.
All groups are 3 shots at 100 yards.
| | | | |
| --- | --- | --- | --- |
| POWDER | VELOCITY | GROUP | |
| | | | |
| 86.0 VVN 160 | 2982 | 0.507 | NOSLER 200 BTIP |
| 87.5 | 3034 | 0.401 | |
| 89.0 | 3082 | 0.414 | |
| 90.5 | 3098 | 0.413 | |
| 88.0 VVN 560 | 2907 | 0.474 | |
| 89.5 | 2952 | 0.589 | |
| 91.0 | 3007 | 0.889 | |
| 92.5 | 3067 | 0.308 | |
| 94.0 | 3110 | 0.642 | |
| 95.5 | 3182 | 0.386 | |
| 97.0 | 3231 | 0.277 | |
| 98.5 | 3272 | 0.799 | |
| 85.0 WMR | 2780 | 0.728 | |
| 88.0 | 2880 | 0.635 | |
| | | | |
| 90.0 H870 | 2400 | 0.537 | SIERRA 300 MK |
| 91.3 | 2440 | 0.799 | |
| 93.0 | 2479 | 0.576 | |
| 94.5 | 2526 | 0.922 | |
| 95.9 | 2547 | 0.964 | |
| 96.9 | 2567 | 0.977 | |
| 98.5 | 2583 | 0.383 | |
| 80.6 H1000 | 2379 | 0.118 | |
| 81.5 | 2409 | 0.741 | |
| 82.5 | 2426 | 0.213 | |
| 84.0 | 2475 | 0.387 | |
| 85.5 | 2517 | 0.525 | |
| 87.0 | 2568 | 0.896 | |
| 88.5 | 2680 | 0.491 | |
| 75.0 H4831 SC | 2408 | 0.745 | |
| 76.5 | 2452 | 0.556 | |
| 78.0 | 2472 | 0.357 | |
| 79.5 | 2510 | 0.569 | |
| 81.0 | 2555 | 0.762 | |
| 82.5 | 2598 | 0.778 | |
| 84.0 | 2632 | 1.058 | |
| 85.5 | 2659 | 0.803 | |
| 80.0 H4350 | 2632 | 0.442 | |
| 81.5 | 2658 | 0.470 | |
| 80.0 VVN 560 | 2530 | 0.369 | |
| 81.5 | 2571 | 0.599 | |
| 83.0 | 2622 | 0.722 | |
| 84.5 | 2669 | 1.039 | |
| 86.0 | 2715 | 0.375 | |
| 87.5 | 2759 | 0.456 | |
| | | | |