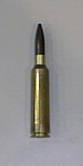 300 PHOENIX
The following data was developed in a McMillan Talon Sniper model rifle. It came from the factory with a Leupold Mk 4 16-power scope already installed. The rifle had a heavy 29-inch fluted barrel. The stock was adjustable for length of pull, and the cheekpiece was also adjustable. The total weight of the gun was 14.5 pounds.
Forming cases for it is a bit involved. We had to use a form die made in Germany, which did not work very well at all. It did not push the shoulder down far enough. We at first thought that running the formed cases into the full length sizing dies would solve our problem, but that was not the case. Eventually I had to take a few thousands off the bottom of the form die. That did the trick. The two die reloading set was from RCBS, both of which worked great.
We formed our cases from 338 Lapua brass made by Lapua. And as the formed case is shortened quite a lot, part of the parent case body becomes part of the neck of the new one. We turned the necks down to 0.013".
We used the Federal 215 primer, and all bullets were molly coated. Most of the powder charges were compressed. All groups are 5 shots at 100 yards.
I have a copy of a test report conducted by a German gun magazine. They report getting 3076 fps with 92 grains of H870. And with H5010 they report getting 3046 fps, both with 240-grain bullet. Most of their testing was done at 4 degrees C, while ours were done in an air-conditioned environment of about 24 degrees C. I do not think that the temperature difference had much to do with the velocity difference. I would imagine it is due to differences in the two rifles under test.
We have already ordered a new barrel and a new reamer. This one is for the full length 338 Lapua magnum case necked down to 30 caliber. We plan to replace the current barrel on this rifle, and see what improvements we could get in the velocity department.
May be we are getting into an area of diminishing returns! As our experience with the 300 Pegasus shows.
| | | | |
| --- | --- | --- | --- |
| POWDER | VELOCITY | GROUP | BULLET |
| | | | |
| 80 H870 | 2606 | 0.486 | SIERRA 175 MK |
| 83 | 2715 | 0.421 | |
| 86 | 2812 | 0.443 | |
| 89 | 2848 | 0.306 | |
| 92 | 2872 | 0.521 | |
| 80 VVN 165 | 2955 | 0.692 | |
| 82 | 3032 | 0.614 | |
| 84 | 3109 | 0.557 | |
| 86 | 3165 | 0.468 | |
| 88 | 3265 | 0.908 | |
| 85 H1000 | 2984 | 0.663 | |
| 88 | 3126 | 0.576 | |
| 90 | 3247 | 1.410 | |
| 92 | 3333 | 1.335 | |
| 90 H5010 | 2805 | 0.728 | SIERRA 220 MK |
| 91.5 | 2840 | 0.702 | |
| 93 | 2935 | 0.426 | |
| 94.5 | 2989 | 0.861 | |
| 82 H870 | 2491 | 0.349 | SIERRA 240 MK |
| 84 | 2521 | 0.387 | |
| 86 | 2609 | 1.190 | |
| 88 | 2708 | 0.642 | |
| 90 | 2777 | 0.981 | |
| 82 H5010 | 2526 | 0.764 | |
| 84 | 2624 | 1.333 | |
| 86 | 2685 | 0.939 | |
| 88 | 2761 | 0.252 | |
| 90 | 2808 | 0.551 | |
| 92 | 2880 | 0.613 | |
| | | | |
| | | | |
| | | | |