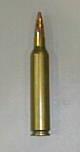 300 PEGASUS
The following data was developed in an A-SQUARE Hannibal model rifle. The rifle has a 26-inch very light barrel. The rifle came from the dealer with a Leupold 3.5 – 10X scope already installed, weighing in at 9.5 pounds.
We used the Federal 215 primer in A-SQUARE brass. Cartridge overall length was 3.790" with both bullets used in our tests. We thought it would be interesting to look at the throat after we fired about 50 rounds through this rifle. Just as well we did, there was definite signs of barrel erosion! It is pity that we did not look at the barrel before shooting it, just for comparison. A-SQUARE report getting 3505 fps with a 180 grain bullet and 123 grains of H870. We used 126 grains of powder and managed to get 3435 fps. This was a maximum charge for this rifle. This is definitely a long range hunting rifle, but personally I would have preferred a heavier barrel.
All groups are 3 shots at 100 yards. My friend Roy Vincent, a professional hunter from Zimbabwe fired them. Roy loves BIG guns, that is why we gave him the honor of doing all the load development for the 577 Tyrannosaur!
| | | | |
| --- | --- | --- | --- |
| POWDER | VELOCITY | GROUPS | BULLET |
| | | | |
| 118 H870 | 3162 | 0.779 | BARNES X 180 |
| 120 | 3216 | 2.675 | |
| 122 | 3257 | 0.886 | |
| 124 | 3318 | 1.960 | |
| 126 | 3435 | 1.214 | |
| 100 H1000 | 3170 | 2.321 | |
| 102 | 3234 | 1.633 | |
| 104 | 3267 | 2.701 | |
| 106 | 3300 | 2.197 | |
| 124 H5010 | 3336 | 2.709 | |
| 115 H870 | 3070 | 1.364 | BERGER 190 HP |
| 117 | 3154 | 2.695 | |
| 118 | 3159 | 0.782 | |
| 120 | 3133 | 2.794 | DIFFERRENT LOT OF POWDER! |
| 122 | 3134 | 3.314 | |
| 124 | 3296 | 2.062 | |
| | | | |
| | | | |
| | | | |
| | | | |
| | | | |