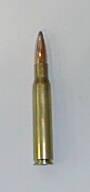 30-06 SPRINGFIELD TARGET LOADS
The following data was developed in a Hall actioned rifle that has a number of barrels chambered for different cartridges, ranging from the 22-243 Improved, 308 Winchester, 30 Special and the 30-06 Springfield. The 30 Special is based on the 7 x57 Mauser case necked up to 30.
All the barrels mentioned above are stainless steel, heavy, match from Hart. The one for the 30-06 is 26 inch long.
We installed a Leupold 6.5 – 20 Vari X scope in Jewel Live Center rings on Kelbly bases.
Remington brass was used throughout our tests and Federal 210M primers.
All groups are 5 shots at 100 yards. Bullets were seated to just touch the rifling.
| | | | |
| --- | --- | --- | --- |
| POWDER | VELOCITY | GROUP | BULLET |
| | | | |
| 54 VARGET | 3111 | 0.386 | BERGER 150 GRAIN HP |
| 55.0 | 3129 | 0.606 | |
| 57.0 H4350 | 2967 | 0.388 | |
| 58.0 | 3013 | 0.562 | |
| 59.0 | 3054 | 0.534 | |
| 55.0 H414 | 2976 | 0.420 | |
| 56.0 | 3010 | 0.347 | |
| 57.0 | 3053 | 0.277 | |
| 58.0 | 3097 | 0.525 | |
| 59.0 | 3162 | 0.585 | |
| 47.0 H4895 | 2801 | 0.352 | |
| 48.0 | 2858 | 0.397 | |
| 52.0 VVN 140 | 3001 | 0.578 | |
| 53.0 | 3051 | 0.293 | |
| 54.0 | 3109 | 0.611 | |
| 53.0 VVN 150 | 2981 | 0.365 | |
| 54.0 | 3032 | 0.579 | |
| 55.0 | 3115 | 0.465 | |
| 52.0 RELOADER 15 | 3010 | 0.343 | |
| 53.0 | 3018 | 0.400 | |
| 50.0 RELOADER 15 | 2779 | 0.320 | SIERRA 168 MATCH KING |
| 50.7 | 2851 | 0.541 | |
| 51.4 | 2907 | 0.677 | |
| 52.1 | 2939 | 0.644 | |
| 53.0 | 2969 | 0.815 | |
| 59.0 RELOADER 19 | 2850 | 0.343 | |
| 49.0 VVN 140 | 2770 | 0.426 | |
| 50.0 | 2830 | 0.283 | |
| 51.0 | 2877 | 0.470 | |
| 52.0 | 2947 | 0.628 | |
| 50.0 VVN 150 | 2759 | 0.601 | |
| 51.0 | 2819 | 0.378 | |
| 52.0 | 2871 | 0.458 | |
| 53.0 | 2923 | 0.222 | |
| 54.0 | 2951 | 0.513 | |
| 52.7 H414 | 2751 | 0.696 | |
| 53.5 | 2798 | 0.574 | |
| 56.0 H4350 | 2821 | 0.414 | |
| 61.0 H450 | 2929 | 0.643 | |
| 57.0 H450 | 2724 | 0.632 | BERGER 175 GRAIN VLD BOAT TAIL |
| 58.0 | 2776 | 0.145 | |
| 59.0 | 2815 | 0.308 | |
| 60.0 | 2838 | 0.502 | |
| 58.0 H4831 | 2718 | 0.293 | |
| 54.0 H4350 | 2698 | 0.411 | |
| 55.0 | 2774 | 0.430 | |
| 56.0 | 2807 | 0.413 | |
| 57.0 | 2838 | 0.581 | |
| 58.0 | 2898 | 0.536 | |
| 59.0 RELOADER 22 | 2716 | 0.293 | |
| 58.0 RELOADER 19 | 2797 | 0.880 | |
| 59.0 | 2862 | 0.447 | |
| 49.0 RELOADER 15 | 2722 | 0.632 | |
| 50.0 | 2777 | 0.706 | |
| 45.0 VVN 140 | 2569 | 0.609 | |
| 46.0 | 2608 | 0.397 | |
| 47.0 | 2659 | 0.273 | |
| 48.0 | 2698 | 0.488 | |
| 47.0 VVN 150 | 2457 | 0.312 | |
| 48.0 | 2504 | 0.628 | |
| 49.0 | 2696 | 0.478 | |
| 50.0 | 2740 | 0.269 | |
| 51.0 | 2776 | 0.413 | |
| 52.0 | 2814 | 0.552 | |
| 57.0 VVN 160 | 2736 | 0.201 | |
| 58.0 | 2784 | 0.606 | |
| 59.0 | 2828 | 0.518 | |
| 56.0 H450 | 2562 | 0.693 | SIERRA 180 GRAIN MATCH KING |
| 57.0 | 2602 | 0.344 | |
| 58.0 | 2793 | 0.326 | |
| 59.0 | 2804 | 0.420 | |
| 57.0 H4831 | 2727 | 0.366 | |
| 58.0 | 2762 | 0.376 | |
| 54.0 H4350 | 2775 | 0.619 | |
| 55.0 | 2825 | 0.678 | |
| 56.0 | 2855 | 0.242 | |
| 57.0 | 2905 | 0.474 | |
| 51.0 H414 | 2669 | 0.474 | |
| 52.0 | 2724 | 0.421 | |
| 53.0 | 2789 | 0.402 | |
| 54.0 | 2831 | 0.926 | |
| 57.0 VVN 160 | 2797 | 0.253 | |
| 58.0 | 2837 | 0.447 | |
| 46.0 VVN 150 | 2560 | 0.392 | |
| 47.0 | 2615 | 0.284 | |
| 48.0 | 2635 | 0.387 | |
| 49.0 | 2699 | 0.305 | |
| 56.0 VVN 160 | 2685 | 0.174 | BERGER 185 GRAIN BT |
| 57.0 | 2739 | 0.304 | |
| 58.0 | 2755 | 0.226 | |
| 59.0 | 2821 | 0.438 | |
| 55.0 VVN 160 | 2624 | 0.400 | BERGER 190 GRAIN |
| 56.0 | 2694 | 0.598 | |
| 57.0 | 2719 | 0.334 | |
| 57.0 VVN 160 | 2698 | 0.512 | BERGER 210 GRAIN BT |
| 55.0 | 2626 | 1.240 | SIERRA 220 GRAIN MATCH KING – BULLETS KEY HOLE! |
| 56.0 | 2661 | 1.230 | BULLETS KEY HOLE |
| | | | |
Last updated 11 June 1998