MACíS CAMEROON SAFARI MARCH 2004
This is an account of the safari that I took in 2004. The safari was booked through Mr. Charlie Goldenberg of Premier Safaris in Apoka, Fl. The actual outfitter was Ngong Safaris owned by Borge Ladefoged of Denmark.
This hunt was scheduled to begin on 26 Feb 2004 and to end on 09 Mar 2004. The primary quarry was Western Roan antelope with Nigerian Bohor Reedbuck, Oribi, Western Hartebeest, Harnessed Bushbuck and Red-Flanked Duiker also on license.
I took 2 firearms along for this trip. The primary firearm will be a Remington Model 700 Classic, chambered in 375 H&H magnum and topped with a 1.5x6 Bausch & Lomb scope in Leupold Quick Detach rings. This rifle will be shooting hand-loaded ammunition consisting of a 300 grain Woodleigh bullet over 72.5 grains of IMR 4831 powder. The secondary firearm will be an old Remington Model 700 ADL chambered, in 7mm Remington magnum and topped with a 3x9 Leupold scope. This rifle will be shooting hand-loaded ammunition consisting of a 162 grain Hornady BTSP bullet over 59.9 grains of IMR 4831 powder.
Feb 24 2004: I have made arrangements to have a friend of mine take me to the airport. She arrived at the apartment at 8:30 a.m and we left for Norfolk International Airport at a little before 9:00. I was flying Delta Airlines/Air France from Norfolk, Va. to Douala, Cameroon via Atlanta, Ga. and Paris.
Feb 25 2004: I arrived in Paris at 6:41 a.m. The airport is having some sort of workerís strike, which delayed our leaving the aircraft by about a half hour. We had to debark via a staircase to the outdoors. Itís very cold in France this morning with isolated snow. I have about a 3 hour delay here. The coffee machine, in the only Cafť that is open, is broken. I really could use a cup of coffee this morning, but will live.
The flight from Paris to Douala went smoothly. I arrived in Cameroon in the evening and was met by a representative of the safari company named Emille. He took care of walking me through customs, baggage claim, firearm documentation and got me to the Ibis Hotel. I was quite tired at this point and needed all the assistance available. I ordered room service, took a shower and fell into bed.
Feb 26 2004: Had a good nightís sleep. I ordered coffee and breakfast from room service. My flight to Garoua Cameroon is scheduled to leave at 4:00 p.m. When I arrived at Garoua, I was met by a different representative to take me to a different hotel. The fellow that met me didnít speak a word of English, but had a note from Borge stating that his assistant will be there at 8:00 a.m. to pick me up.
Feb 27 2004: At 8:00 on the nose, a fellow named Daniel arrived and in very broken English explained that he was Borgeís assistant and my PH. Very interesting fellow. He was French in nationality, but has been in Africa full time for 7 years. He spoke very little English and I speak very little French. Both of us knew some Spanish, so our conversations were pretty interesting and colorful.
We left the hotel and stared off to the safari camp. The area seems to be severely affected with poverty. We crossed a big river outside of town and there was a big group of Hippos below the bridge. We passed several small villages along the way. The local people practice ďSlash and BurnĒ farming and between that and some very large herds of scruffy looking cattle, there was very little ground cover.
As soon as we passed the sign that designated the safari area, the landscape changed drastically. There was thick, heavy grass and lots of trees. Camp consisted of several huts built of the local brick (dried mud) and an area for the vehicles. The huts were round about 25 feet in diameter, painted white with thatch roofs. Quite comfortable. Upon arrival I met Borge, his nephew Jacob (who is apprenticing for his PH license), the camp staff and my trackers.
I unpacked and we set out to ensure my rifles are shooting right. We drove about 3 miles to where they sight in and I shot well. We did a little drive around, not hunting mind you, just driving. On this little jaunt we saw some female Bushbuck, a couple Oribi, a Bush Duiker and some sign of Roan. A very positive experience. And then we returned to camp.
While we were having lunch, Borge explained that the normal hunting day would consist of a wake up at 4:45 a.m. followed by breakfast. We would leave the camp at 5:40 or there about to head to the hunting area. This concession consists of 143,000 hectares and I will be the only person hunting for the next 2 weeks. The hunting party returns to camp for lunch at noon and departs again at 4:15 p.m.
Borge asked what types of game I was mostly interested in and I told him I would like to get a Roan of around 30 inches followed by a good Hartebeest and Bushbuck. Borge asked if I was interested in Warthog and I told him that I already have a couple and they really didnít interest me. At that point he showed me a couple tusks of over 12 inches long and really thick. I decided then and there that Iíd take a pig if we can find one like that. He also said he was having problems with Baboons and that I was welcome to shoot as many as I wished at no charge.
We left camp at the prescribed 4:15 p.m. We saw many, many Warthogs. None of these were big boars, but there were lots of sows with piglets. We also saw a young Hartebeest bull, a Duiker, and a couple of Oribi. We nearly went after one of the Oribi, but I just wasnít mad at it at that time. Just prior to dark, we took a Nigerian Bohor Reedbuck.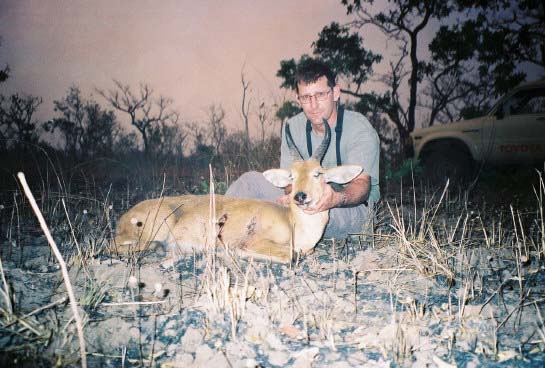 The Nigerian Bohor Reedbuck is an extremely attractive animal. This one weighed about 120 pounds and had horns of about 9 Ĺ inches which is a good representative of the species. They are kind of a rusty gold in color with a snow white belly and tail. The range for the shot was about 100 yards and I put the first round through the back of the lungs. When the animal didnít drop to the shot, I immediately put another round through the shoulder. It was a very promising beginning.
Feb 28 2004: It was really cold this morning when we left camp. We headed off to a big grass plain that allows a good vantage point for glassing for game. It didnít begin to warm up until about 9:00 a.m. and then it got blazing hot. When we didnít spot anything by glassing, we went for a drive along some of the roads to see if we could cut some tracks. No game is shot from a vehicle in this area, but they are handy for covering ground. Other than a couple Warthogs, not much was moving.
We then headed into the bush on foot too see what we could dig up. This area is prone to grass fires and everything was covered with a fine grey dust and soot. We walked a couple miles and did jump some Roan. Unfortunately, they were females and young. That was all we saw that morning. We headed back to camp for lunch.
Shortly after we left camp that afternoon, the trackers took off after a suspected poacher we saw slipping through the bush. The poacher outran the trackers and made it to the concession border before they could catch him. The weather in the afternoon was much better and we saw a lot of game. The game spotted included Warthogs, Oribi, Duiker, Reedbuck, a Civet Cat, some Hartebeest and a Lord Derby Eland. We tried to get one of the Hartebeest, but they were feeding out on a recently burned plain and we simply could not get closer than 400 yards to them. We didnít want to spook the herd and backed off so we could look for them the next day.
Feb 29 2004: This morning was a complete opposite of yesterday. The weather was warm and balmy and we began to see game immediately. At first light, we saw our first Roan bull. He was a young animal with horns of about 22 inches. We deemed him too small to bother with. We continued to see Roan just about everywhere we looked. We made one stalk on a nice bull, but a group of cows wandered by and busted us. We probably wouldnít have shot the bull. We also saw a herd of Korrigum. They are the largest of the Topi family and are very rare. We could have taken the herd bull easily, but they are completely protected in Cameroon. I also passed on a shot on a pretty good Warthog. I wonít shoot a pig unless I can find a real monster.
When we were headed back to camp, I told the head tracker that if he could find a big Oribi, I would shoot it. He took me up on the challenge and found a big Oribi under a bush with his lady friend. This was to be a very difficult shot. The range wasnít long, but the animal was alert and was in heavy brush. I had to shoot through an opening in the bush of about 6 inches in diameter. The bullet hit at the top of the shoulder and detached all the ribs from the spine along the animalís left side and exited through the hip.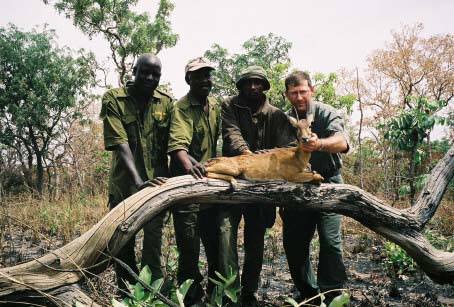 Oribi are a beautiful little antelope. They weigh about 30 pounds and have simple straight horns. The coat is a straw yellow in color with a dirty white belly. This one was a very good male with horns of about 6 inches in length which is about as good as they get.
During the afternoon hunt we saw several groups of Roan. We also saw a big group of Hartebeest with one pretty decent bull, but we let him go. He had good long horns, but no mass. We decided he needed to grow some more. When we left the Hartebeest, we cut some fresh Lion tracks. Daniel said they were made by a big female that hangs around that area. We passed by a big pool of water and saw about a 9 foot Crocodile in it. They are totally protected in Cameroon. Borge told me later that evening that there are quite a few in the area and 9 feet was about their maximum length. We nearly got a shot at a big Civet Cat at dusk, but it got into some heavy cover before we could get on him.
Mar 01 2004: It was a very comfortable morning. Weather was really nice. We began seeing game at first light. Early on we saw 2 good sized herds of Hartebeest, but all the bulls were young. At about 8:00 I made my first miss of the trip. We had a big Civet Cat run across the path in front of us. I shot high over his back. Daniel said it was unusual to see on during the daylight hours. We nearly got lucky with the Roan this morning. We were seeing lots of herd and then found 2 single bulls on opposite sides of a huge grassy plain. The wind ruined one stalk and the other bull just managed to keep ahead of us. While we were headed back for lunch I blew a shot at a big male Baboon. Iím not sure how I missed that shot, I just did.
While we were having lunch Borge told me that he and Jacob had gone out to supervise a new access road being made and they saw a huge Warthog with over a foot of tusk showing. I will definitely shoot at one like that if I see it.
We left camp and I was certain that my luck with the Roan was going to change. However, I was seriously mistaken. We returned to camp for dinner and bed.
Mar 02 2004: Today was kind of an unusual day. For some reason, there was almost no game moving. Conditions were perfect, but the animals just werenít active. We saw a couple Warthogs and one small herd of Hartebeest out on a flat and few Oribi and Reedbuck under some thorn brush. We found on troop of Baboons on the way back to camp and I took 2 young males with as many shots at about 80 yards. The trackers like to eat Baboon meat, so they wonít go to waste. Iím hoping to get a big male for a trophy.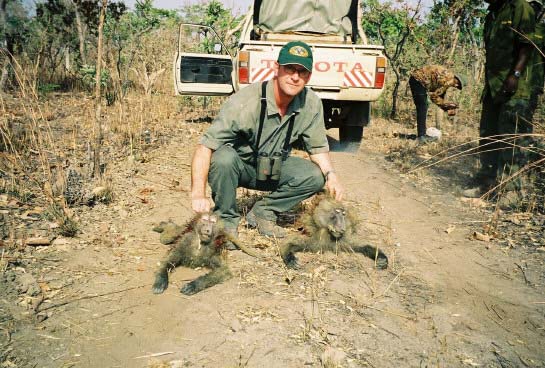 These are of the Olive Baboons subspecies, and they are an unusual olive yellow color with thick hair. A big male will probably weigh in the neighborhood of 70 pounds or so. Just before we got to camp we ran into a herd of Lord Derby Eland. That is an animal I really need to
find the money to hunt. Absolutely fantastic animals.
At lunch, Borge told me that I probably would not see him again that trip. He had to go to the capital city of Yaoundť Cameroon. He had been informed by the manager of his Bongo camp in the forest that the fellow that runs the local sawmill had been caught poaching in Borgeís concession. They knew for a fact that the guy had shot an Elephant, a Bongo and 2 Dwarf Forest Buffalo. Borge has 8 Bongo safaris booked and needed to assess the damage. Daniel will be in charge of running the camp in his absence.
The day continued to be unusual in the afternoon. We went to a different part of the concession and immediately found a single Hartebeest bull. He had extremely long horns, but they were very spindly. We passed him by and kept hunting. Just a little down the way, we found the monster Hartebeest we had been looking for. He was simply huge!!! Long heavy massive horns, beautiful chestnut coloring, great big body. He had it all. We stalked to within about 150 yards and tried to set up for a shot. Somehow he managed to keep a tree between himself and us. I just could not get a shot at his vitals. I could see the hind quarters, I could see the belly, I could see parts of the neck, but I never saw the shoulder area. When we moved, he shifted to keep covered. Absolutely unreal. He finally got tired of playing the game and simply trotted off. Not run mind you, trotted. And, of course, he kept that same tree between himself and us. We never caught up with him again. I have never in my life wanted to cut a tree down as badly as I wanted to today.
After the Hartebeest debacle, we were walking down a trail and came around a corner and saw 6 domestic goats. This was a serious matter to Daniel. There is no livestock allowed in the concession. The camp isnít even allowed to have a dog or flock of chickens. Daniel didnít want to disturb the area by shooting them and decided we needed to catch them. So, Daniel, the trackers, the driver and me went on a wild goat chase. We got them all rounded up, and I am quite certain that it would have been very comical to watch. The trackers hog-tied the goats with their shoelaces and we got them loaded into the back of the truck at dark. When we go to camp, all 6 goats were immediately killed in the traditional Muslim manner of cutting the throat. The carcasses were pieced down and the meat distributed to the camp staff personnel. The camp had a hell of a party and a big feed on roast goat. I tried some and it wasnít bad.
Mar 03 2004: We have decided to try a different area today. Daniel wants to check out the area near the new road. He says there is a big plain with a salt-lick that hardly ever gets hunted since it is such a long walk. The new road has been cut fairly close to it and Daniel wants to see if anything is around the plain.
We were driving towards the plain at dawn and one of the trackers spotted a Red-Flanked Duiker. I didnít see it, which is too bad, because I would really like to have one. I also missed a 50 yard shot at a Golden Jackal. It was probably just as well that I missed him. Iíve been carrying the 375 H&H and those 300 grain soft points would have torn him up pretty badly. I also fired a parting shot at a troop of Baboons without touching a hair. It made them run a lot faster though.
As soon as we reached the burned out plain, the trackers spotted a small herd of Hartebeest about a mile away. We began a stalk in a circular route to keep the wind good. When we closed the distance to about 200 yards, we realized that it was a bachelor herd of bulls comprised of 2 large bulls and 3 smaller bulls. The 2 big boys were jousting and the smaller bulls were standing around. It was kind of like a bunch of boys in high school in that a couple start fighting and everybody else gathers around to give moral support. Anyway, I laid my rifle in the fork of a tree and was waiting for the bulls to separate so I could take the shot. Both the bulls were good, so I wasnít going to be picky. Suddenly the head tracker stepped in front of me and gestured that we should try to get closer. Now, Iíve always been of the opinion that you should take the shot when you have the shot, but I couldnít do anything but follow them. I sure couldnít shoot past them and with the language barrier I couldnít quietly communicate my intentions. To make a long story short, the herd spotted us and fled before we could get set up again. 6 days of trying to get a shot at a big Hartebeest or Roan down the drain. Daniel had a talk with the trackers and it seems as though the last 2 clients they hunted with were very poor field marksmen.
As it turned out, not getting a shot at that Hartebeest was the best possible thing that could have happened to us. Less than a mile away, we finally found the Roan!!!! He was across the plain, just inside the tree line when Daniel spotted him and just about had a heart attack setting up the shooting sticks. I had to move the sticks twice because the animal shifted position. He finally stopped and I took the first shot. I lost him in the recoil, but heard the bullet hit solidly. He moved about 15 feet and I hit him again. Still he stayed on his feet and I sent the third round down range. All the shots were taken as he quartered away and I held for the back of the ribcage to angle to bullets forward into the chest. After the third round hit him, he managed 2 more steps and went down. We went across the plain as fast as men on foot can move and found him dead in a patch of sunshine on a small lava bed. When we saw his size, all 3 of the trackers began shouting and dancing. Daniel just stood in awe and I was in shock. For there before us lay the single most impressive animal I have ever seen. He was crowned with 2 incredible sickle shaped horns of 30 inches or more each. He is so old, the ridges on the front of his horns are worn smooth, his hooves are split and his teeth are worn down to the gums. He has an old healed bullet would on his front leg and his left side bore the scars from an encounter with a Lion earlier in his life. This animal was more spectacular than I had ever dared dream. I would guess his weight at around 700 pounds. The range of the shots was approximately 250 yards. It took three 300 grain Woodleighs, all well placed, to bring him down. He is old, he is scarred, he is battered and he is absolutely perfect. He is what I came many, many miles for. I feel truly blessed to have seen him, much less than to have actually taken him.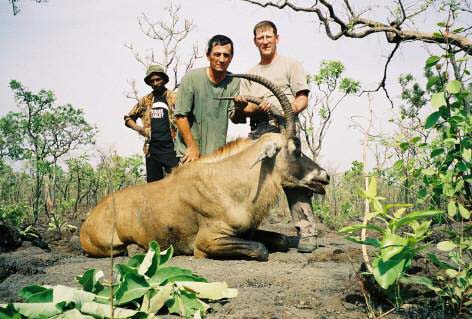 After paying our respects to this magnificent animal and taking numerous photos, the trackers began butchering the animal. He was too heavy to move and we couldnít get a vehicle to him, so he was taken care of where he fell. 2 of the trackers caped, skinned and pieced him down into manageable sized pieces while the third tracker went for the driver and truck. They took every scrap of him. He will provide a lot of meals for many people in the camp.
We left for camp just a little before 11:00 a.m. On the way back, we passed another single Roan bull with horns of about 26 inches. It will never cease to amaze how an animal can sense when they are in no danger. The smaller bull ran alongside the truck about 50 yards off the road for nearly half a mile. They are an extremely impressive animal. Daniel says the one I shot is the biggest Roan taken in this area in the 3 years he has hunted here. And is also the biggest he has ever seen. Prior to coming to work with Borge, he hunted Roan, Lion and Buffalo in Benin for 7 years. Heís seen a lot of Roan taken.
We went out this afternoon and tried to find a Harnessed Bushbuck. No luck on that attempt. There were 2 Roan bulls that stood in a small patch of brush. They just watched as we passed by. Again, I was amazed that they could know we meant them no harm. We saw many Oribi and Warthogs. Just a little before dark, we found a very big Warthog. He had at least 9 inches of very thick tusk showing, which would make the tusk between 11 and 12 inches long. He was feeding in that charming and unique, down on his knees, butt in the air, Warthog manner. The sun was setting in a violet, crimson and orange masterpiece. I could see no reason to disturb the magical tranquility of the evening with a rifle shot. So, we simply sat and watched the Warthog feed into the deepening shadows and tipped our hats when he finally disappeared. Thus ended the day of the Roan.
Mar 04 2004: We left camp this morning and proceeded to where we have been seeing most the Hartebeest. Itís overcast and cloudy this morning. Daniels says when the weather pattern is like this it means they are having a storm over the Sahara Desert, which about 500 miles to the north of us. He says the wind will begin to blow this afternoon and sand will be blown in tomorrow. We saw a couple herds of Hartebeest, but they only contained cows, young bulls and calves. Also seen on this morning were Duiker, Oribi and Warthog. We saw one fairly decent Warthog, but I let him go. He had about 6 inches of tusk showing. A respectable boar, but not the hog I was looking for.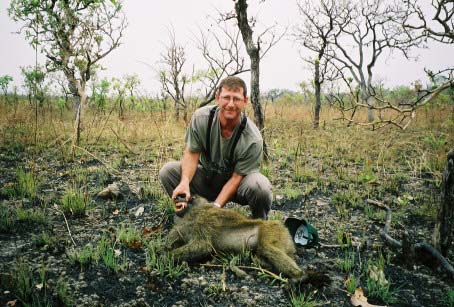 I did shoot one big male Baboon. Iíd guess him to weigh between 60 and 70 pounds with 2 inch canine teeth. I had him skinned for a life size mount. On the way into camp, we found where someone had been cutting the limbs off the trees. Daniel says this is something very bad. The locals sneak into the area and cut the limbs off for firewood. They strip off the leaves to be used as food for their cattle and goats. This practice is highly illegal because this area is set aside for the game.
For lunch we had the cold sliced tongue of the Roan. It was sliced thin for sandwiches on fresh baked bread with Dijon mustard. It was surprisingly good. Iíll need to try the same thing with an elk tongue someday.
Not much game was seen this afternoon due to the wind Daniel accurately forecast. We saw a couple of Roan, one Hartebeest, some Oribi and one reedbuck. Also seen were the usual Warthogs. We saw where several Lions had walked along a road. I saw 3 absolutely gorgeous types of birds. The first was an African Oriole. It is a little larger than a robin and is the brightest yellow imaginable. Its wings are black and orange. The second type was the Abyssinian Roller which is roughly the size of a starling, but much more streamlined in shape. It has a midnight blue head, 2 long black tail feathers, a cobalt blue breast, chestnut back and metallic blue wings. The third type of bird was the Senegal Parrot. It is a little bigger than your average parakeet. With a vivid green back and wings, a yellow breast and a smoky grey head. These birds looked like living jewels flitting through the trees.
Mar 05 2004: It was very hazy this morning when we left camp. I thought it was ground fog, but upon daybreak I realized it was the sand Daniel told me to expect. It was as fine as talcum powder and a light tan in color. The sand that was entrained in the air cut visibility down to about 150 yards. During this morningís hunt we saw good numbers of Roan, including 2 very good bulls. We also saw Oribi, Bush Duiker, Baboons, Warthogs, Crocodile and a few Hartebeest.
It is with great embarrassment that I must admit that I have probably blown the best chance I will have for a big Hartebeest bull. We were sneaking along in the haze when we had an all bull herd of Hartebeest materialize. We think it was the same bachelor herd we had seen earlier in the week. The closest bull to us was an absolute monster. Easily the biggest we had seen and definitely the type of bull we had been looking for. He had long sweeping horns with incredibly thick bases. The shot was about 120 yards with the animal quartering towards us. I held at the point the neck joined the shoulder with the intention of breaking the near shoulder and getting both lungs with the pass through. As soon as I fired, I knew something wasnít right because I didnít hear the bullet hit. The trackers and Daniel all groaned out loud as the bull disappeared into the gloom. We fanned out and spent at least an hour looking for blood. Nothing. Nada. Zip. I had one of the trackers go to where the bull was standing and I went to where the shooting sticks were still standing. At that time I noticed a small branch sticking out of a tree about 25 yards in front of me. When I went to check it out, I found where the bullet had clipped a twig. This twig was only about a third of the diameter of a pencil, but it sure deflected that 300 grain slug. I have no idea where that bullet went, but it never touched a hair on that bull. If I had seen the branch before the shot, I only would have needed to take a step or two to the right to clear it. I was focusing so hard on the animal; I never even saw the branch. We will continue to try to find another. On the way back for lunch, we saw a really pretty female Bushbuck. The pattern of her coat was quite striking.
Daniel decided it would be a good afternoon to try for a Bushbuck. This consisted of slowly still hunting in some extremely thick brush along a creek bed. We heard one Bushbuck bark in warning, but never saw it. However, we did see a Red-Flanked Duiker. This is a very small species of Duiker that lives in the areas along heavy brush lines. It has bluish black legs and belly and the flanks, back and head are a brick red. We never got a look at this ones head to see it had horns. A good male will have horns about 2 inches long and a female has a tuft of erect hair on the top of her head. Only males are legal, so it takes some inspection to determine gender. Before we could make a positive identification, it disappeared on us.
After striking out on the Bushbuck, we went back out after Hartebeest. Just a little before dark, we found a wounded cow. Daniel decided that we needed to put it down. A center shoulder shot at 150 yards dropped her on her chin. These Western Hartebeest are quite attractive with the typical long face, wide flaring horns, black markings on the hindquarters and a white stripe between the eyes. The overall color was a reddish orange. Upon examination, it was discovered that she had been wounded by a poacher. Since she was a cull, there is no trophy fee charged and she remains the property of the camp. We brought her back to camp after dark to provide meat for the staff. The cape was removed to be salted and kept for a replacement if one gets damaged. Her skull will be placed on an anthill and when it is cleaned off will be placed outside the dining hut.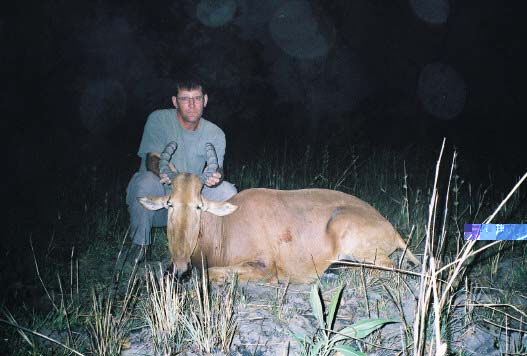 Mar 06 2004: It was another very cold morning. Very Little game was moving due to the cold. We saw a few Roan, some Oribi, a Duiker, a couple Reedbuck and a few Warthogs. That was it for the morning.
During lunch, Jacob and a couple trackers came in with an illegal cow herder they caught in the area. They actually caught 3, but left 2 with the herd to move them out of the concession. They confiscated all the knives, machetes etcÖ these herders were carrying. The villages around the concession have devastated their grazing lands by seriously over-grazing them. They have huge herds of cattle that serve no purpose. They neither eat the cattle nor utilize the milk.
This place has an incredible resource in its wildlife and given ample opportunity, they will destroy it.
The Hartebeest continue to evade us. Iím not sure where they have gone, but they are not to be found in the usual places. We saw many Baboons, lots of Warthogs, Oribi, Duikers a couple female Bushbuck, a herd of Roan and 2 different herds of Lord Derby Eland. Seeing the Eland makes the day worthwhile.
Mar 07 2004: The weather continues to play against us. Instead of clearing up, another storm from the Sahara is blowing in. Itís very cold and visibility is down to less than 100 yards. We did see 2 troops of Baboons, a few Roan and some Warthogs. We know the Hartebeest are around, we just canít see good enough to locate them. During lunch, Jacob and a tracker brought in a poacher. He is also the one that has been cutting the trees. Heís on his way to jail. They took a bunch of weapons off him including knives, a machete, a spear and a net.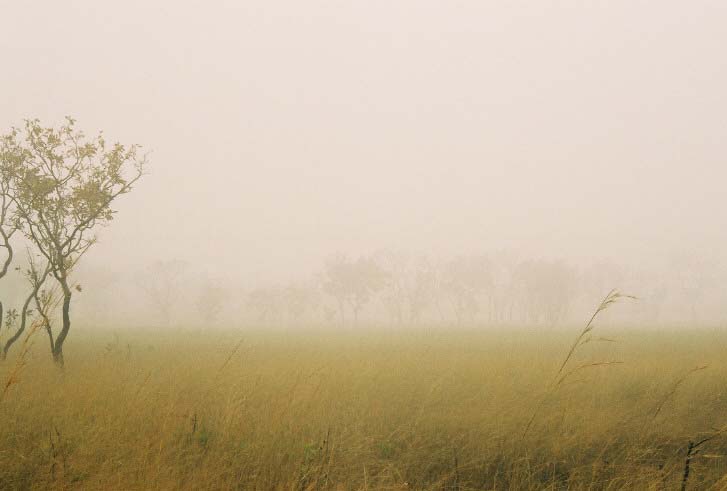 When we left the camp this afternoon, I told Daniel that everything is fair game from now on. Iíll take a decent Duiker, Warthog, Hartebeest or Bushbuck if they come along. We only have this afternoon, all day tomorrow and the morning of the 9th left to hunt. We saw a little more game on the afternoon hunt, but visibility failed to improve. There was simply much more game moving. Since visibility remained poor, we ended up just moving along real slow and glassing carefully. All told, we saw 2 groups of Hartebeest, several Roans including a very good bull, a fair number of Warthog and a decent Duiker.
We had a very unusual dinner tonight. It was comprised of fried squash, frog legs, fried potatoes, fruit salad and wild honey still in the comb. Everything was locally produced. Some of the camp staff went to the river to catch the frogs, and a couple more raided a beehive. The fruits and vegetables came from the camp gardens. It was unusual, but very good.
Mar 08 2004: It was much warmer this morning and the visibility has improved to about 200 yards. I passed on a really good Duiker first thing this morning. I still want a good Hartebeest and didnít want to risk possibly spooking one with a shot with visibility so poor. Iíll probably end up regretting not taking that Duiker. Heís the best one weíve seen so far. We saw quite a few Hartebeest this morning. The only problem was that none of them were good bulls. We also saw Warthogs, Oribi, Roan, Reedbuck and a Mongoose.
The visibility continued to improve for the afternoon hunt. Itís probably close to 400 yards now. The Tsetse Fly is bad this afternoon. We saw several herds of Hartebeest and made a successful stalk on a young bull. I decided he was just too young and needed to grow some more. He just would not have made a good trophy and I donít feel as though I need to just shoot something to prove I can.
Mar 09 2004: We left this morning on a ďDo or DieĒ attempt for the big Hartebeest bull. The sand has nearly dissipated from the air and visibility has improved greatly. As soon as we got to the plains, we began to see many Hartebeest. At about 9:00 a.m. I passed on a good duiker. At about 10:00 a.m. we finally found the big bulls. There were 2 of them running with a herd of Roan. We flanked them and tried to get in front of them. It failed on the first try and was successful on the second. At about 175 yards, they crossed a clear spot in front of us. One of them stopped for about a half a heartbeat dead broadside. But, his vital area was behind a light screen of brush. Maybe I could have hipped him. Maybe I could have broken the femur and lanced the femoral artery. Maybe I could have pushed a bullet through the ham and did enough internal damage to anchor him. And, maybe I could have just wounded him and lost him. Iíll never know, because I didnít take the shot. I just didnít feel as though it was worth the risk. Iím certain that I made the correct decision. That was the final throw of the dice. It came up snake-eyes, but thatís hunting. On the way back to camp, I shot one last Baboon for the trackers.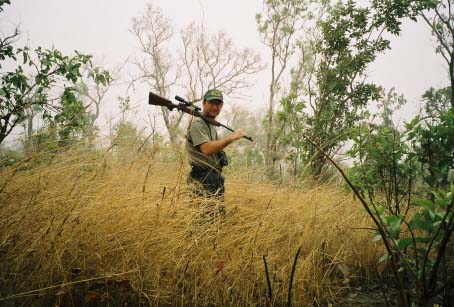 We ate lunch and I finished packing. The final bill has been paid and the shipping instructions to my taxidermist have been turned over. The final take for the safari is:
1) Western Roan Antelope to be mounted with a full turn to the left.
2) Nigerian Bohor Reedbuck to be mounted with a quarter turn to the right.
3) Oribi to be mounted with a full turn to the left.
4) Olive Baboon (x4) One large male to be mounted life size. Pose not determined as of yet. Skull to be cleaned and bleached for desk.
5) Western Hartebeest cow shot for humanitarian reason. It remains property of the camp. A photo will be the only trophy.
This safari has come to an end. Iím off for the Airport.
Mar 10 2004: I arrived back in Norfolk, Va. at 6:41 p.m. after spending 22 hours traveling. A friend was waiting for me to take me home. This was a very good safari. I hate to think it is over.